In:
For those spending a day in port in Aruba and are looking for an all-inclusive day of fun in the sun, De Palm Tours offers a unique excursion on their own private island.
Just south of the capital Oranjestad, De Palm Island is just 5 minutes offshore and about 20 minutes from the cruise port.
The all-inclusive day package offers guests the chance to relax on sunny beaches and participate in lots of activities such as snorkeling, a waterpark, banana boat rides, salsa lessons and a friendly visit with the island's flamingos. Unlimited food and drinks are also included.
I recently spent the day there, and here is how it went.
Before you go
De Palm is one of the island's top tour providers, operating for more than 60 years. You can book your excursion through Royal Caribbean or online through the company's website.
I would suggest using their transportation as the dock area is outside of town, in a bit of a remote area. Basic prices start at $119 for ages 13+, $95 for 4-12, and free for 3 and under (all in US dollars). There are some activities that are extras, such as SNUBA, Sea Trek, and cabanas.
What you need to bring:
Towels
Plenty of sunscreen
Sun hat
Bathing suit/ cover up
Optional snorkeling equipment (although they do provide some)
Credit card/ money for extras
There are locker rentals on the island at a cost of $5, and a gift shop that sells souvenirs, towels and such. While I was there, a few people forgot towels, so it was great to have the option to buy a few things.
Getting there
De Palm arranges transportation in an air-conditioned, comfortable bus which takes you from the cruise port, through the capital Oranjestad, on a scenic route.
We were fortunate to have a great driver, Jose, who took the time to tell us about the island, its people, culture and some interesting facts. On the way, we passed a water plant where ocean water is desalinated to provide drinking water for the whole island. I have to say, the water in Aruba is amongst the best I have tasted anywhere.
Once we arrived at the dock, there was a boat waiting for a brief ride to the island.
Seeking shade
Once on land, I quickly found a nice, shaded spot under a palapa. The weather in Aruba is fairly hot, so it is a great idea to secure a covered beach chair. Even with a few clouds in the sky and the frequent breezes, you can burn easily.
The beach is not too large, but there are a number of areas that make up the island, including a kids area by the waterpark and slides as well as basketball and volleyball courts. So lots of seating options.
By 11 am, most of the good spots were taken. If you are worried about shade or have a group you want to secure spots for, a cabana may be a good option.
Private Cabanas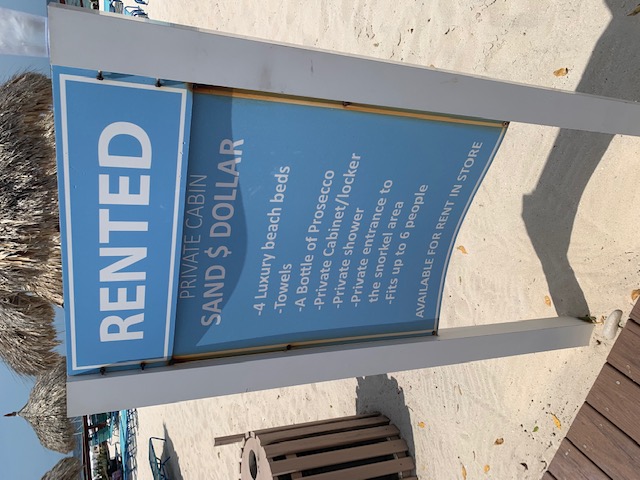 There are private cabanas in various locations on the island, including the adult-only area. It would be a good idea to look at the map ahead of time, to see where you want to be. Most cabanas include:  
6 Luxury Beach beds
Towels
1 bottle of prosecco
Locker
Private shower
Private entrance to snorkel area
Some of the cabanas are waterfront, not beachfront, so it is best to ask questions about what you are getting. Prices range from $249 -$379 US dollars, depending upon location and number of people.
Food 
After securing a great beachfront spot, I set my sights on the food situation. There are two main eating areas with plenty of shaded seating.
Miramar, the main buffet, opened around 11:30 and offered a nice selection of salads, fresh fruits and soup (for which there seemed to be few takers on such a hot day). They had some appealing entrees such as hot pasta, BBQ chicken, grouper (a popular local fish) and potatoes. The lines went very quickly, and there were plenty of great spots to eat around the deck that encircled many of the main buildings. I started with a plate of mixed salads, which were tasty.
About a half hour later, the grill opened and was popular with its hamburger, hotdogs, chicken nuggets and freshly made fries. I went for a hamburger with fries, perfect for a beach day. Again, the lines moved quickly, and there was lots of food available throughout the day.  
Drinks
The island provides guests with Coke products, water (fountain, not bottled) and a variety of fruit juices.
There is a selection of alcoholic beverages included with your entry. They offer Sauvignon Blanc, Cabernet Sauvignon, a variety of popular cocktails, spirits and Aruba's popular Balashi beer.
Pro tip – I was jealous I had not thought of this, but I noticed some guests had brought their own reusable cups for their drinks. This is a real bonus as they don't have lids, and no one wants blowing sand in their cocktail. There are no straws on island to protect the local wildlife.
Highlights of the day 
I really enjoyed seeing the flamingos. They roam freely in the adult only area, but in the morning, guests are allowed to visit the restricted area.
These Chilean flamingos are not native to Aruba but have been imported to the island. They are a pale shade of pink as they are still young and have not developed their full color. Most people seemed to have fun visiting them. If you want to do this, I suggest trying earlier in the day.
The man-made cove area of the beach offers stunning views; it was very relaxing to hang out there for the day. Snorkeling was a popular activity, and the clear water let guests enjoy lots of local fish, including parrotfish.
The waterslides and small waterpark were also well used, and families seemed to spend lots of time there. Do note that kids need to be 48 inches tall for the slides.
Not a pure beach activity, but the complimentary salsa lessons were a real crowd-pleaser.
Around 3:45 pm the boats began to head back to the main island, with buses waiting for a return departure. There are a number of outdoor rain showers, to rinse off before heading back. 
Summary
My day at De Palm Island was relaxing, and I particularly enjoyed the wide open ocean views of the beach and sitting area. I did not do any extra activities and enjoyed the day regardless.
The staff were very friendly and well organized, and there was plenty of food and drinks with minimal lineups. The area is well designed so that nothing is far, and the crowds seem to disperse evenly throughout the island so that no one particular area felt really busy. The unlimited banana boat rides were popular though and had a long line in the afternoon.
This is a great option for those who want to access different activities in one spot, which can be hard to find all together on Palm or Eagle Beach.
There are, however, a number of upgrades that can easily add up, especially if you want a nice cabana with a stunning waterfront view—something to keep in mind.