In:
Today is our first port stop, and it is at Royal Caribbean's private destination of Labadee.
I really love Labadee because of its natural beauty and enjoyable beach activities.  I also realized my wife has not been back to Labadee in a number of years, so we were all looking forward to a fun day at the beach.
Allure of the Seas docked at 8am, as any parent knows, getting your kids dressed, ready for the beach and fed is no easy task.
We had breakfast at Park Cafe today and it is great for a quick breakfast without much fuss.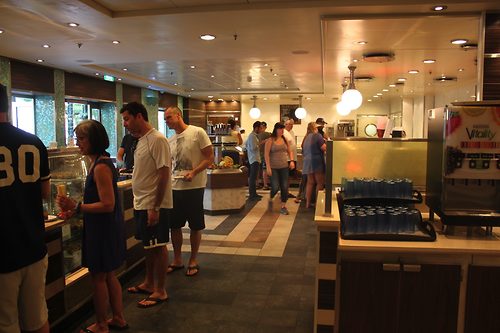 Park Cafe is in Central Park and offers egg sandwiches, a bagel bar, cereal, various coffees and plenty of pastries.  It is good for grabbing a cup of coffee and a bagel and getting on your way.
Disembarkation at Labadee is super simple, and we went from ship to shore in just a few minutes.  I was also pleasantly surprised to find no lines getting off the ship (for the elevators or the gangway).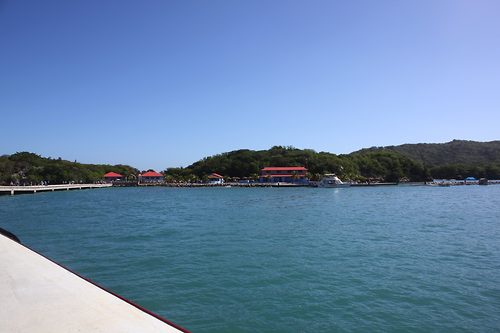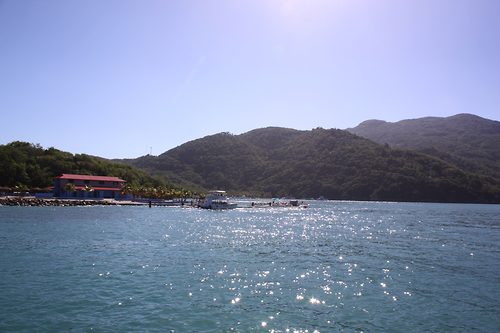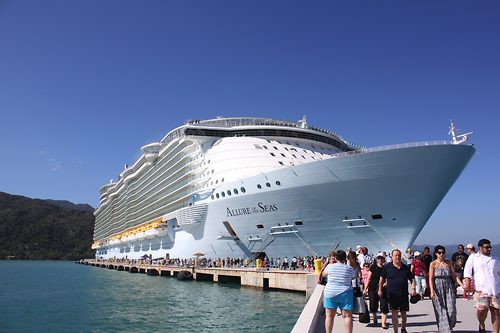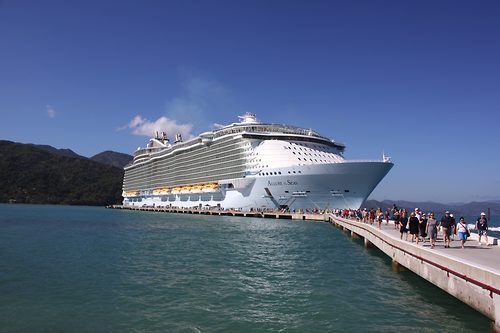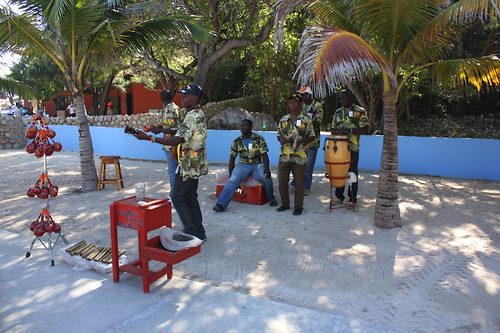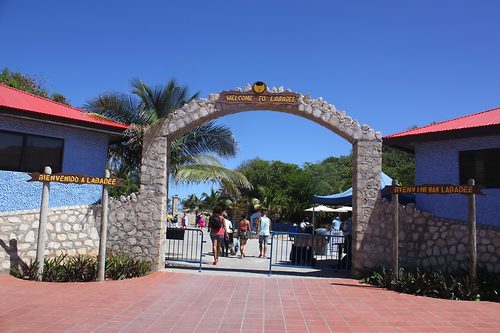 We had rented an over the water cabana at Labadee at Nellie's Beach. We reserved it so we could have a "home base of operations" for our kids where they could relax somewhere in the shade as well as take a nap.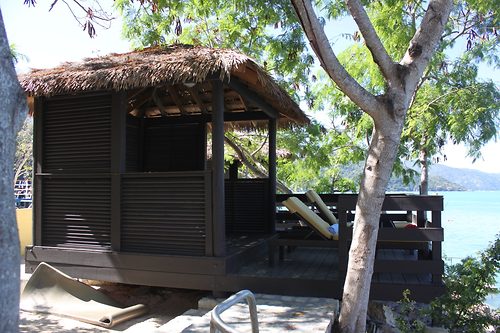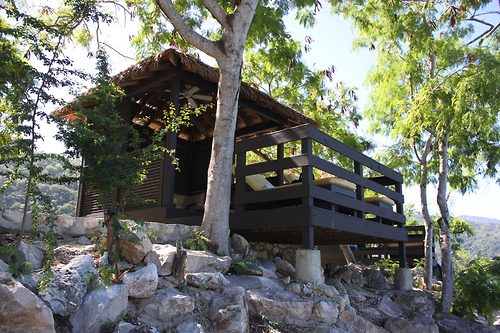 The cabana offers a lot of nice to have extras, such as
Furnished with 2 luxurious resort-style lounge chairs & a sofa
Four bottles of water (in a cooler)
Floating beach mats and snorkeling gear.
Towels for your use during the day
Barefoot Beach cabanas have a private beach only for cabana rental guests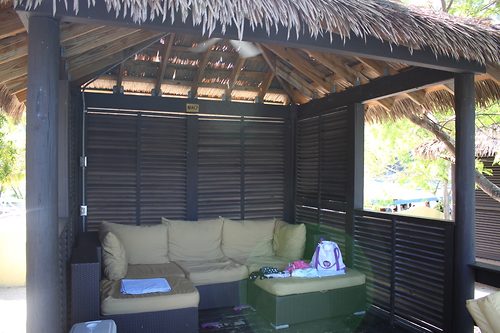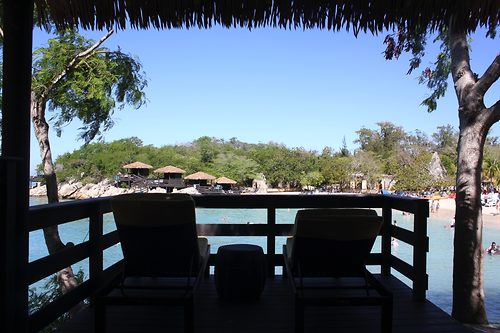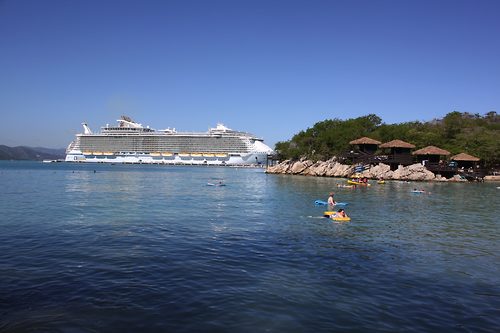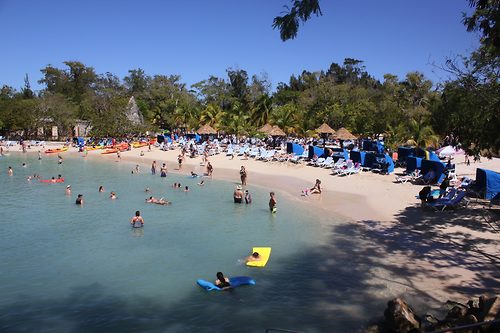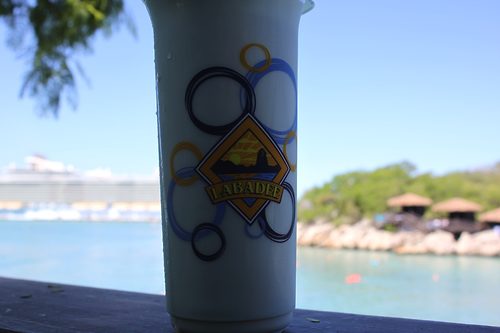 The cabana is a total splurge, but it is something I really enjoy having.  I cannot say from a value proposition it is a slam dunk deal, but it is great having a lot of sand-free space to enjoy.  And the views are pretty amazing too!
We spent the day swimming, laying around and repeating as necessary.
We also got together as a group to enjoy one of my favorite drinks, the Labadoozie!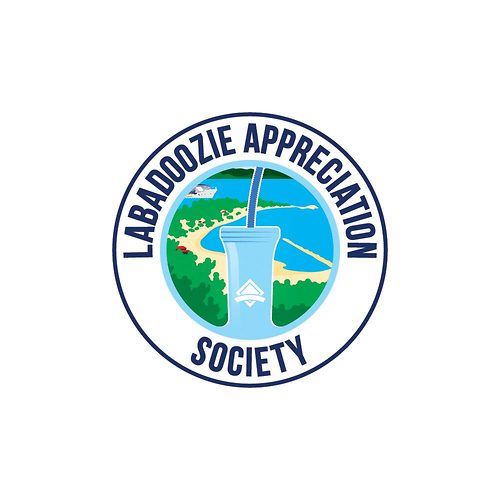 For lunch, they drove us to the buffet and the beach buffet is never my favorite meal by any means, but we made the best of it.
We had absolutely perfect weather with barely any clouds in the sky.  Temperatures were in the 80s and it was great for swimming!
Fast forward to about 2:30pm, we asked for the cart to come get us to bring us back to the ship.  Luckily, not much of a line to get back and we were quickly back onboard showered, changed and napping.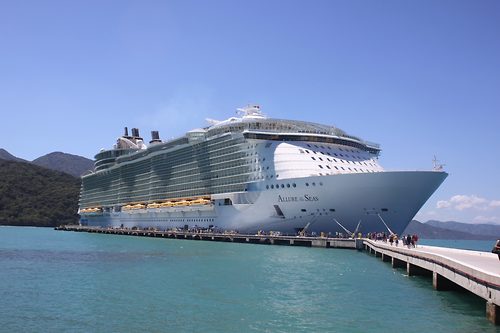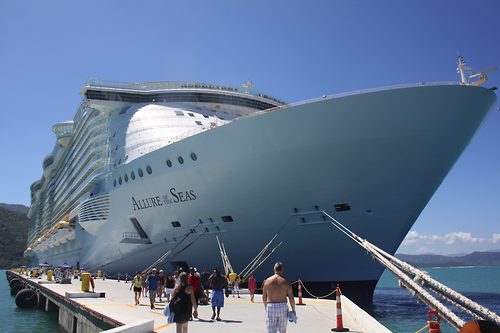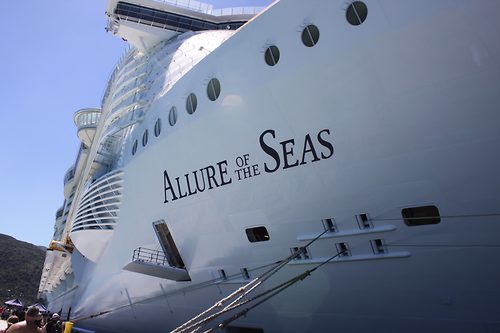 I was a bit hungry given that I did not eat a whole lot on Labadee, so decided to indulge in some "pre-dinner".  
I was surprised to find that Sabor was open on the Boardwalk  a good 45 minutes earlier than it was listed to open.  Nonetheless, I headed down there for a snack.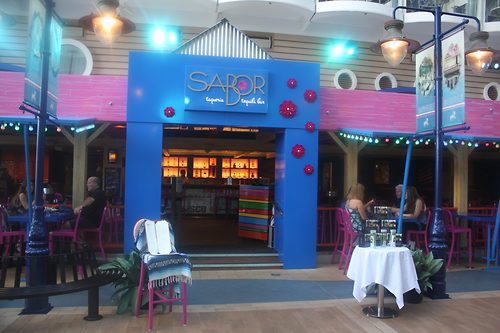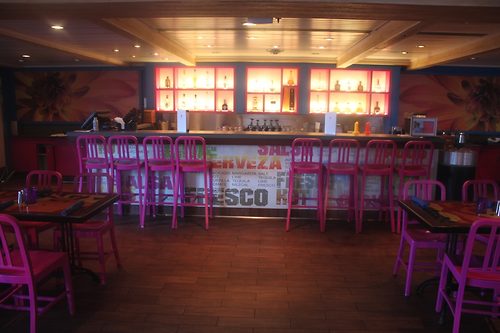 I kept it simple this time: tableside guacamole and tuna tacos.  Fabulous and really tasty!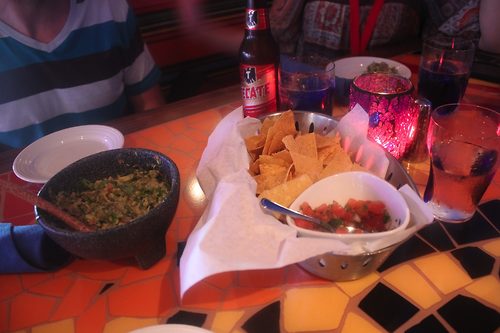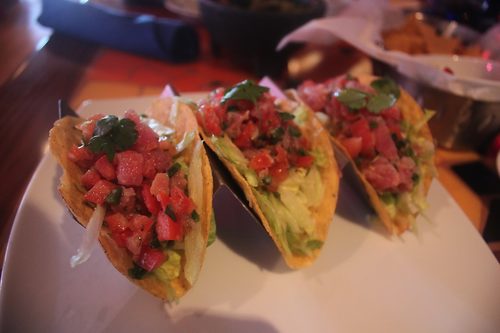 Feeling better now (Sabor makes everything better), I went to meet a friend that gave me a tour of the Diamond lounge.
The Diamond Lounge is for guests that are at least Diamond level in Royal Caribbean's Crown and Anchor Society and it is a special spot for them to congregate and enjoy time in at their leisure.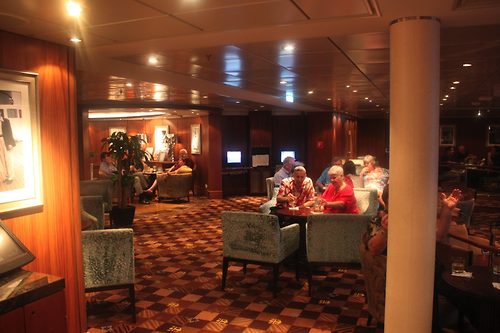 There is complimentary drinks and food available as well.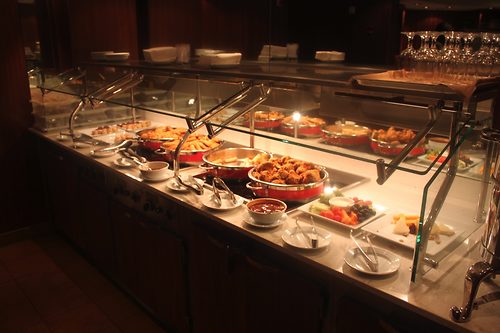 The Diamond Lounge on Allure was quite large and I was impressed by its size.  After this cruise I will turn Diamond, so I am looking forward to enjoying these sorts of perks.
We dropped my youngest daughter off at the nursery next and then took my older daughter to the AquaTheater to check out OceanAria.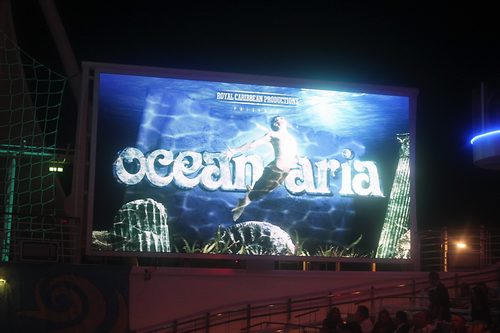 OceanAria is essentially a show that showcases aerial stunts that involve diving into a pool and some of physical feats are truly impressive.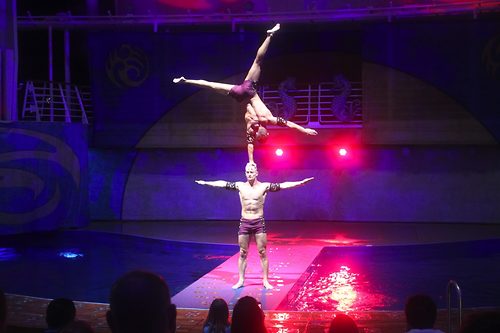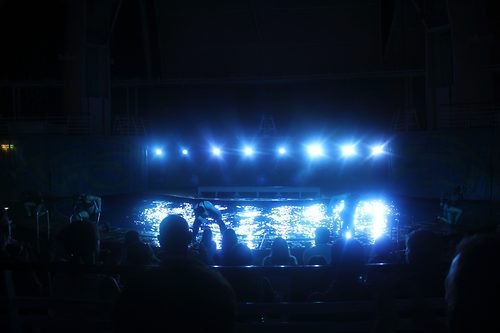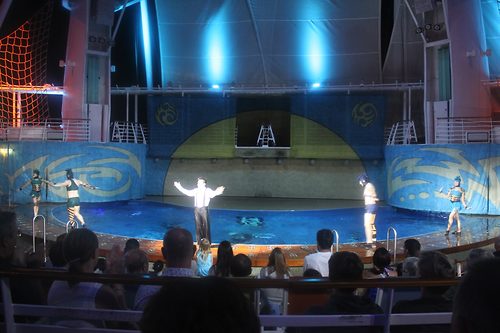 I liked the pacing of OceanAria, which never stuck with one scene too long (some of the ice skating show routines can linger a bit longer than I prefer) but the show itself was not exactly my favorite just because it is more a spectacle than anything and has very little in the way of story.
All that being said, it was a well-performed show and I really was impressed by the performances.
After the show, we took y daughter up to the Windjammer for dinner. We had a great little Royal Caribbean moment there, when I inquired about where I could get her a hot dog and seeing as there were none, a manager made an immediate call to get some for her from elsewhere on the ship.  Not even five minutes later, two hot dogs were delivered to us.  Wow!
We dropped my oldest at Adventure Ocean and headed to the main dining room for Italian night.
I really like the menu here, especially the lasagna.  It was a great meal that did not disappoint!
Following dinner, I was really feeling wiped.  I think a couple of days of going at full-steam and a full beach day have finally caught up with me so I decided to get some sleep.  My brain loves the idea but my hear is yearning for at least 3 more activities today.  Oh well!
Tomorrow we will be in Falmouth, Jamaica and taking an excursion I have never done before.
Thank you as always for following and please let me know if you have any comments or questions in the comments below!
Stray observations
The Voom internet is seriously fast.  I am continuously impressed by how well it performs.
I learned last night that some of the ambient lighting and all the sound effects in Central Park are turned off exactly at midnight.
During the course of the main dining room, they repeated announcements in Norwegian.  That was a first for me on a ship to have that language selected for a translation.
Best place for Scotch lovers is Champagne Bar (or so I am told from friends that love the stuff).
The nursery receipts have no gratuity line on their reciepts so I am not certain the best way to reward the excellent service I have received beyond the multiple, thank you's I have given them already.
Live Blog Index