In:
I started my first full day on Allure of the Seas rather early when at 6am I was awoken for some reason and thought I could not go to sleep.
Laying in bed, I thought I should follow through on the promise I made to myself to see another sunrise on a cruise, so I got myself dressed and headed out of the room to check it out.
Sure enough, it was quite lovely to see, even with the clouds present.  Plus, you get the feeling of having the entire ship to yourself!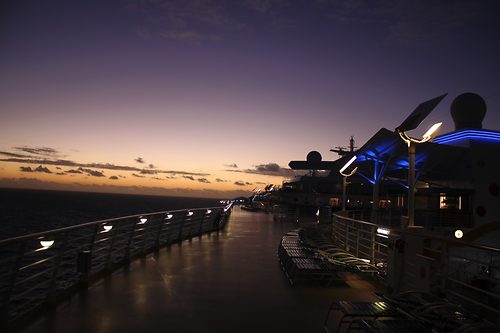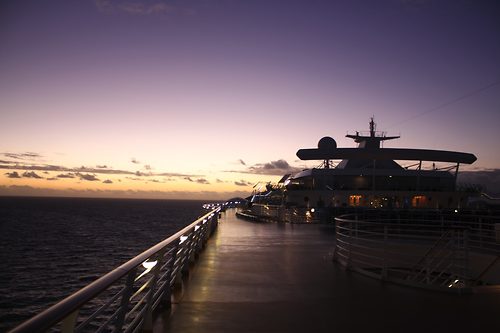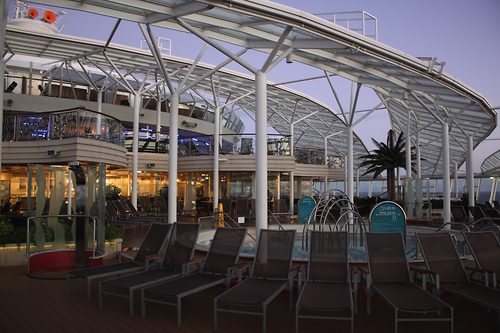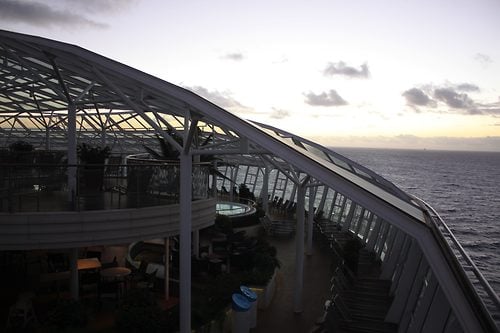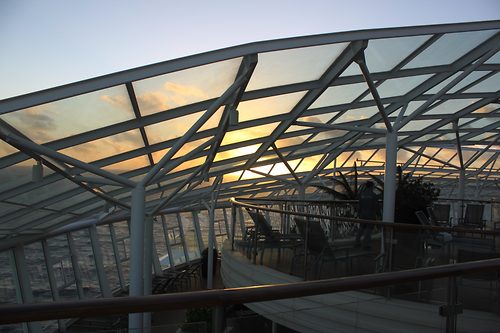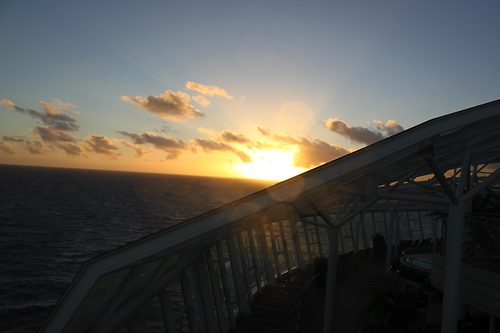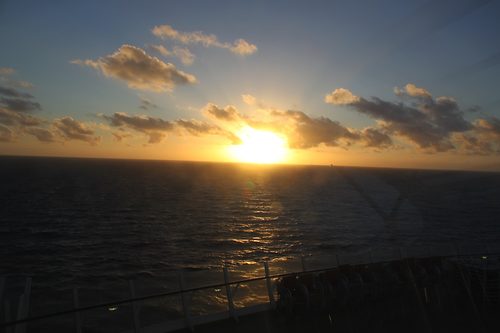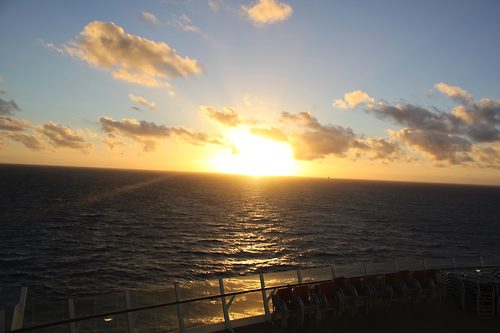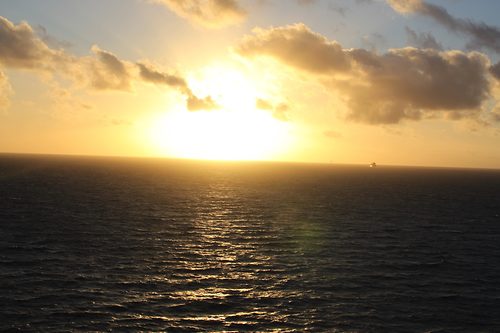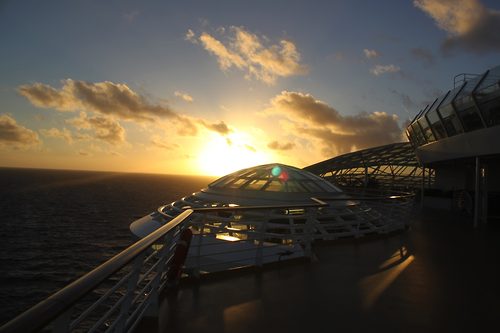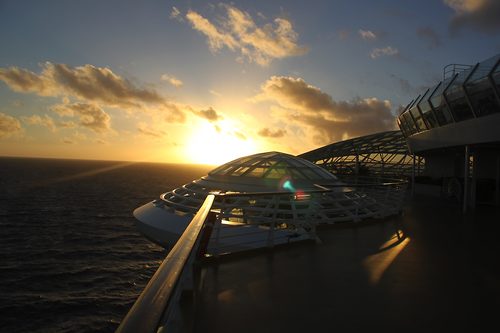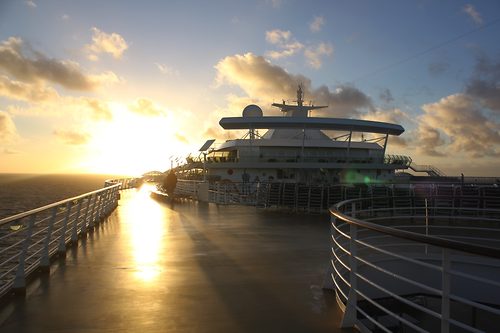 I did a little walking around and came back to the room to sit on my balcony but I ended up falling back asleep on my bed and what went from an early morning turned into a late morning, as I got out of bed around 9:15am.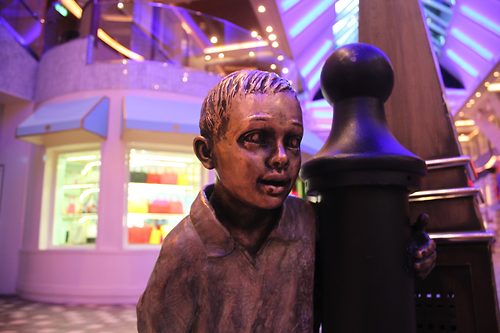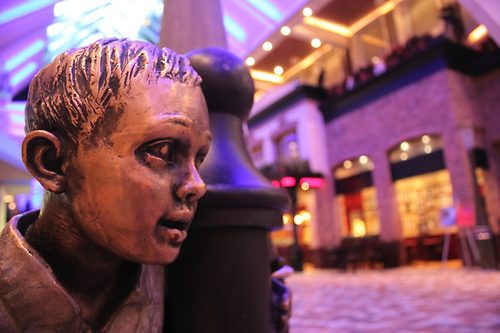 Once awake (again), I got my oldest daughter dressed and brought her to the Windjammer for a quick breakfast and then took her to Adventure Ocean.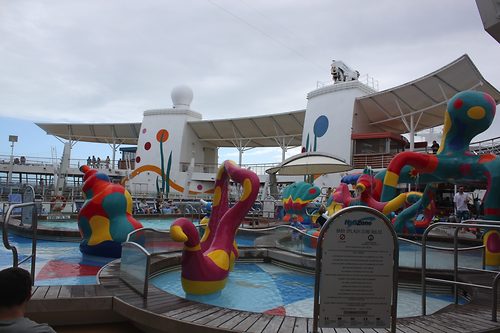 Then it was back to my room to collect my wife and other daughter.  We had aspirations of going to the Welcome Back party in the Aqua Theater, but hunger won out and we went to Johnny Rockets for breakfast.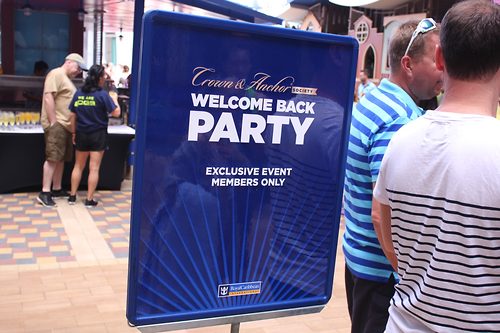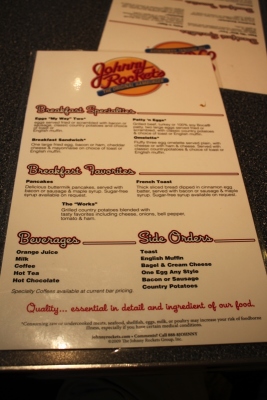 On Royal Caribbean's Oasis class ships, Johnny Rockets is open for breakfast and is complimentary (there is a cover charge for Johnny Rockets for lunch and dinner).
It is a standard American breakfast, but usually has far less crowds than the Windjammer.
We had a nice breakfast there and then grabbed Starbucks before continuing on.  I really love having a full Starbucks onboard!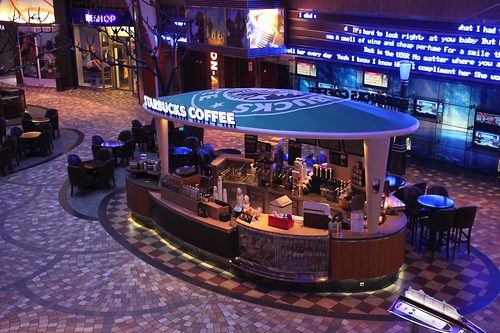 We decided to do a little parenting handoff, with me watching my youngest daughter while my wife went to get a pedicure at the spa.  
While my daughter napped, I took an opportunity to do some blogging and live Periscope on my Central Park balcony.  Love it!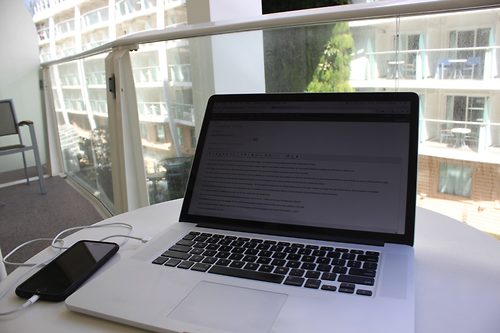 At noon, we collected both kids and headed down to the Boardwalk for a special event to thank everyone that booked into our group cruise.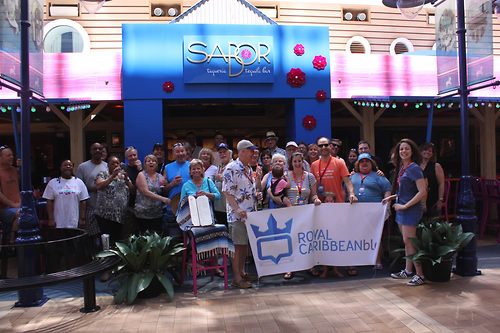 I like to reward folks that support this blog and today, we invited everyone that booked into our group cruise booking group with a complimentary lunch at one of my absolute favorite restaurants, Sabor taqueria & tequila bar!
I think we had a great time sampling a lot of the food at Sabor and enjoying it with the group was a real pleasure!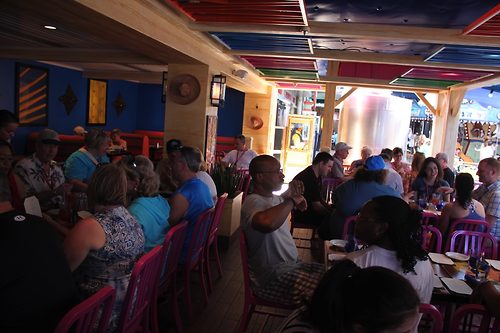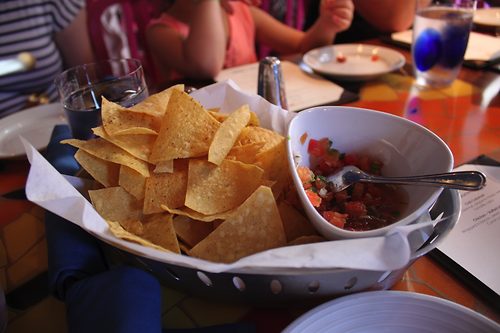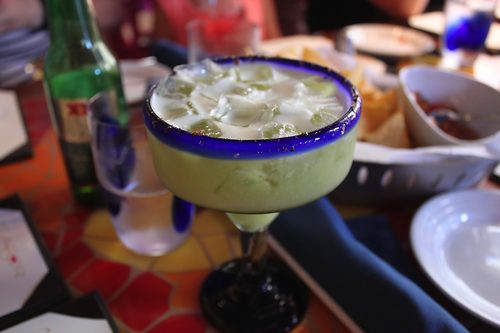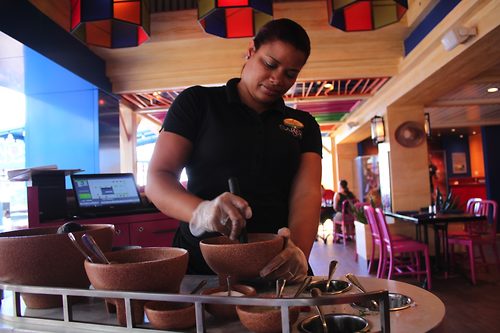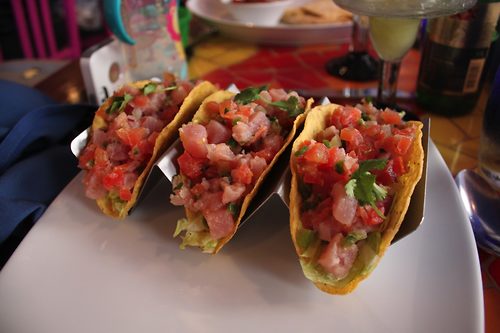 Following Sabor, it was time for a group event, the most civilized bar crawl.
Basically, we had drinks at a few different bars together and it was a good opportunity to sit back and get to know each other.  And enjoy some great drinks.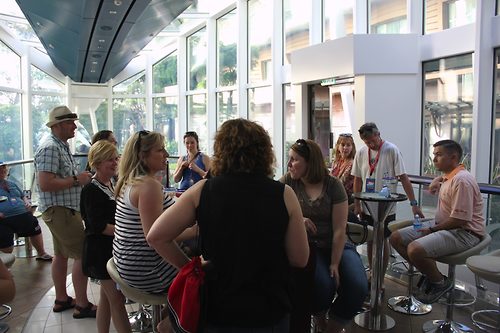 We visited Sabor bar, Rising Tide, Trellis Bar and Schooner Bar.  
I think it is safe to say a good time was had by all.
Tonight is formal night, so following the drinking, I headed back to my stateroom to get ready for dressing up, photos and dinner.
I have often said that I really like formal night, because it is one of the rare opportunities to get dressed up these days without it being a wedding or funeral.
Getting two children dressed is no simple task, but we managed and got some great photos.  I found there to be very short lines for formal night photos.  I think it helped we went between dining rotations.
For tonight's dinner, we "called an audible" and skipped the main dining room for dinner at Izumi.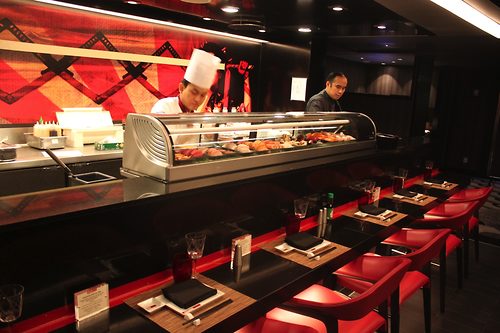 We did so because my wife had tickets to see Mamma Mia! and the show time would have made our dining room time virtually impossible.  So after dropping the kids off at Adventure Ocean and the Nursery, we booked Izumi for dinner and off we went.
Izumi on Allure of the Seas is very similar to Izumi on most Royal Caribbean ships these days.
The menu is fairly standard and so are the selections. The main difference on Allure of the Seas is Izumi offers an hibachi dining option.  This time around, we stuck with traditional Izumi.
I ordered my usual (DX Sushi Combo) along with a yellowtail roll, while my tablemates ordered various dishes.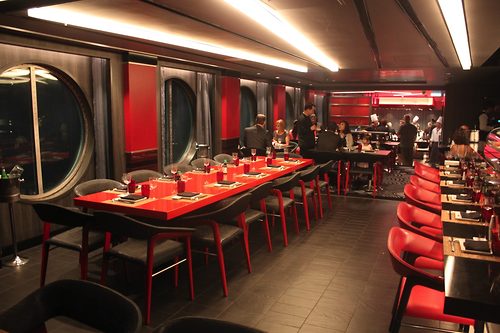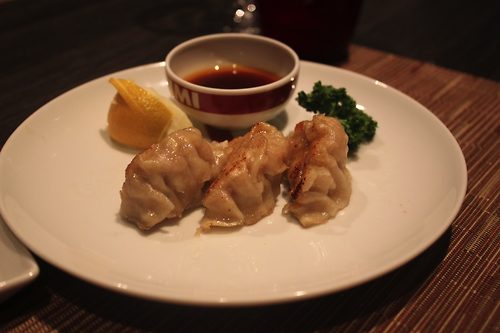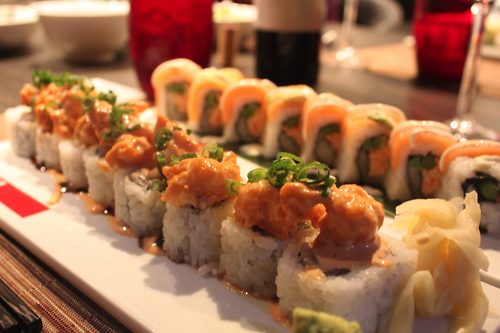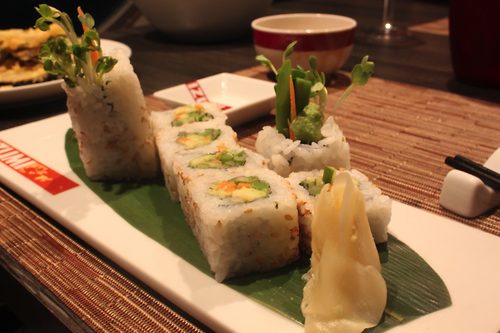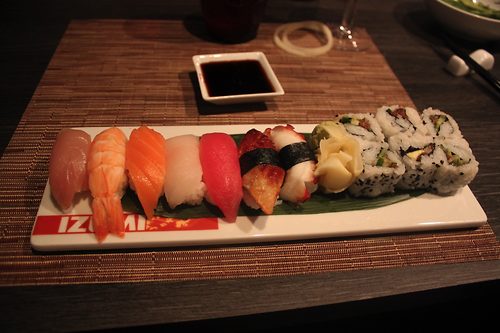 I will offer a more detailed review in the future, but we had a great experience at Izumi and the food was of great quality.  
Following dinner, my wife went to see Mamma Mia! and because I had seen it previously on Quantum of the Seas, I played the role of Mr. Mom and picked up the kids and put them to bed.  
On my way to pick them up, I partook in a little Central Park time (it was sort of on my way) and there was a great band playing music in the park that really made my night.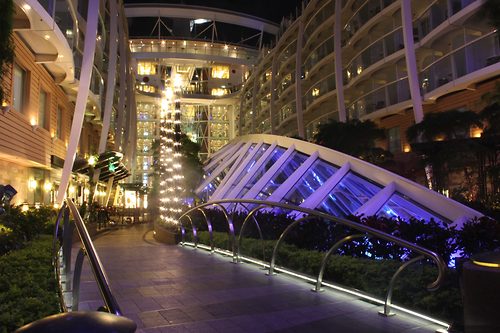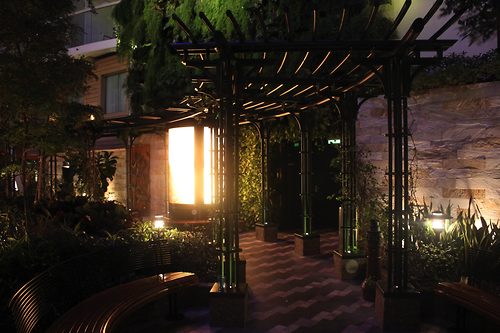 Picking up the children was quick and luckily they all went to sleep quite easily. The great thing about cruising is it wipes them out!
Tomorrow we will be spending the day at Royal Caribbean's private destination of Labadee and I cannot wait to enjoy pure serenity!
Stray observations
Probably not news to anyone, but the ship is really empty around 6am.
The nursery allows parents to book a certain amount of hours in advance, but after day 1 and 2, parents can drop off kids if there is extra capacity and not affect their booked reserved times.
I am always intrigued by the make up of guests on a cruise I am on, and we are seeing a lot of international guests, primarily French and Brazilian.  Also, since school is in session again after vacation last week, a lot of older guests.
Pro tip I heard about today: if you book a cruise with NextCruise, you can go to the shore excursion desk and the staff will book excursions for that cruise you just booked!  This can not only be a good planning technique, but also good way to use onboard credit.
Waking up super early for sunrise is a great idea at the time, but invest in Starbucks during the course of the day!
Live Blog Index