Live blogging from Allure of the Seas - Preamble
In:
Royal Caribbean Blog writer Michael Poole is going to be LIVE blogging from Royal Caribbean's Allure of the Seas later this week. Follow along here for all the fun he will be sharing!
Well friends, I am back for another live blog from Allure of the Seas.
As many of you likely recall, the Royal Caribbean Blog Group Cruise was on Allure of the Seas this past February. I am going to try and take you on a different journey, but still copy some of Matt's daily trips to Sabor. This will be my second time cruising on the Allure of the Seas and it has been some years since I was last on her. She was just 3 months old the last time, so I'm excited to see how she has matured.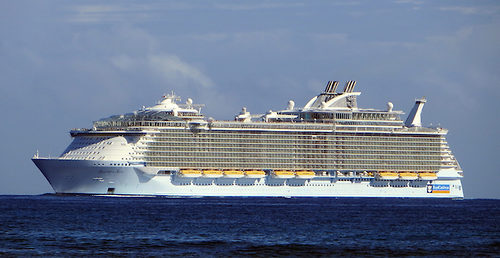 I am sailing on this cruise with my brother; Jason Poole and his husband, Caleb. But also joining us is 23 other friends! We met most of our group on other cruises over the years and have stayed in touched. There are a few people in the group - friends of friends - that will be new friends to me. However, sailing in a large group is going to be a lot of fun and I will share many group photos.
Itinerary
This cruise is sailing to the Eastern Caribbean, but has a unique itinerary because it is stopping in San Juan, Puerto Rico.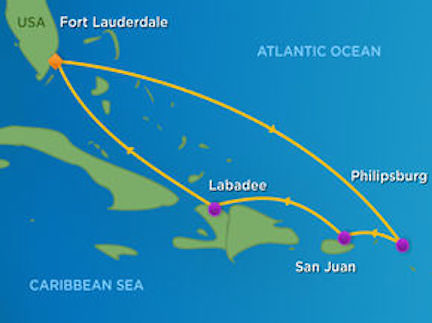 It has been a few years since I last sailed to San Juan, so I am excited to explore and take endless photos of old San Juan. I'll also be stopping in St. Maarten and ending the cruise in Labadee, Haiti.
The reason I booked the cruise on this date, was because of the stop in San Juan, as they usually stop in St. Thomas. I booked this cruise a year ago while on board Freedom of the Seas, using their next cruise-booking perk.
Cabin Type
When I originally booked this cruise, I booked into a Central Park Balcony. I know many people have fallen in love with these balconies and I understand why.
However, they just are not my favorite, but I booked this cabin because they were the best value at the time. Over the course of a few months, I noticed the boardwalk balcony dropped in price to what I was paying, so I jumped cabins.
Well believe it not; as time went on, I was able to switch to an ocean balcony for the very same price. So over the course of a year, I've been in three different cabin types.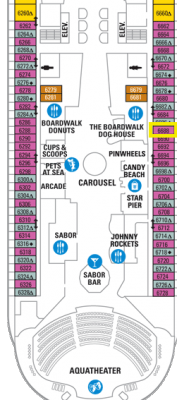 I will be sailing in ocean balcony cabin D8 – 6688. I know almost everyone likes their balcony to be on the higher decks, but trust me on this one… Try a balcony on a lower deck on Oasis Class ships. Here are my reasons: Promenade one deck down, Boardwalk is right down the hall, Central Park is two decks up, Schooner Bar for my balcony beer just a few feet away.
Pre – Cruise
Friday I'll be flying down to Ft. Lauderdale late, so I won't have any plans other than heading to my hotel. However, Saturday will be a full day in South Florida to kick start our vacation.
We plan to explore around the city and experience eating at some new places. In the afternoon hours, I'll be heading over to the beach to watch The Oasis of the Seas sail away. If you are interested in watching, I'll be sharing the sail away live on Periscope app, @mpoole3.
Well friends, the next post will be from the Allure of the Seas! I am really excited to share my experiences with you virtually.
Please comment below if you have any questions about the ship.