Allure of the Seas Live Blog - Day 1 - Embarkation Day
In:
Royal Caribbean Blog writer Michael Poole is on Allure of the Seas this week and is LIVE blogging his experiences right here. Check back every day for a new post, all about what he did onboard.
Pre Cruise – Ft. Lauderdale, Florida
Over the years it's become tradition of mine to fly down early and water the ships leave Port Everglades.
We had two ships leave today one Carnival and the Oasis of the Seas. I was so excited to see the Oasis up close; even if you have seen it many times it's still very impressive.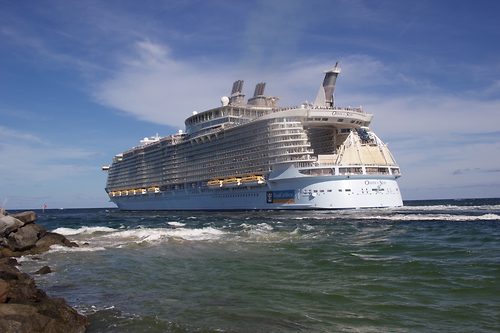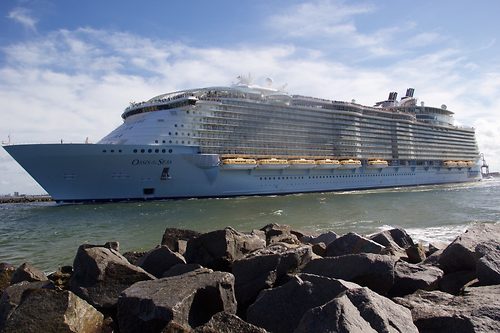 If you are wondering how to get out to the rocks I wrote a full blog post on how.
After the beach we had dinner at Boatyard restaurant. The restaurant is very nice, mostly seafood options and on the water, however it's very expensive if you are looking to keep it on a budget.
Cruise Day – Allure of the Seas
This morning, we all had a pre-arranged shuttle through our hotel to take us to the ship at 9:30am. I know, I usually don't arrive at the terminal this early but in a group you just go with the flow.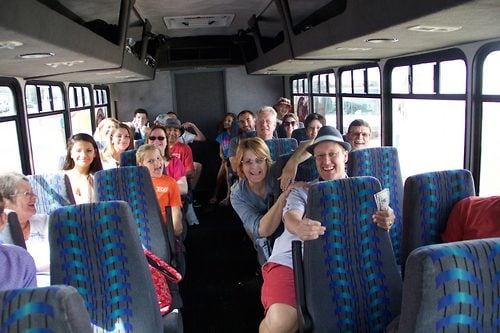 When we arrived around 9:45AM the porters where standing curbside to help us. However, once we went inside the terminal the security lines don't start taking guest until 10am.
Once it reached 10am we were right though with no issues, actually very fast. I mention we have a group of 35, around half of us are Diamond or Diamond Plus and we were all able to sit together in the Diamond lounge. The boarding process started at 11:15am, and we were on board at 11:25am.
Once on board, we all rushed straight to Park Café for lunch and it wasn't opened yet! That kind of seams to be the theme today, they did open at 11:35am.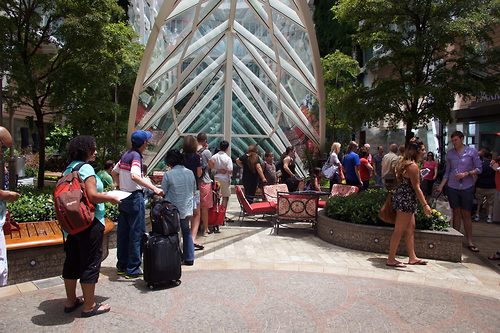 I will say, the line here was unlike I've ever seen before, I think the secret is out about having lunch here on day one.
Sail away
On the Oasis class they don't put you outside under the lifeboats for the muster drill, rather in large venues.
My location was in the Aqua Theater, so it's much more enjoyable than the method on ever other Royal Caribbean ship.
For the sail away party we decided to meet in the Wipeout Bar in the aft.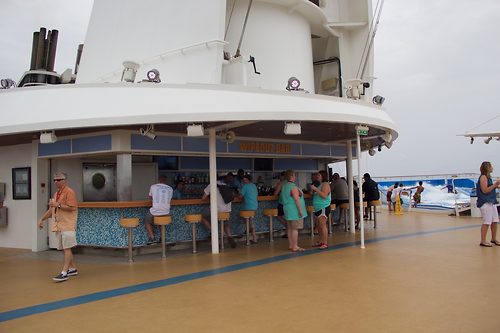 his bar is between the two FlowRider facing the very back. If you are looking for a location without a lot of people I would suggest this area. They had great bar service here and it's a different kind of view than you are usually used to poolside.
Pre-Dinner
Tonight, my group decided to meet in the Champagne lounge for pre dinner cocktails.
I must report, they were out of the two champagne that were included in the premium drink package. So needless to say the champagne lounge didn't have any champagne. They said, by tomorrow they should restock on the bottles so we will see what they have.
I notice the limit on the drinks for the premium package is now $13 vs the $12 limit they have had in the past.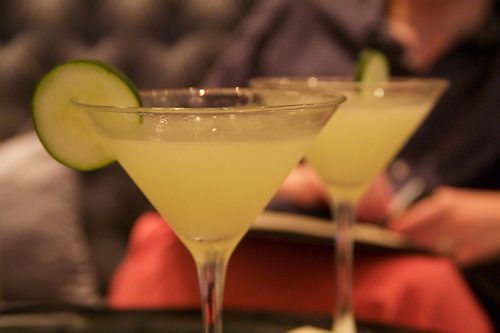 I went with the Cucumber Martini, which is good, but the real one is down in 150 Central Park.
Dinner / Aqua Show
Dinner tonight was in the main dining room, on deck 4. We went with second seating at 8:30pm.
My favorite meal all week was tonight the famous prime rib!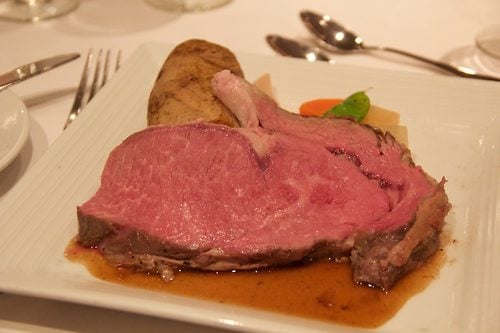 We also brought a bottle of wine for the table to share, if you are wondering there is no cork fee for your own bottles.
Around 10:15pm, we forgot we had the aqua show in 30 minutes so we quickly left dinner, to change for the show. Even though you have reservations for this show you want to arrive at least 20 minutes early for a good seat.
They have a little pre show in the crowd that helps pass the time and it's funny too.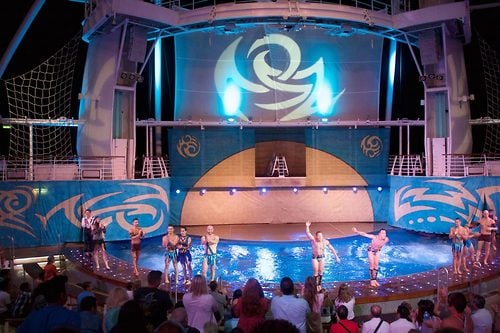 For those of you that have seen both Oasis and Allure aqua show, I think the Oasis on is far better. However, the show on Allure is still very enjoyable and I recommend everyone going to this show over all of them.
Few Random Thoughts
Voom didn't work great the first few hours still in port, but it works great now.
Always a line at the freestyle coke machines.
Next Cruise office now on deck 5 on the promenade.
Haven't been in the windjammer yet, and I don't miss it.
Staff on board very friendly, bar staff fairly fast.
What questions do you have? Please comment below. Next up, sea day!