In:
Our late evening last night meant we all were sleeping in this morning, although my wife and I were surprised how late the kids sleep.
We decided to engage in the time-honored parenting tradition of using the kids as an alarm clock, but even by 8:30am, they were sound asleep and we needed to get going.
We had ordered breakfast room service to our room to arrive between 8am and 8:30 am, and it came just before 8:30am.  We got it for the kids, so that they could eat and get ready quickly.
Our plan for today in Cozumel was simple: drop the kids off at Adventure Ocean and the Nursery and then me and my wife could enjoy a day together on shore.
We were off the ship by 9:30 and we were on our way.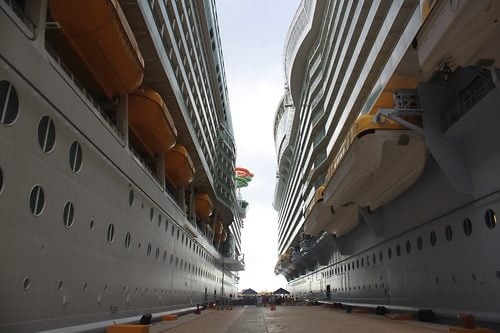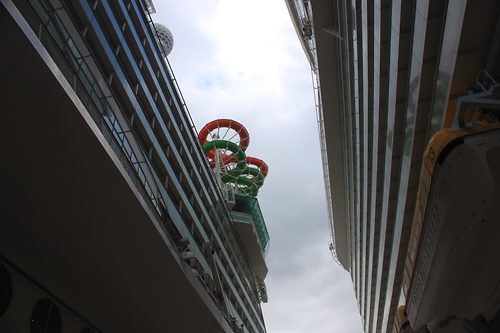 The day in Cozumel started off windy and overcast, but by about 11am the skies cleared, the sun came out and it was a marvelous day.
We took a taxi into town and I dropped my wife off at a local massage spot in Cozumel, run by a very nice American ex-pat.  She offers massages in her house for very reasonable prices and we had used her on our previous visit in November.
The massage took an hour, so I spent my time walking around.  I had brunch at a restaurant a few blocks away, Lonchería Chelly.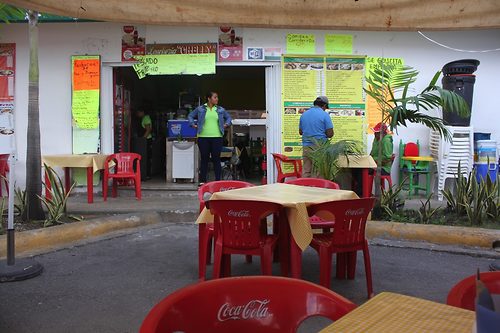 It is a no-frills Mexican cuisine restaurant and I was looking for something light to fuel my day. 
I ordered ceviche, which turned out to be really, really good.   It was a huge serving and I ate way more than I was planning on, but it was worth every bite.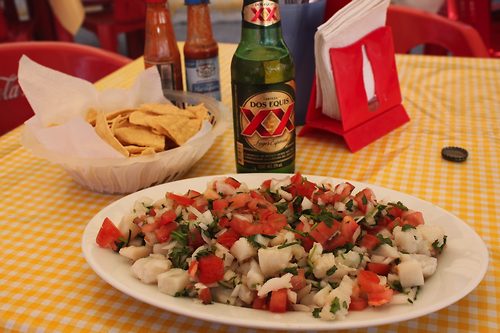 I headed back to the massage parlor to meet up with my wife and we went to find somewhere for my wife to have a little bite to eat.
We ran across a cute little coffee shop nearby that had a light breakfast option along with coffee.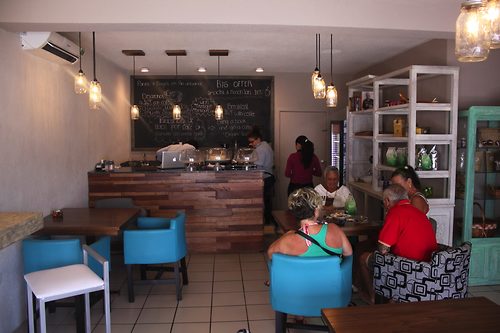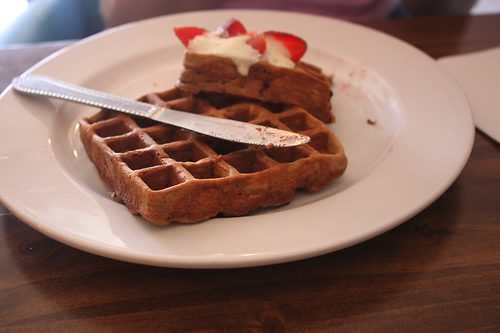 My wife had chocolate waffles with strawberries that came out great and it was exactly what we were looking for.
Next up we did some shopping in town and found some jewelry for my wife.  Just like when we look for restaurants, we walk around the various streets and see what is available.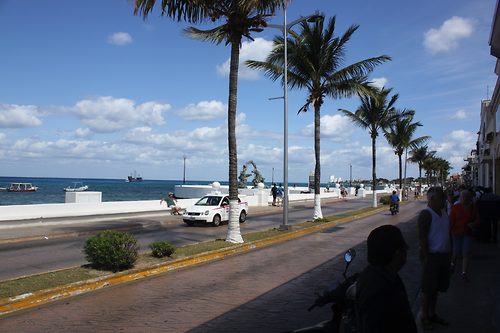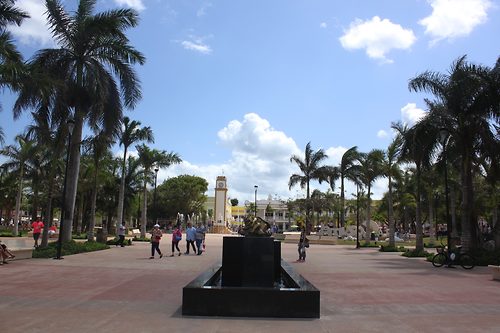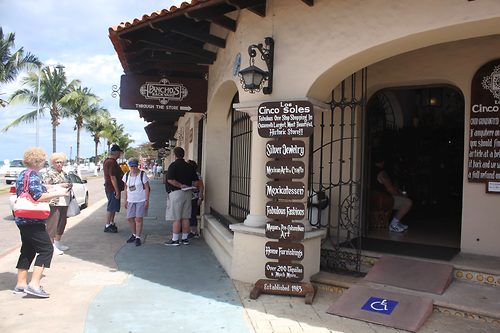 For lunch, we went back to my absolute favorite restaurant, Comidas Caseras Tonita.  It is a family-run restaurant that is frequented by various locals and they make some of the best food we have found in Cozumel.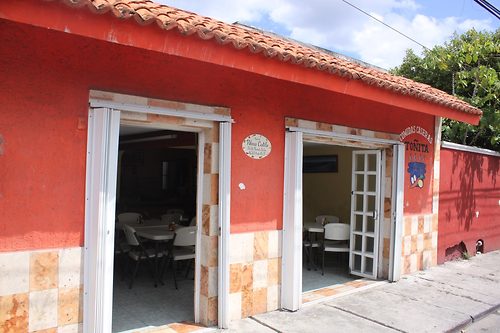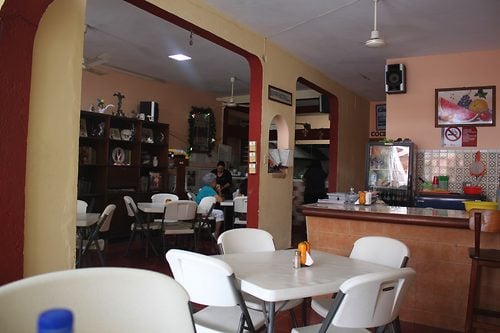 Their guacomole and salsa are amazing and the Veracruz style grilled fish are very tasty.  My only regret is I cannot physically eat any more.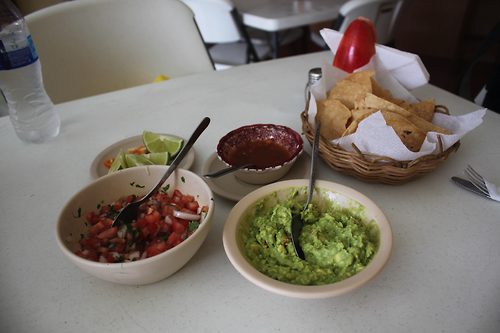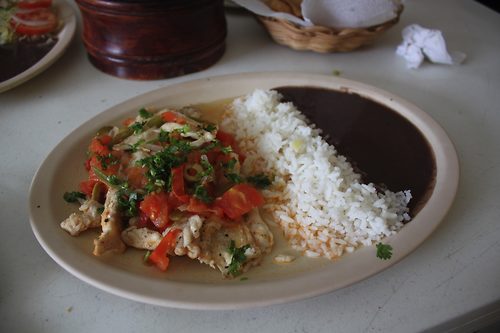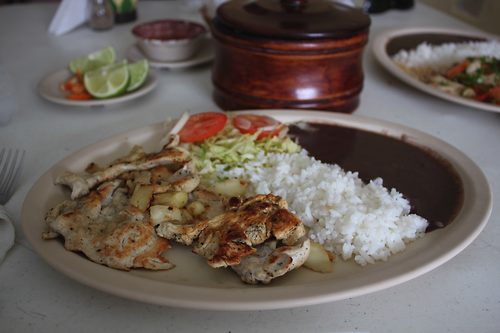 Following lunch, we did some more shopping in town and grabbed a coffee to go from a great little shop and then grabbed a taxi to bring us back to the port.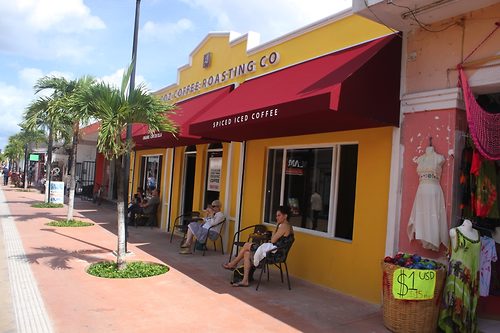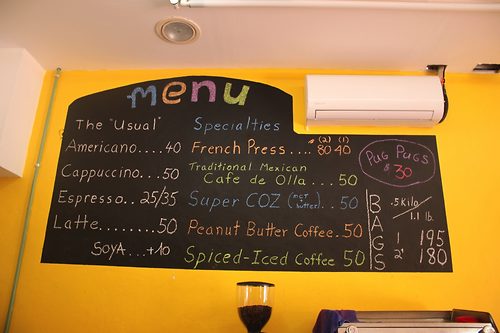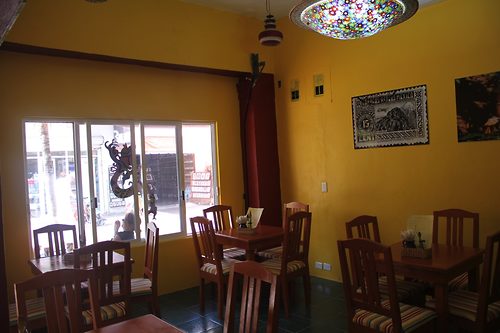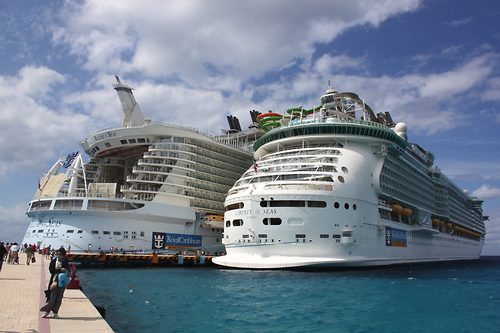 Back on the ship, we picked the kids up from Adventure Ocean and let them take a nap before dinner.  I have mentioned Adventure Ocean and the Nursery quite a bit and the staff at both locations do an amazing job keeping the kids entertained and the fact both my kids enjoy going there is a testament to the quality of service offered there.  
As the kids napped and subequently got ready for their evening back in Adventure Ocean, I partook in some pre-dinner at Izumi.
I had no problem getting in and went for my favorite dish on the menu: DX Sushi Combo.  It is by far the best value for what you get.
I then raced up to the pool deck to join my fellow group cruisers to see if the sailaway and see all the late stragglers running to the ship from the bar.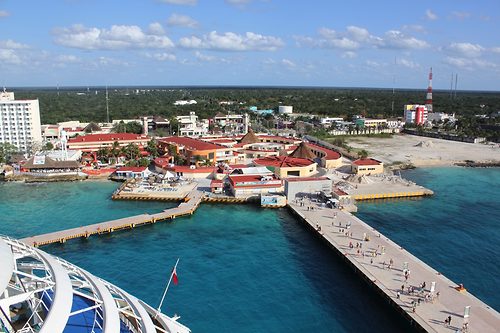 Docked next to us was Liberty of the Seas, and it gave me an excellent vantage point to see the new water slides and aqua park that were added during her refurbishment last month.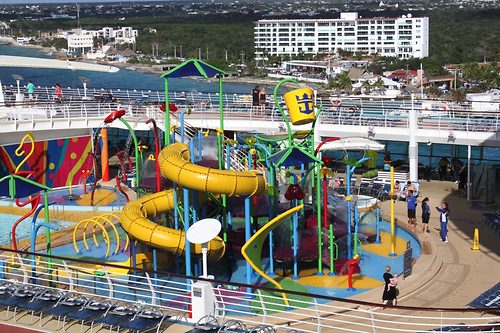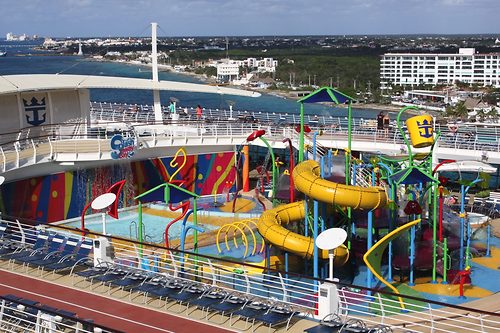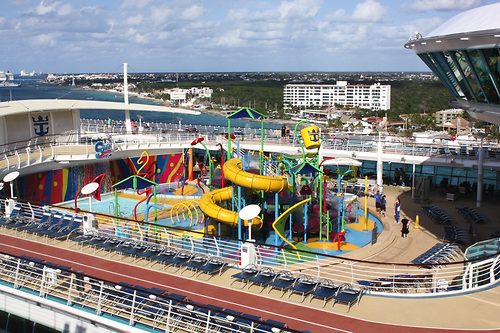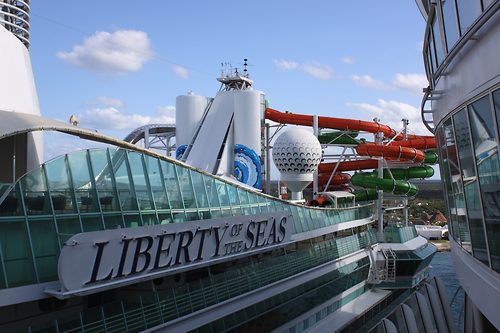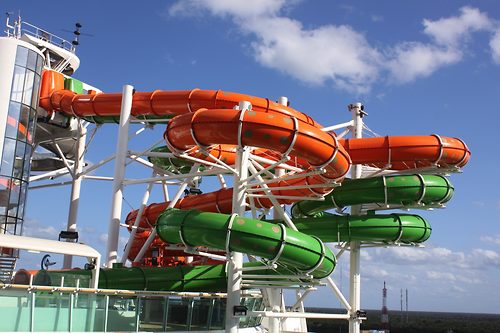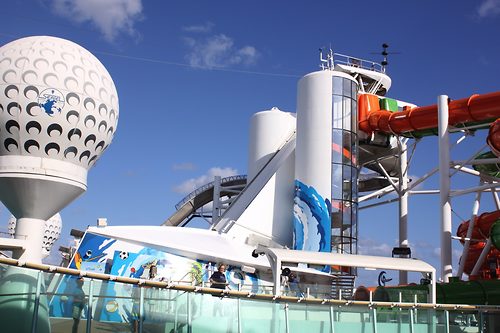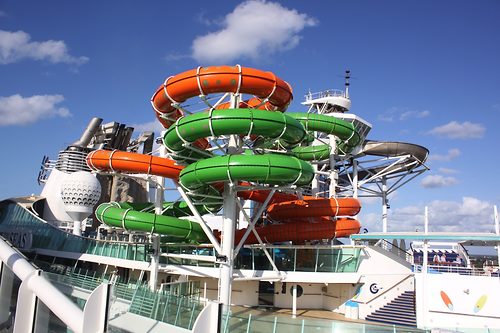 As an added bonus, there was a spectacular sunset!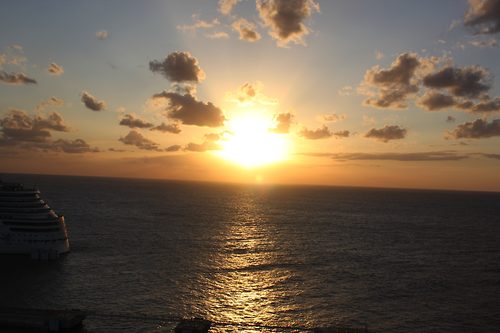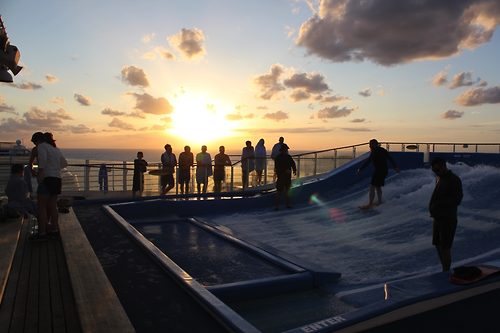 We dropped the kids off at Adventure Ocean and headed down to the Champagne Bar to try something I hear lots of chatter about: the cucumber martini.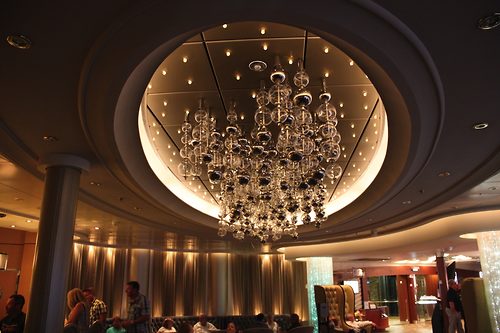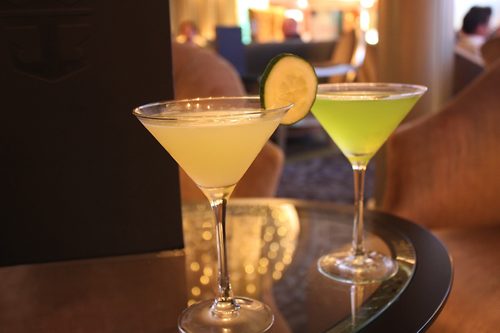 As the name implies, it has a cucumber taste to it but it was really smooth and I could really tell why so many enjoy having this drink.  
Dinner tonight was in the main dining room, with the highlight being coffee ice cream as the ice cream selection.  I asked for as much as they could give me!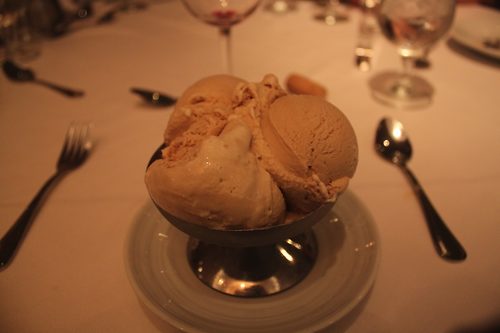 Following dinner, we went to the theater to watch Blue Planet.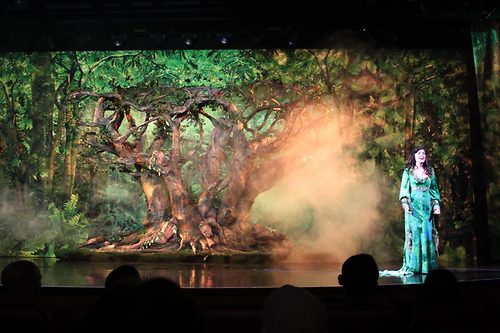 Blue Planet is a show that depicts the natural wonders of Earth in song and dance.  The performances were really quite good and the musical selections were enjoyable as well.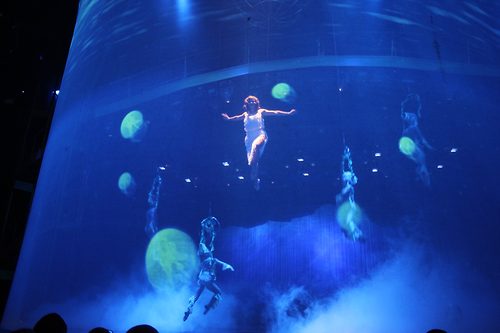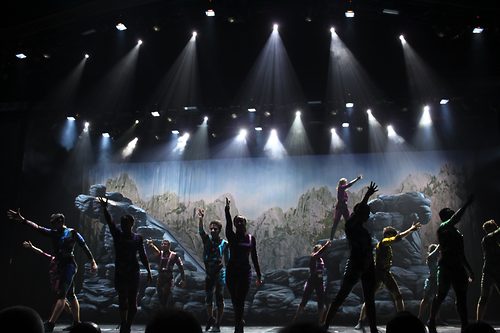 Tomorrow is our last sea day and our last day on the cruise.  Not much I can do but try to squeeze in as much as fun out of our day as possible!
Stray observations
Cozumel remains a favorite port to visit.  It has a lot of tourist trap elements, but if you are willing to explore, there are some great hidden gems for the gastronomically inclined.
There was a huge line to get a taxi this morning. If the taxi line is long, a good tip is to walk out of the port area, take a left and go to the nextdoor El Cid resort.  You can pick up a taxi there with absolutely no wait.
If exiting the theater on deck 4 and you encounter a large crowd, go up to deck 5 to exit. There are less guests on deck 5 and their deck empties into the Royal Promenade, whereas deck 4 empties into the casino, which is quite narrow.
Watching guests try out the FlowRider is quite the spectator sport.
The pool towel renting policy of scanning your SeaPass card is alive and well on Allure of the Seas, despite earlier indications it was gone fleet wide.  It appears the policy differs from ship to ship.
The best time to do any popular activities, such as the FlowRider or Zip Line is anytime after first seating of dinner.  That deck empties out!
Live Blog Index