In:
I'm a proponent of "getting out there" and trying local foods when exploring the ports of call Royal Caribbean ships take you to.  To me, eating at a Hard Rock Cafe, Margaritaville or McDonalds while in a foreign port is a wasted opportunity.  So when I went to Cozumel last month while on Navigator of the Seas, I got a chance to go back to my absolute favorite restaurant and see if it holds up.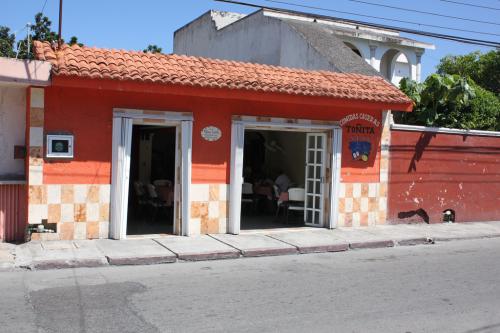 Atmosphere
Located a few blocks from the main street of Cozumel, Comidas Caseras Tonita is a family run restaurant that serves up freshly made, authentic Mexican dishes.  
Part of what makes Comidas Caseras Tonita so appealing is just the look of the place.  Walking in, I feel like someone took their dining room and opened it up for the public to come by.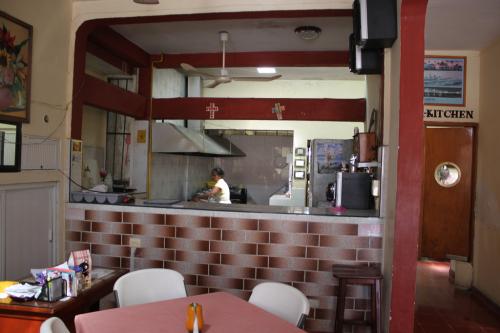 We had eaten here back in 2011 while on Freedom of the Seas and fell in love.  I think reviewing a restaurant after having such a good experience makes it tougher for the restaurant to do well because expectations are that much higher.
Just like our last trip, none of the people that work at Tonita speak any English.  It's pretty easy, nonetheless, to order but then again we ordered everything off the menu with no special requests.  I suppose if you wanted them to not add salt or put the cheese on the side, you should Google the translation and memorize it prior to eating here.
The cooking is done in the rear of the restaurant with a mother/daughter team (at least, I think they are mother daughter.  Two women and one looks older than the other) that make everything as the order comes in.
Where you are seated is pretty basic, with plastic tables and chairs adorned with a basic tablecloth.  Tonita didn't bother investing in better furnture because, well, it's Mexico and this is pretty good. All around the restaurant are old posters and advertisements for cruise ships and cruise lines (mostly Carnival), reflecting Cozumel's role as a tourist hub.
Eats
Your menu comes in both Spanish and English, which helps in the ordering process since you can look at what you want in English and then refer to what the name of it is in Spanish by looking at the other side of the menu.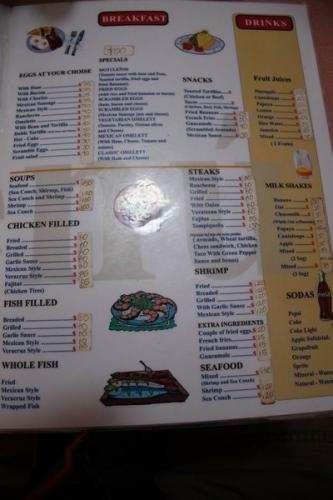 Tonita serves up a number of Mexican dishes, including breakfast.  There aren't any descriptions, so it's really up to you to guess as to what exactly the dish will be but I find that kind of fun.  I think most people know they are in the mood for chicken, shrimp or fish so they can order appropriately.
To start off with, we ordered a couple of sodas, which came in glass bottles.  Note that Diet Coke is called Coke Light in Mexico.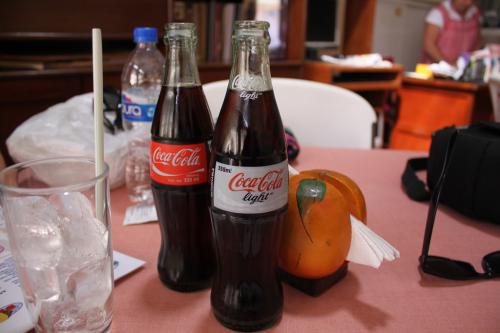 For appetizers, we ordered chips, guacamole and salsa.  If you order nothing else, please do yourself a favor and order the guacamole and salsa because they are the best guacamole and sals I've ever eaten and the gold standard I compare everything else to.
Like all the food at Tonita, the guacamole and salsa is made fresh after the order is placed. Nothing out of a can and nothing out of a fridge.  I joked with my wife I should have asked the staff to allow my wife to observe them making it so that she can remember how to do it at home.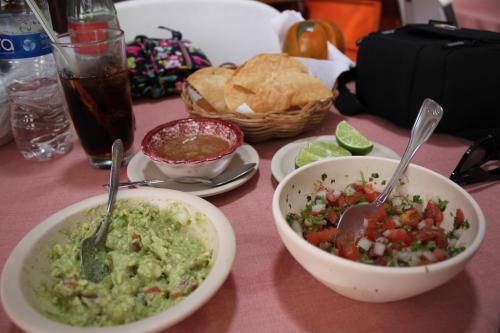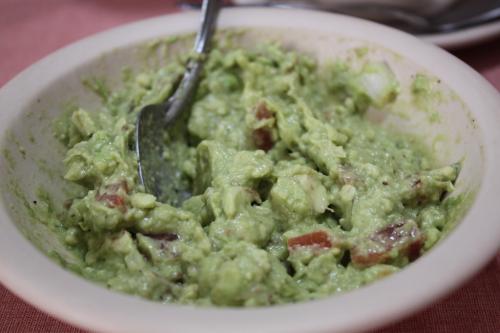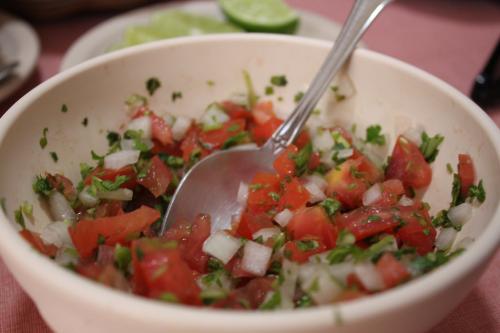 A word on the freshness, I think they were out of tomatoes because nothing happened for about 10 minutes until another girl came into the restaurant and delivered a bag of tomatoes (among other food) and only then were the appetizers made.  Wow!
Not to be forgotten, the chips are also freshly made there.  No bagged chips here!
For our entrees, I ordered the fish Mexican style while my wife ordered the grilled chicken.  Because I had so fallen in love with the appetizers on our last visit, my memory of the entrees became somewhat fuzzy so I barely remembered how good anything was.
First up was my Mexican style chicken, which is essentially a grilled white fish cut up into strips and covered in a tomato cilantro blend, served with rice and beans.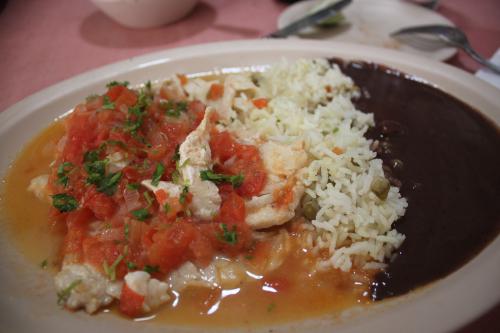 I have no clue what fish they used but it was tender and tasted great.  It didn't taste like fish with tomatoes, but rather something unique on its own (tomato fish?).  I ate every bite.
Remember how I keep mentioning the freshness of the fish?  The table behind us ordered a whole fish and the waitress brought out three uncooked and I presume recently caught fish for the man to choose from. 
My wife's chicken was equally impressive and while it didn't rewrite the book on grilled chicken, I really believe the freshness of the ingredients and the mild spices they used to cook the chicken gave it a little something else.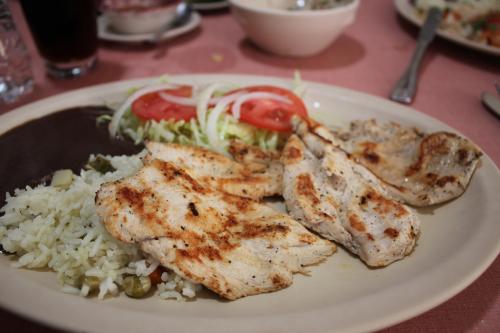 We also had fresh tortillas to eat our entrees with, which is a great way to enjoy the sides with the food (and I had saved a little salsa and guacamole for it too).
Overall
After my second visit to Comidas Caseras Tonita, I stand by my assertion that it is my favorite Mexican restaurant I have ever been to and the gold standard I hold all other Mexican food against.
The combination of atmosphere, fresh ingredients and euphoria of being on a cruise vacation all made this yet another great meal.  
Also noteworthy was the price because, if memory serves me correctly, I spent $20 for the entire meal, including gratuity.  That is a great deal.
If you are going to Cozumel on a cruise (or for any other reason) and want to have real Mexican food, this is the place to go.  
Location: Calle Rosado Salas 265 between avenidas 10 and 15.
Walking directions: Walk south from the plaza on avenida 5 Sur for 1 block, then turn left on calle Salas and walk east 1 1/2 block and the restaurant will be on your left.