In:
While Explorer of the Seas may not have gotten her full amplification, she did get one big change.
Royal Caribbean sent Explorer of the Seas to dry dock for her regular maintenance schedule, which required the ship to sail to Europe and undergo work at the shipyard in Cadiz, Spain.
The nature of this work was primarily routine maintenance work related to the ship's technical maintenance. The dry dock started January 29, 2023.
Dry docks don't get announced or mentioned publicly by Royal Caribbean because unless it's a major ship upgrade, it doesn't seem to warrant attention from a marketing perspective. After all, maintenance work is not that exciting to most people.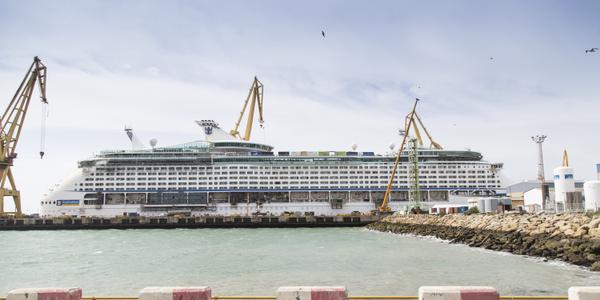 However, there is one change Royal Caribbean included with this dry dock that is sure to be welcomed by many cruise fans.
A new pair of water slides are clearly visible atop of Explorer of the Seas.
These slides appear to be the racer slides that have been added to other ships, including Mariner of the Seas and Adventure of the Seas (among others).
Racer slides allow two people to slide down at the same time with the idea that they can compete to see who reaches the bottom first.
Other changes visible from photos of the vessel indicate it's been painted.
Explorer of the Seas is set to restart cruises in North American on March 12, 2023.
What is a dry dock?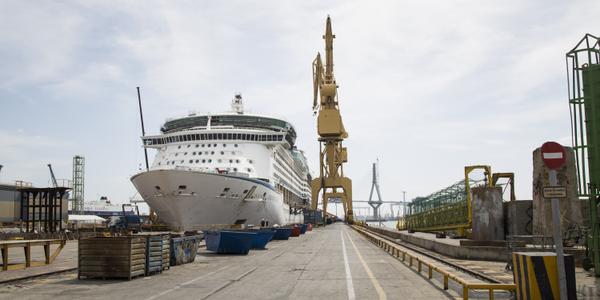 When it comes to the routine maintenance and repairs of a ship's hull, dry docks are an essential part of the process. While most ships will spend their time in the open ocean, they must occasionally be brought into a dry dock for maintenance and repair work.
A dry dock is essentially a large basin that can be filled with water, allowing ships to safely enter and anchor before the water is drained out. This allows workers access to the ship's hull for inspection, cleaning, and repair. Dry docks provide a safe environment for these crucial maintenance tasks without exposing workers or ships to potential dangers found in the open sea.
Royal Caribbean ships are no different, typically requiring a dry dock at least once every five years. Before entering the dry dock, technicians fill up the basin with water so that ships can safely sail in. Once the ship is situated in its correct position, the gate is closed and water is slowly drained from the basin until it's completely dry.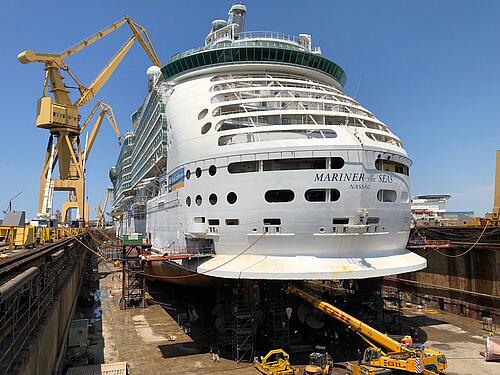 Now that technicians have full access to the ship's hull, they can begin inspecting it for any damage or corrosion that needs attention as well as performing any necessary cleaning or repairs needed to keep it seaworthy. After all tasks have been completed, then it's time to refill the basin so that ships can safely exit.
Dry docks are critical components of a marine fleet's maintenance program, providing technicians with an important tool for keeping vessels running smoothly year after year. Without them we wouldn't be able to ensure our ships remain in peak condition for years on end.
Not an amplification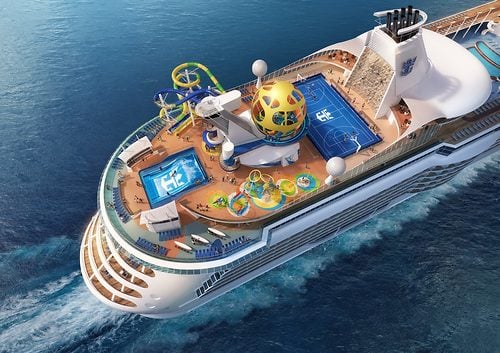 At one point, water slides were just the beginning of changes Royal Caribbean had in mind for Explorer of the Seas.
Royal Caribbean began upgrading a number of its cruise ships, known as the Royal Amplified program.
The goal was to add innovative attractions, pools, bars, and dining to each ship.  In addition, new staterooms were introduced on most vessels.
The Royal Amplified program focused on three main areas:
Pool Deck & Attractions: A re-imagined outside pool deck to discover everything under the sun – from pools specifically designed with prime ways to lounge, to those programmed with diverse activities day and night, plus the boldest attractions and first-of-a-kind thrills on deck.
Examples of these experiences are: Sky Pad, The Perfect Storm, Laser Tag and Escape Room.
Bars & Nightlife: We will give your clients the chance to drink, clink and live it up in distinct new bars and nightlife spots that deliver on the three tenets of a great night out: unique drinks, ways to be entertained, and good food.
Examples of these experiences: The Bamboo Room and Playmakers Sports Bar & Arcade.
Dining Mission: We will make delectable strides in delivering the cornerstone cuisines that guests have told us they crave – like great seafood, Mexican food, and Italian food – while upping our game in the fast, casual, grab & go category to keep our guests fueled between their adventures. Examples of these delicious culinary options are: El Loco Fresh, Hooked and Jamie's Italian.
Explorer of the Seas was one of 10 cruise ships scheduled to get amplified, but due to the global health crisis of 2020-2021, the program was postponed due to financial reasons.
As far as we can tell, Explorer of the Seas did not undergo a full amplification during her time in dry dock this year.
Amplifications eventually
While Explorer of the Seas did not get a full set of upgrades, those plans are not cancelled.
Royal Caribbean's Senior Vice President and Chief Product Innovation Officer Jay Schneider spoke in November 2022 about the Royal Amplified program and how he believes those changes will still occur down the line.
"We stopped that program. We hope to pick that program back up. It's just a priority of how we've restarted our business, we will eventually get back to amplification of ships."
Explorer of the Seas restart plans
Once back in service, Explorer of the Seas will resume sailings in March.
Explorer of the Seas will sail from Miami and offer 6- and 8-night cruises to the Western and Southern Caribbean.
Her first sailing back is on March 12, 2023 and it will be a 6-night Western Caribbean cruises that visits Perfect Day at CocoCay; Falmouth, Jamaica; and George Town, Grand Cayman.
In late April, Explorer of the Seas will conduct her 15-night transatlantic crossing from Miami to Rome (Civitavecchia), Italy.
Explorer of the Seas will spend her summer in the Mediterranean and offer cruises from Venice (Ravenna), Italy to Greece and along the Adriatic.