In:
Cruising to Alaska is a bucket-list worthy vacation, but it's important to consider your travel style before booking a cruise. Are you a budget-traveler or do you prefer to travel in luxury? Are you traveling with kids? Do you have any itinerary preferences?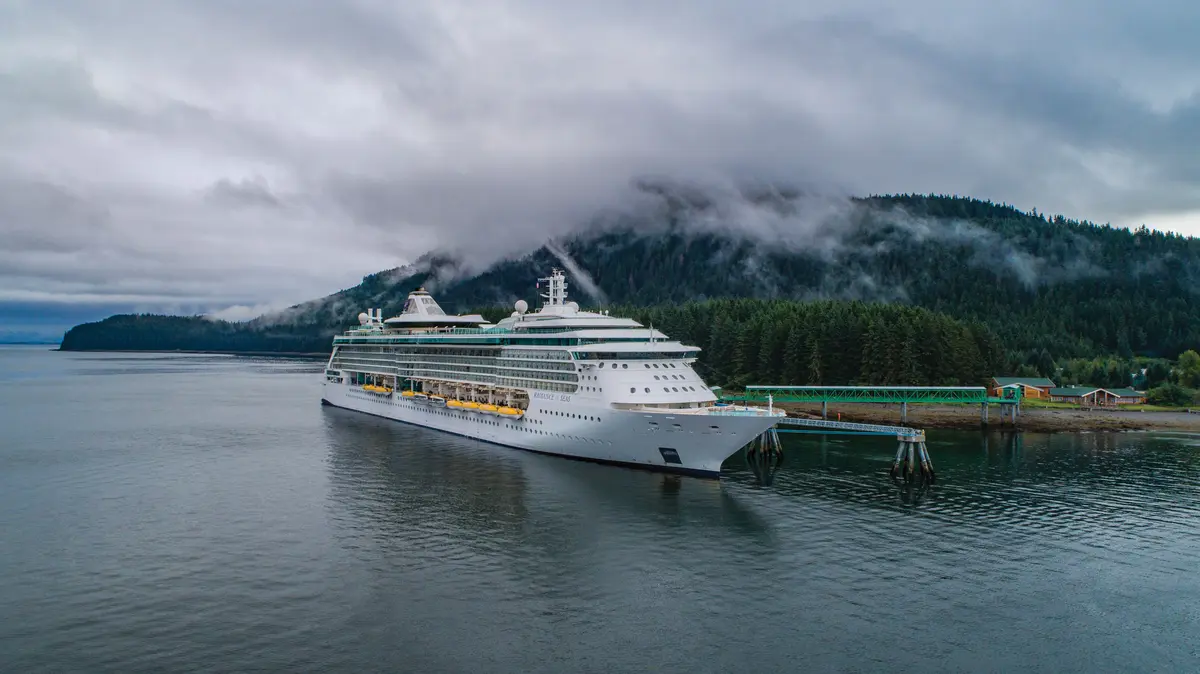 These are all important questions to consider before booking an Alaska cruise. Although you'll experience Alaska's scenic landscapes, world-class cuisine, and historic towns on any cruise itinerary, certain cruises may work better for one traveler over another.
Here are the best Alaska cruises for every travel style to ensure you book the best cruise for your vacation.
The glacier enthusiast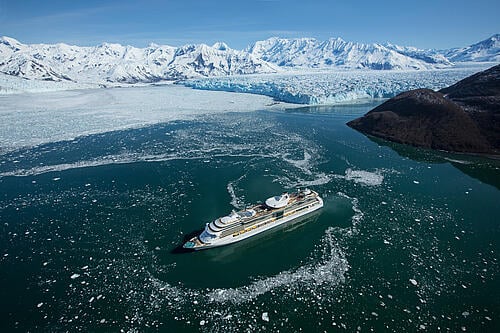 Best Alaska cruise: Multi Glacier Experience
Most Alaska cruise itineraries include a scenic viewing day at one of the state's impressive glaciers. This is a major highlight for most passengers on an Alaska cruise; seeing these massive ice fields up close is a spectacular experience.
Related: 50 Alaska cruise tips you should use
Some itineraries, however, include multiple glaciers in one cruise. To find these itineraries, look for cruises titled "Multi Glacier Experience".
A 7-night Multi Glacier Experience cruise on Brilliance of the Seas, for example, includes visits to both Tracy Arm Fjord and Hubbard Glacier.
The budget traveler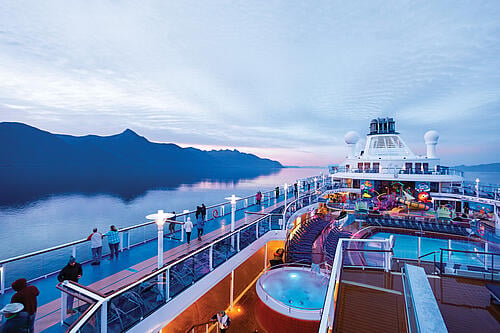 Best Alaska cruise: Anything in the shoulder season
Royal Caribbean sails to Alaska from late April to late September each year, with the peak season in June, July, and August.
Sailing in the shoulder seasons (April, May, and September) can lead to lower cruise fares, so booking a cruise in these months is perfect for those on a budget.
Related: What it's like to go on an Alaska cruise in the early season
Cruising during shoulder season comes with its own set of pros and cons, though. You may encounter more unpredictable weather in the spring and fall, with chilly temperatures much more likely.
Wildlife viewing opportunities, on the other hand, can be a plus of sailing in shoulder season. Orcas, for example, are most likely to be spotted from early May to early June in southeast Alaska.
For more information on the best time to cruise to Alaska, check out these helpful tips:
The luxury cruisers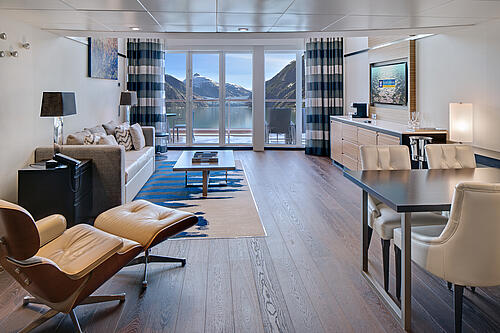 Best Alaska cruise: Royal Suite Class on a Quantum Class ship
If budget is no question and you're looking for the most luxurious cruise experience possible, consider booking a suite on Quantum of the Seas or Ovation of the Seas.
All Royal Caribbean ships sailing to Alaska have suites, but these two ships offer the Royal Suite Class, available only on Quantum and Oasis Class ships.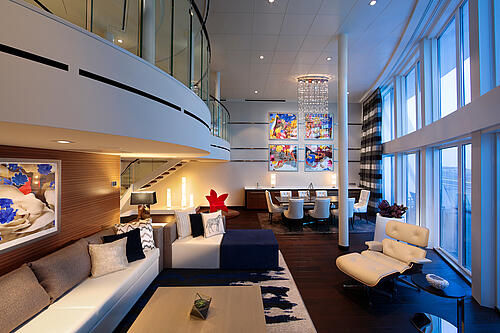 Depending on the suite you book, Royal Suite Class benefits include private dining at a suites-only restaurant, complimentary internet, personalized Royal Genie service, complimentary dining and drink packages, and much more.
Related: Royal Caribbean suites guide & review
Of course, one of the major benefits of staying in a suite is enjoying more space in your cabin. Because Alaska cruises usually encounter chilly weather, you might find yourself spending more time in your cozy cruise ship cabin than normal, making the value of a suite go even further.
The active adventurer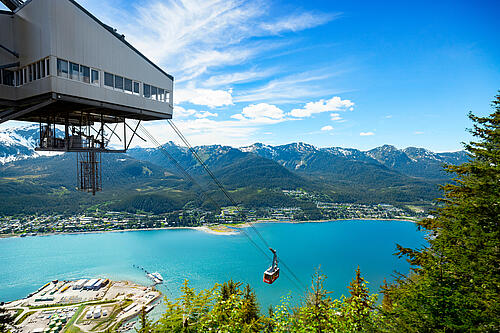 Best Alaska cruise: Itineraries with longer times in port
Most 7-night Alaska cruises will visit three or four different ports, but the time spent in each port can differ. Some itineraries may include a short, 5 hour stop in one port whereas others may stay docked for 8-10 hours.
If your idea of a fun port day involves hiking or kayaking through Alaska's stunning scenery, you'll want to look for itineraries that maximize time in port. This will maximize the time you have to explore the outdoors, whether you're planning to reach the summit of Deer Mountain in Ketchikan or mountain bike in Skagway.
Related: Local guide of places to visit in Ketchikan, Alaska
The land-based traveler
Best Alaska cruise: One-way Alaska cruise with a Cruise Tour
Trying to decide between an Alaska cruise and a land-based vacation? Why not both?
Royal Caribbean offers one-way sailings to and from Alaska, allowing passengers to combine a 7-night cruise with a land-based vacation. These sailings travel between Vancouver and Seward (and vice versa).
Many passengers start or end a one-way cruise with a Cruise Tour booked through Royal Caribbean. These 2-5 night trips visit Denali, Fairbanks, Anchorage, and Talkeetna.
Related: Ultimate Alaska cruise guide
Alternatively, you can choose to travel without an organized tour. Some passengers opt for a self-guided road trip or stay in a remote mountain lodge.
Regardless of how you travel once in Alaska's interior, a one-way cruise itinerary means you can experience Alaska's wilderness and beauty more in-depth than on a roundtrip sailing.
The family vacationers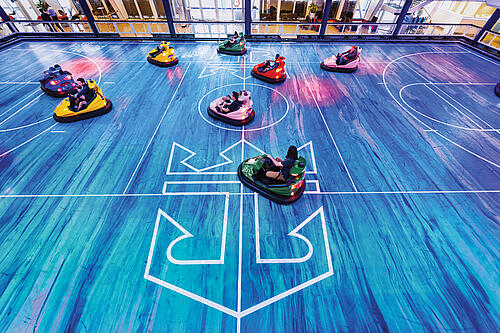 Best Alaska cruise: Any Quantum Class ship
Traveling with kids? Look no further than Royal Caribbean's Quantum Class ships, which sail roundtrip from Seattle to offer 7-night Alaska cruises each summer.
Quantum of the Seas and Ovation of the Seas are both in the Quantum Class, which is known for its abundance of thrill-seeking activities like indoor skydiving, bumper cars, and a surfing simulator.
Related: Comparing the Royal Caribbean ships sailing to Alaska in 2023
Adults will find plenty of ways to keep busy, too, whether enjoying a date night at Jamie's Italian or dancing to a live rock band at Music Hall.
These ships have it all while still visiting Alaska's top destinations.
More Alaska tips & tricks: