In:
You're on your first Royal Caribbean cruise and you spill something on your favorite shirt.  Or maybe your kids were a little too rambunctious in port and got their clothes dirty.  Or perhaps you want to re-wear something again.  How do you launder your clothes on your Royal Caribbean cruise?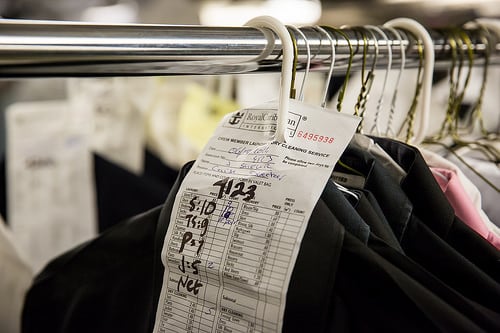 Photo by Jeff Goldberg
Send it out
The simple answer is Royal Caribbean provides a laundering service.  Just like the dry cleaners at home, Royal Caribbean charges per item to have it washed and press, pressed only or dry cleaned only.
The price for this service depends on the item. Refer to the list below for prices for each item and its corresponding service.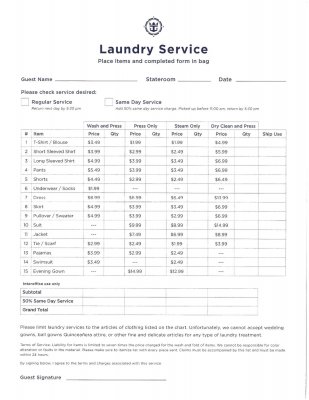 Depending on when your order goes in, you often can get your clothes back the next day.
Having your clothes simply pressed is a great way to have nicer clothing, like dress shirts, suits or dresses, wrinkle free for just a small cost.
You will find order forms for laundry in your stateroom (check the closet or ask your stateroom attendant).  Fill out the paperwork, deposit the clothes in the provided bag and leave it for your stateroom attendant or hand it to him/her to take care of for you.  The cost of the order will be deducted from your SeaPass account.
Can I do it myself?
The answer to this is mostly, no.  
Royal Caribbean prohibits passengers from bringing irons onto the ship and there are no self-service laundry facilities.
However, many passengers have found you can bring single-packet detergent and fill your sink up with water to wash small loads of laundry, like soiled shirts.  It's a good solution for kids clothes mostly.