In:
Love is in the air… and at sea!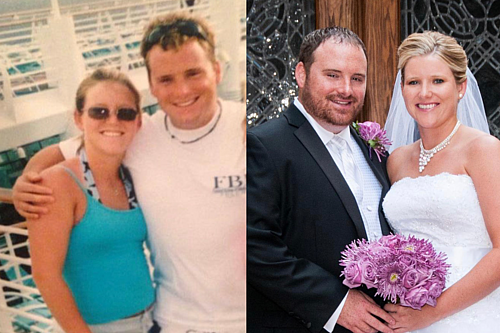 Have you ever thought about the possibility of meeting the love of your life on a cruise ship? Laura and Jarrod West of New Braunfels, Texas did just that while on a Royal Caribbean cruise in 2004.
However, the two lost touch after the cruise. It wasn't until several years later that they reconnected, started dating, and decided to tie the knot.
In honor of Valentine's Day, we talked with Laura and Jarrod West to learn more about their Royal Caribbean Love Story.
How did you two meet?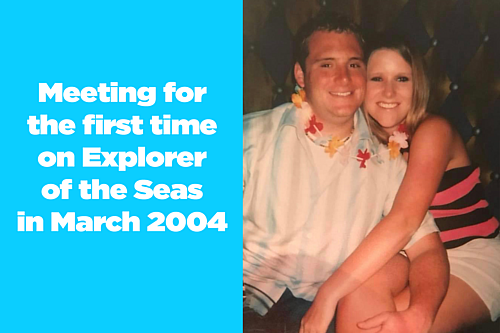 Laura and Jarrod: On Explorer of the Seas in March 2004, I (Laura) was traveling with my family and some friends and Jarrod was traveling with his family. Jarrod approached me and my friends on the pool deck.
What was the rest of the cruise like after you met each other?
Laura and Jarrod: During the first cruise we met on, we hung out and got to know each other, along with other spring breakers on the boat.
At that time, guests 18 and up could drink beer and wine and access all the clubs and bars that guests 21 and up could. My group of friends and I told everyone we were 21 at the time instead of 18. Jarrod was 22 at the time.
I had lost my ship card on one of the last days of the cruise and Jarrod walked down with me to get a new one. After they printed my new SeaPass card, Jarrod noticed that customer service punched a hole in my card. He asked why and that's when Jarrod first learned that I was only 18!
As a result, Jarrod (22) realized that he had been lied to about our ages, but we exchanged numbers anyway.
Did you stay in touch after the cruise?
Laura and Jarrod: Jarrod was living in Illinois and I was living in Texas, and we talked a lot on the phone through August of that year, but it became every once and a while after that (Jarrod was bad about losing his phone).
We never committed to dating or anything because of the long distance and I think Jarrod thought I was too young. So we would randomly talk on the phone every once in a while for 7 years without ever seeing each other.
We both were casually dating other people during that time, but I would always answer his calls. My friends would ask who I was talking to and I would casually respond with "the man I'm going to marry." Of course my friends and family thought it was a pipe dream!
I even invited Jarrod to come to sorority formal but his work got in the way and he didn't come. My mom told me to forget about him and that it was never going to happen. 
Meanwhile Jarrod began his successful career being the manager of Walmart.
How did you two end up reconnecting after such a long time apart?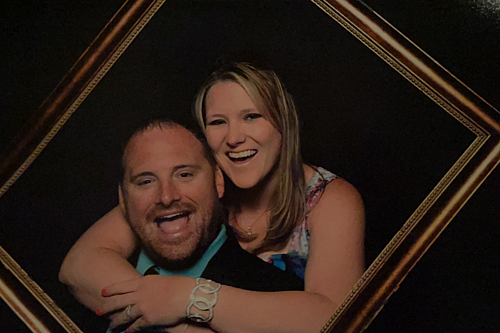 Laura and Jarrod: Seven spring breaks later from when we first met, in 2011, Jarrod and I realized through social media that we were going to be on a cruise the same week and same itinerary but on different ships. I was on Allure with my family and Jarrod was on Freedom with his family. 
After our cruises were over, Jarrod had a 4 hour layover in Dallas and that is where we first saw each other again and reconnected (Jarrod gave me a kiss as soon as he got into the car).
We both agreed it was really special that we both reconnected and before he got on his flight back to Illinois, he asked if he could come back to Dallas and take me on our first official date.
A few weeks later, April fools weekend 2011, Jarrod flew in not knowing anything about Dallas. I made him take me to a nice/expensive surf and turf dinner, the Dallas Aquarium, and we went to a Texas pool party with friends. I mean… I had to wait for 7 years for this guy; the least he can do is take me somewhere nice!
Before flying home, Jarrod asked me to be his girlfriend, told me he loved me the same day, and we agreed to give the long distance relationship a try and did so for about a year.
I heard Jarrod proposed onboard a Royal Caribbean ship. Can you tell me more about that?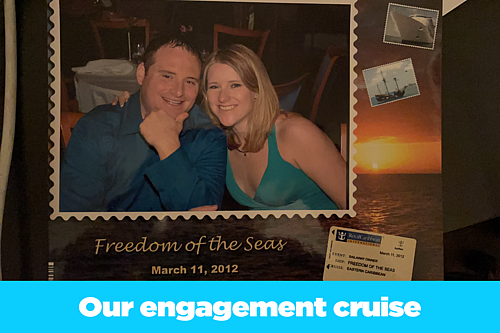 Laura and Jarrod: In March of 2012, Jarrod scheduled a cruise and invited me to come along with his family on Freedom of the Seas. The cruise was going to the Virgin Islands and stopped in St. Thomas.
While in St. Thomas, Jarrod and I booked a midday catamaran excursion. That morning, we got off the ship early and did one of Jarrod's parents' favorite things to do: shop for diamonds at Diamonds International.
While there, I pointed out a few designs that I really liked and settings… and little did I know that Jarrod had taken my feedback and pointed out what ring and setting he wanted for an engagement ring.
Jarrod and I rushed to our excursion and his parents stayed behind to ensure the ring was put together just right. After a great day on the catamaran and a few *cough cough* drinks to boot, we got back on the ship to get ready for dinner.
While I was in the shower, Jarrod's parents came to the room and gave Jarrod the ring he had purchased. They were excited and wanted him to propose that night at dinner.
Jarrod took me to Chops Grille and wined and dined me, but thought he needed more time to relax and let our food settle after a big day out on the island.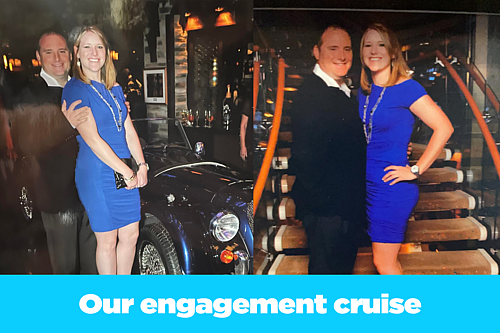 That night, one of the activities on ship was the Dancing Under The Stars party on the pool deck where a band was playing. During that dance party I stepped away to the restroom, and Jarrod asked the band if he could propose while using the stage.
The lead of the band told Jarrod to dance our way to the front and come on stage so he could propose. So we did just that, and at the end of the song, the band handed Jarrod the mic. He pulled me up on stage to which I replied "What are you doing?"
Jarrod was nervously going to his pocket to locate the ring. He told me to hang on a minute, and he found the ring and pulled it out of his pocket. Then he said into the microphone on one knee that he loved me and met the girl of his dreams on a cruise ship and couldn't think of a better place to propose. And he proposed.
Jarrod moved to El Paso, Texas that next week, then I moved down there in May. We got married that next August in San Antonio, Texas. 
Are the two of you still cruising?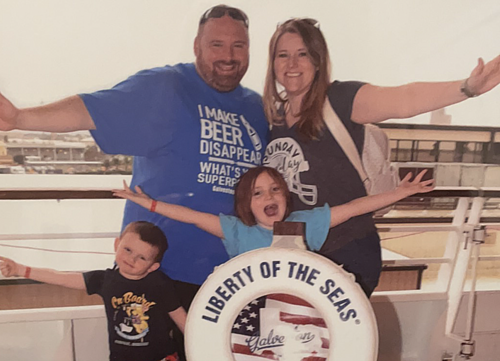 Laura and Jarrod: Cruising remains a big part of our life and something that we enjoy. Prior to covid we were cruising 5-6 times per year and we recently went on our first cruise since Covid. We are planning our 10 year anniversary cruise out of Italy to the Greek isles on the Odyssey of the seas and looking forward to that.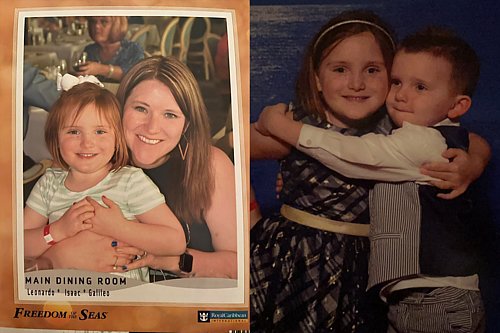 We have 2 kids, Autumn (8) and Carter (6), and they love to cruise too! We currently live in New Braunfels, Texas, where I am a teacher and Jarrod is still a store manager for Walmart. 
When we are not cruising we are busy with sports and extracurricular activities, but cruising remains our favorite getaway.