In:
Happy Sunday! Temperatures may be dropping, but there is plenty of Royal Caribbean news to share. This is your weekly summary of all the Royal Caribbean news from this past week, perfectly fitted for your consumption.
Royal Caribbean has opened reservations for its high-end supper club, the Empire Supper Club, on its upcoming Icon of the Seas launch in 2024.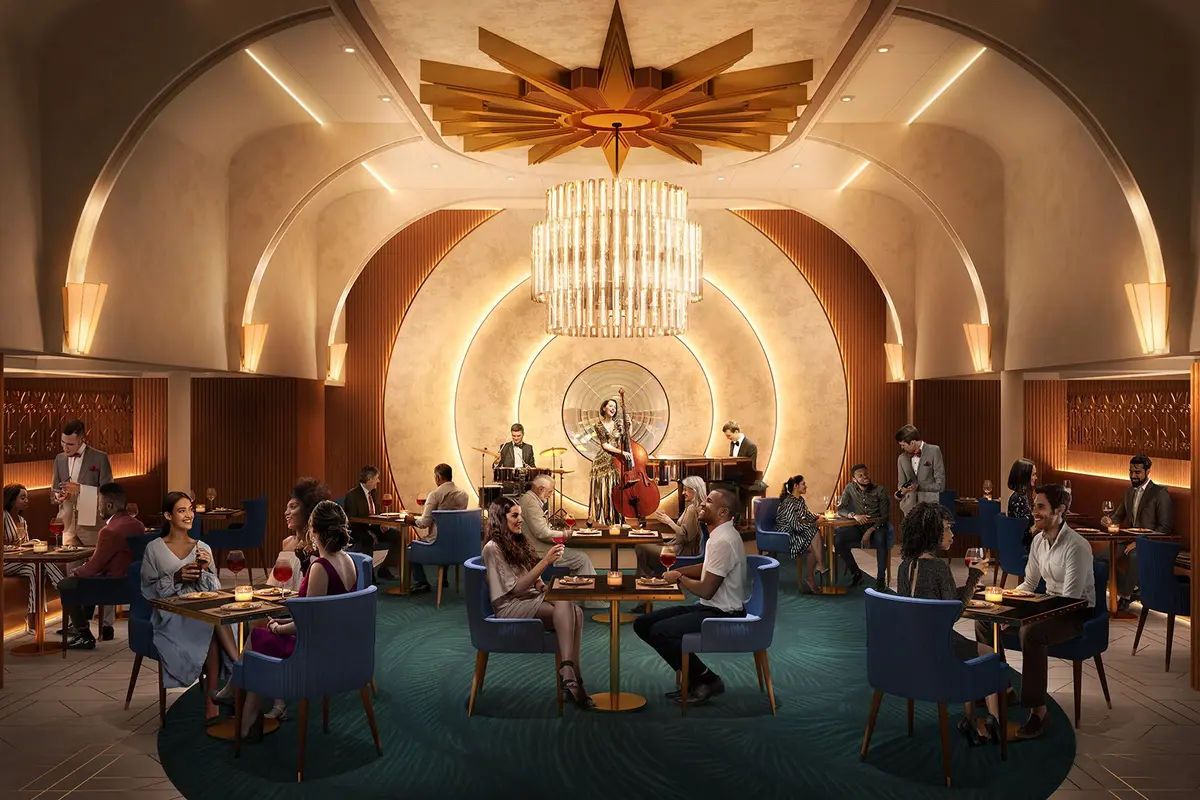 This formal supper club will be the first of its kind, an elegant and glitzy experience like never before. 
It is priced at $200 per person, or just an additional $130 for guests with the Unlimited Dining Packing.
Royal Caribbean News
Video: Inside the Mega Suite on the World's Biggest Cruise Ships
Have you subscribed to the Royal Caribbean Blog YouTube Channel? We share some great videos there regularly, all about taking a Royal Caribbean cruise!
Check out the link to view our latest video: Inside the Mega Suite on the World's Biggest Cruise Ships
I stayed in the cheapest cabin on Radiance of the Seas
Paying just $151 a night, Calista decided to sail in the cheapest cabin on Radiance of the Seas.
Located midship, with no windows, this small cabin became her home for the 5-night sailing.
Her cabin tour shows the room's features and explains whether the inexpensive price was worth staying in the small stateroom. 
Sorrento's pizza on Royal Caribbean cruise ships
Royal Caribbean's food venues are well-known for their quality and service, and Sorrento's Pizza is one such complimentary venue.
Deanna reviews Sorrento's Pizza, the grab-and-go restaurant available on many cruise ships, either as its own restaurant or as part of the Cafe Promenade or Park Cafe.
What are the menu, hours, and cost at Sorrento's Pizza? Read more here. 
Comparing the cheapest cabin on Carnival Celebration vs Royal Caribbean's Symphony of the Seas
Elizabeth recently stayed in windowless interior cabins onboard Royal Caribbean's Symphony of the Seas and Carnival Cruise Line's Carnival Celebration—the cheapest options available on both cruise lines.
From the bathroom to seating to storage, Elizabeth compares the two cabins, sharing which aspects she likes more from each cabin.
I chose to cruise on a smaller Royal Caribbean cruise ship. It saved me money and brought me to ports I prefer
Matt shares why he preferred to sail on a smaller Royal Caribbean ship, such as on his cruise on Radiance of the Seas. 
Radiance is Royal Caribbean's oldest cruise ship, but that's no reason to avoid sailing on this ship.
Sailing from the small Tampa port, this sailing was an inexpensive way for Matt to travel to multiple ports in Mexico.