In:
On a Royal Caribbean cruise, the excitement doesn't only unfold in the vast ocean views or the thrilling onboard activities—it's also found in the delicious and convenient dining options. One such gem is Sorrento's Pizza, a grab-and-go style restaurant perfect for pizza lovers seeking a quick and satisfying bite.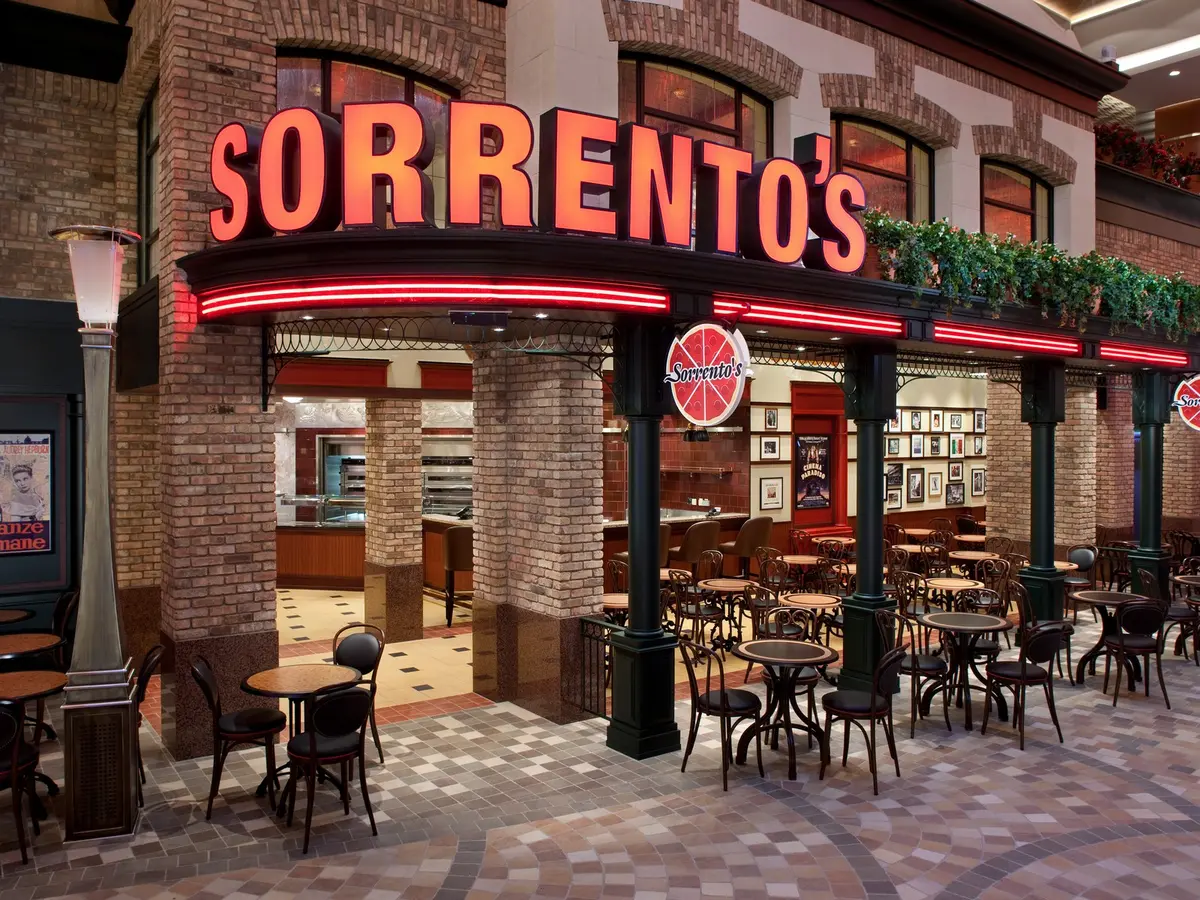 Who doesn't love a free slice of pizza?! You will find this great pizza at Sorrento's Pizza on Royal Caribbean cruise ships. 
Location and atmosphere
Depending on which cruise ship you're sailing on, the location (and even name) of Sorrento's may vary.
Sorrento's restaurant is strategically placed in a central and easily accessible location on Royal Caribbean ships.
On many ships, it's nestled on the Royal Promenade, and it serves as a pitstop for cruisers on the move. On Voyager Class ships, Sorrento's pizza is part of Cafe Promenade.
On some older ships like Radiance and Vision class ships, you'll find it located in Park Cafe.
Whether you're in the mood for a speedy lunch between activities or a late-night snack after a show, Sorrento's is there to cater to your cravings, the casual atmosphere sets the stage for a laid-back dining experience.
You simply need to find the Sorrento's, get in line, order at the counter, and then you will be handed your pizza on a plate!
You have the option to dine in and grab a table after using the walk-up counter to order your pizza or you can take the food to go and enjoy your pizza elsewhere on the ship. 
At the end of the counter, they will have condiments like ketchup, ranch, red pepper flakes, and parmesan.
Beverages, including sodas and alcoholic drinks, are available for purchase.
Additionally, within the restaurant, a complimentary water station is conveniently provided.
Hours
Sorrento's expansive operating hours are an enticing feature for many guests. Sorrento's is open almost all day with a constant but quick line that ensures you are getting fresh pizza all day long.
While encountering no line at Sorrento's is a rarity, fear not – their efficient system ensures a quicker experience than it might initially appear. Sorrento's operates from 11:00 am to 3:00 am on average, though specific times may vary, so be sure to check your cruise app for the exact hours during your voyage.
Menu
Sorrento's Pizza does not have a set everyday menu, so you can expect some level of variety
While the classic cheese and pepperoni pizzas remain constants offered everyday, the offerings vary daily. Indulge in a rotation of options, from the carnivore pizza loaded with meat, to the refreshing veggie, smoky BBQ, exotic Caribbean Dream, classic Margarita, and more. Each day brings a delightful surprise for pizza lovers.
Sorrento's also offers some antipasti options, you will see complimentary options like seasoned cheese, salami, olives, artichokes, grilled vegetables, and mussels (excluding oasis and allure for the antipasti options).
You can also find the Coca-Cola Freestyle machine at Sorrento's, which you will need to purchase a soda cup to use. You do receive a soda cup with a drinking package so be sure to grab one.
Tip: Customize your experience by ordering a whole pizza tailored to your personal preferences for yourself or your family, complete with the toppings of your choice. They can cater to gluten-free, or vegan options.
If you want a gluten-free pizza, you just need to ask. There's no charge for it.
Cost
Every food item at Sorrento's is included in your cruise fare.
You do not need to use your SeaPass card unless you order a soda or alcoholic beverage. 
Royal Caribbean ships with a Sorrento's location
You'll find pizza available on every Royal Caribbean ship, but only some cruise ships have a dedicated Sorrento's location.
Allure of the Seas
Oasis of the Seas
Harmony of the Seas
Symphony of the Seas
Wonder of the Seas
Freedom of the Seas
Liberty of the Seas
Independence of the Seas
Quantum of the Seas
Anthem of the Seas
Ovation of the Seas
Odyssey of the Seas
Spectrum of the Seas
Sorrento's will also be on new ships Icon, Star, and Utopia of the Seas.
Sorrento's is one of Royal Caribbean's most popular restaurants. With its central location and delicious pizza, Sorrento's quick service pizza is a convenient and delightful choice for cruisers.
So, the next time hunger strikes, make a beeline for Sorrento's Pizza and savor the convenience and deliciousness that comes with every slice.