In:
Royal Caribbean is in the final months prepping what will become the largest cruise ship in the world.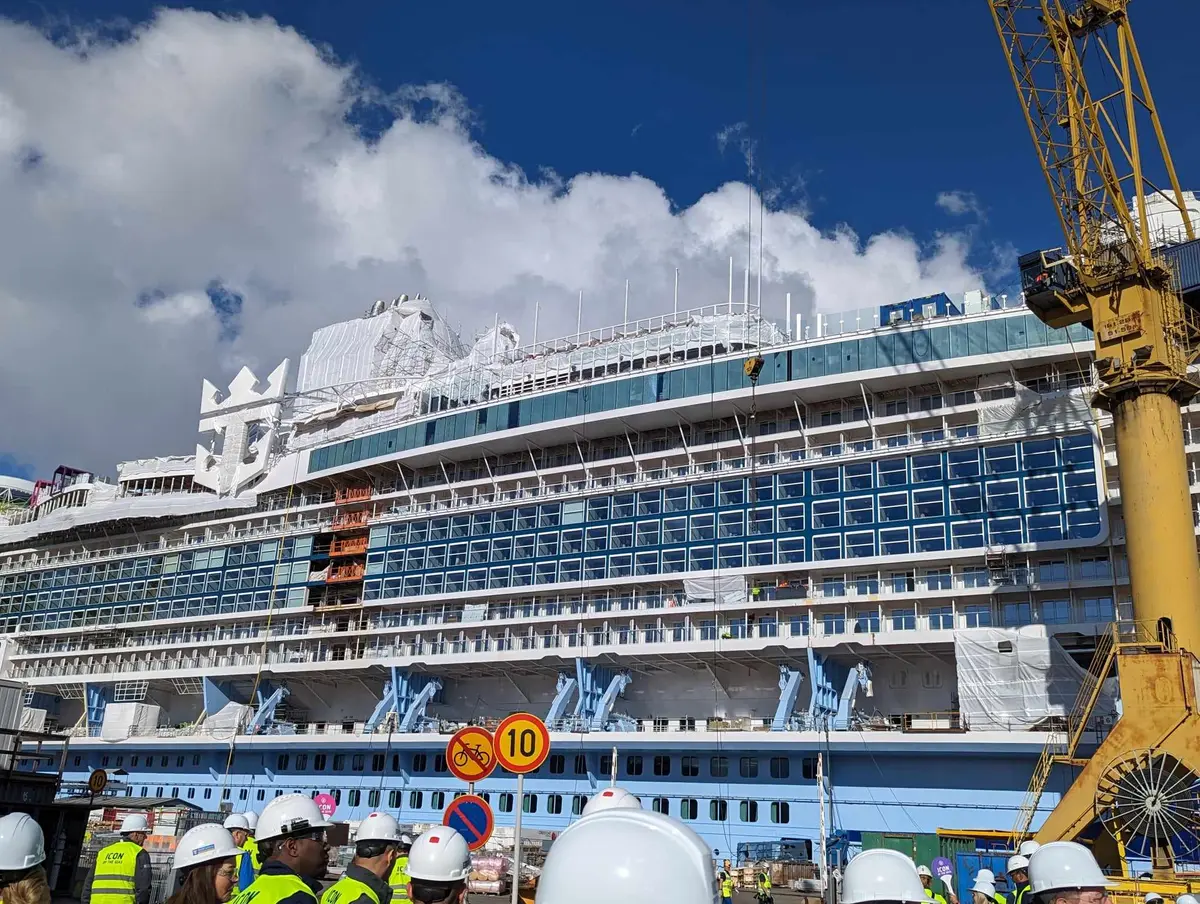 Icon of the Seas won't launch until early 2024, but the ship is already generating incredible hype with an unmatched level of fascination for a new cruise ship yet unseen.
The 20-deck high ship comes in at 250,800 tons and will take away the title of biggest cruise ship in the world from sister vessel, Wonder of the Seas.  In fact, it will be the first time in about  5 years that an Oasis Class ship hasn't been the biggest in the world.
At the Turku, Finland shipyard, Royal Caribbean gave a hard hat tour to travel agents to help familiarize the new ship with some of the top sellers of all things Royal Caribbean.
Beci Mahnken, president and CEO of MEI-Travel, had the opportunity to get a sneak peek at the not-yet-completed ship while it's being worked on.  Unlike our visit to the ship in May, Icon is in a far more complete stage of construction now.
Icon already completed her first set of sea trials, and is expected to complete work on her sometime later this year before being readied to start offering cruises.
If there's one thing apparent about Royal Caribbean's new ship, it's that it's anything but ordinary.
Royal Caribbean calls Icon of the Seas a "white paper" ship, because it has been designed from the ground up with new concepts. 
There's been a lot of attention for this new ship, and rightfully so, as it represents the single biggest chance of being a game changer to the cruise industry in the same way the Oasis of the Seas was when it launched.
Royal Caribbean is building on its legacy of not just building big cruise ships, but innovating and leading the industry at the same time.  Royal Caribbean sets the bar all other new cruise ships are judged against.
With five months left before the first passenger steps onboard Icon of the Seas, there's still plenty to do.  In the meantime, here's a look at the latest progress and how much closer to completion the ship is.
Thrills get their own deck
You wont run out of things to do on Icon of the Seas, especially if water slides are your thing.
Icon will introduce the first water park at sea, with six different water slides that will draw your attention within a mile of arriving to the ship.
Thrill Island is the name of a brand new neighborhood coming to the first Icon Class cruise ship, and it is a new approach to aquatic fun on a cruise ship for Royal Caribbean.
Because Royal Caribbean wants Icon of the Seas to rival any family land resort, the amount of space dedicated to water slides is not something you will find at any old hotel complex.
Related: Royal Caribbean's next-gen cruise ship will have the largest water park to thrill all ages
In combination with their private island, Royal Caribbean thinks they have a one-two combo that will draw people to Icon like never before.
"The Icon product, along with Perfect Day, with the kind of experiences that we're offering, with the kind of new accommodations that we have on Icon and the experiences that we have for young families, older families and of course couples and singles and what have you, is really squarely standing shoulder to shoulder with Orlando and those kind of destinations," is what Royal Caribbean International President and CEO Michael Bayley said about his company's plans.
The water slides, known collectively as Category 6, take up the back of the top deck of the ship, and are flanked by mini-golf, a rock climbing wall, and a brand new thrill "walk".
Crown's Edge is a combination ropes course, sky walk, and obstacle course.
Guests are strapped in and walk 154 feet above the ocean for this experience. It lasts about two and a half minutes and culminates with  drop through portion, which Royal Caribbean described as "pretty scary".
Royal Promenade
Icon of the Seas is not the first Royal Caribbean cruise ship to have a Royal Promenade thoroughfare on its ships, but it will be the first to introduce an expanded and evolved version.
At 362 feet long, the Royal Promenade onboard Icon of the seas is longer than a football field, and for the first time, it incorporates ocean views.
As you walk onto the ship, you'll see a giant multi-deck high glass wall that will provide natural light and a way to still see the beautiful ocean that surrounds the ship.
The Pearl is a likely focal point of the Royal Promenade, which the cruise line describes as a multi-sensory experience built with 3,000 kinetic tiles. 
Behind The Pearl, guests will find the Pearl Cafe, which serves freshly toasted croissants, hot chocolate croissants, croissant sandwiches, sweets, and other specialty desserts. 
You will find Giovanni's Italian Kitchen and Wine Bar on the Promenade, which is a new location for this restaurant. There will also be a Dueling Pianos bar, Sorrento's pizzeria, Point and Feather pub, Spotlight Karaoke, Boleros and Schooner Bar.
On one end of the Promenade will be the new ice skating rink, Absolute Zero, with over 2,850 square feet of ice.
Absolute Zero will host two different shows: "Starburst" and "Once Upon A Time."
Casino Royale is located just one deck below the Promenade.
Pools, pools, and more pools
A connection to the water was one of the guiding principles to Icon of the Seas' design, and you'll find a pool deck that exceeds anything else the cruise line has offered.There's 62% more water surface area than on the Oasis Class cruise ships.
Chill Island is the name of its massive resort-style relaxation zone where you'll find the largest pool at sea, an adult only pool, and the first suspended infinity pool at sea. Five of the seven pools on Icon of the Seas are located in Chill Island.
Whether it's sitting by the pool, listening to the Caribbean band, or enjoying time at the ship's swim-up bar, the idea behind Chill Island is you can pick from different ways to take it easy.
Like most of the ship, the pools are under construction and will be among the last things to be completed (no need to add pool water this early).
There will be pools for adults, pools for families, and pools to simply enjoy the views all around you, including the ocean.
The Aquadome
You can't miss the AquaDome as a feature, given that there is a giant glass dome adorned to the front part of the ship. Inside, Royal Caribbean hopes to deliver a jaw-dropping experience.
Instead of an outdoor theater that is subject to weather conditions, Royal Caribbean built a dome it placed on top of the theater, along with enough space to add bars, food hall, and even cruise ship cabins.
Photos simply do not do the AquaDome justice, because it is truly massive. It weighs 363-tons and has over 600 glass panels of cables. It was no simple feat to hoist it into position, as the team in Turku had to use 1,600 feet of cables to lift it into position. The length of cables is longer than the height of the Empire State Building.
Of course, the AquaTheater is at the heart of this neighborhood. Royal Caribbean has a show that that will feature aerialists, acrobatics, high dives, and the tallest waterfall at sea at 55 feet tall.
 There will be two shows that passengers can see in the AquaTheater: "Aqua Nation!" and "Pirates vs Mermaids." 
You'll find the Overlook inside the dome, which has 220-degree views from pods you can sit in and enjoy time with friends.
More family time
If there's one major focus Royal Caribbean has with its new ship, it's it wants to up its family cruise game to a whole new level.
Icon will have an entire neighborhood dedicated to young families, known as Surfside. It's located at the back of the ship in an open-air space that is somewhat similar to the Boardwalk neighborhood on the Oasis Class ships.
Related: Royal Caribbean is building the best cruise ship for young families on Icon of the Seas with a new purpose-built area
Splashaway Bay and Baby Bay are the focal point of the new neighborhood, which is an aquapark and pool designed for families to enjoy together. Royal Caribbean added the Water's Edge pool so adults can lounge in the pool too.  It is located at the aft of the ship, complete with in pool lounge chairs and gorgeous views of the ocean.
As part of Royal Caribbean's plans to attract families away from theme parks and other land destinations in Florida, this part of the ship is all about appealing to not just kids, but their parents too. 
Instead of a place to take your kids, Surfside is meant to be enjoyed alongside your kids.
There's lots of dining choices too, including Surfside Bites. This quick eatery has burgers, popcorn chicken, cinnamon sugar donut holes, and, of course, soft serve! 
You'll also find new cabins in Surfside designed to accommodate more people, which is perfect for families.
There are new categories of cabins on Icon, with over 50% of Icon's room types new to the cruise line.
Related: Royal Caribbean designed first-of-its-kind cabins for its new cruise ship
The ocean view infinite balcony that allows you to expand your indoor living space or invite in the sea breeze with the touch of a button.
One new cabin type is the Family Infinite Balcony room, which has in-room games, a split bathroom, and even a bunk area for children that can be closed off with a curtain for privacy. Plus, each bunk has their own television!
And then there's the epic suite that cannot be overlooked.
The Ultimate Family Townhouse is a mind-blowingly epic, 3-story stateroom extraordinaire that features its own back yard with a private entrance into Splashaway Bay. 
Demand is so strong for these rooms that it's selling for $80,000 per week in 2024.
There's an in-suite slide to bring you into "the coolest living room ever", which has hidden nooks too.
Central Park
A fan-favorite neighborhood will make it on Icon of the Seas in the form of Central Park. 
In the heart of the ship is an open air garden with living plants that create a peaceful atmosphere amongst various dining and entertainment venues.
When it's complete, Central Park will have a jazz club, walkup champagne bar window, and new restaurants too.
Related: The Ultimate Icon of the Seas Dining & Lounges Guide
Bubbles is the walkup champagne bar window where glasses of mimosa, prosecco, and Bellini, and bottles of Champagne are available all day.
If elevated dining is your thing, you'll need to check out the new swanky supper club coming to Icon of the Seas.
Empire Supper Club is is meant to be reminiscent of the 1930s in New York City, and it has two seating for guests to experience the extravagant eight course menu.
The menu will feature premium American cuisine and offer selections such as caviar and wagyu. Plus, each course will be paired with a beverage. 
Launching in January 2024
Royal Caribbean has billed Icon of the Seas to be not just a major player in the cruise industry, but the likely heir apparent to the title of most coveted cruise ship.
The first sailing is scheduled for the end of January, and Icon will be the first of at least three new cruise ships in this class.
While it's likely inevitable for Icon to be compared to her Oasis Class sisters, there's little doubt Royal Caribbean isn't up to the task considering their track record of introducing game-changing ships time and time again.
Related: 11 reasons Royal Caribbean's Icon of the Seas will change the cruise industry
The next step for Icon are around round of sea trials scheduled for later in 2023 to ensure Icon of the Seas is ready to be delivered to Royal Caribbean prior to her January 27, 2024 maiden voyage. 
The first sailing of Icon of the Seas will be a 7-night cruise from Miami on January 27, 2024.
The ship will sail year-round out of Miami in 2024, alternating between Eastern Caribbean and Western Caribbean itineraries, with four different routings available for departures between January 2024 and April 2025.
More information