In:
A milestone in the construction of Royal Caribbean's first Icon Class cruise ship was just completed.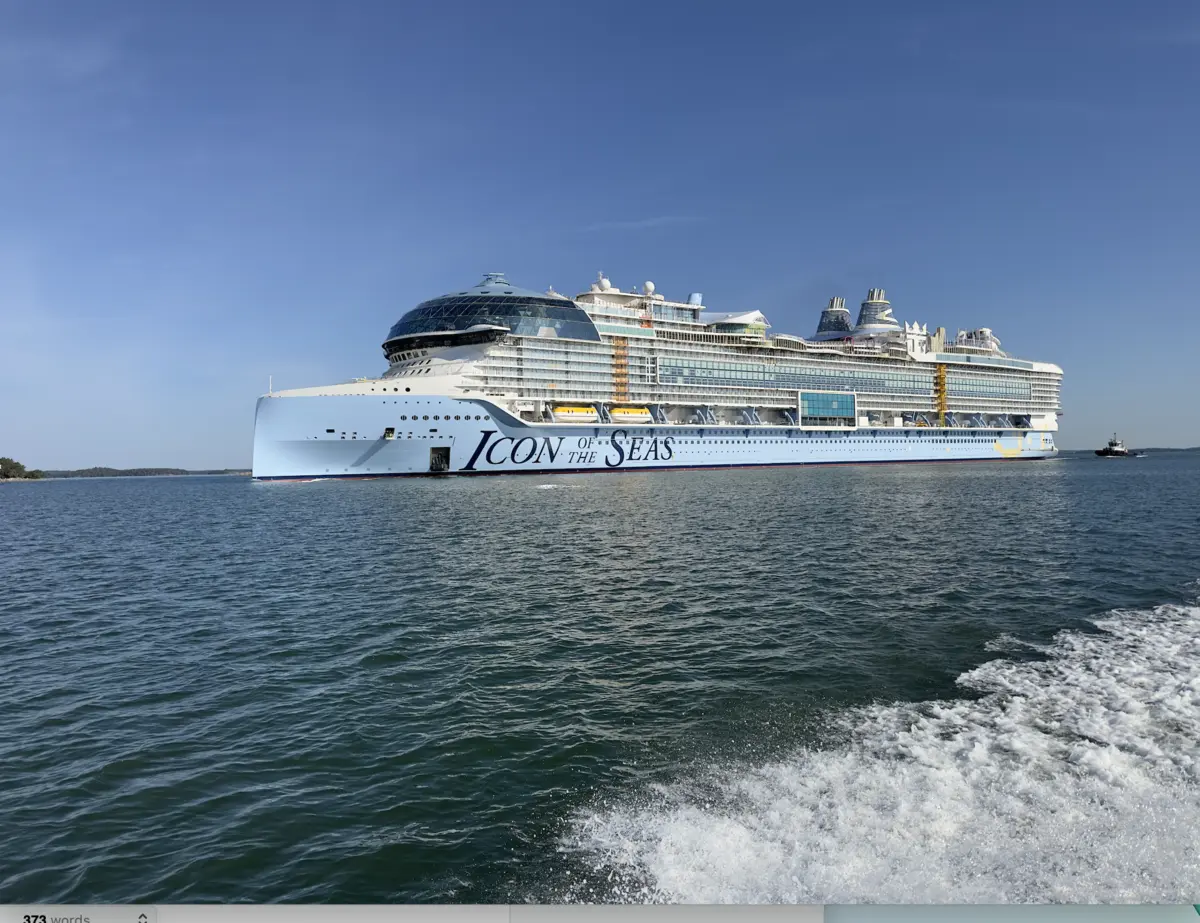 On June 22, the brand-new ship successfully completed her initial round of sea trials and returning to the Meyer Turku shipyard, where she departed from four days ago. This is where the ship has been under construction since April 2022 when the kneel was laid. 
In other words, Royal Caribbean's Icon Class has now sailed through the open ocean! 
Icon of the Seas' first sea trials
During her first set of sea trials, Icon of the Seas traveled hundreds of miles, during which the main engines, hull, brake systems, steering, noise, and vibration levels were all tested. Everything was done on time as outlined in the schedule, despite her departure being delayed due to wind conditions. 
When sea trials take place, hundreds of specialists run tests to help assess different technical areas of the ship, and there were more than 450 specialists who helped to run the four days tests on the ship's technical areas during this round of sea trials. 
Between preparing for the trial and the tests themselves, there were over 2,000 specialists who put in more than 350 hours of work in helping Icon of the Seas pass this important milestone. 
A second set of sea trials is planned for later in 2023, where Icon's abilities will be pushed even further. All of this is done to make sure that the ship is in tip-top shape being before delivered to Royal Caribbean. 
Operation food bag donation 
When Icon of the Seas returned from her first set of sea trials, she returned with a truckload of food to donate to the non-profit organization Operaatio Ruokakassi, or Operation Food Bag. 
Operation Food Bag is based out of Turku, Finland that was founded in March 2008. Their goal is to acquire and deliver food to those in need. All food that is distributed is free to those who apply. 
In 2022 alone, the non-profit distributed over four million pounds of food, and every week, they give out roughly 4,100 bags. 
Nearing the maiden voyage
There's roughly seven months to go until this record-breaking ship departs on her first voyage out of Miami, Florida on January 27, 2024. This is where she will be based through at least April 2025, where she will make 7-night cruises to the Caribbean. 
When she is completed, Icon of the Seas will be 6% larger than Wonder of the Seas, which means that she will steal the title for largest cruise ship in the world. 
As if that was not something to look forward to. (as Oasis Class ships have retained this title for over one decade), she will introduce brand firsts, such as Izumi in the Park, the AquaDome, family-focused Surfside neighborhood, Category 6 water park, and more. 
Between now and the second set of sea trials, there is still a lot that needs to be done before she is ready for passengers to board to experience the ultimate family vacation.