In:
Royal Caribbean recently released the first look at their brand new cruise ship, Icon of the Seas. Set to be the biggest cruise ship in the world with a maximum capacity of 7,600 passengers, Icon of the Seas has no shortage of places to dine and drink onboard the ship.
Both long-time favorites like Chops Grille and new dining venues can be found on Icon of the Seas. Restaurants are located throughout the ship, but most are located in one of the ship's eight distinct neighborhoods.
While Royal Caribbean hasn't released detailed information about every dining venue and lounge found onboard, we have an initial idea of which venues are available based on the ship's deck plans and renderings. We will continue to update this post as Royal Caribbean releases more information.
Let's dive in to take a more in-depth look, neighborhood by neighborhood, at everywhere you can eat and drink on this record-breaking cruise ship.
#1: Royal Promenade
Pearl Café
While we don't know much yet about The Pearl, a large sphere located in the middle of the Royal Promenade, deck plans show an eatery next to The Pearl on deck 6.
Based on video renderings, this eatery appears to be a casual, complimentary grab-and-go venue that is named "Pearl Café." It also shows a sign for specialty coffee in the cafe, so this area could be the Icon Class rendition of Cafe Promenade.
The cafe is located in front of the giant, 36x95 foot window found on Icon of the Seas, so amazing ocean views are sure to be in abundance at this venue.
Giovanni's Italian Kitchen & Wine Bar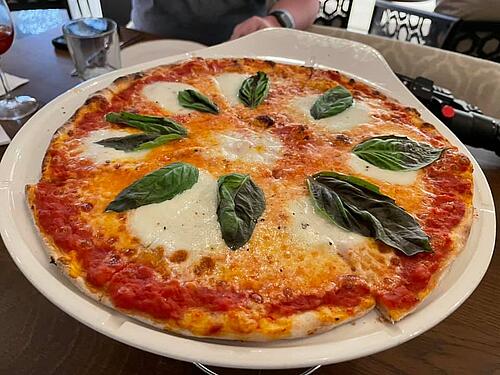 The newest Italian restaurant in Royal Caribbean's fleet will be found on Icon of the Seas, which combines a modern Italian restaurant with a connected wine bar.
Menu highlights at this specialty restaurant include 12-inch pizzas, chicken parmigiana, and spaghetti carbonara. 
Related: How Royal Caribbean reimagined its signature Italian restaurant
Playmakers Sports Bar & Arcade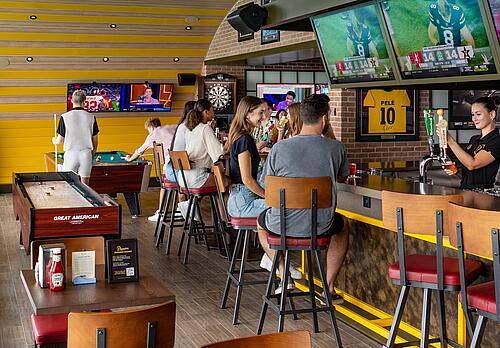 Playmakers Sports Bar & Arcade is also located on the Royal Promenade. Known for its plethora of television screens and bar games, Playmakers is sure to be busy with sports fans during any cruise on Icon of the Seas.
Related: Playmakers Sports Bar & Arcade restaurant review
Be sure to try the specialty restaurant's Campfire Cookie, a skillet chocolate chip cookie topped with toasted marshmallows. In the mood for something savory? A burger or nachos should do the trick.
Sorrento's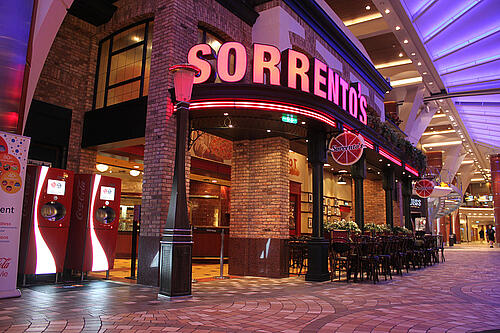 The best spot for unlimited pizza onboard is Sorrento's. Most popular for an afternoon snack after busy port days or for a late-night meal after an evening of fun, you'll find pizza and antipasti included in your cruise fare.
Other bars and lounges on or near the Royal Promenade include:
Point & Feather, an English pub with acoustic guitar music in the evenings
Boleros, a Latin-themed bar with live music and the best mojitos onboard
Schooner Bar, a nautical-themed bar with activities during the day and piano music at night
Starbucks, a standalone Starbucks store (not included with drink packages)
Spotlight Karaoke, a karaoke stage and bar
The Attic, a comedy club and bar
Diamond Club, a lounge for those who are Diamond Level and above in Royal Caribbean's Crown & Anchor Society
#2: Central Park
Izumi Hibachi & Sushi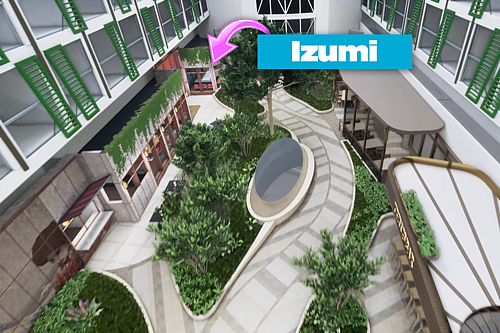 Royal Caribbean's beloved Japanese specialty restaurant will be located in Central Park on Icon of the Seas, a first for the restaurant.
There are two sides to Izumi: hibachi and sushi, and guests can enjoy either one in the charming atmosphere of Central Park.
Related: Should you book the Izumi pre-fixed sushi option?
Chops Grille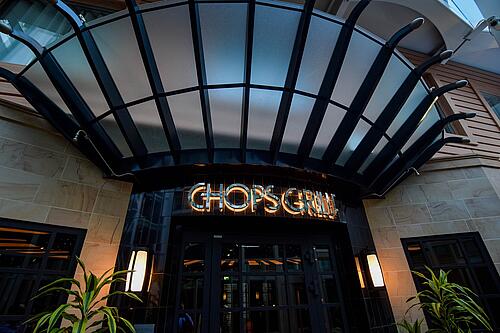 Chops Grille, the cruise line's signature steakhouse, is found on all Royal Caribbean cruise ships, and Icon of the Seas is no exception. Just like on Oasis Class ships, Chops Grille is located in Central Park with both indoor and outdoor seating. 
Related: Royal Caribbean's specialty dining packages guide
Park Cafe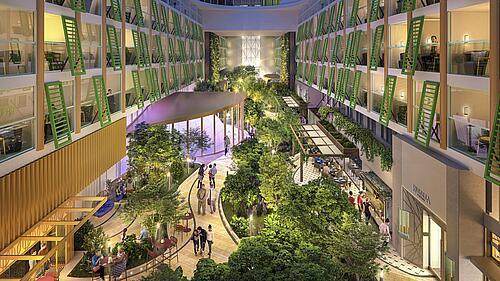 If you're looking for a complimentary dining option in Central Park, grab breakfast or lunch at Park Cafe. This restaurant is known for its bagel station, soups, salads, and roast beef sandwiches, and it's sure to offer options for the whole family to enjoy.
Trellis Bar
The last bar found in Central Park is Trellis Bar, the best place to grab a drink and relax amongst the plants and trees in all directions.
2 unnamed dining venues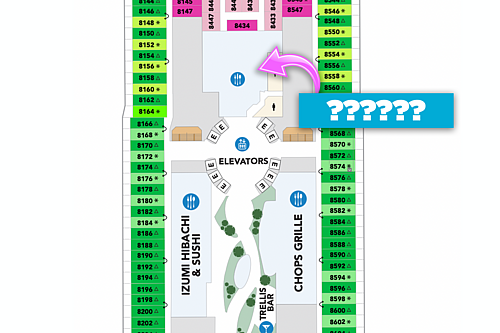 Located near the forward entrance to Central Park near the elevators appears to be another dining venue, although Royal Caribbean has not released any additional information on what this venue could be as of yet.
Similarly, there is also an unnamed lounge near the aft end of Central Park. On other ships with Central Park, this is where you would find Vintages or Giovanni's Wine Bar.
#3: Surfside
The Lemon Post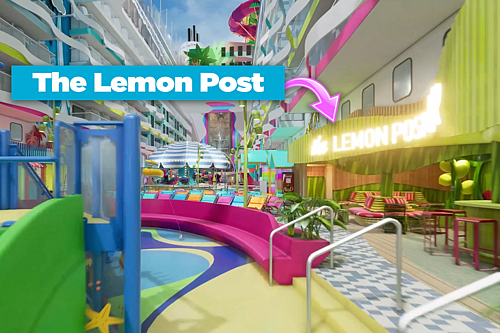 Located adjacent to Splashaway Bay in the Surfside neighborhood is The Lemon Post, a bar that will mix drinks for both kids and adults. Royal Caribbean describes the bar as follows:
Toast to your best family vacation ever at a new family-friendly hangout mixing up kid-approved sips as well as grownup drinks with a twist.
Based on renderings, this hangout/bar looks to be a colorful space where adults can relax as they watch their kids play in Splashaway Bay and the Water's Edge pool.
Related: 50 best cruising with kids tips & secrets
This bar will have its own featured drink menu, including the Watermelon Hibiscus Lemonade, made with fresh-squeezed lemonade, watermelon juice, pineapple hibiscus syrup, Ketel One Botanical Grapefruit & Rose, and soda water.
3 unnamed dining venues in Surfside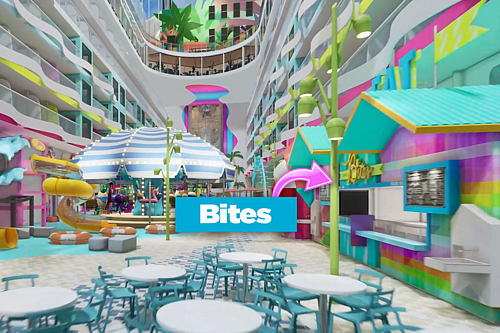 Outside of The Lemon Post, there appears to be three distinct dining venues available in Surfside.
First is a quick-service station generically named "Bites" on Royal Caribbean's renderings. This venue appears to be a grab-and-go spot for quick, casual eats, similar to Wipeout Cafe or Mini Bites on Oasis Class ships. Next to the quick-service station is a soft service ice cream machine.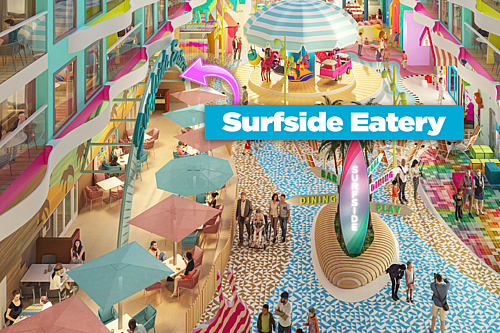 Second is a sit-down dining venue generically named "Surfside Eatery" on Royal Caribbean's renderings. There are no other details yet as to what this dining venue may be. It could be a Johnny Rockets location like on Oasis Class cruise ships or something completely new.
The last dining venue is located at the end of Surfside next to Splashaway Bay. Some speculated this area might be reserved for Playmakers Sports Bar & Arcade, but that venue is already found elsewhere onboard.
Sugar Beach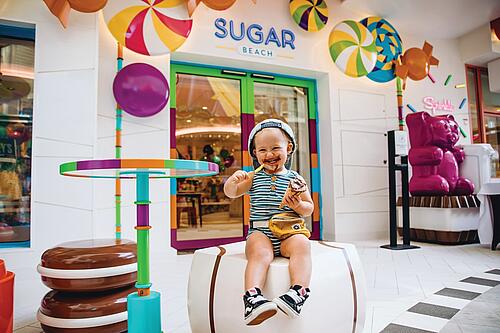 Sugar Beach is located in Surfside, and this venue is where you can purchase candy, Ben & Jerry's ice cream, and souvenirs at an extra cost.
#4: AquaDome
Hooked Seafood
Royal Caribbean's New England-style seafood restaurant can be found in the AquaDome neighborhood on Icon of the Seas. This specialty dining venue brings fresh seafood to the table, with menu highlights including clam chowder, drunken mussels, and Maine lobster rolls.
Unnamed dining venue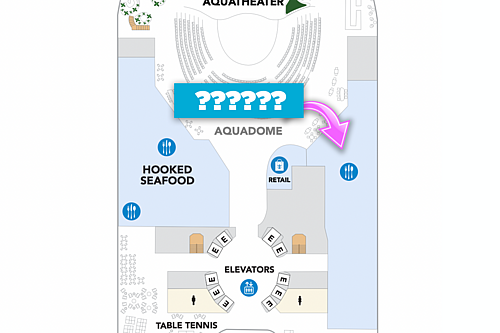 Initial deck plans for Icon of the Seas show space for an additional dining venue in the AquaDome, although it's not yet known whether this will be a complimentary or specialty restaurant.
AquaDome bar deck 14
There's a bar on the lowest deck of the AquaDome (deck 14), so you can easily grab a drink before an indoor AquaTheater performance or to sit and relax with an ocean view.
#5: Suite Neighborhood
Located in the Suite Neighborhood of Icon of the Seas are two dining venues exclusive for suite guests.
Coastal Kitchen
Coastal Kitchen has been a staple restaurant for suite guests since its debut on Quantum of the Seas in 2014, and Icon of the Seas will be the first ship in the fleet to have a two-story Coastal Kitchen restaurant.
The Grove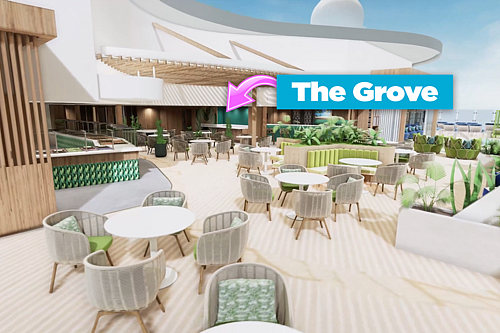 Royal Caribbean wanted to bring a second dining option for suite guests with The Grove. Unlike Coastal Kitchen, The Grove is a more casual, grab-and-go dining spot with a Mediterranean flare.
The Grove is located on the Suite Sun Deck near the pool, and a bar is located here as well.
#6 & #7: Chill Island & Thrill Island
The top decks of Icon of the Seas are where you'll find both Chill Island and Thrill Island.
Royal Caribbean aims to include a variety of dining and bar venues on the pool and sports deck so you don't have to worry about leaving the pool to grab a bite to eat. Here are the venues you'll find in these two top-deck neighborhoods:
El Loco Fresh & Cantina Fresca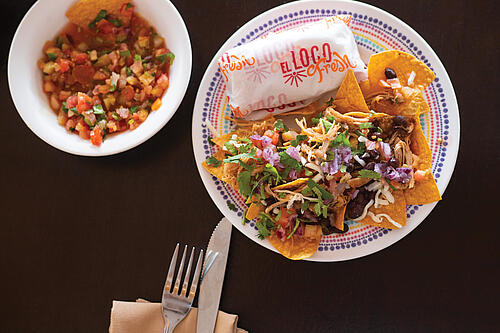 In between laps at the pool, you'll want to head to El Loco Fresh on the pool deck for fresh Mexican fare.
This complimentary grab-and-go spot offers burritos, quesadillas, nachos, tacos, and a salsa station that is sure to satisfy any hungry passenger.
Next to El Loco Fresh is Cantina Fresca, a Mexican-themed bar known for their specialty margaritas and aguas frescas. Specialty cocktails at Cantina Fresca include the Watermelon Margarita, Mezcal Mule, and Cozumel Sunrise.
The Lime and Coconut
Royal Caribbean's resort-style pool bar returns on Icon of the Seas with three locations in Chill Island, one of which is located in the new adults-only area, Cloud 17.
Signature drinks at the Lime and Coconut include:
Lime & Coconut, made with Malibu coconut rum, coconut milk, coconut syrup, guava syrup, and lime juice
Blue Wave, made with Tito's vodka, blue curacao, and pineapple juice
Caribbean sunset, made with aperol, sparkling wine, and a splash of soda 
Swim & Tonic
Connected to one Lime and Coconut location is Swim & Tonic, Royal Caribbean's first swim-up bar at sea.
Sprinkles
Also located in Chill Island is Sprinkles, where you can enjoy complimentary soft serve ice cream throughout the day.
Unnamed dining and bar venue below sports court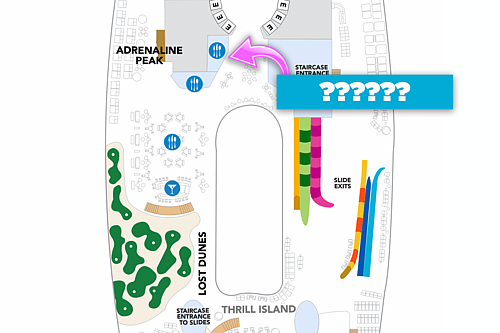 Directly underneath the Sports Court on deck 16 of Icon of the Seas is an unnamed dining venue.
While we do not have additional information on what type of restaurant this may be, it will likely be a quick-service casual restaurant aimed at families spending the day at the waterpark or in The Hideaway neighborhood.
#8: The Hideaway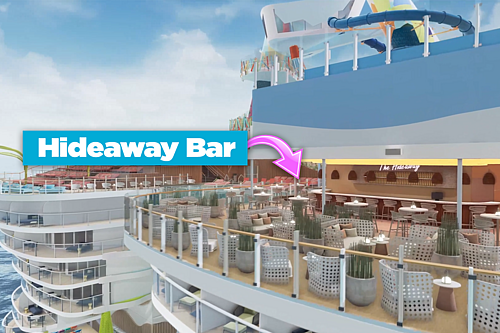 The Hideaway is Royal Caribbean's new neighborhood concept located at the ship's aft on deck 15. While there are no dining venues at The Hideaway, you'll find the Hideaway Bar.
This bar offers unbeatable views of the aft and has plenty of comfortable seating where you can enjoy a drink.
Other dining and lounge venues
While there are plenty of places to eat and drink within the neighborhoods of Icon of the Seas, there are a few options that don't fit into a particular neighborhood.
Windjammer Marketplace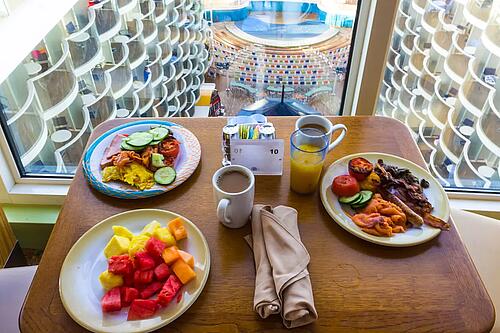 It wouldn't be a Royal Caribbean cruise without the Windjammer Marketplace, the cruise line's signature complimentary buffet.
The Windjammer is located on deck 15 and wraps around the entirety of the deck below Thrill Island, so the area should be quite spacious.
Main Dining Room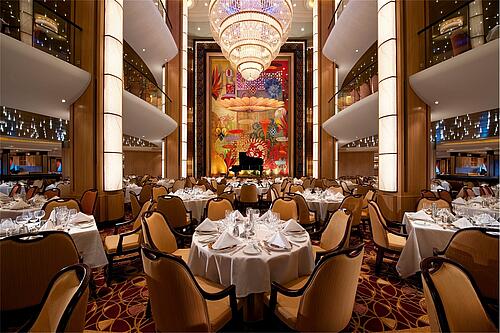 Another complimentary venue found on Icon of the Seas is the Main Dining Room, which spans three decks (3-5) in the aft of the ship.
Music Hall
If you're looking for a nightclub experience on Icon of the Seas, you can head to Music Hall. Located on decks three and four, this two-story venue features live bands and DJs in the evenings.
Looking for more information on Icon of the Seas? Check out our latest articles on this new cruise ship: