In:
If you're looking for an elevated cruise experience, Celebrity Cruises is known for providing guests with a memorable cruise vacation that comes with a plussed atmosphere.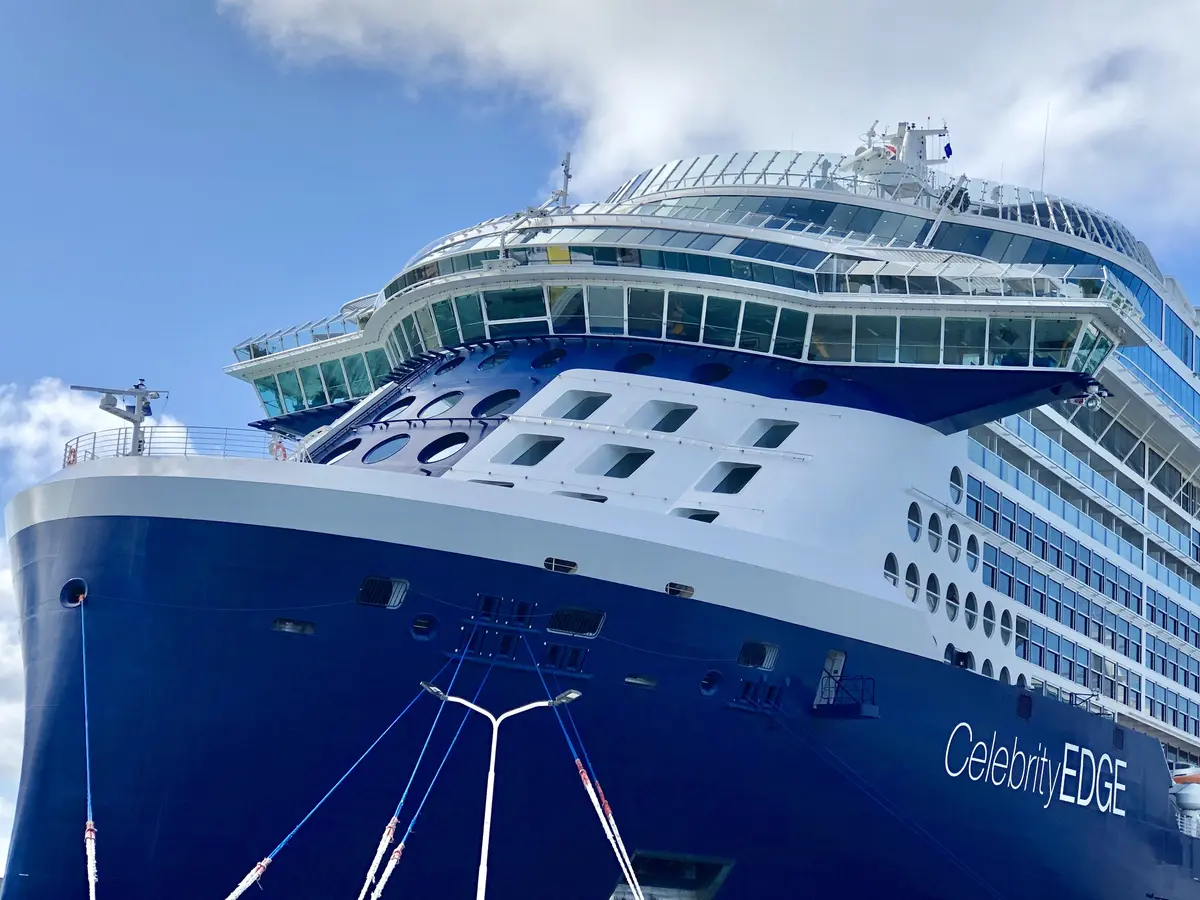 Whether it's your first Celebrity cruise or you want to learn more about the cruise line, we have assembled some of the best tips and tricks to make the most of your cruise vacation. 
Advice on saving money, when is the best time to book packages and excursions, and can't miss events and activities are all critical to know. 
Here are our top 50 tips and tricks to help you have a fantastic Celebrity cruise. 
1. Save money on drinks
Drinks can be an expensive add-on to a cruise vacation. Depending on what and how much you drink, a package may be the way to go. Celebrity offers both a classic and premium alcohol package as well as non-alcoholic options. Details are listed on your cruise planner, and it's cheaper to snag a pre-cruise deal rather than waiting until once you are onboard to purchase them.  
Another way to save money is to bring your own wine onboard. Guests of the drinking age are allowed to bring one 750 ml bottle of wine per person but no spirits or beer.  Do note that alcoholic beverages purchased from onboard shops or in ports of call will be secured by ship until the end of the vacation.​​​
2. Watch for deals 
Celebrity offers a quality cruise experience, and its prices often reflect that. While not the most expensive in the marketplace, it can run slightly higher than some other companies, such as Royal Caribbean. 
Good news though, the cruise line offers numerous promotions throughout the year. A frequent deal is 75% off the second guest, along with additional onboard credit. Watch out for other discounts that include basic wi-fi and the classic drink package. Make sure to sign up on their website to get up-to-date offers. Also, working with a good travel agent can help you understand what is available.
3. Book packages and excursions early
Celebrity offers a number of pre-cruise deals, such as internet packages, shore excursions, dining, and spa treatments. Not only does advance purchasing get you a better deal, but it can also help avoid the disappointment of a sold-out excursion. If something is no longer offered, there are no guarantees that space will open up. It is far better to book something in advance and then cancel it later. 
Booking early even applies to the cruise itself. Cruise prices have been trending upward, so don't expect last-minute deals. Celebrity does offer its "Best Price Guarantee so that if a lower cruise fare is found, guests may apply for the savings, which offers some peace of mind. In the event of a price drop, contact the cruise line directly (or through a travel agent) to see what you are entitled to in terms of savings (some conditions apply).
4. Leverage your Royal Caribbean Crown and Anchor status
Celebrity has its own loyalty program called Captain's Club, which has six tiers offering varying perks to repeat cruisers. The cruise line has a reciprocity agreement with Royal Caribbean due to their common ownership. 
What does this mean for new cruisers? You can qualify for loyalty perks even before your first Celebrity cruise (Although you can't combine points among the different brands). Cruisers with established status with Royal Caribbean are asked to contact the Captain's Club to ensure they are promoted to the equivalent tier prior to sailing. 
5. Know what's included in your cruise fare
There are two main fare options when booking a Celebrity cruise. The basic fare is called the cruise-only rate, which is their lowest fare and is available for inside, oceanview, veranda, and concierge-level staterooms. This is the standard cruise offering dining, entertainment, and daily activities.
The "all included" option includes the Classic Drink Package and Basic Wi-Fi, which can be significant savings if guests plan to purchase packages anyway. 
In addition to this, the cruise line offers AquaClass, which has special access to Blu, a private restaurant, the thermal suite, and complimentary fitness classes. You do not have to purchase the all-inclusive package, though. You are able to stay in an AquaClass room with a base fare. 
One above this is the Retreat, which is the most all-inclusive option with premium drink and wi-fi packages, private dining, sundeck, and lounge, as well as concierge and butler service.
6. Use a good travel agent 
serif">Clearly, Celebrity has a lot of options, different fares, cabin alternatives, and lots of onboard experiences to choose from. Using a good travel agent can be a great way to navigate all these choices and make sure you get the best price possible.
Often the best way to get a travel agent is to get a recommendation from a friend or family. They should be familiar with Celebrity and have booked/ sailed with them before. Travel agents are paid through the cruise line, so there is no additional cost for cruisers, and they can save you both time and money by finding the best deal, as well as managing any issues that come up. 
7. Kids are welcome on Celebrity Cruises 
Celebrity may not be known as a family cruise line, but it does welcome passengers of all ages. The cruise line provides numerous complimentary programs, family-friendly excursions, and pint-sized menus to make cruising easier and more fun for families.
They also offer free kids and teen programs in a dedicated, supervised environment. Camp at Sea features sports, arts and crafts, theme parties, treasure hunts, and much more. Teens can hang out with friends in their own spaces, play in video game competitions, dance, and enjoy sports. They can even take culinary classes.
 8. Maximize loyalty points  
Make sure to sign up for Celebrity's loyalty program, called Captain's Club, which awards points based on the length of sailing and stateroom category. Even when you aren't sailing, there is the opportunity to earn more points. Celebrity's Power Up points give guests a chance to earn extra points by watching videos, taking surveys, or engaging in social media activities. Power Up points are converted at a ratio of 10 Power Up points to 1 Club point.
The activities are easy to complete and informative. The recent promotion in May (worth 30 points) asked loyalty members to watch a video that features Celebrity captains as they discussed how the Edge series of ships continue to revolutionize the industry.  
9. No smoking in the casinos
Celebrity's onboard casinos provide passengers with various slots and table games, including blackjack, poker, craps, baccarat, and roulette. The cruise line offers casino guests Blue Chip Club Rewards, which has concierge service, beverage perks, free play, and much more.
It may be a surprise to many, though, to find out that Celebrity Cruises has a no-smoking policy when it comes to their casinos. This may be welcome news to some or an unexpected disappointment for others. The cruise line cites the health and comfort of guests as the rationale for this rule.
The no-smoking policy extended to most areas of the ship, including cabins and balconies. There are limited outdoor areas onboard areas that are designated for smoking.
10. Dine at complimentary venues
Beyond the main dining room and Oceanview Cafe, there are some other great free dining venues to check out onboard.
Café al Bacio, is a European-style café onboard many Celebrity ships. Cruisers seem to love the café and often has a lineup for its custom coffees and gelato. While the coffees are an extra charge, the exquisite pastries and sweets are complimentary for all. This is an absolute must-try!

Eden Café offers a wide variety of morning beverages and casual culinary bites. The bright and airy atmosphere and al fresco make it the perfect spot. 

Spa Café is another venue to enjoy. Grab something fresh and flavorful, such as avocado bruschetta, a fresh fruit place, or an acai bowl. Great for a post-workout, healthy snack, or if you want a break from over-the-top cruising eating.

The Mast Grill is a top deck eatery where guests can get their barbeque/ grill favorites, such as a burger, along with other options like a sandwich and salad.
11. Know the dress code
In recent years, dress codes have become a somewhat controversial topic among cruisers as some lament the days of tuxedos and ballgowns, whereas others feel that they are on vacation and should be able to dress as they please. 
On Celebrity Cruises, guests are expected to dress at minimum " smart casual" for entry to main dining, specialty dining, and the Celebrity Theatre. Shorts and flip-flops are not considered smart casual. And, unlike many other cruise lines, this is enforced. If a guest shows up in shorts for dinner, they can fully expect to be refused entry into those venues. So pack accordingly so as to not miss out on the main dining room or have to buy pants onboard.  
12. Sail the world with Celebrity 
For guests wanting to try a different type of itinerary, Celebrity has an impressive range of sailings that span the globe. Their fleet of 15 has many mid-sized ships that can venture to ports of call that some of the bigger ships can't. Even the new Edge series can sail through the Panama Canal.
From North and South America to Europe, Asia, Australia, and the South Pacific, Celebrity ships stretch out to visit 300 ports worldwide. It has even designed a series of ships to visit the Galapagos Islands, with advanced technology that minimizes the impact on the environment and provides an incredibly intimate setting with under 100 guests.
13. Try a variety of activities 
Celebrity Cruises offers its guests a wide range of entertainment and activities onboard its ships. World-class theatre productions, live bands, classes of all types, and trivia are some of the fun things to do while sailing.
There are also some unique and interesting activities beyond the expected. How about lawn bowling or practice putting on real grass? Wine pairing, whiskey tasting, a ship tour, pickleball, glass blowing, or watching a movie on a rooftop garden are part of the amazing selection of events. 
Celebrity ships do have a lot to love, but there are some things you won't find on a Celebrity ship. There are no epic waterslides, waterparks, bumper cars, roller coasters, rock climbing walks, ice skating, and carousels that are common on the mega-ships of cruise lines like Royal Caribbean.
14. Try out the Magic Carpet (for free)
The Edge series of ships feature the brightly colored Magic Carpet, which jets off one side of the ship. It is far more than a gimmick; it is a multipurpose venue that offers the most specular views, in addition to acting as a launch pad for tenders in ports that require them. 
Although dining at the Magic Carpet is an extra cost, during the day, guests can enjoy the scenic views for free (drinks are extra, though). Its opaque roof allows for breezes while keeping out of the hot sun. A perfect spot to relax. 
15. Indulge in specialty dining
For those who consider themselves foodies or love to explore different types of cuisine, Celebrity is the place for you. There is a wide array of dining experiences beyond the traditional buffet and main dining rooms. 
French cuisine, highlighted at Le Petit Chef, sushi, steakhouse, and Eden, all delight guests with their gastronomy. There is an extensive range of options led by Michelin-star chefs and other culinary experts to ensure top quality. Buying a dining package before the cruise is the most economical way to go. 
16. Celebrity is autism friendly
Celebrity Cruises offers autism-friendly interactive initiatives for families, including sensory-friendly films,  toys, and dietary menu options. Additionally, they offer a wide range of autism-friendly products and services, such as priority check-in, boarding, and departure, and special dietary accommodations. The cruise line seeks to make things easier with flexible grouping by ability for children 3 to 12 years old. 
For more fun, autism-friendly films are presented in a low-lighting and low-volume environment. The cruise line also has an Autism Friendly Toy Lending Catalog along with non-toxic crayons, markers, watercolors, building blocks, dominoes, and picture books.
17. Enjoy the (free) extras
One of the biggest surprises of sailing on a Celebrity cruise are some of the nice (and more often free) touches. One of the best is the ability to drop your stuff off in your cabin, even when it's not ready. No worries about lugging around carry-ons while you explore the ship. A small thing, but super convenient. 
Cabins have a few extra niceties, including upgraded bath products. No three-in-one mystery shampoo, conditioner, and soap in the shower. Pool towels, no problem, no need to be held hostage over a fee for a towel you never signed out.
Another plus is the variety of chilled fruit waters on the dock to welcome guests back to the ship, particularly nice after a hot day in the sun. They also had a crew there with cool towels to freshen up. All these little things add up, making you feel pampered and appreciated. 
18. Gratuities vary by cabin type
Celebrity automatically adds gratuities to guests' accounts, an additional thank you to employees who work very hard to make your cruise vacation special. The amounts are: 
$18 USD per person per day for Inside, Ocean View, and Veranda staterooms

$18.50 USD per person, per day for Concierge Class and AquaClass staterooms  

$23.00 per person per day for guests of The Retreat.  
This is separate from the 20% gratuity that will be added to all beverages, mini bar purchases, and beverage packages. Celebrity has noted that gratuities are distributed to dining, bar, and culinary services staff, stateroom attendants, and other hotel services teams.
19.  Rotate between themed main dining rooms
While only offered on the Edge series of ships, one of the most significant changes Celebrity has made is the separation of the main dining rooms into four different themed venues. Cyprus, Cosmopolitan, Tuscan, and Normandie offer specialties as well as classics such as steak, chicken, and shrimp and signature dishes.
Being smaller than a standard main dining room, these themed dining rooms have more of a specialty dining feel and offer some mouth-watering options. Before you book the pricier specialty dining venues, you may want to give them a try. Normandie, in particular, is well known for its beef tenderloin dish, among other gourmet items on its menu. 
20. Leave some things at home
There are a few items that are prohibited on Celebrity ships for the safety of the guests and the smooth operation of the vessel. Guests cannot bring an iron or steamer onboard the ship, but they do offer laundry, dry cleaning, and pressing services for an additional fee. This can be arranged through the cabin attendant.
Other things to leave home include anything that generates heat or has open flames, like candles, hot plates, coffee makers, or kettles. Curling and flats irons are okay. Extension cords, illegal drugs (that includes marijuana), knives, and other weapons aren't allowed as well. Although wine is permitted, hard alcohol and beer are sadly not. 
21. You can use your Celebrity drink and wi-fi packages at Royal Caribbean's Perfect Day at CocoCay 
A private island in the Bahamas is quite an exciting addition to any sunny Caribbean itinerary, and Celebrity has recently announced that it will be visiting Royal Caribbean's popular Perfect Day at CocoCay. This is great for families as well as adults who want a day in the sun. The island has a waterpark, a lively Oasis Lagoon pool, as well as tons of laid-back beaches, and the stylish Coco Beach Club that features an infinity pool, lobster for lunch, and incredible over the water bungalows. 
Celebrity passengers visiting for the day can use both their drink and wi-fi packages while on the island, which has a number of great bars and complimentary food venues. 
22. Watch out for gift card limitations 
Gift cards have become increasingly popular, a great present for that hard-to-buy person on your list. Celebrity gift cards are available in increments of $25, $50, $100, $250, and $500, providing a wide range of options. 
There is a catch, though. Gift cards can only be applied toward new bookings. They cannot be used to pay for any ship board charges, including but not limited to gift shop purchases, casino debts, shore excursions, or gratuities. For those wanting to give a more flexible gift, onboard credit can be purchased for a cruise at the Celebrity Store on their website. 
23. Prepaid gratuities are no longer included in the all-inclusive packages
Celebrity gained a lot of praise from cruisers for its all-inclusive package, making for a stress-free vacation thanks to a number of included benefits like drinks, wi-fi, and gratuities. However,  the cruise line has recently announced that they are removing prepaid gratuities from these packages. Cruisers will need to make sure to budget accordingly. 
Any new booking after October 4, 2023, will be subject to these new exclusions. Thankfully, it does apply to current bookings.
This is a significant change that cruisers might not realize when booking, especially if they have had the all-inclusive package in the past. This change will add to the cost of a cruise, especially for Retreat guests, who will now pay $23 per day per person.  
24. Download the Celebrity App 
Don't wait until onboard; download the Celebrity App prior to the cruise to check out information like menus and events. Checking in and the muster drill can be quickly done on the app. Another great bonus is that the app can also be used to keep in touch with fellow cruisers with a free chat feature. 
Once onboard, the app provides a wealth of information on activities, events, excursions, and announcements, as well as keeps up to date on onboard spending. Some ships, such as the Edge series of ships, allow passengers to control their stateroom via their phone, including the TV, lighting, temperature, and window shades. It can be downloaded through the app store or Google Play. 
25. Celebrity's buffets are scaled back in the evenings 
Something a little surprising, but Celebrity's buffet offering is paired down during dinner, in comparison to a much more extensive lunchtime offering. For those who love the full-size buffets on ships such as Royal Caribbean, be prepared for a different style of evening buffets. This isn't to say that the food is not good; it is, and in fact, Celebrity is well known for their top not-cruise, and their buffets have a number of stellar dishes. 
This new change was introduced earlier this year, with staff explaining that it was to prevent food waste. With so many guests heading to the main dining room and specialty restaurants, the Oceanview Café is not busy enough to demand such a large offering. For those with picky eaters in your group, you may want to head to the main dining room or consider specialty venues. 
26. Basic wi-fi is only available as part of all-included packages 
Celebrity offers its guests two options to connect to the internet:  basic and premium wi-fi. The lowest-priced option, the basic wi-fi allows passengers to browse the web, send emails, and text family and friends via select messaging apps. 
However, Celebrity has recently made a change, whereby this value option is only available when purchased as part of eligible "All Included" rates. It can no longer be purchased separately, either before or during the cruise. This all-included rate also includes the classic drink package and can add several hundred dollars to the cost of the cruise fare. 
27. There is no self-serve laundry onboard 
For guests who are on a longer trip or have some younger, messy guests in their traveling party and are in search of laundry, there are limited options. Celebrity provides laundry and dry cleaning services on a per-item basis for suits, dresses, and more casual items. There are no self-serve facilities, unfortunately. 
As with most cruise lines, guests cannot bring an iron or steamer on board; however, the cruise line does offer pressing services (priced by item) with a 4-item special of $25.00. Many cruisers hang up wrinkly clothes right away in the bathroom, letting the steam of the shower do its magic. There is also Downy Wrinkle Release, which works wonders. They have smaller, travel-size bottles, which are perfect for a cruise. ,
28. Upgrade your cabin for less 
For those guests who are interested in upgrading your cabin, Celebrity has their Move UP Program that allows guests to bid on an upgrade. You can log in to the website to determine if your cruise is eligible and review the stateroom options. You can bid on more than one room and will only be charged for the first two people for the room you win. 
It is a good idea to check out the current price for the cabin when making a bid to ensure it is worth the money. There are a couple of important caveats to consider when trying this program. Once the bid is accepted, your card will be charged immediately, and the upgrade amount paid is final and non-refundable. You have no choice in location. 
29. Board early when possible 
Once check-in is complete,  Celebrity provides its guests with a time frame for arrival at the ship. The earlier you check-in online, the earlier your port-assigned port arrival time will be. Getting onboard earlier means your vacation starts earlier, and you can also get any must-dos out of the way, like booking specialty dining.
This does not mean you can show up whenever you want, though. If you arrive several hours before your assigned time or even before current passengers have disembarked, you may end up waiting, in some cases, outside. Conversely, give yourself plenty of time to get to the port, and it is highly recommended to not fly in on the day of the cruise, given the issues with flight cancelations of late. 
30. Pick your cabin carefully 
For those of you who are light sleepers who don't ever want to hear your neighbors watching tv, or the annoying sounds of pulsating music, it is a good idea to look at the floor plans carefully to get the best cabin possible. The Celebrity website provides deck plans for each ship with venues and cabins clearly marked. It is a good idea to look at what is above, below, and beside the stateroom you are considering.
Adjoining rooms and unobstructed views are something to consider as well. For example, on Celebrity's newest Edge series of ships, the Magic Carpet moves up and down along the side of the ship. This can mean that the platform passes by cabins, with the ability to see in, especially if the curtains/shades are open. Additionally, people who are prone to seasickness do better on the lower decks and in the middle of the ship. Avoiding the front (bow) and rear of the ship.
31. Drop off your carry-on in your cabin 
One very nice perk of sailing with Celebrity Cruises is the ability to quickly stop in at your cabin on embarkation day to drop off your carry-on luggage. This is something that is not ordinarily common on many other cruise lines but is a really nice touch. 
Sometimes, even small bags can weigh you down while navigating the ship, getting lunch, and balancing that all-important first cocktail. This can be even trickier with excess baggage. A quick drop-off (while the crew gets things ready) is a great way to start a cruise and lessen the load. 
32. Book flights with Celebrity (for peace of mind) 
An option that many cruisers value is the ability to book their airfare with Celebrity. This provides peace of mind, knowing that they will handle any flight disruptions and delays. This is very important in this day and age with constant aviation disruptions, which can wreak havoc. In fact, Celebrity promises that If your flight is changed or canceled, they will help you find a seat on a new flight or even meet the ship at the next available port.
It can also help with cash flow management as flights do not need to be paid until the final cruise payment, unlike regular bookings that require immediate payment.
33. Try older ships to save money
Celebrity has gotten a lot of fanfare for its innovative Edge series of ships, which have reimagined cruise ships in the best of ways. But don't ignore some of the veteran ships of the fleet, many of which have been modernized and often come at a lower cruise fare cost. 
The cruise line's modernization program, "revolutionized" as they call it, has a budget of $500 million for updates to the entire fleet, which includes new spaces, the addition of the Retreat Area, updated restaurants and bars, as well as cabins, casino, spas and Retreat Area (suite-only area). Celebrity Equinox and Celebrity Summit are two of the ships that have gone through the process. This means that passengers get to enjoy updated ships, with oftentimes lower prices than the newer ships in the fleet. 
34. Get the muster drill out of the way early 
One of the best updates to cruising has been the addition of a virtual muster drill whereby guests can watch a video to learn about all the safety rules and regulations for their cruise. This can easily be done on your phone in less than five minutes; in fact, many passengers complete it while waiting to board. Then, once onboard, just a quick drop-in at the muster location, and it's all done. 
Although you don't need an internet package to complete it once onboard, you will need access to wi-fi to download the Celebrity app, which is best to do at home.
35. Review Celebrity's cancelation policy 
When booking and paying off a cruise, it is really important to understand the terms and conditions associated with this purchase. For example, if you book a non-refundable cruise and want to cancel, you will lose your deposit and a portion of the payment, depending on how long until the cruise. 
For example, within 30 days, guests are not eligible to receive any money back, which is why insurance is so important. If you are sick or you miss the cruise due to a delayed flight, the cruise line will not refund you. Guests can purchase insurance directly from Celebrity, in addition to numerous other independent companies, some of which cover transportation delays, medical issues, or cancel for any reason. 
36. Photo packages can't be purchased post-cruise 
A photo package can be a fantastic way to capture all those wonderful cruise memories. Many love getting pictures done on formal nights when they are dressed and look great. Also, it is an opportunity to get family pictures in a fun and relaxing atmosphere. 
Often a disappointment to many, pictures and packages cannot be purchased post-cruise, so it is important to make sure this is booked if this is a must-have for you and your family. 
37. Take advantage of embarkation day offers
Although most things like wi-fi and drink packages are cheaper when purchased pre-cruse, there are some embarkation specials to watch out for. Specialty dining, spa packages, and services are among the most popular and can be a fantastic add-on to a cruise vacation. 
Before rushing into purchasing these extras, it is a good idea to make sure of any restrictions. Some deals are only valid on sea days or shorter than a standard service. Overall, it can be a great way to start the cruise and save some money at the same time. 
38. Book your next cruise before you disembark
The end of a cruise can be a sad occasion for most, with cruisers feeling no rush to get back to reality. A great way to get over this and save money is to book your next cruise while still onboard. 
With its Future Cruise Vacations Program, Celebrity offers its guests the best offer available, as well as current promotions such as extra onboard credit. There are two options for this program. The first is the Book Now Program, where guests select their itinerary and dates and receive up to $500 in onboard credit. The other option – Book Later Program, allows guests to reserve a sailing, with the option to pick up a cruise within 6 months. With this option, passengers will receive up to $500 in onboard credit. 
39. Check your onboard account often
There are plenty of ways to keep track of spending while onboard, and while this can be a not-so-fun part of the day, it is best to keep tabs on your bill. Thanks to Celebrity's app, this is a quick process that can be done in seconds. Alternatively, you can visit guest services and get a printout of the bill. 
Sometimes mistakes happen, or your kids charge something you are unaware of. Whatever the issue, it is best to keep on top of it. It is far easier to pop into guest services while onboard instead of dealing with an issue once home. 
40. Enjoy free room service
Everyone loves a free perk, and starting the day off with breakfast on your balcony is heavenly. Passengers receive complimentary room service on Celebrity ships. In particular, guests can enjoy a continental breakfast, which is available e from 6 a.m. to 11 a.m. each day of the cruise except disembarkation day. Outside of these hours, room service has a fee of $9.95*, plus a 20% gratuity will automatically be added to your check.
For guests staying in the Retreat, room service is complimentary. Celebrity top-end suites, in addition to Zenith Captain Club members, receive complimentary room service 24 hours a day.
41. Cruise off-season 
Sailing off-season, or shoulder season as it is commonly referred to, is one of the best ways to save money and a great time to cruise. Early January and fall can be great times to travel, especially when kids go back to school. 
Celebrity offers a vast array of cruises, with lots of choices every month. One great itinerary to take advantage of during the off-season is cruising to the Mediterranean during the winter months. With exotic ports in Egypt and Israel as well as Spain, it is a spectacular cruise. Another bonus is that there are far fewer crowds during these months, which makes seeing famous sites a lot more manageable. 
42. Bring a reusable water bottle 
There are a lot of great reasons to bring our own water bottle on a cruise. Save money by skipping pricey bottled water, being good to the environment, and staying well hydrated are some of the top reasons. It is always a good idea to add some nice cold water to the mix while sipping cocktails in the sun. 
This is also a great option when going onshore and unsure about the cost and quality of local water. Some bottles even have filters to clean water-borne illnesses or bacteria, getting rid of E. coli. No need to worry about local water when doing an excursion for a day. 
43. Be ready to cruise 
Around 45 days before your cruise, check-in will become available, and it's a good idea to do this as soon as possible to secure an early boarding time. Earlier on the ship means you get your vacation started sooner!  Check-in is a fairly quick process but does require appropriate identification on hand to upload details to the system.
When that magical day finally arrives and you get to the ship, make drop-off seamless by printing your luggage tags ahead of time.  Porters have blank luggage tags at the port, but it is a good idea to print them ahead of time and ensure they are well fastened to your bag. Many people use plastic holders to protect them, so the names and stateroom are clearly legible. In addition to this, staple them on, and be sure to give your porter a tip. 
44. Try a guaranteed stateroom to save money 
When booking a cruise, Celebrity provides its guests with the option to select from a number of cabin categories, including interior, ocean view, veranda, and suites, among other options. Once the room type has been picked, cruisers can choose between letting Celebrity assign them a room or self-selecting. 
What is the benefit of letting the cruise line assign a cabin? The answer is money. This option can save hundreds of dollars off the total cruise fare. There is a catch, however. You may end up in a cabin with an obstructed view or in a less desirable area of the ship, like under a nightclub. 
45. Plan to arrive a day ahead when flying to catch your cruise
This is one of the most important tips for getting on a cruise. Fly in the day before. There have been countless stories of guests missing their cruise due to flight delays, and unfortunately, it has become a reality for traveling these days. The last thing anyone wants is to start their vacation by stressing out whether they will make it to the port on time. Come the day before, get a hotel, and relax by the pool. 
In addition to this, for those driving a good distance, again, it is best to allow for lots of time. Accidents appear out of nowhere, which can clog up roads for hours. If the worst case happens, the ship will not wait and not be reimbursed for the lost cruise. 
46. Pay attention to ship time
Cruise ships sail on their own time, "ship time," as it is called. All of the activities, entertainment, embarkation, and disembarkation are according to this nautical clock. Many cruise ships sail across a number of time zones while traveling, and the cruise line will advise its passengers if and when they need to adjust their clocks. Sometimes, this aligns with local time, and sometimes it does not. 
This can be confusing at times, especially after a few drinks and you misread the clock at the local bar. Everyone has seen pier runners on social media as they race down to the dock, screaming at the cruise ship to wait for them. You do not want to be one of those people. If you have your phone on roaming, it will adjust to local time, which can add to the confusion. Set your phone to not change by putting it on airplane mode or use an old-fashioned, offline analog watch. 
47. Don't bother bringing a towel 
This is a frequent question for many but no, guests do not need to bring a towel when packing for their Celebrity cruise. With all the other things that you need to pack, plenty of clothes and shoes, as well as leaving room for souvenirs, a bulky towel is not necessary. 
The cruise line has a number of places throughout the ship to get beach towels to bring on shore for beach days, as well as regular towels in the stateroom. Another plus to sailing with Celebrity is that there is no signup process to get a towel; you just help yourself with no fear of being charged if you leave it by accident on your pool chair. 
48. Bring some cash
It is a good idea to bring some money on your Celebrity cruise, but many people are not sure how much. While most places accept credit cards, cash can be better when dealing with small vendors in ports. Often, for a couple of dollars for some fun souvenirs, they won't take credit cards. It's also good for tipping in a taxi. 
Onboard, cash is the best way to show your appreciation for hard-working staff. Many guests bring small bills for bar staff, cabin staff, waiters, or anyone else who makes the cruise special. 
49. Join a FB group for your sailing (or other message boards) 
There are numerous message boards and Facebook groups that have pages for specific sailings for each cruise line. This is a great way to get information and meet other guests who will be on your cruise. Many times, they organize information events and meet-ups, as well as other activities once you are all onboard. 
This is also a good opportunity to share ideas about excursions, what's great to do onboard, as well as other trip details like hotels and transportation to the port. 
50. Bring must-haves from home 
Although there are a number of shops onboard Celebrity ships, must-have items like sunscreen can be quite expensive, and the range of products is limited. Your favorite shampoo, late-night snack, or protein bars for a short excursion will probably not be available on the ship. 
Packing all you need is particularly important for families with kids. Make sure to include diapers, your kids' favorite pre-packaged snacks, and everything that your kids need to feel comfortable. Some of these items should be included in your carry-on, as it might be hours until your luggage is delivered to your cabin. Bathing suites are must-haves for many who want to enjoy the fun right away. Don't forget to include them in your carry-on!