In:
There's no doubt that Celebrity Cruises broke the mold when it launched Celebrity Edge in 2018. Its sleek exterior design houses many surprises for cruisers.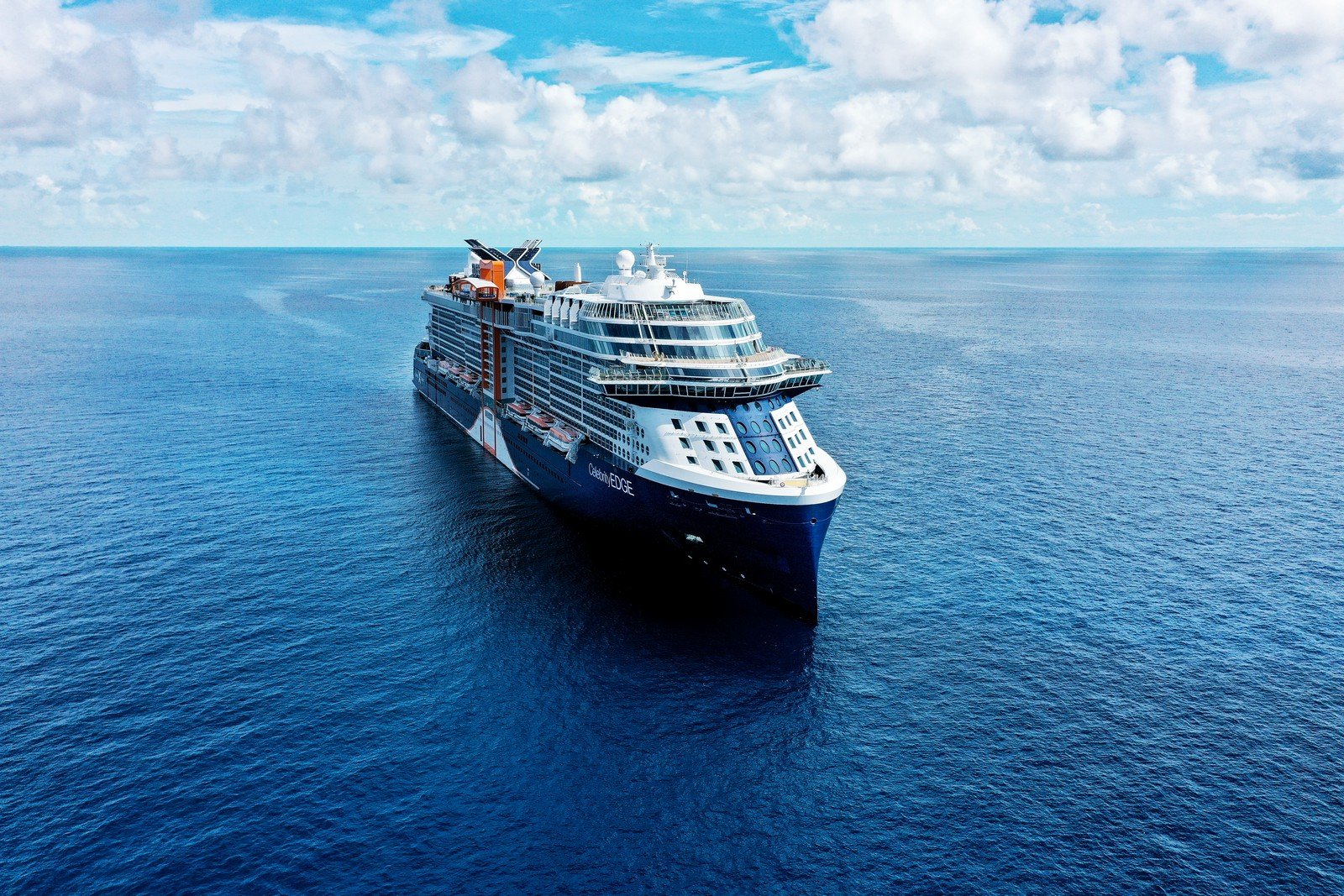 As the namesake vessel of the line's Edge Class of ships, Celebrity Edge introduced several industry firsts, including a top-deck garden, a new type of balcony cabin, unique acrobatic performance art and an outdoor bar that moves up and down the side of the ship.
If you're considering a cruise on Celebrity Edge, check out this guide, which highlights everything from dining and cabins to entertainment and activities.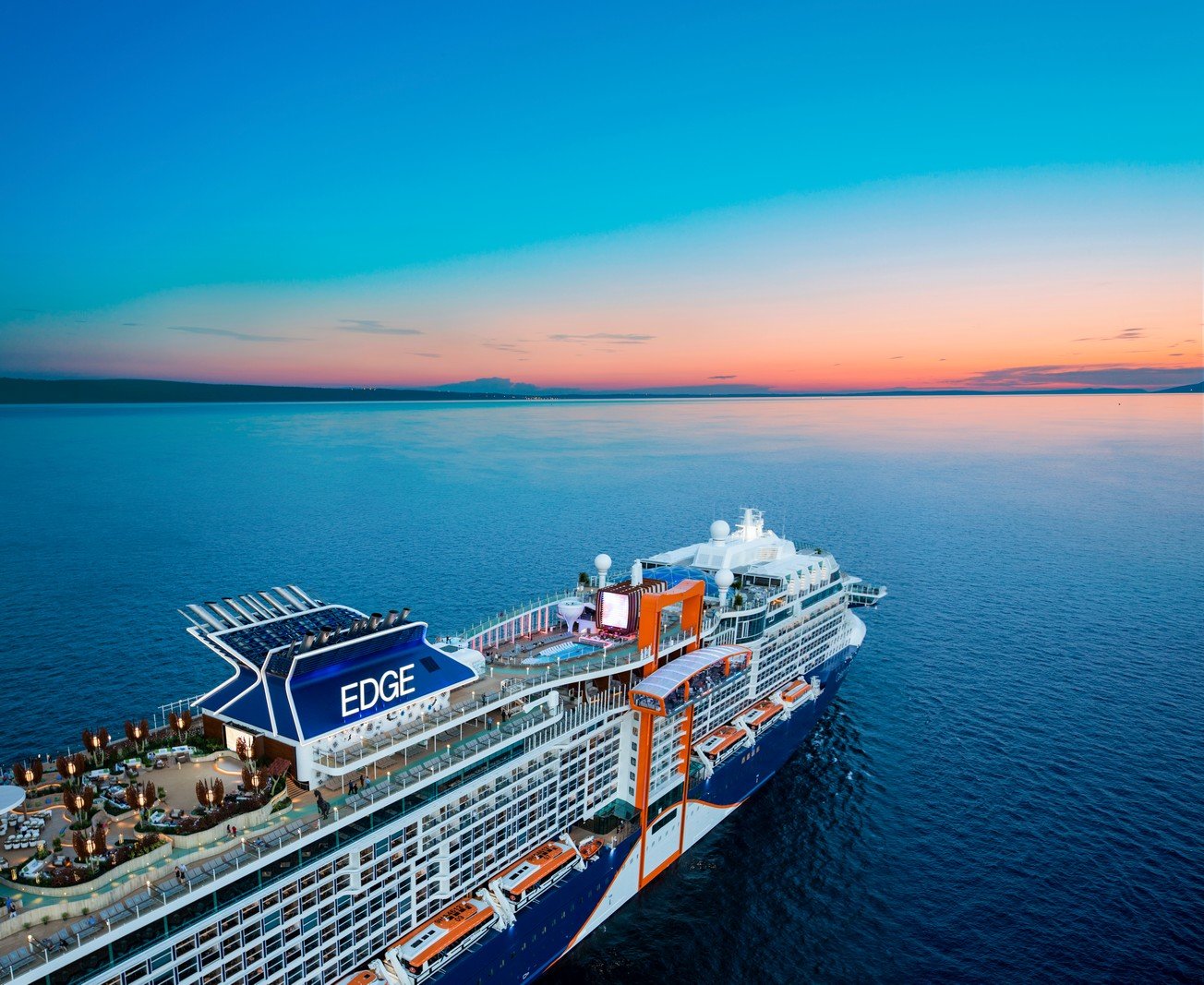 Dining and Restaurants
Celebrity Edge boasts more than a dozen dining venues, plus room service (which is free, except for late-night deliveries which levy a small surcharge). Here are some -- but not all -- of the key options.
Note: Celebrity now includes a basic beverage package in most of its fares, meaning that passengers no longer have to shell out additional money for soda, juice, specialty coffees, bottled water or alcohol.
Main Dining Rooms
Edge has four main dining rooms, all of which are included in the price. If you opt for set-seating dining at dinner, you will be assigned to a specific time and table at which to eat in Cosmopolitan, the closest thing the ship has to a traditional dining room. 
Passengers can also find breakfast served there every day, along with lunch on sea days. 
Those who, instead, opt to have dinner on their own schedule can head to any of the four MDRs, with or without a reservation. 
The other three include Normandie, which is French themed; Tuscan, featuring Italian fare; and Cyprus, which focuses on Mediterranean cuisine, with an emphasis on Greek food. 
Although one section of the menu stays the same daily across all four dining rooms, each offers a section with items specific to each eatery -- French, Italian, Mediterranean or contemporary.
Buffet Dining
The Oceanview Cafe is Celebrity Edge's buffet, which offers free food galore. Cruisers will find everything from eggs, bacon and pancakes for breakfast to sandwiches, salads, carving stations, Asian stir-fry, pizza, roasted vegetables and much more for lunch and dinner. 
We also have to shout out the standalone ice cream stand, which serves up free soft-serve in cones or bowls, along with a selection of hard ice creams and toppings for an extra fee. 
Near the buffet entrance, Celebrity has also included a massive handwashing station -- a convenience before the pandemic and an absolute godsend now. 
Special-Access Dining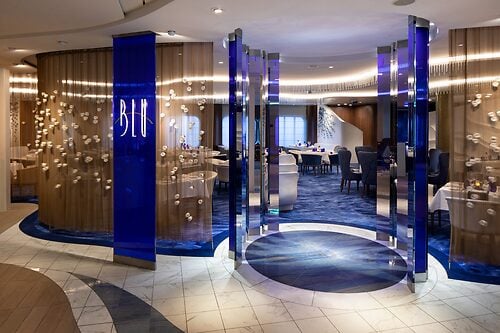 The ship houses two complimentary dining rooms that are exclusive to travelers booked in select staterooms. 
The first is Blu, which is reserved for anyone staying in an AquaClass spa cabin or a suite. It focuses on healthy fare and is open for dinner only.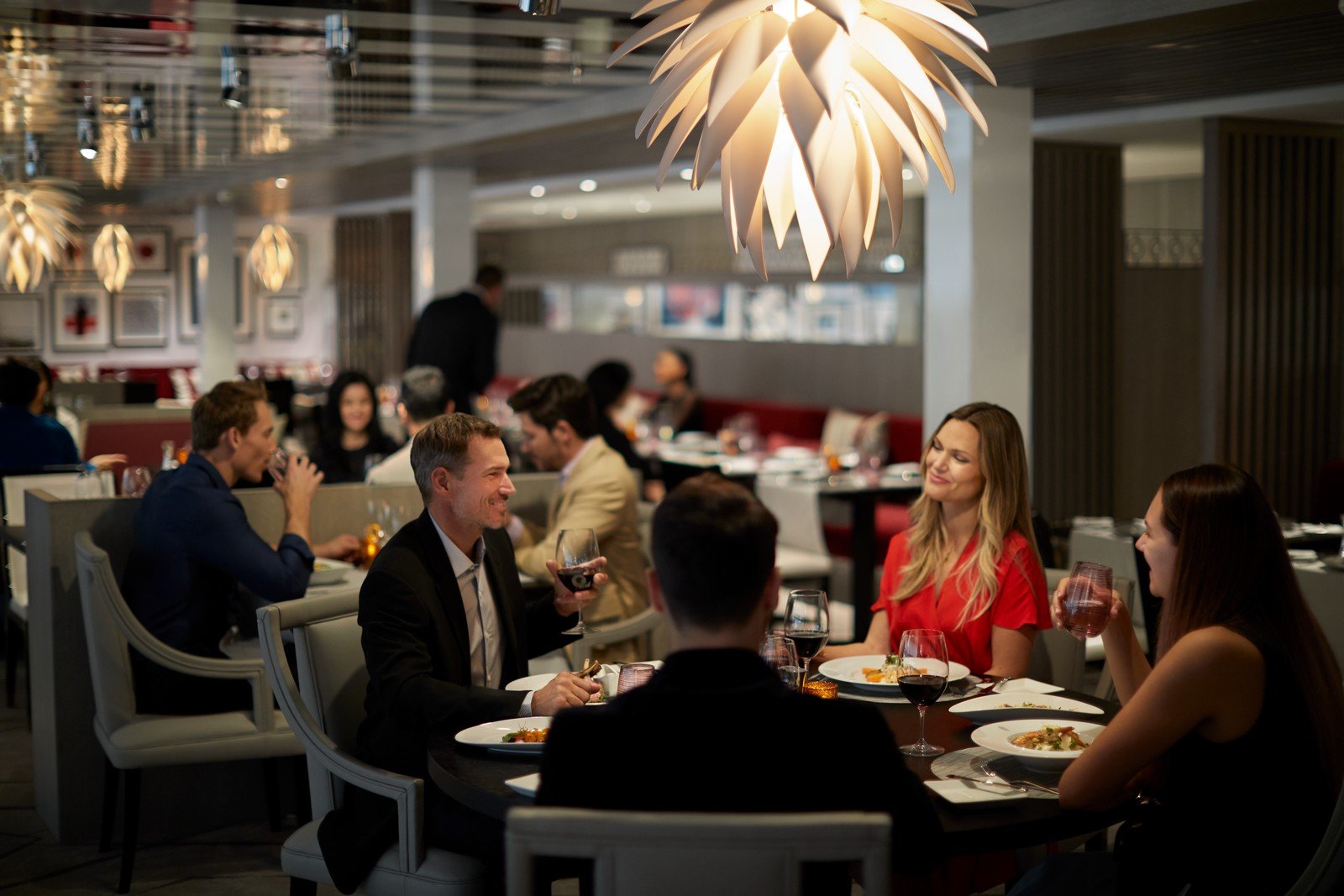 The second is Luminae, which can be accessed only by cruisers in suites and is open for breakfast, lunch and dinner. While breakfast is fairly standard, the lunch and dinner menus are small but impressive, and they rotate daily.
Fine Dining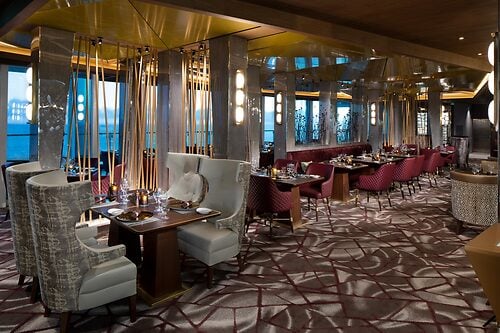 Fine Cut is the ship's added-fee steakhouse, featuring a variety of cuts, as well as chicken, fish and a selection of sides. 
If you're more a fan of seafood, check out Raw on 5, which sells a la carte items like lobster, crab, oysters, clam chowder, lobster rolls, sushi, caviar and more. 
Quirky Dining
Eden is one of the ship's most notable areas. It functions as a lounge during the day and a nightclub with performance art by night. With a spiral walkway around the outside -- an homage to the Fibonacci Sequence -- it also encompasses a bar with creative drinks, a gratis lunchtime deli and a pricey restaurant that's open for dinner. 
We highly recommend splurging and reserving a dining time that will coincide with performances by acrobats and a sitar player. The menu, themed around the elements, offers tasty dishes that are prepared in ways that are curious but genius.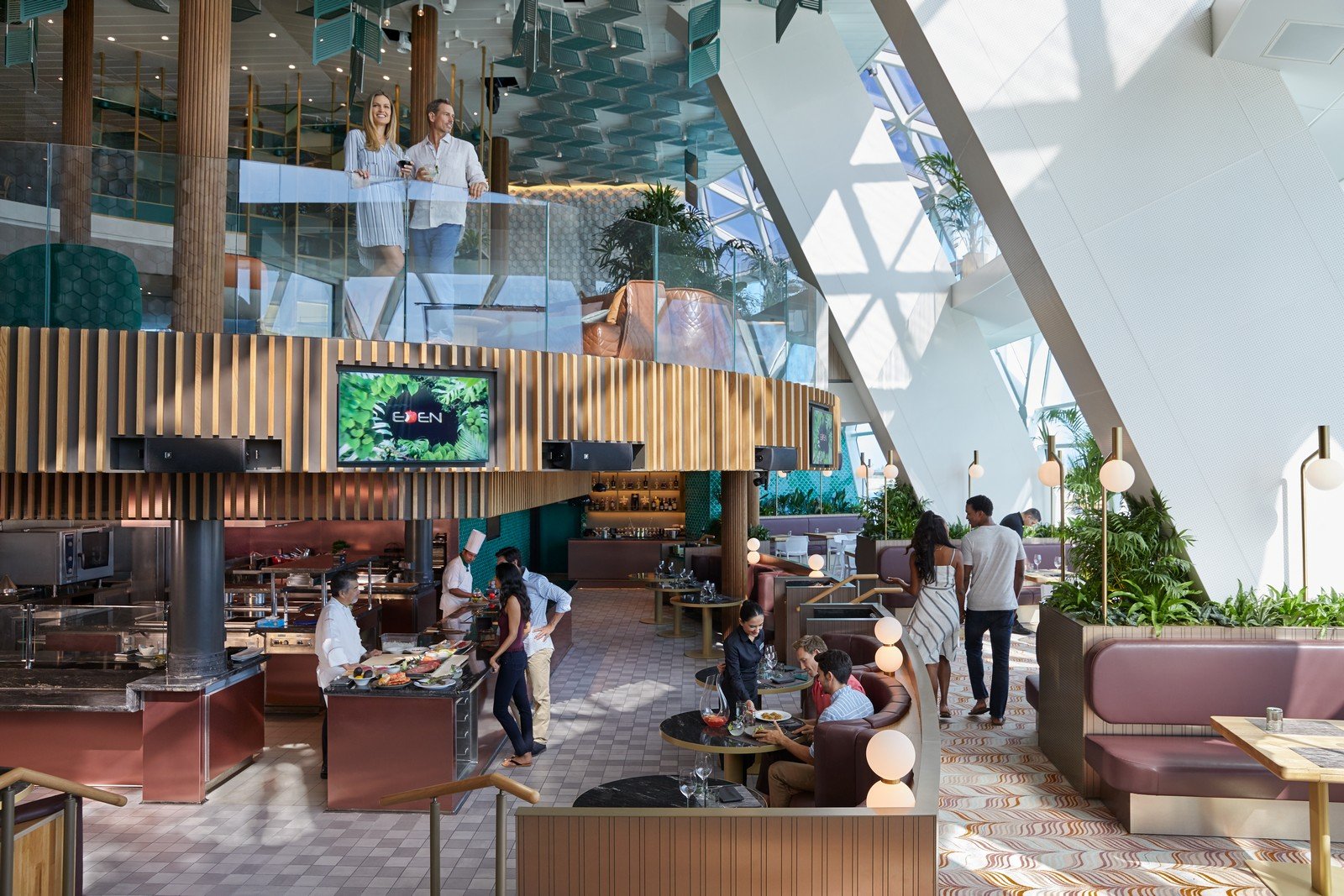 Le Grand Bistro is a French-themed alternative eatery that is open for brunch on select days, as well as dinner, when the space presents Le Petit Chef. Between courses, projections of miniature chefs appear on your tabletop to compete in a whimsical cooking competition. 
The interactive experience offers a set menu, which coincides with the show, and an alternate menu for pickier eaters.
Dinner on the Edge is a special (and expensive) option that's offered on the Magic Carpet, an exterior open-air room that looks out over the water and moves up and down the side of the vessel to serve different functions -- bar, lounge, restaurant and tender platform, depending on the conditions. 
Because the platform can't be raised when the ship is at sea or when the weather is particularly windy, passengers can never be certain when Dinner on the Edge will be available for booking.  
Grill Fare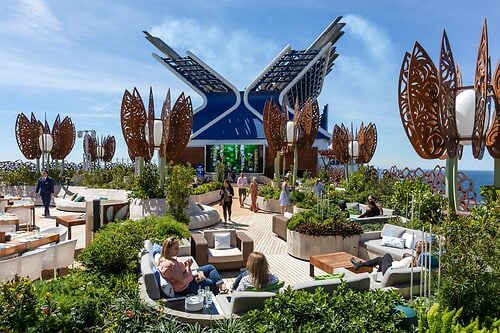 For those seeking more outdoor options, free grill fare can be found at the Mast Grill (by the main pool), while the Rooftop Garden Grill features a wider range of barbecue choices for a charge during lunch and dinner.
Snacks and Coffee
There are various locations on Edge to snag a nibble when you're feeling hungry between meals. They include the Spa Cafe, which puts on a spread of free healthy food. It also sells juices and smoothies. 
Additionally, Cafe al Bacio showcases complimentary pastries, cakes and cookies, along with specialty coffee drinks and premium teas. The Grand Plaza Cafe also presents gratis pastries and finger sandwiches, as well as coffee.
Activities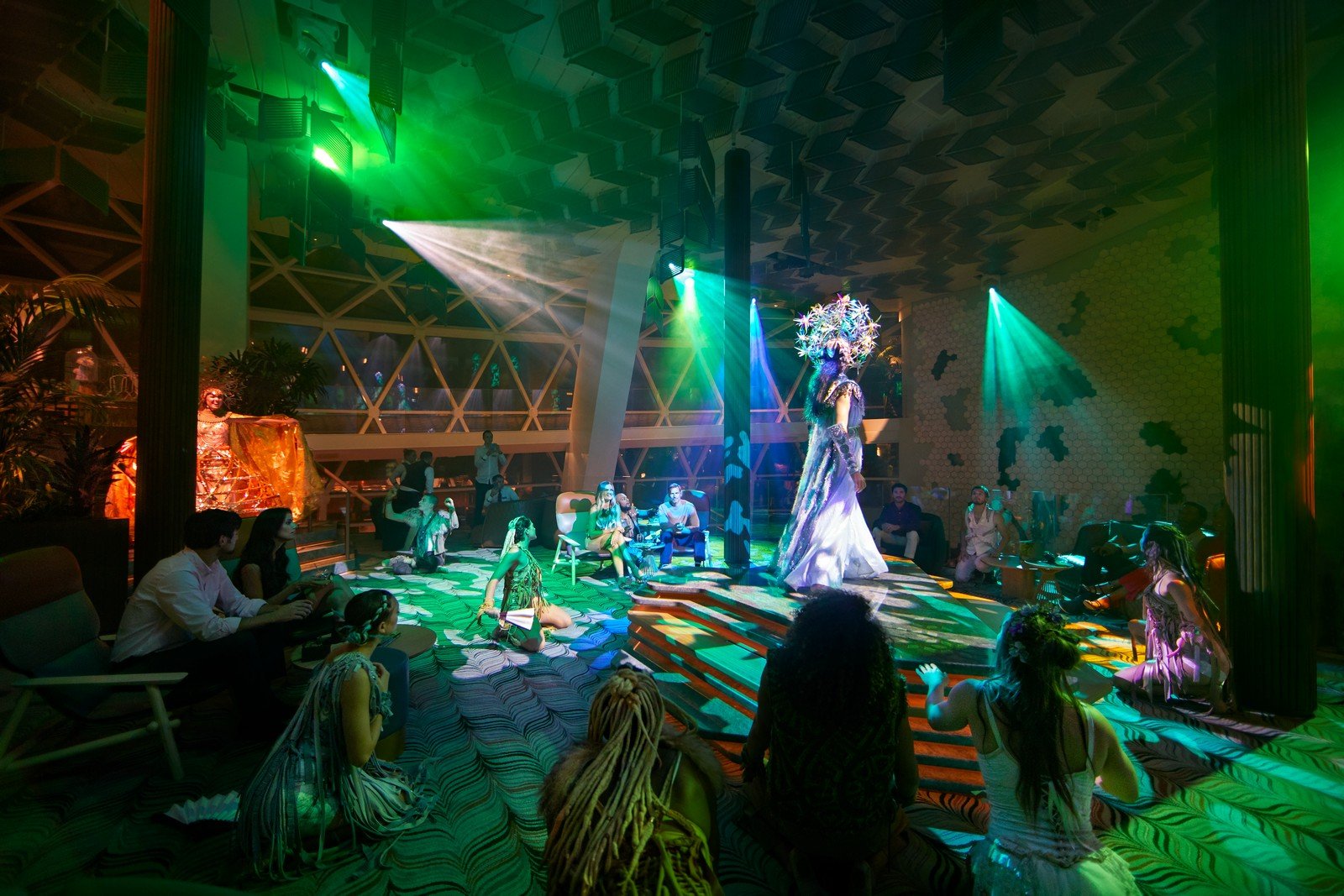 Shows
Eden's nighttime performances are, by far, the most noteworthy onboard. They involve heady, artistic performances that center on acrobatics (some aerial), dancing and feats of strength, often set to sitar music in dimly lit surrounds on a tiny center stage called the nucleus. 
The storyline is loosely based on Adam and Eve and the sensual temptations they experienced in -- you guessed it -- the Garden of Eden. 
The performers, known as Edenists, might try to interact with you and draw you into the fun. If you're not interested, sit farther away from the stage, or simply politely decline as they approach.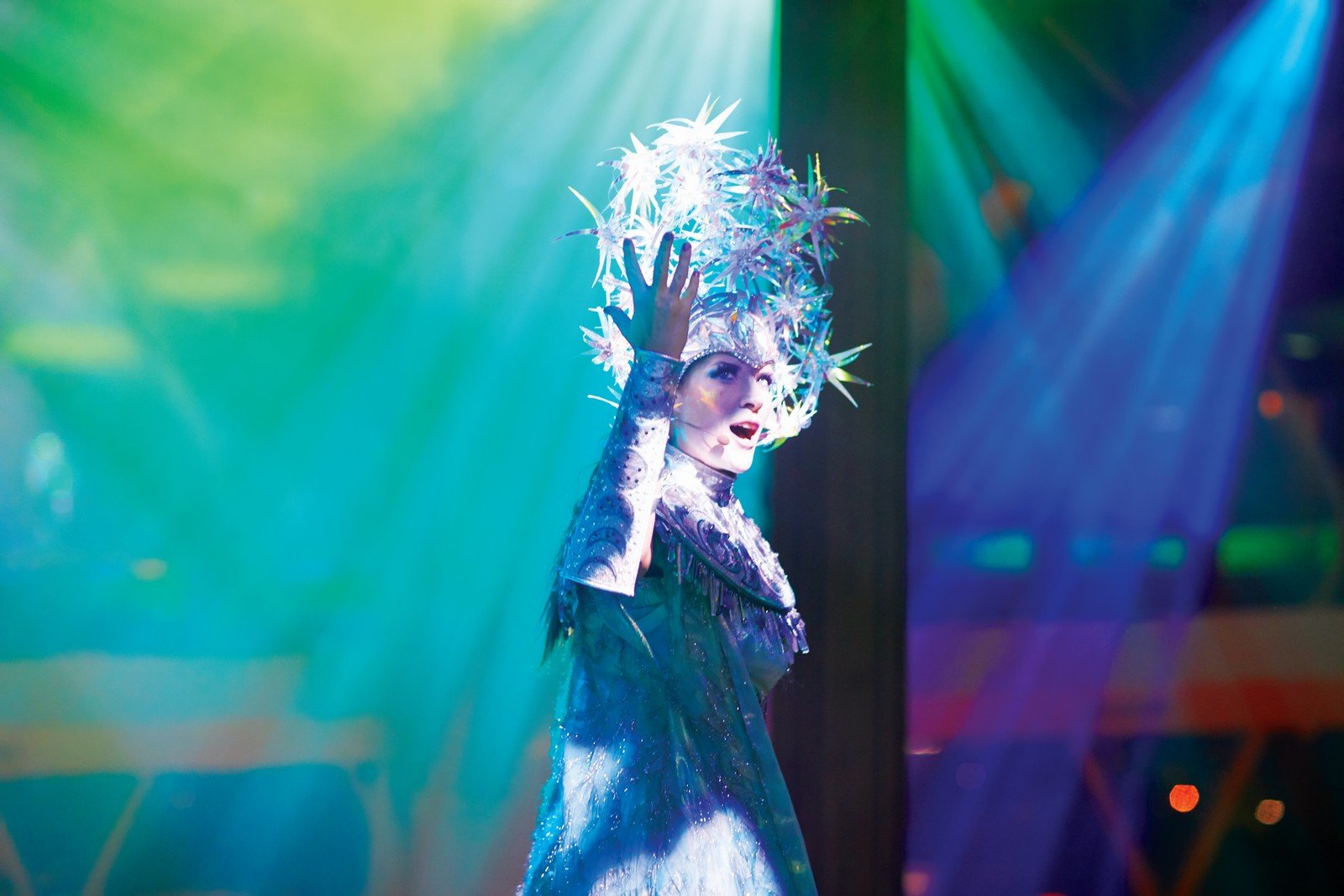 Edge's main theater consists of several stages backed by giant screens used for high-tech laser projections. A ticket of several shows runs throughout each sailing, with two performance times per night. 
Most are high-energy song and dance shows that highlight contemporary music that appeals largely to Generation X and Millennials. 
Live music and smaller-scale performances can be found in The Club. 
Pools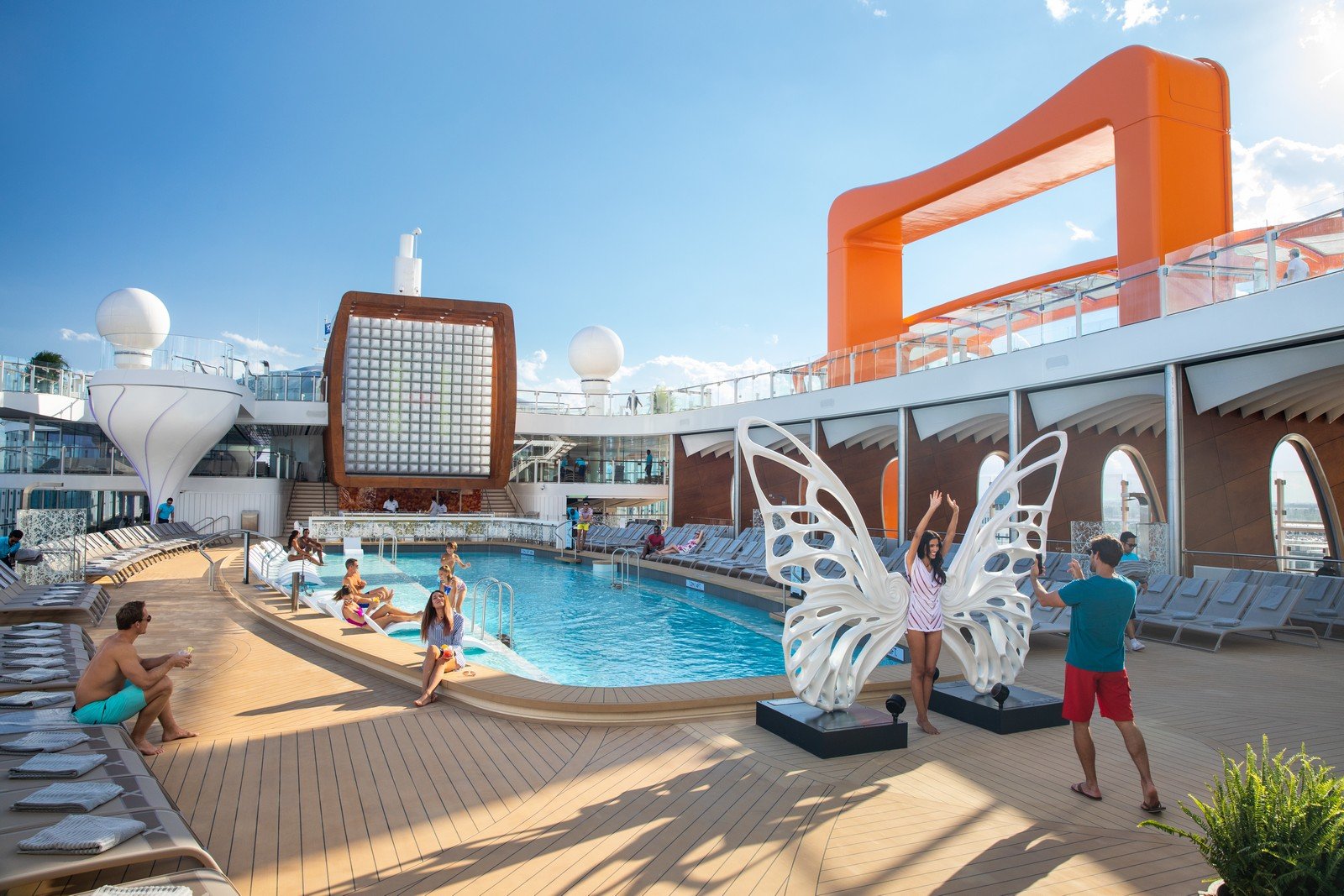 Celebrity Edge has one long main pool surrounded by loungers and two martini glass-shaped hot tubs a deck above. There are also six cabanas for rent nearby, but they come at a premium, and if you don't reserve one early, you'll be out of luck.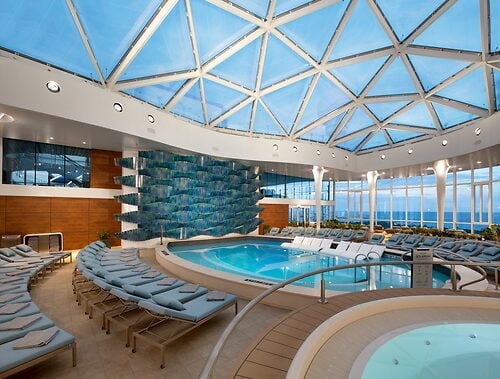 Those seeking respite from the elements or the usual pool deck hubbub can check out the covered adults-only Solarium, which comprises a pool, hot tub and lounge chairs. 
The only other onboard pool is exclusive to cruisers booked in The Retreat, the ship's private suite enclave. The space also includes a hot tub and plenty of seating. 
Signature Attractions
We've already filled you in on the Magic Carpet, the ship's swath of movable open-air deck, which shows up on different decks to serve a variety of purposes, from bar and lounge to restaurant and tender boarding platform. If nothing else, it's an engineering marvel, so pay it a visit, even if just for the views. 
For an outdoor lounge space that features private alcoves and leafy greenery, you can't do better than the Rooftop Garden. Tables and chairs abound in cozy nooks, making the venue perfect for hosted games like Jenga and nighttime live music or films on the nearby outdoor movie screen. 
Celebrity Edge's spa is one of the most impressive at sea, with a variety of treatments. Passengers can also purchase cruise-long access to the thermal suite, which comprises tile loungers and areas for aromatherapy, salt and crystal therapy and a hammam.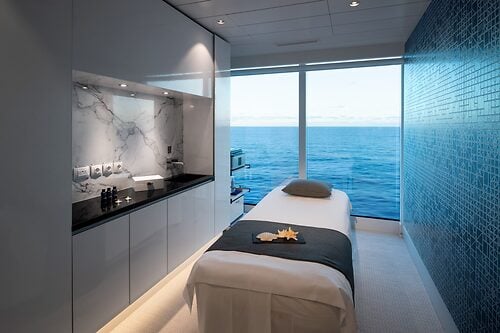 If fitness is your forte, you won't want to miss a trip to the onboard gym, which is stocked with Technogym equipment, free weights and even Peloton bikes, all of which passengers can use on their own for free. Organized exercise classes are scheduled, and you can sign up for a fee.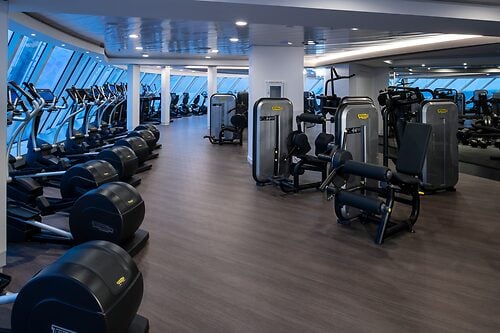 What also sticks out to us is Edge's jogging track. What's special about it is that it's huge, looping around the ship's top decks in a figure-eight layout, part of which is on an incline. Whether you prefer to walk or run, the change in scenery is a welcome change from typical cruise ship tracks. 
Staterooms
Celebrity Edge offers the same standard types of cabins you'd find on any mainstream ship: insides, outsides, balconies, mini-suites and suites. However, there are a few that stand out from the crowd. 
Infinite Verandas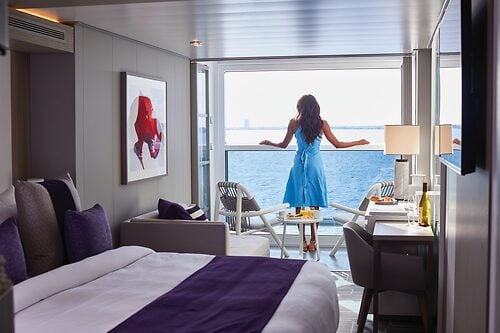 These are 131- to 200-square-foot balcony cabins that, instead of traditional verandas, each have a floor-to-ceiling window you can raise and lower with the touch of a button, allowing fresh air into the stateroom without taking away any interior space. 
The area near the window offers a couple of chairs and a small table, as well as clear partitions that allow space to be sectioned off from the rest of the room so the open window won't affect the climate control. 
Instead of curtains, these cabins are outfitted with blinds that can be controlled with a switch on the wall or by using the Celebrity cell phone app. Sometimes the blinds get stuck or don't work properly, which has been a complaint of many cruisers.
For those who don't think they'd like the setup, the ship does offer regular balcony accommodations.
Edge Villas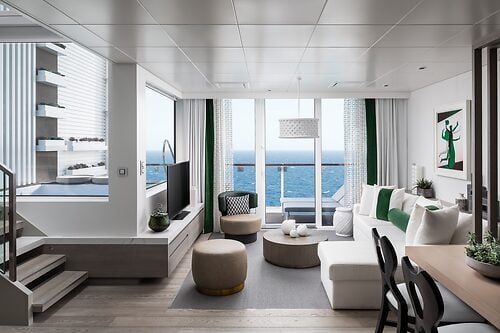 Celebrity Edge offers six Edge Villas -- the first of their kind in the fleet. What makes them special is that they offer 739 square feet with a walk-out balcony that's more than 200 square feet. 
The room is a two-deck setup with an upstairs and a downstairs that encompasses one bedroom, two bathrooms and a living room are.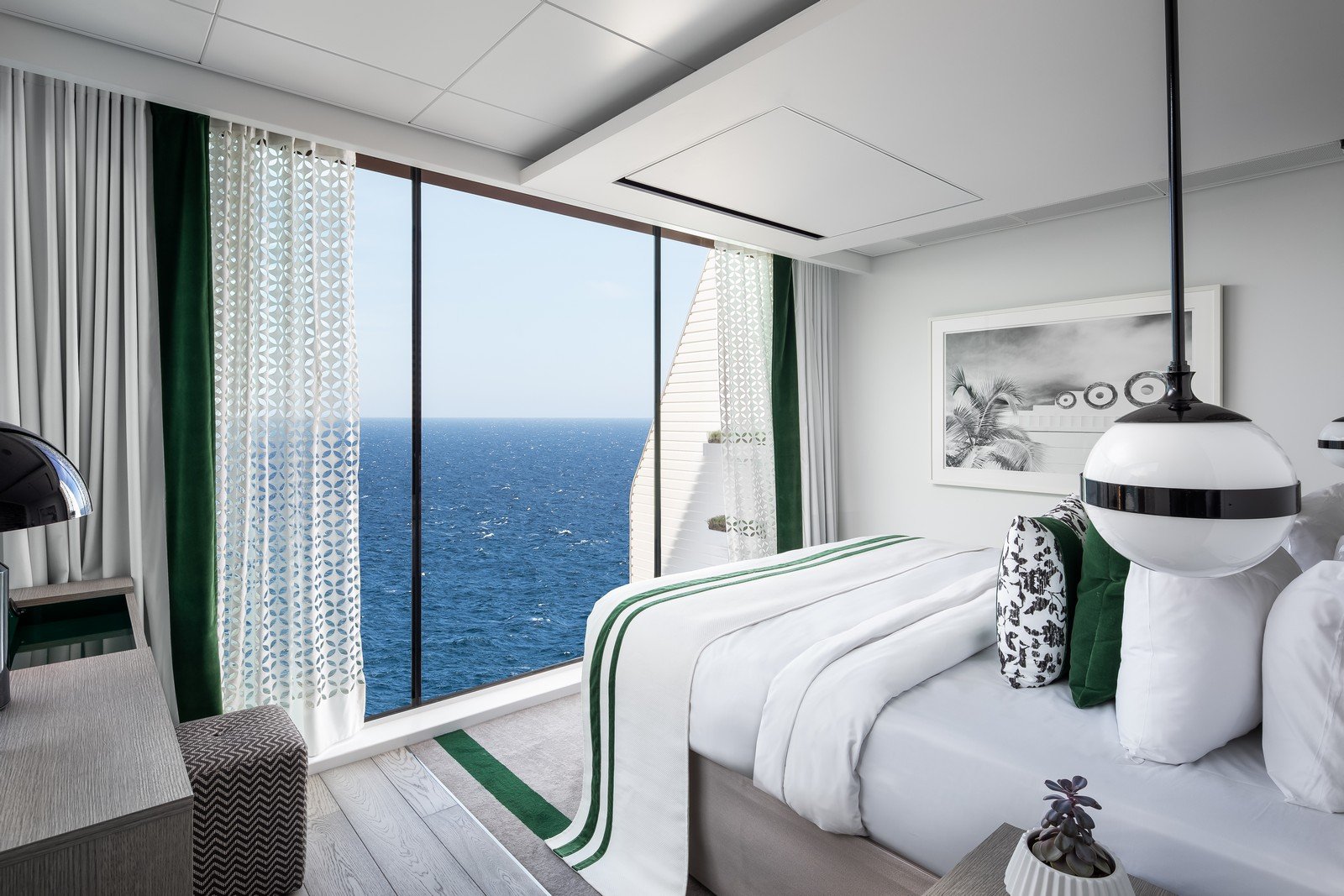 Edge Villa residents also have exclusive access to a private plunge pool, sun deck and lounge, as well as the Blu and Luminae restaurants.
Other perks include premium canapes, two bottles of premium spirits, complimentary laundry, unlimited specialty dining, butler and concierge service, priority embarkation and tendering, upgraded toiletries, onboard credit, and the highest-tiered Wi-Fi and beverage packages. 
Iconic Suites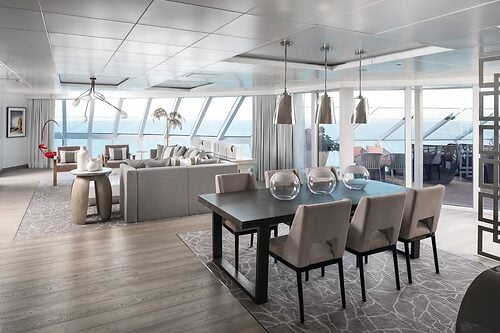 Even more coveted are Edge's two first-in-class Iconic Suites, featuring 1,892 square feet and a nearly 700-square-foot balcony. They're located directly above the bridge; anyone staying in one of these suites will see a view that's similar to the captain's.
The two-bedroom, two-bathroom setup makes these digs great for family travel, as well. Also included are a living area, a whirlpool-style bathtub, dining in Blu and Luminae, and access to a reserved lounge and sun deck. 
Because these rooms are part of The Retreat, passengers staying there are also entitled to the services of a butler and concierge; priority check-in, boarding and tendering; onboard credit; the highest-tiered drink and Wi-Fi packages; unlimited specialty dining; upscale toiletries; and a welcome bottle of Champagne among other amenities.
Technology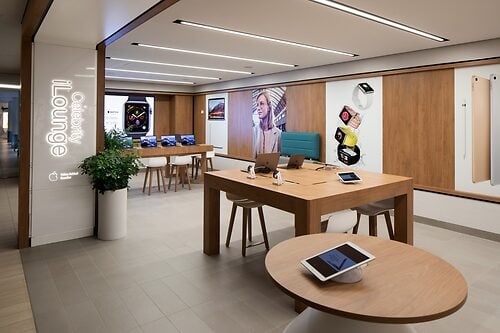 Edge is one of the most technologically advanced vessels afloat, offering interactive dinners (Le Petit Chef), impressive theater shows and a cell phone app that allows passengers to unlock their cabin doors, raise and lower the blinds, and control the TV and air-conditioning. 
Additionally, it employs digital signage to help cruisers find their way around, and as mentioned above, the vessel's theater productions use a specially designed stage and cutting-edge laser projections as backdrops. 
Kids Programming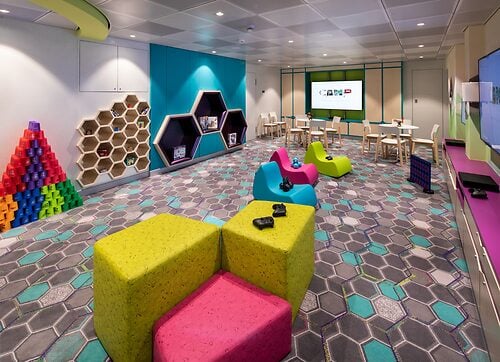 Camp at Sea, Celebrity's program for kids, is divided into several age-appropriate groups: Stay and Play (younger than 3), Shipmates (3 - 5), Cadets (6 - 9) and Captains (10 - 12). 
Parents must sign kids into and out of the kids club on each visit, with the exception of Stay and Play, where parents are required to stick around the whole time.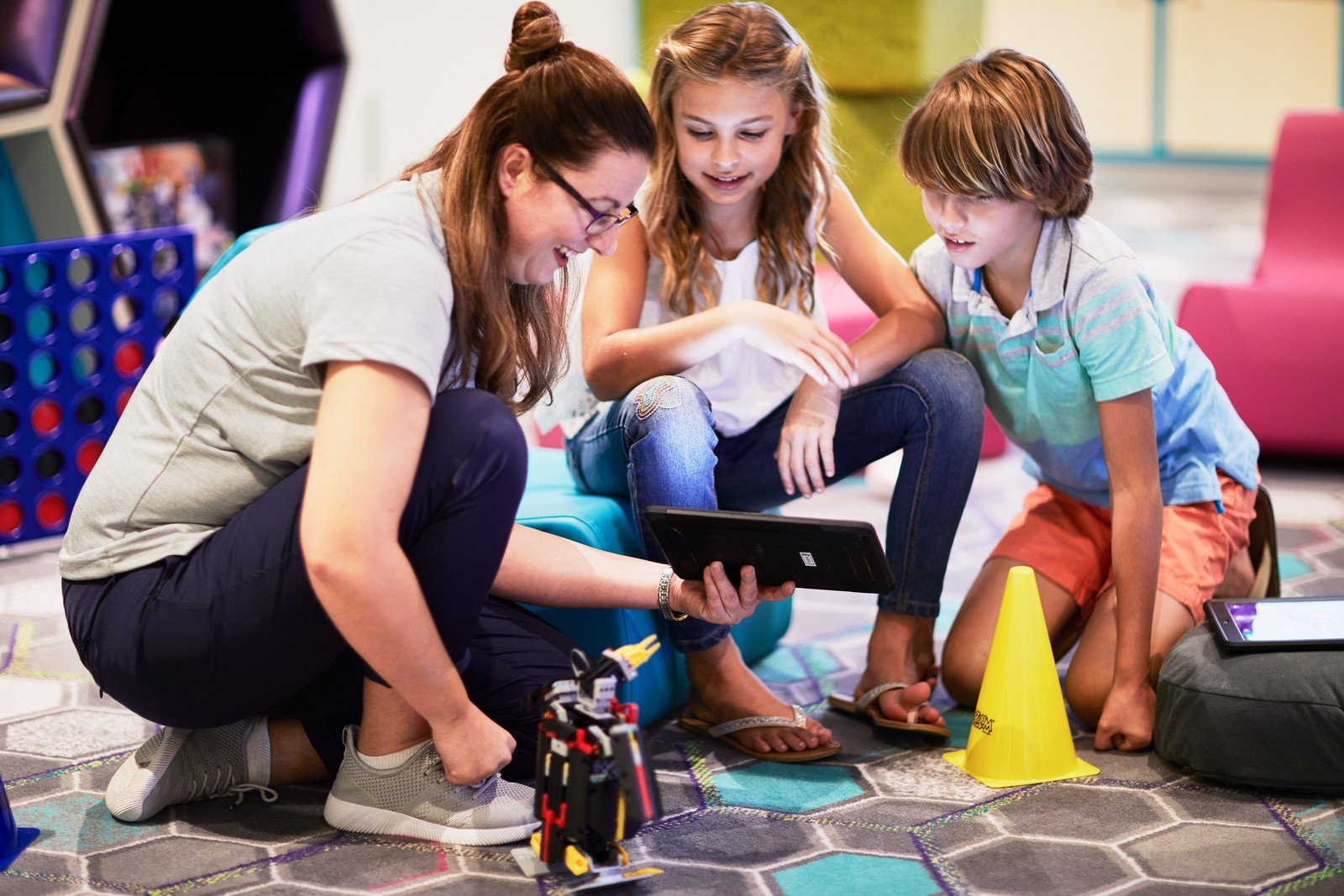 The Basement is the dedicated space for cruisers aged 13 to 17. Teens are allowed to come and go as they please.