In:
I am just off an eleven day adventure on the Celebrity Edge, sailing far south to the Southern Caribbean and the tip of South America. It was a great adventure, and I even got re-married while onboard.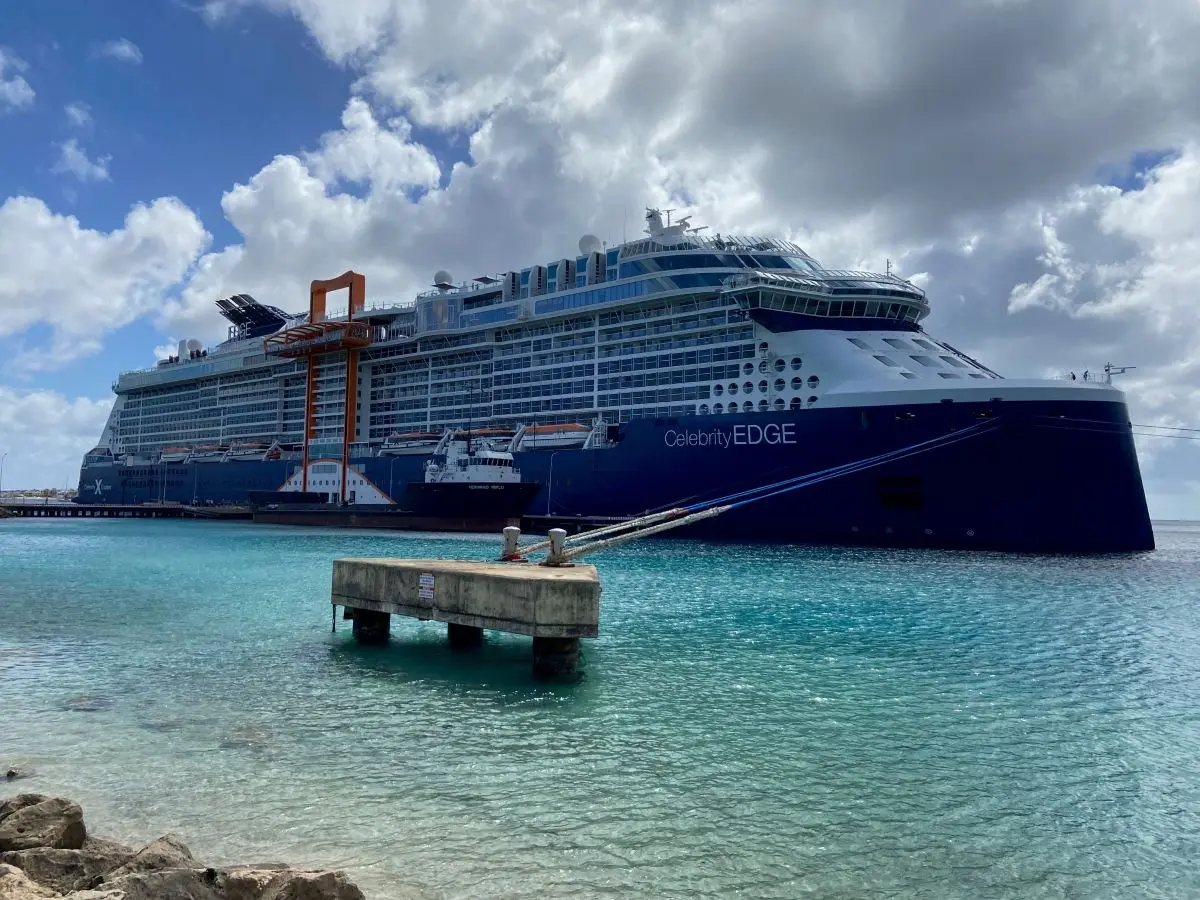 Innovative, revolutionary, and bold are all words used to describe the first in the new class of ships from Celebrity Cruises, a vast departure from the Solstice class or, for that matter, any other cruise ships out there.
Our extended cruise vacation gave me plenty of time to try out tons of food venues, entertainment, bars, and other fun stuff on the ship.
Having never sailed on an Edge series ship, there was lots to explore. Here is what it was like to sail on the Celebrity Edge on an epic 11 day cruise to the Panama Canal. 
Overview of Celebrity Edge
We booked the Edge more than a year and a half in advance. The Panama Canal itinerary was a big draw, and we were eager to try this class of ships.
Previously, we mainly sailed on Royal Caribbean's Oasis class ships. At 129,500 gross tonnage and a capacity of 2,918, the Celebrity Edge is significantly smaller than Wonder of the Seas, which tops out at 235,600, over 80% bigger, with 5,734 guests. So I wasn't sure how this ship would feel in terms of space.
The ship is quite different in design from any other ships I have sailed on. I missed the open center design, a signature feature of Oasis-class ships, but there were plenty of beautiful spaces like Eden and a rooftop patio onboard.
I was advised by the crew that we were sailing near capacity for our voyage, and the ship did feel a tad busy on sea days. On a few occasions when it was windy outside, it was hard to find a spot in the solarium.
And, of course, there were chair hogs as usual. I think whoever solves this issue deserves a Nobel peace prize.
My first impression was that the ship was quite modern in design. I don't necessarily gravitate toward this style. Some of the design elements onboard puzzled me, and I wondered how they would age with time. The chandelier that anchors the Grand Plaza looks like a giant crown gone crazy. I was not sure what to make of this supersized light or whether I even liked it, but it was undoubtedly symbolic of the bold design on the ship.
Cabin
To celebrate our 25th anniversary, we booked a Sky Suite. We were mid-ship on Deck 10, which proved to be a great location, and the cabin was thoughtfully designed. It was evident that the design team carefully considered how each space would be used, and the flow was excellent.
Sky suites run around 320 square feet, which is plenty of space for two. The finishings were top notch, and the bathroom, in particular, was designed well with a separate water closet. It has one large sink with two faucets and a large shower with a tub.
We had tons of closet space and could easily store our suitcases under the bed. The room also included upgraded bedding, bathroom products, robes, slippers, an umbrella, and binoculars, but no coffee maker. Our cabin attendant and butler provided superb service throughout our 11 day journey.
The balcony was a good size with two chairs. I would have loved a lounger, a very minor point. On busy sea days, I did enjoy sitting there, and it allowed for some amazing scenic views when we passed through the Panama Canal. 
Dining Venues
Food is a major part of cruising, and we ate very well onboard the Celebrity Edge.
Oceanview Café, the main buffet, is pretty much similar to other cruise ships. It offered a wide selection of choices and was busy in the morning, lunch, and sea days. There was a large amount of seating, including some outside, and I never had a problem finding a spot. I liked how they had a separate area for pizza and ice cream, which diverted people from the main food area.
We did venture to the Fine Cut Steakhouse onboard. The menu was incredibly similar to Chops on Royal Caribbean, which we have enjoyed thoroughly in the past. Our food was delicious, and the portions were quite large. The restaurant opens to the Grand Plaza area but lacks a little ambiance.
As part of our Sky Suite, we had access to Luminae. It is quite a large space, well decorated in tones of red, which seemed all the more appropriate on Valentine's Day. They don't take reservations, just walk-ins, and we never had a problem getting a table.
The service was excellent, and we enjoyed the varied menu throughout our cruise. If you are a foodie, they have dishes designed by famed chef Daniel Boulud.
Main Dining Room 
One of the most significant differences on the Edge is the separation of the main dining rooms into four different themed venues that look like specialty restaurants. Cyprus, Cosmopolitan, Tuscan, and Normandie offer specialties as well as classics such as steak, chicken, and shrimp, as well as signature dishes.
Being smaller than a standard main dining room, I found the restaurants to have more of a specialty dining feel, especially Normandie, which was a bit whimsical in décor with rose colored accents, and some French style chairs that looked like a French King could have used.
I was also impressed with the food, including a a mouth watering beef tenderloin in pastry. It was so good that we went twice, and it actually became quite busy by the end of the cruise as word of mouth got out about its delicious cuisine. Based on this experience, I would recommend skipping the steakhouse and heading to Normandie to satisfy your beef craving.
We also tried Cyprus twice and Tuscan, Both were good, and I enjoyed the freshly made pasta at Tuscan.
Separating the dining rooms into smaller spaces is an exciting idea, and I would say the only downside is that you don't get to know your wait staff as well.
On my previous cruise on Celebrity Equinox, I had excellent wait staff in the main dining room, and toward the end of the cruise, they knew my tastes and preferences and made excellent recommendations for food and wine. I missed this on the Edge.
Eden
Eden is a unique venue. A fine dining restaurant, bar, a spot for casual bites, and a music venue. It is a three-level, multifunctional space at the back of the ship.
A tropical inspired oasis, it is home to what many consider the best restaurant on the ship – Eden. The restaurant was hands down the best meal I ate all cruise. A 7-course tasting meal with impeccable service. My only complaint is that there was too much food! If you only do one specialty restaurant on Edge, please do Eden.
The acoustic music was terrific and well suited to the serene environment. The splashes of green, wicker chairs and plants made you feel like you were in a jungle on a cruise ship.
Entertainment
The Grand Plaza, which opens up from Deck 3-5, is definitely the main hub on Edge. There is a stage in the middle of the Martini Bar, with lots of music throughout the day. Each evening it hosted a lively show where the bartenders' twirled bottles in the air and then jumped up on the counter and poured a magical concoction into a glass. I was impressed with the live music and the diversity of songs throughout the eleven days.  
It is a lively area throughout the day, and many people sit around and enjoy coffee from Café al Bacio on Deck 5. It serves top not specialty coffees and European-style pastries and desserts. The lounge around popular cafe was always full, and people seemed to love it.
I should note that the coffees are extra or complimentary with a drink package, but the pastries are free.
Even though we were on the ship for eleven days, we did not get to all the events we had planned. I did enjoy trivia and loved the music in the Eden many nights. We did not make it to any shows. We did want to, but after a leisurely dinner, we often chose the options of a post-dinner drink and lively music. It is one of my favorite things.
We attended a captain's talk while onboard, where we learned more information about the ship and the Panama Canal. We showed up about 10 minutes before the event; apparently, everyone else on the ship did. It was standing room only as we listened to Captain Costas' funny yet informative session.
Floating Art Gallery
The ship's architectural elements and overall design is nothing like I have seen on any other cruise ship. I was blown away by the number of art pieces, including paintings and sculptures, throughout the ship. This was unexpected and may seem trivial, but I still think about post cruise.
One of the most talked about (and I would say controversial) pieces on the ship was the large scale installation in a hallway on the way to Eden. It was quite a discussion point amongst passengers in our Facebook sailing group. I don't know that pictures do it justice, but it was incredibly dark, with large sculpture pieces that looked like contorted Oscar statues.
The most unusual sounds played as you walked through, which may have been marine in nature, too hard to make out. I walked through it numerous times and remained both puzzled and intrigued.
There were numerous sculptural pieces throughout the ship that held my eye, including a White Pearl piece, which seemed to be a play on the Black Pear from the famous Pirate of the Caribbean movies. There were also wooden sculptures of people, which seemed to stare at me, despite having no faces. Excellent pieces and thought provoking, exactly what art should be, and most unexpected on a cruise ship.
Other fun stuff
There were several upscale shops on the ship, all with standard ones like Tiffany. Although I saw a beautiful watch in Bulgari, by the name alone, I knew it was out of my price range and did not venture in. I can't recall seeing anyone in there or Cartier during the cruise.
I first thought the Magic Carpet would be a bit gimmick, but it was much more. Another multipurpose space -  a bar, a restaurant, and a launching point for tenders. On one of the sea days, we were lucky enough to score a seat there. It has the perfect amount of shade and incredible views. For my next cruise, I would love to try dinner on it.  
I am not much of a gambler, but my husband did enjoy blackjack in the casino, and we met friends for a drink in the Casino Bar, which was often not busy. Big shoutout to Celebrity for a smoke-free casino. I love it.
We happened to be cruising on Valentine's Day, and everyone who wanted was invited to participate in a vow renewal, a fleet wide event. It looked like at least 100 people participated, and we were treated to a glass of bubbly afterward. I even received a certificate before the end of the cruise to reconfirm my marital status. Nice touch, Celebrity.
Itinerary
One of the best perks of sailing on an Edge class series is the size of the ship. Big enough to offer all the modern amenities you expect in a cruise ship but small enough to fit through the Panama Canal. 
I wasn't expecting the canal to be so quiet. As we entered, I was surprised to see so much jungle around it, and I could hear birds calling out as we entered before 7 am. I had envisioned lots of people working frantically, with machines buzzing around. Not so. A few people onshore, but otherwise exceptionally calm and well organized. Once through the locks, we entered Gatun Lake, which was greenish in color and surprisingly beautiful. The ship was buzzing the whole time we went through the locks, with people traveling around to get different views and enjoy the sites.
We also sailed to the ABC islands, although we were delayed in arriving in Aruba due to a medical emergency. We rented a golf cart in Bonaire, which is an island like none other I have visited in the Caribbean. Such diverse topography and remote in areas. We also visited Curacao, where we wandered around Willemstad having great Dutch coffee and visiting the local museum. Cartagena, Columbia, was a vibrant port and full of contrast. Your first glimpses of the city are towering white high rises, which was very different than our tour of the old town, which was full of well preserved Spanish colonial buildings.
Ship tour 
One of the best things I did onboard was a ship tour. This has been something I always thought of doing, and I was well organized this time and booked it before we boarded. It is kind of genius that cruise lines charge you for this and that they sell out.
There were around 20 of us, and we ventured to the galley (of Normandie, which was a bonus). We visited one of the 40 storage rooms onboard, and apparently, around 2,000 bottles of wine were consumed each day. No wonder they needed so many store rooms.  We also visited the laundry room and the recycling areas. I am incredibly jealous of the ship's folding machine, which was magical in pressing and putting sheets into beautiful squares.
One of the highlights of a ship tour is the bridge. I have previously visited a bridge on Royal Caribbean ships, and it was pretty similar on the Edge. Sparsely populated with only three people working, it was quite spacious and packed with modern technology and the smallest ship wheel you can imagine. Unfortunately, the Captain was not there, but the Chief Office did an excellent job of showing us around. All in all, this was a great highlight of the tour and a great way to spend some of the five sea days.
The Verdict
Celebrity has definitely pushed boundaries with the Edge. They have reimagined spaces and challenged some of the traditional cruise ship designs. The ship lived up to the hype by providing a well designed ship with great amenities, tasty food, and very good service. These are things we all want in a cruise vacation.
I am not sure I need all of the modern design for a great cruise, but the ship has tons of terrific amenities, and its size means it has a lot of possible itineraries. It will be interesting to see how dated the ship will look in another five years, as modern design changes rather quickly.
Eleven days is a significant amount of time that lets you explore and experience the ship, as well as fantastic ports. A genuinely relaxing cruise vacation. I can say with certainty that I would sail on the Celebrity Edge series again.