In:
If Celebrity Cruise's announcement that it will begin visiting Royal Caribbean's private island surprised you, you should know that the line is responding to customer demand.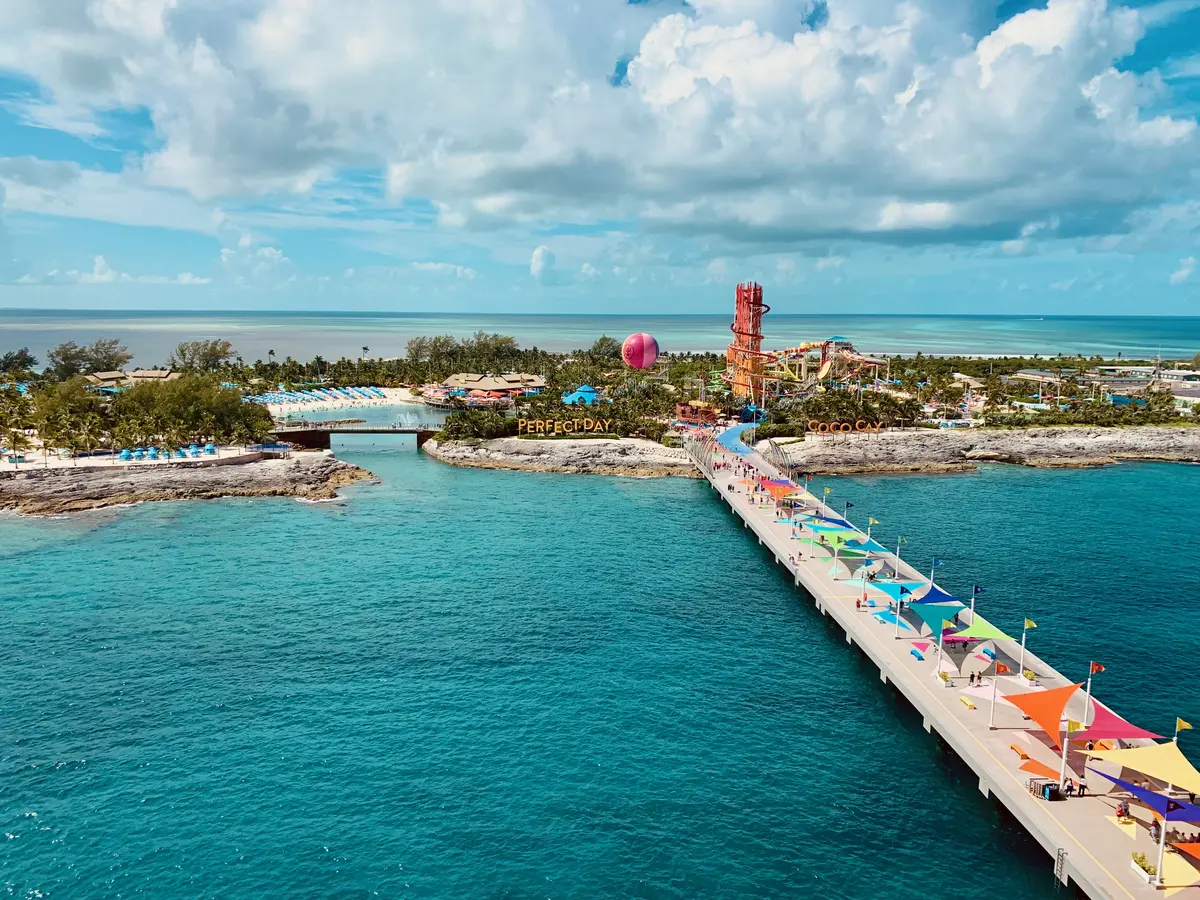 Starting in April 2024, Celebrity Cruises is going to begin sailing from Florida to Royal Caribbean's private island, Perfect Day at CocoCay, to meet a need its customer base has been clamoring for.
Celebrity Beyond is being redeployed to the Caribbean in 2024 and taking over Celebrity Reflection's sailings, rather than cruising through Europe. Guests booked on the 6- and 8-night sailings on Celebrity Reflection will automatically be transferred to Beyond. 
Those booked on Celebrity Beyond have the opportunity to be transferred to another European voyage. 
Instead of making 6- and 8- night sailings, Celebrity Reflection will make shorter cruises to The Bahamas: 3-night sailings departing every Friday and 4-night cruises departing every Monday. Currently, you can find 3-night sailings on Celebrity Reflection for under $300 per person for an interior cabin. 
"...having the opportunity to now have these short 3- and 4-night itineraries answers really a demand that we have in the market to have something new, something exciting, something elevated, and something quick to be able to really experience that short and quick getaway still in the Celebrity style," said Jennifer Suarez, Associate Vice President of National Accounts and Inside Sales for Celebrity Cruises.  
Related: 20 Celebrity Cruises Tips & Tricks
What sailings will be offered?
Celebrity Reflection will sail 3-night and 4-night cruises from Port Everglades in Fort Lauderdale, Florida.
The 3- and 4-night cruises will visit Perfect Day at CocoCay and either Nassau, Bimini, or Key West. 
Celebrity Beyond will be taking over Reflection's longer sailings that alternate between cruises to Grand Cayman, The Bahamas, Mexico, and the Dutch Caribbean islands of Aruba, Bonaire and Curacao.
Will All Included be active on the island?
When you are booking a Celebrity cruise vacation, there are two options for fares. The first is a standard rate that includes accommodation, transportation between ports, entertainment, and select food and beverages.
The second is known as "All Included," which adds the Classic Beverage Package, gratuities, and Wi-Fi to the cost of your cruise. It is meant to give passengers a more inclusive experience.  
Whether you select this rate or purchase each package individually, those docked at Perfect Day at CocoCay on a Celebrity ship will be able to utilize the benefits of their package(s). 
Which ages and demographics are sailing on Celebrity Cruises?
The ages and demographics for Celebrity sailings to the Caribbean vary based on length.
51% of guests, for instance, on 7-night cruises are 60-years-old and older. This number drops to 37% for short Caribbean cruises, while it increases to 75% on long Caribbean cruises. 
On all Caribbean cruises onboard Celebrity vessels, Baby Boomers make up the majority of guests onboard, with anywhere from 47% to 63% of all guests coming from this generation. The total percentage of Millennial and Gen Z passengers is typically no more than 25%. The lowest percentage of this age group is found on short cruises, with the total percentage around 6%. 
Moreover, the percentage of families with children is currently below 15%, regardless of the duration of the sailing. 
And while Royal Caribbean remains the best cruise line to provide the ultimate family vacation, there is a distinction between traveling for and with children. 
"...[you] are going to start to see meaningful ways in which how we show up at Celebrity Cruises to ensure that traveling with your family and with your kids in engaging, is exciting, and is active in the right way for the Celebrity clientele," said Katina Athanasiou, Senior Vice President of Sales & Services, The Americas for Celebrity Cruises. 
Will there be other ships docked at Perfect Day at CocoCay?
Due to the popularity of the island, there is a good chance that if you are sailing on Celebrity Reflection or Beyond, you will be docked beside of a Royal Caribbean ship. 
In any port of call, though, it is likely that your ship will not be the only one there. If you think about Nassau or Cozumel, you may be one of two, three, or even four ships in port that day. 
With Perfect Day at CocoCay, it is guaranteed that there will be a maximum of only two ships in port that day, and the island has been built to accommodate a high number of passengers. 
"...[This island] is specifically built for family of brands' guests, and so everything on there is very much controlled by us...it is literally just the Royal Caribbean Group guests joining the amazing destination for an amazing day," said Suarez. 
Booking incentive
If you book a cruise onboard Celebrity Reflection or Beyond between June 27 and July 31, 2023 that departs between May 1 and September 30, 2024, you are eligible to receive double club points through Celebrity's Captain's Club, the the cruise line's loyalty program that provides exclusive perks and events to repeat cruisers. 
If you have yet to sail with Celebrity Cruises but have status with Royal Caribbean through their Crown & Anchor program, you may be eligible for their reciprocity program. 
Note that status matching does not extend to the highest levels for each cruise line. In other words, if you are Pinnacle with Royal Caribbean, you will not become Zenith with Celebrity. Celebrity's Elite tier is the highest level that you can match.