In:
Celebrity Ascent will be Celebrity Cruises' fourth Edge Class ship, and it is only a few short months away from hitting the high seas.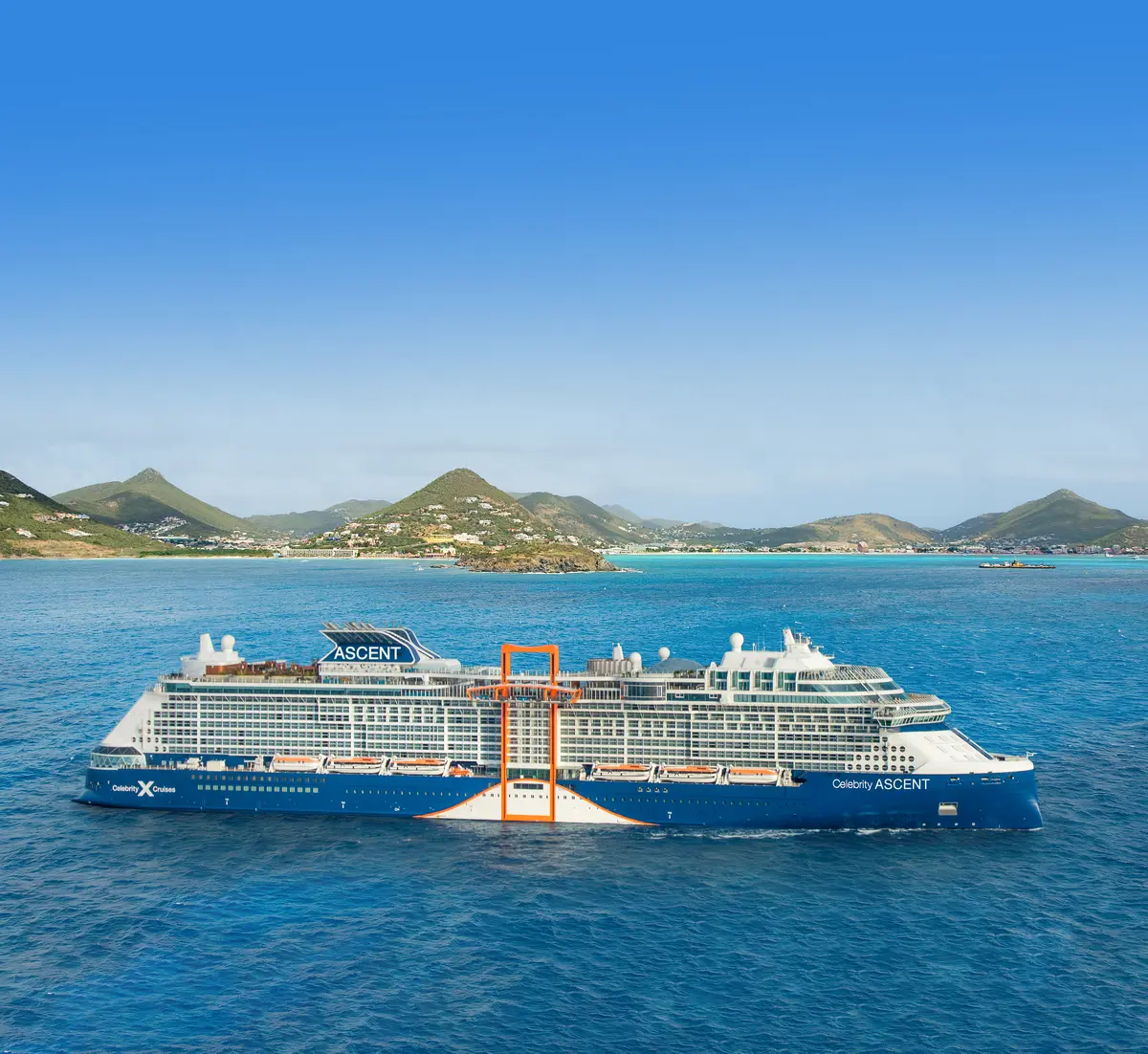 "I am so excited to introduce the world to Celebrity Ascent and continue the legacy of Celebrity's Edge Series," remarked Laura Hodges Bethge, Celebrity Cruises' President.
"First launched in 2018, the Edge Series transformed what cruising could be and its ships like Edge, Apex and Beyond quickly became consumer favorites. Continuously striving to offer travelers a better way to enjoy travel and reach the world around them, we are so proud of what we have built and look forward to welcoming both seasoned and new cruisers alike." 
Here is what guests can look forward to on the newest Edge Class ship, Celebrity Ascent. 
Edge Class favorites
If you have previously sailed on an Edge Class ship, there are numerous venues that you can look forward to seeing onboard. 
First, there will be the Theatre that will be home to imaginative performances that utilize state-of-the-art technology. 
If you would rather enjoy the outdoors, head up to the Rooftop Garden. Dubbed the "ultimate outdoor haven," this is a space to enjoy live music, movies, and infinity float pools. Do not worry-- if you get hungry, it is easy to grab something to eat al fresco at the Rooftop Garden Grill. 
There will also be a return of the spa, luxurious Resort Deck with a large main pool and two-story martini glass shaped hot tubs, adults-only Solarium, Sunset Bar, Magic Carpet, and the Grand Plaza and Martini Bar. 
When it comes to dining, you can expect to find venues like the three-story Eden Bar and Restaurant, as well as Le Petit Chef, which offers a fully immersive dining experience for an extra cost and will feature a never-before-seen show. 
And when you return to your cabin at night, you can rest easy in Celebrity's luxurious and modern accommodations. When booking your cruise, you will have your pick of the Edge Class first Infinite Veranda, as well as other standard cabins. The ship even welcomes the return of AquaClass staterooms for wellbeing-seekers who want to enjoy exclusive amenities.
Brand-new and refreshed dining experiences
When Celebrity Beyond made her debut in 2022, she introduced new dining venues that set her apart from the previous two ships in the class. Likewise, Celebrity Ascent is taking on a similar tactic. Cruising onboard this ship will be different from any other ship in the class!
Le Voyage by Daniel Boulud was first introduced on Celebrity Beyond; however, it will be completely redesigned onboard Celebrity Ascent. Headed by KTGY Simeone Deary Design Group, Daniel Boulud's second restaurant at sea will offer an intimate fine dining experience that is based upon the Chef's travels. 
The world-class cuisine offered at Eden Restaurant is going to be expanded with a plant-based tasting menu, which will bring guests closer to the earth through seven courses that are crafted with untouched, fresh, and seasonal ingredients.
Fans of high-end bourbons will appreciate the tasting and seminars at Craft Social, while martini fans can rejoice in the expanded martini menu at the Martini Bar.
Here, you can find low-sugar cocktails, as well as some brand-new creations, such as the lychee and passion fruit martini. 
Even the complimentary dining experience is getting a refresh. As with the other Edge Class ships, there will be four main dining options, each with a signature menu and rotating nightly dishes.
On Celebrity Ascent, however, the Cosmopolitan restaurant will be redesigned, with the inspiration coming from the culture of champagne. 
Finally, Blu, the exclusive restaurant dedicated to AquaClass guests, will have an outdoor terrance with the ability to seat 24 guests.
Enhanced entertainment, art and retail offerings​​​
While food is a major aspect of the cruising experience, entertainment is another selling point for many passengers, and there is no lack of things to do onboard Celebrity Ascent. 
First, there will be three brand-new production shows in the Theater, as well as interactive digital experiences in the Club and immersive shows in Eden Bar and Restaurant. Each show will feature world-class dancers, vocalists, musicians, and even specialty artists. 
Plus, the Resort Deck is going to be the center of all your nightlife needs. There will be live performances, music, and even a DJ.
For those who want to try their luck at the casino, you will find that the casino floor has been redesigned and will feature brand-new games. You will find a new layout, design, and slot machines with the latest technology. 
The Art Gallery has also been reimagined, making it so that guests are able to better experience the displayed places, as well as enjoy various auctions and events. 
Last but not least, Celebrity Ascent will be home to the Sunset Collection by Nate Berkus. This is a collection of travel and home accessories that can only be found onboard Celebrity Ascent!
Celebrity Ascent itineraries 
Celebrity Ascent is scheduled to begin her maiden season in Caribbean before making her way across the Atlantic Ocean for a summer European season. This means that you can relax on the beautiful white sands of the Caribbean or enjoy a culturally rich trip, crossing multiple bucket-list destinations off of your list. 
If you would like to be one of the first to sail onboard, you can book a preview sailing. The first departs on November 22, 2023 and is a 4-night cruise to Cozumel. The second is a 3-night Bahamas getaway to Nassau, departing from Fort Lauderdale on November 26, 2023. 
The official maiden voyage is slated to begin on December 3, 2023. This is a 7-night Eastern Caribbean cruise to St. Maarten, St. Thomas, and Puerto Plata.
Between mid-December 2023 and early April 2024, you can elect to cruise on one of two 7-night Caribbean itineraries: Bahamas, Mexico, and Grand Cayman or San Juan, Tortola, and St. Kitts.
Since she will be in the Caribbean over the holidays, perhaps you will enjoy ringing in the New Year onboard this brand-new ship. The Christmas cruise departs on December 24 and sails to the Bahamas, Mexico, and Grand Cayman, while the New Year's cruise is to San Juan, Tortola, and St. Kitts and leaves on December 31. 
While in Europe, you can take the ultimate Mediterranean getaway during the 9-night Italian Riviera and France cruise. If that does not interest you, there is also a 12-night Best of Italy and Greece itinerary, sailing to places like Rome, Naples, Mykonos, and Santorini!