In:
Somewhere between bites of unlimited guacamole and watching the sunset from my Boardwalk balcony, I knew I made the right decision to book a cruise on Allure of the Seas. Despite the ship often being called the most "outdated" of Royal Caribbean's Oasis Class cruise ships, I couldn't have asked for a better experience onboard.
Allure of the Seas is currently the fifth largest cruise ship in the world and she debuted in December 2010. The ship was set to receive a $165 million amplification in 2020 to add features like waterslides and new restaurants, but this has been put on hold.
Due to her amplification being postponed, the 12 year old ship has received negative comments online about her relative "lack" of new amenities. In fact, she is the only "original" Oasis Class cruise ship left following the amplification of Oasis of the Seas in 2019.
Because of this, I noticed several people commenting how Allure of the Seas feels outdated, how she lacks new activities, and how the staterooms and furniture throughout the ship are in desperate need of an update.
While online comments should always be taken with a grain of salt, I couldn't help but wonder if they would be true or not.
Therefore, I took matters into my own hands and booked a 6-night Western Caribbean cruise on Allure of the Seas to see for myself whether or not this is the "worst" Oasis Class cruise ship.
First impression of Allure of the Seas: my cabin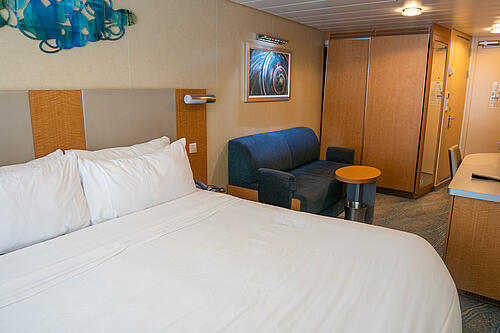 When I entered my stateroom for the first time, I found it clean and well-maintained. While it may not have had as many outlets as newer Oasis Class cruise ships, it was nearly identical to my cabin on Oasis of the Seas earlier this year.
There were just two minor signs that my stateroom could be in need of a few upgrades.
Upon entering my cabin, I noticed my closet door was stuck and wouldn't slide open correctly. Luckily, this was resolved with a simple call to housekeeping and I didn't encounter any issues the rest of the cruise.
Second, the upholstery on my couch was pretty worn out and could definitely use an upgrade.
Did these minor details have a negative impact on my cruise? Not at all. While I would say the cabins on ships like Harmony, Symphony, and Wonder of the Seas appear newer and more modern, my cabin decor did not impact my cruise experience whatsoever.
What's "missing" on Allure of the Seas?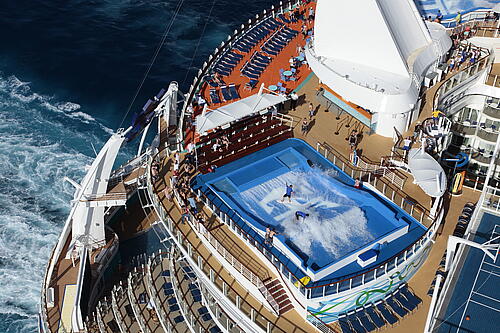 Most comparisons of Allure of the Seas to other ships in the Oasis Class revolve around the fact that the ship is "missing" several activities, bars, and dining venues found on other ships. These include:
The Ultimate Abyss, Royal Caribbean's dry slide which plummets guests 100 feet from the Sports Court down to the Boardwalk neighborhood
Waterslides
Bionic Bar, the futuristic bar serving cocktails made by robotic bartenders
Escape Room
Laser Tag
Wonderland, an eclectic specialty restaurant
Playmakers Sports Bar & Arcade
Personally, having these features missing does not make Allure of the Seas any less desirable to me. I rarely use the onboard waterslides or Ultimate Abyss, and while an escape room is fun, I can keep busy with other activities onboard. Plus, you can still find a zip line, sports court, 2 FlowRiders, Adventure Ocean programming, a carousel, and other kid-friendly activities on the ship.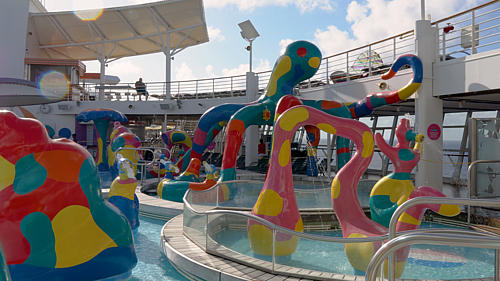 That being said, not having waterslides could be considered a downside of Allure of the Seas for some passengers. Whereas other Oasis Class ships have three waterslides in addition to small slides at Splashaway Bay, Allure of the Seas does not have even one.
While there is more than enough to keep kids entertained on Allure, if your kids can't wait to check out the waterslides onboard a cruise ship, it's probably best to pick another ship in the Oasis Class or spend the day at Thrill Waterpark if your Allure cruise visits Perfect Day at CocoCay.
As far as dining and lounge venues are concerned, I did not have any complaints with what was available on Allure of the Seas. Being an Oasis Class ship, Allure of the Seas has a ton of places to eat and drink onboard even if she hasn't been amplified.
Related: The Oasis Class features that are only left on Allure of the Seas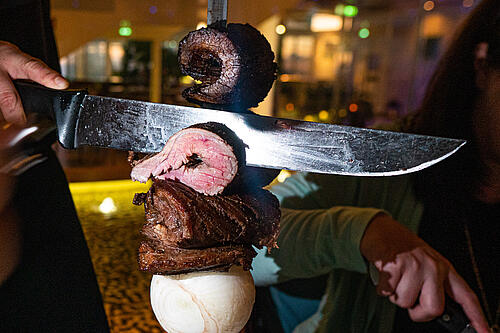 As someone who cruises frequently, it was refreshing to see a range of dining options on Allure of the Seas not found as commonly on other Royal Caribbean ships. I preferred my meals at Samba Grill and Sabor on Allure of the Seas much more than my dining experience at Wonderland (which can be found on other Oasis Class ships).
Related: I tried Royal Caribbean's least well-known specialty restaurant: here's what I thought
So perhaps we shouldn't look at Allure of the Seas in the context of what's missing, but what makes the ship unique.
What I loved about Allure of the Seas
Diamond Lounge location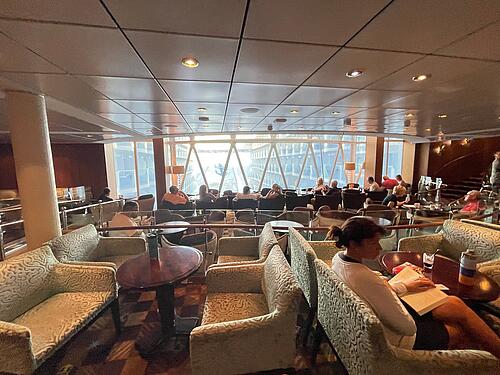 One of the best perks of being a Diamond member in Royal Caribbean's Crown & Anchor Society is access to the Diamond Lounge.
Related: Crown and Anchor Society loyalty program info, tips & secrets
On every other Oasis Class ship, the Diamond Lounge is tucked into a room on Deck 4 with no windows. It's not somewhere I enjoy spending time, as I'd rather be hanging out somewhere with an outside view.
On Allure of the Seas, however, this space has massive windows overlooking the Boardwalk neighborhood and ocean. 
Sabor Mexican restaurant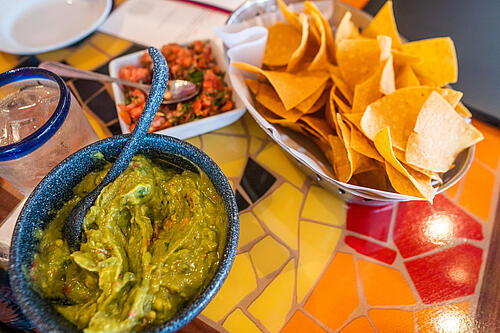 Something else I loved on Allure of the Seas was Sabor, Royal Caribbean's Mexican specialty restaurant.
I didn't have the highest expectations when I made a reservation at Sabor. Not only do I live in an area of the US with wonderful, authentic Mexican food, but I was on a cruise visiting Mexico. Surely the food at Sabor couldn't compete with the food I enjoyed in port, right?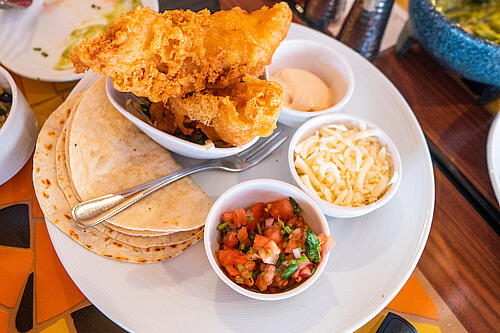 In reality, Sabor exceeded my expectations and I was kicking myself for waiting until the last day of the cruise to dine there.
We savored a meal of guacamole (customized to your spice preference!), pico de gallo, quesadillas, fish and chicken tacos, and queso fundido.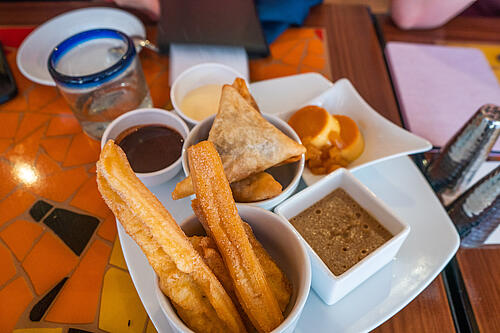 Despite feeling completely stuffed after way too much guacamole, I made room for a mouthwatering dessert of cinnamon churros, banana and chocolate chimichanga, flan, and cafe con leche.
Endless guacamole, tacos, and churros? Yes, please!
Entertainment options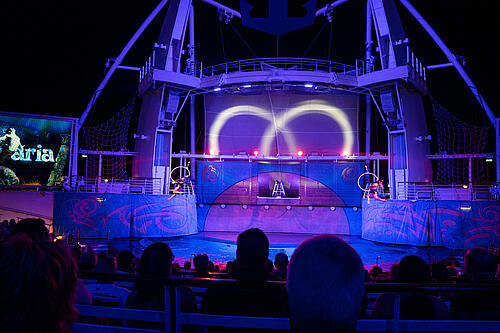 The ship's AquaTheater show, OceanAria, may have been the best AquaTheater show I've seen yet. It had a huge focus on acrobatics, including an insanely impressive acro yoga performance. I wish I had seen the show more than once! While all AquaTheater shows on Oasis Class ships are entertaining, I enjoyed OceanAria the most.
Additionally, the ship's Studio B show, Ice Games, was one of my favorite ice skating shows to date. I have a hard time understanding the plot of most ice skating shows, but Ice Games was easy to follow. The show revolved around a Monopoly game in which the cast members (or guests!) rolled a die that would transport the set to an area of Allure of the Seas.
The ice skating rink changed from Giovanni's Table to the Boardwalk and Arcade, and the whole show was beyond fun to watch!
Central Park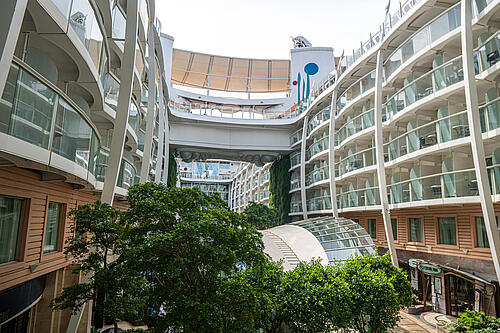 Something I love about sailing on the "older" ships in the Oasis Class (Oasis of the Seas and Allure of the Seas) is that the plants and trees in Central Park have had over ten years to grow. The park is full of tall, lush trees and massive plant walls that are much more impressive than on the newer Oasis Class ships.
As someone who loves spending time in Central Park, I liked how the space felt more integrated with nature on Allure of the Seas compared to the newer ships.
Related: Top 10 Royal Caribbean Allure of the Seas insider tips & secrets
Cheaper pricing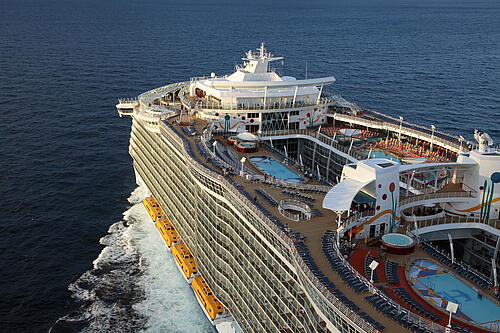 Perhaps the best benefit of cruising on Allure of the Seas is that prices are often the lowest of any Oasis Class ship. Because she has not been amplified and thus lacks activities like waterslides and new dining venues, Royal Caribbean prices her itineraries at a reasonable cost.
My 6-night cruise, for example, was $1152 for two guests in a Boardwalk balcony cabin including gratuities. At $192 per night ($96 per person, per night), I felt it was a great deal for sailing on one of Royal Caribbean's biggest cruise ships.
Final thoughts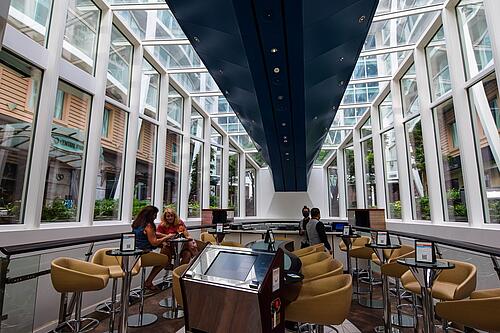 While the amplification of Allure of the Seas has been postponed indefinitely, I would still, without a doubt, recommend a cruise on the ship.
The only time I noticed the ship's age compared to other Oasis Class ships was in some of the furnishings, as new upholstery would have likely been on the agenda during the amplification. This extremely minor detail, however, did not affect my cruise at all!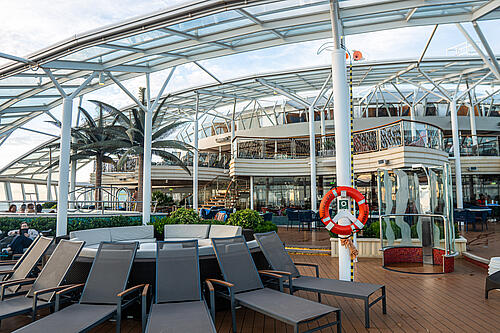 I loved the unique features found only on Allure of the Seas, such as the Champagne Bar on the Royal Promenade and spacious Diamond Lounge. The specialty dining venues were fantastic, too, and I didn't have a single bad meal on the ship.
Truthfully, there is no "worst" cruise ship, especially when comparing some of the largest and most exciting ships in the world. What is a dream ship for some cruisers may not appeal to others. For me? I had a fantastic week onboard Allure of the Seas and didn't once feel this ship was any "worse off" than other ships in the Oasis Class.
If you'd like to learn more about Allure of the Seas, check out our FULL ship tour to experience the ship deck by deck:
Choosing a ship for your next cruise? Check our our best tips & tricks: