In:
Today was our second of three sea days, as we make way to New Jersey.  So far the sailing has been calm and cloudy.  I slept in today. I think the early mornings and late nights finally caught up to me. 
The only organized event today in our group was the slot pull.  I didn't play but I went down to see everyone one.  Our host had every name printed out and slots to write down how much they won/loss on every spin.  The buy-in was $25 per person and the payout was $19.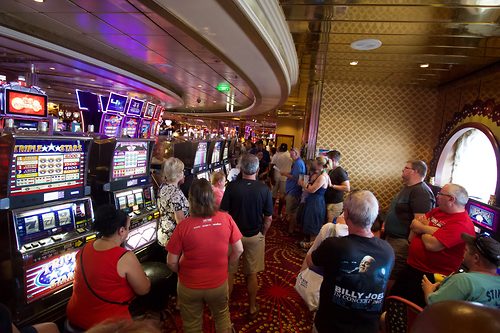 After the slot pull our group just stayed at the Schooner Bar for trivia.  They had songs from movies, food from around the world, and general knowledge.  I think we played three games over the course of a few hours.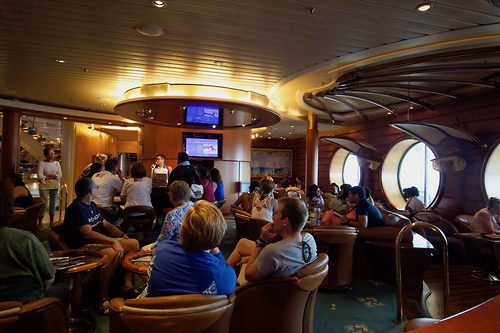 A few of us were getting hungry, so we grabbed pizza from Café Promenade and brought it back down to the Schooner Bar to enjoy.  I thought the pizza was really good, much thicker than I've had before on Royal Caribbean.
To be honest, I didn't really explore much today and never made it outside.  The weather was okay but a little cloudy.  I spent most of my day with friends and had a few beers at The Schooner Bar.  They are not offering a drink card on this cruise, which is unfortunate because they have been so popular on previous sailings but not on this sailing.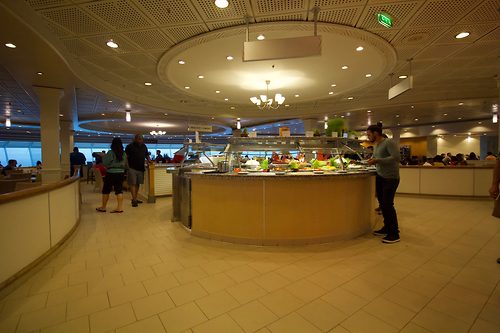 For dinner tonight we didn't have any plans so I thought I'd make my first trip to the Windjammer this cruise.  It was Caribbean theme tonight and the food was based on that.  I tried a little bit of everything; the jerk chicken was really good.  If you don't like spicy foods I don't think you would enjoy the food tonight, but I don't mind it.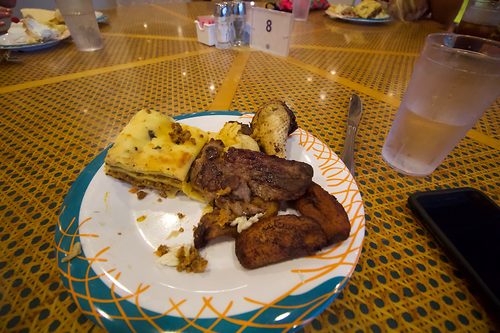 The main event tonight that I've been looking for was The Quest.  They were holding it in Studio B at 10:45PM.  Prior to the quest they had a 80's party to get people in the show, and right after the quest started.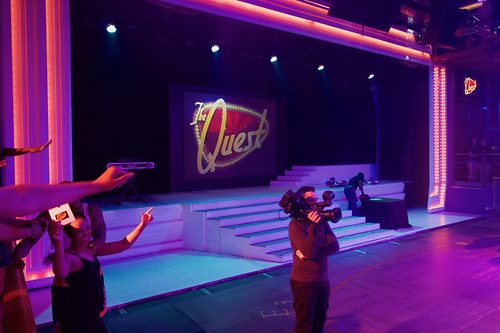 I am happy to report my team won first place, unlike the Harmony group cruise in September.  I thought the game was a lot of fun and we seemed to have more experienced Quest players than before.  At the end, when they announced the winners I was a little worried we didn't pull it of, but we did!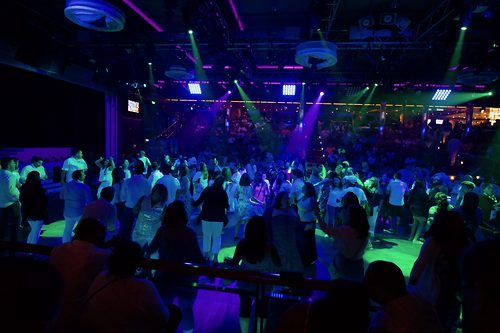 After The Quest we headed up to the Blue Moon Lounge for some celebration dancing.  The lounge wasn't that busy tonight, so I really enjoyed it.  I am happy to report I was able to stay until they turned the lights on.  I knew it was my only night to stay up a little later since tomorrow is our last day.  Stay tuned, more to come on board Adventure of the Seas.