In:
Today was our first port of call, Grand Cayman.  The captain decided to switch us to local time, so we fell back to central time zone.  I didn't mind the extra hour of sleep this morning.  We were in port from 7AM to 3PM, so it wasn't a very long day, but still plenty of time to explore.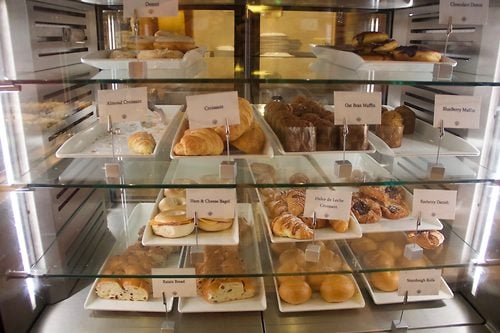 We started our morning with a quick bite to eat at Café Promenade. They had breakfast sandwiches and burrito's, reminds me of Park Café breakfast on other ships.  I really enjoyed the egg burrito and fruit cup.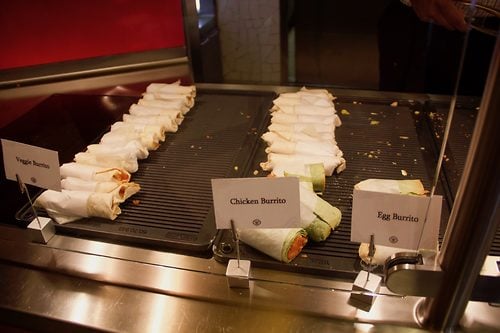 Since Grand Cayman doesn't have a pier you must tender over to the island, same process as you do in Coco Cay.  However, they were handing out tickets to get off the ship to help with the traffic flow.  I was up in the diamond lounge and the concierge was able to hand out tickets.  Otherwise you just pick them up on deck 5 in the promenade.  They then call ticket numbers to proceed to exit the ship.  This reminded me how they call numbers to debark on the last day.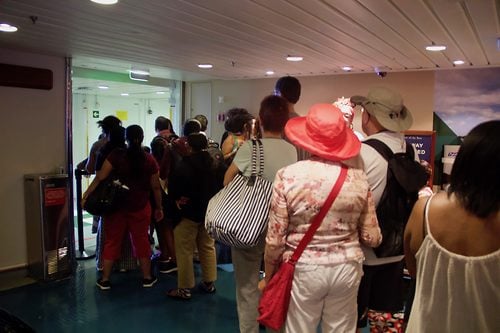 We left the ship at 9AM so the numbers had all been called.  It did take us 15 minutes in line for a tender to arrive to the ship, I guess we just missed it.  Once we boarded the tender boat they wait until it's full to leave.  Not a huge deal but the whole process from ship to shore was about 45 minutes all-in.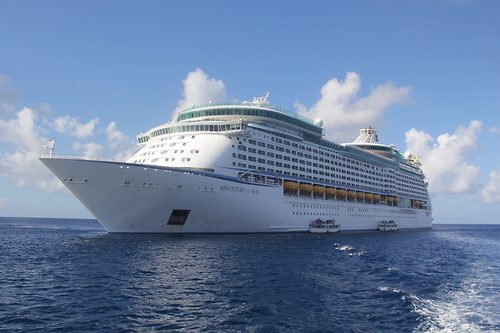 No real plans today so we jumped into a taxi to the Royal Palms.  If you read my Brilliance live blog in March I also went here.  Today we only had two ships in port so the Royal Palms was very calm.  It's $5 per person for the taxi and $2 per person to enter.  The $2 entry fee covers the restrooms and chairs around the bar/pool.  If you want beach loungers they are $12 each.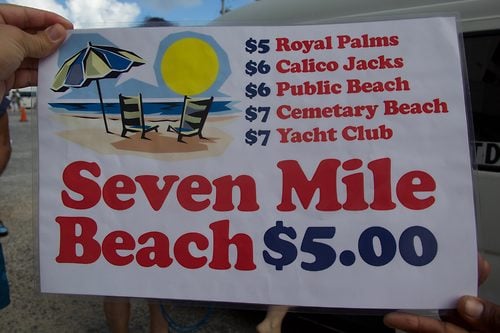 We grabbed a bucket of beers ($25) and went swimming in the pool most of the morning.  In the past, they have had a DJ playing music but today was a much different experience.  At noon we left to meet some on board friends for lunch.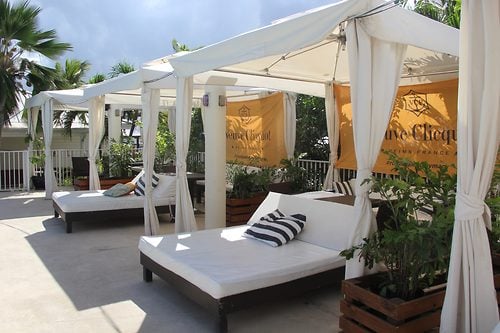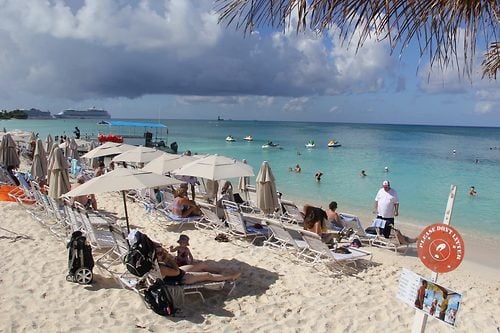 The restaurant was called Paradise Grill (green roof) all the way to the right when you exit the terminal.  The views during lunch were really nice with the ships in the background.  You could also go snorkeling here, I can report seeing many baby sharks in the water!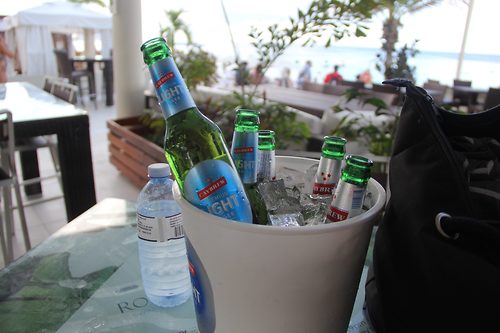 On board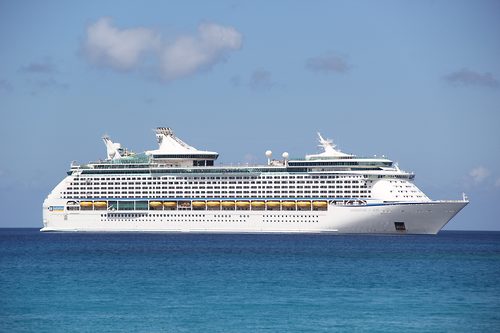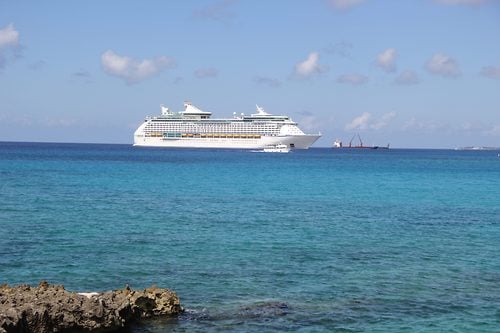 After waking up from a much needed 3 hour nap, I decided to go visit the schooner bar.  Since it's on deck 4 I hadn't spent much time here.  When I arrived they were playing trivia and it was so packed, but right when it ended the place cleared out.  They also had some live music going so that was nice to enjoy with my cocktail.  I was using my 3 diamond coupons at schooner.  Note if you are looking for straws you are out of luck on Adventure.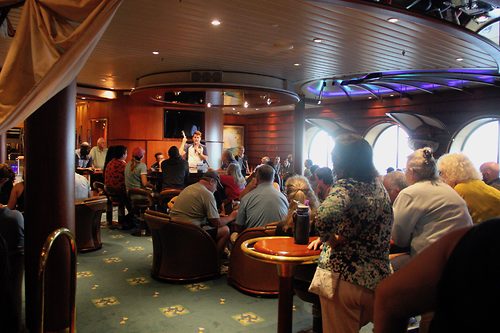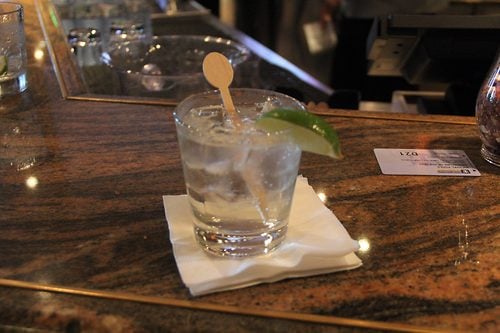 Tonight was the Top Tier Event at 7PM I didn't attend but I was able to get the Crown and Anchor numbers on board: 883 Gold, 249 Platinum, 131 Emerald, 251 Diamond, 198 Diamond Plus, 33 Pinnacles. 
Speaking of C&A, the Diamond lounge has been packed every night. In fact, I've yet to find a seat inside the lounge.  They are doing some overflow out in the Viking Crown area, which is fine.  However, all the food is in the lounge so I'll go in to grab some snacks and head back out.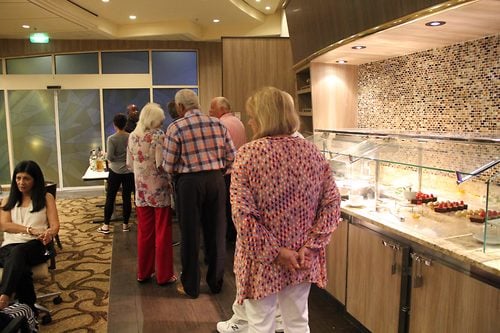 Since we have had two big dinners the previous nights we wanted something just simple tonight.  We decided on having pizza at Sorrento's on the promenade deck.  They had cheese, peperoni and veggie.  I'm happy to report the pizza has greatly improved since I was last on a cruise.  Seems like they are using a lot more cheese and improved quality.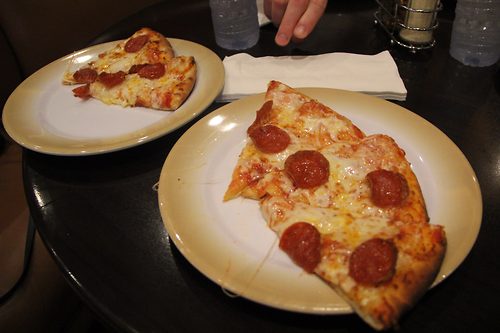 We did attend the headliner show at 9PM in the theater.  They had a comedy / musician show.  I was like now this sounds interesting, and needless to say it was.  I laughed a few times and he got the crowd very involved with the show.  It wasn't more than 45 minutes long, so I'm happy we went.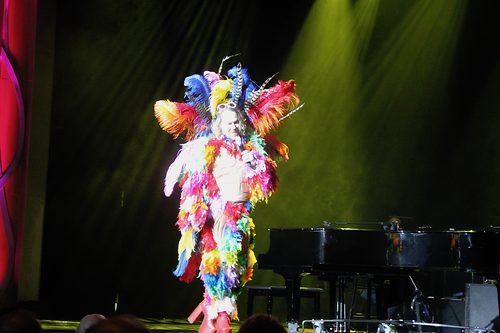 Tonight was the 70's disco party on the promenade deck at 10PM.  We went for a while but it wasn't the full-blown out 70's party like I've seen on Oasis class ships.  They had a man and a female on the bridge dancing and singing, however no costumes.  Also sorry ladies, no muscle man running around with his shirt off. 
After the party we headed up to the disco party on deck 14.  We danced for a while and ordered some drinks.   Hillary got a martini $12 and I had two kraken and diet $8 each.  So that brings our daily drink total to $30 for the day and $110 for the cruise.  We are also filling up some wine glasses in our room to go out, which has also helped with no drink package.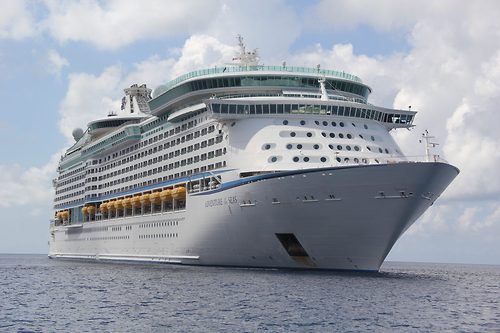 Well that's a wrap on day three in Grand Cayman.  Tomorrow we are headed to Costa Maya and I'm trying something for the first time, so stay tuned!