In:
Our first and only port of call was today in St. Maarten.  I was really looking forward to spending the day here.  My last trip to St. Maarten was prior to Hurricane Irma greatly impacting the island last fall.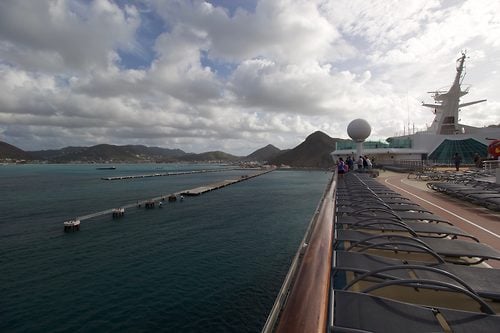 We made plans to meet my group at Café Promenade so that we could all disembark the ship at 9AM.  The ship was docked at 8AM, so it's always a good idea to give it an hour before rushing down to avoid the rush. 
Day in St. Maarten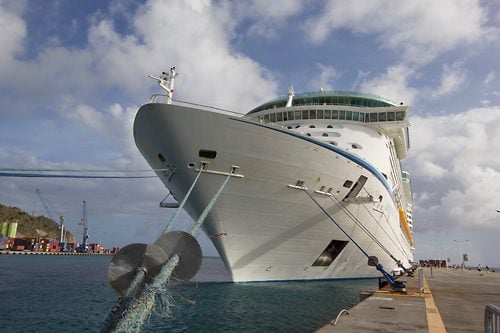 My friend arranged a rental car for us to explore the island.  The cost of rental cars is not really all that bad, ranging from $40-$60.  We lucked out and got a very nice Jeep for the four of us.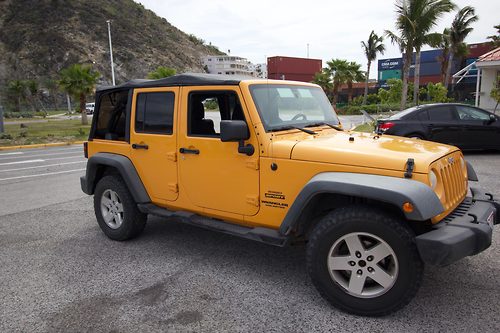 We made a pit stop at a local French bakery for a light breakfast to bring to the beach.  They were made so fresh, that I wish I could have ordered one of everything.  This shop was a great find on our way to the beach.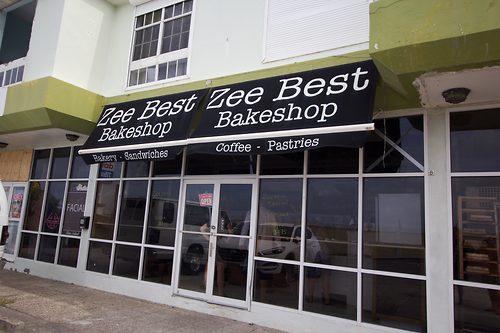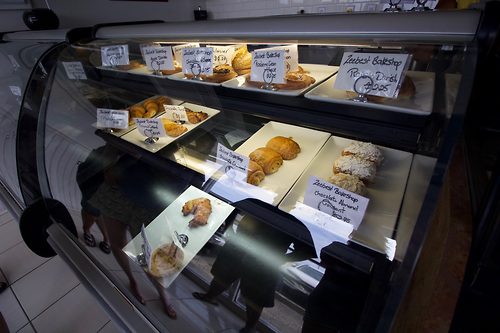 Our plans for today were to visit Mullet Bay Beach. I have never been to this beach before.  It was around 15-20 minutes out and I know the taxi fare is $10 per person each way.  They have beach chairs and umbrellas for $15, so we rented some right up front.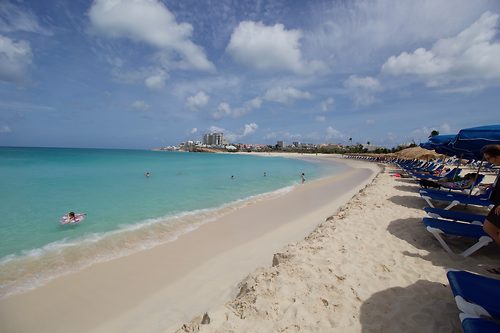 Most of the morning we just relaxed and went swimming in the ocean.  At 11AM (or island time, it was really 11:13) they start setting up to grill and serve drinks.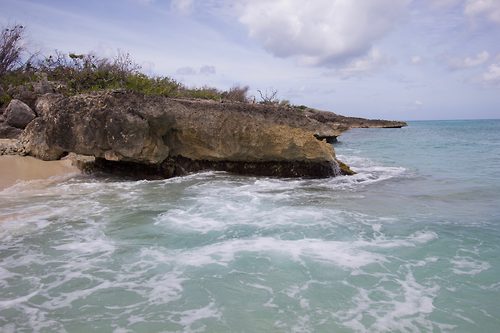 This beach was right beside the airport, so I liked being able to see all the planes arrive throughout the day.  For lunch, we all ordered their famous ribs.  My friend kept talking about how good the ribs were here, and he was not wrong!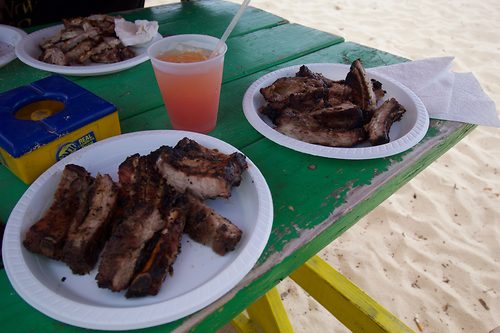 The ribs were full of favor with a nice dry rub, just perfect for a beach lunch.  As far as the drinks go, they had rum punch for $6 or a bucket of 6 beers for $15.  Around 4pm, we decided to head back to the ship but we took a different route back so we could more of the island.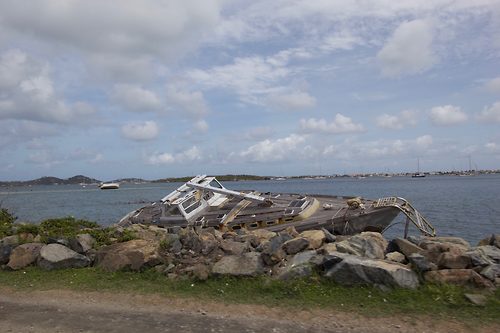 The island itself is in fair to poor shape.  We saw many homes still destroyed, half of the hotels you could see straight through them, and hundreds of boats washed ashore.  The summer months are the slow season here, so they are going to go through a lot without tourism.   
Back on board
Today was our formal night and we had reservations at Giovanni's Table at 7:30pm.  For our group happy hour, we planned to go down to the Champagne bar.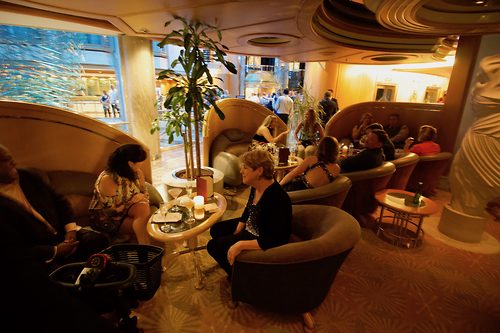 I was laughing because it looked like we took the whole venue taken over; I kept having to add chairs and tables.  It was fun talking to everyone about their day, and the bar service was outstanding.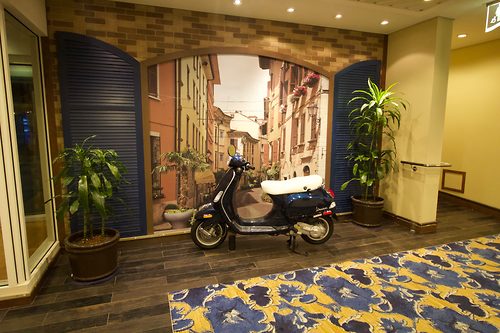 Dinner was a really great experience, from start to finish just perfect.  We had our own starters and main course, however they put a lot of items in the middle of the table for family style.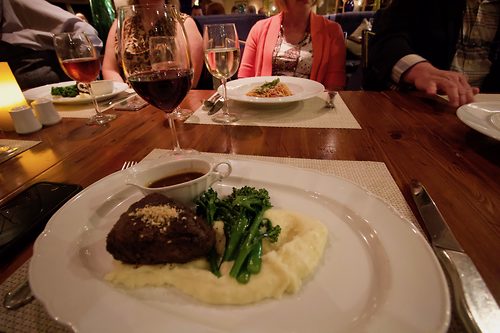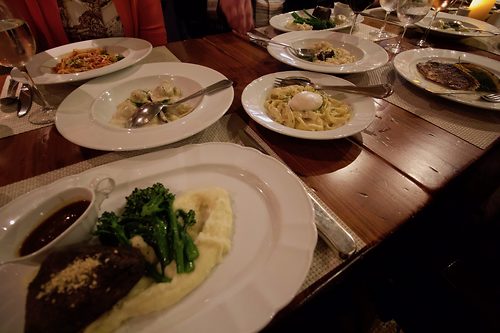 I ordered the filet and it was great, I think even better than the one from last night in Chops.  We had someone in our group celebrating a birthday, so I had arranged for the restaurant to make a cake for him.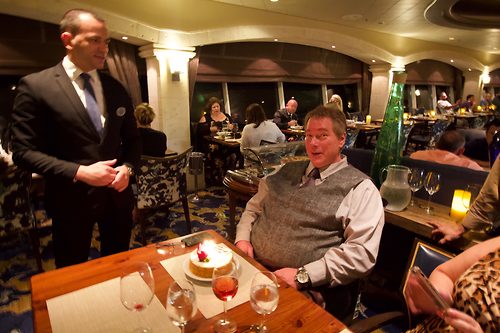 After dinner, we went to the silent disco in the nightclub, which is called the Blue Moon on this ship (deck 14).  When I arrived, they had a small line to even get in the lounge.  Once inside it was so packed that we only stayed for a half hour and called it a night.  It's a good problem to have, everyone on board is having a blast!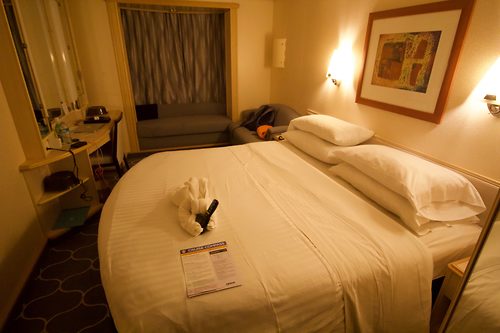 Tomorrow is our first of three sea days, so I will focus more on ship venues and events.  Feel free to comment below if you would like to see anything on board Adventure of the Seas!