In:
Today was our final day on board as we made our way back to Ft. Lauderdale, Florida.  I had planned on sleeping in this morning but I woke up and enjoyed sunrise from my balcony.  Since we fell back an hour in Grand Cayman, today we went forward an hour.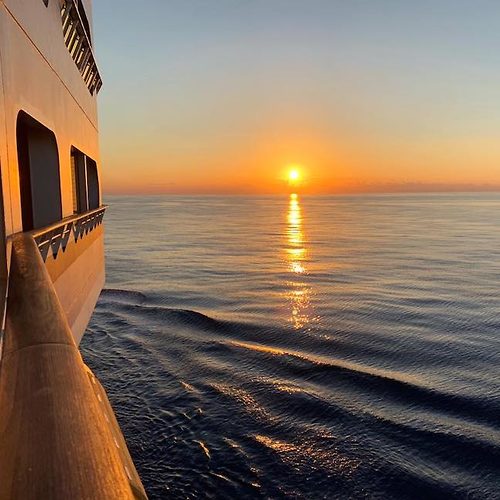 I headed up to the pool deck at 9AM and I saw plenty of chairs open.  Due to the time change not many guests were up at the pool already.  Of course a few chair hogs made it out early, but wasn't an issue.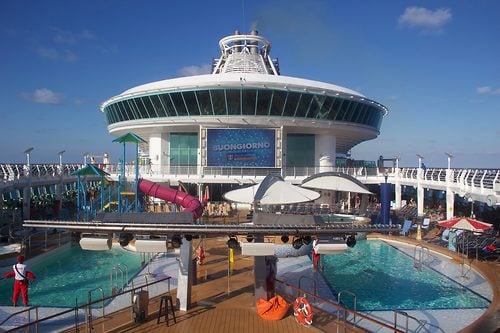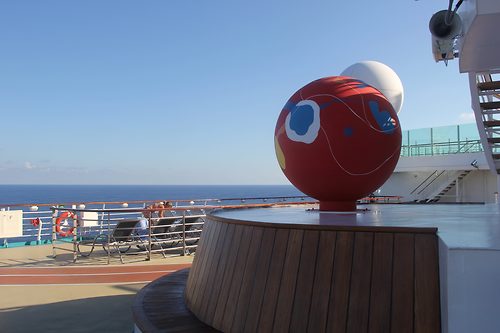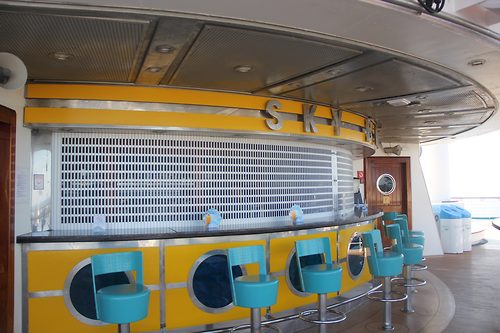 They were selling t-shirts at the pool deck for $10 to help something to do with the ocean; I think its sea turtles but not 100% sure.  After a few hours on the pool deck, Hillary wanted to take a nap, so off to the casino I went.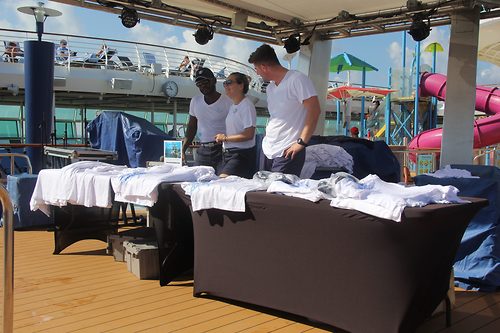 On sea days they have $2 mimosas from 11AM-12PM, so why not!  I had two and enjoyed talking with new people at the bar.  If you want to grab one and leave, you can get two in one big glass for $4.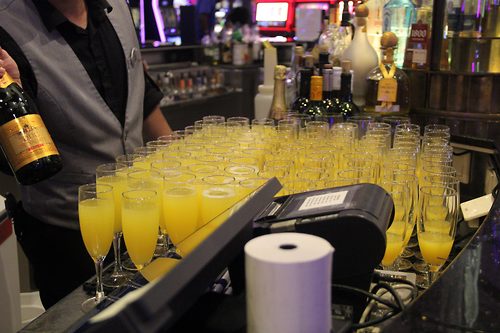 This afternoon I explored around the ship. Tthey had the usual last day of the cruise T-shirt sales, 2 for $20.  I did notice a lot of new shirts I had never seen before, but passed on more cruise shirts.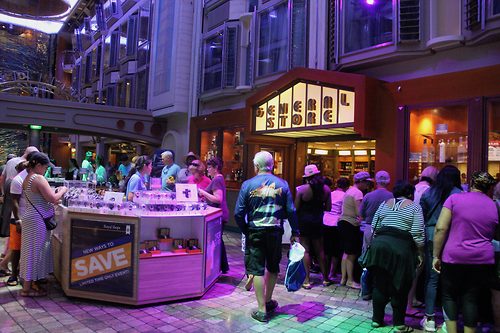 At some point I walked by guest services to see the longest line I've ever seen.  Maybe people trying to settle up on there on board account.  I always just leave a card on file and used the app to keep track of my on board spending.  Speaking of the app, it worked really well on this cruise.  We never looked at the cruise compass we had the whole week's schedule day one in the app.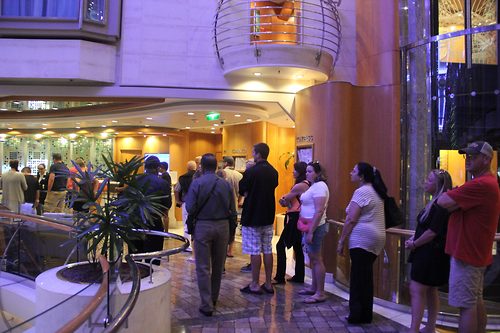 After my much needed nap I went down to the Champagne bar for an evening cocktail or two.  The bar is always packed at 5PM with people having drinks before early dinner.  I would always wait until 5:30PM and it was completely empty.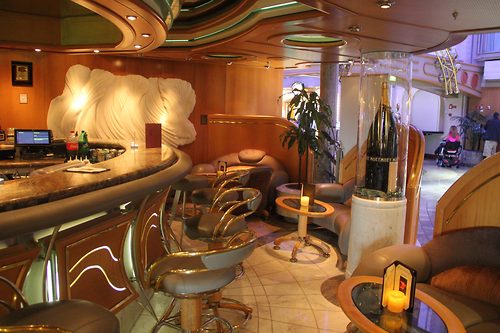 At some point I headed up to the diamond lounge to say good bye to some people I had enjoyed drinks with all week.  I felt like the only person not doing the back to back, in fact they have over 100 staying on board for the 8 night.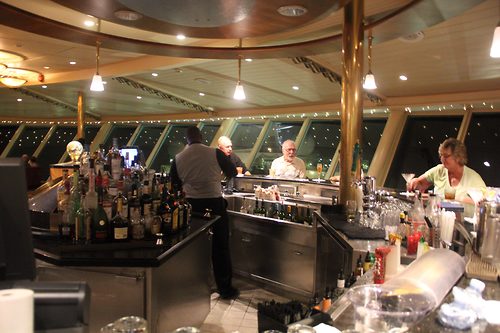 I enjoyed some chicken wings in the lounge and that was my dinner for the night.  I really wasn't that hungry and didn't want to eat just to eat.  My friend Paul and I stayed at the pub for a few hours to end the cruise.  We both mentioned how we felt like the ship was finally coming to life tonight.  People were out in full force and enjoying the live music. 
Thoughts on Adventure of the Seas
I really enjoyed this cruise, though I wouldn't put in as my favorite of all time.  We both thought the entertainment just wasn't up to par.  The singers in the lounges were not that engaging with the guest.  Though these things don't have to make or break the cruise, I've just experienced some stronger entertainers on other ships.  I also wouldn't let this prevent me from going on Adventure again, because the entertainers are always coming and going. 
The crew was always fantastic, always smiling and willing to help.  The wait at the bars was few and far between; you could always grab a seat at the lounges.  Speaking of bars, my ending bill was $150 and that's including a bottle of Kraken from the store tonight.  We really didn't miss having the drink package with so many port days. 
The food on board Adventure was great; we really loved doing Chef's table twice during the week.  We never made it to the main dining room, so can't report anything there.  The windjammer always had a lot of options and we could also always get a seat. 
I hope you enjoyed this live blog on Adventure of the Seas; I sure had a lot of fun sharing over the week.  I'll see you in January on Brilliance of the Seas!