In:
Today was our first sea day, meaning I had a full day to enjoy all of Adventure of the Seas.  I woke up bright and early, around 6AM, and started to walk around and take pictures of the ship.  If you ever wake up early on a cruise ship, this is a really fun way to spend the morning.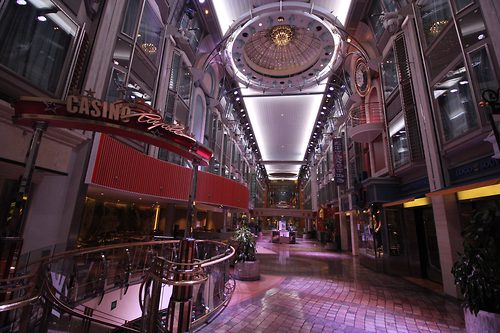 I spent a few hours on the pool deck with some friends and got my first drink on the pool bar.  The pool deck is really nice. It looks like they did some upgrades on the chairs and the floor finishing.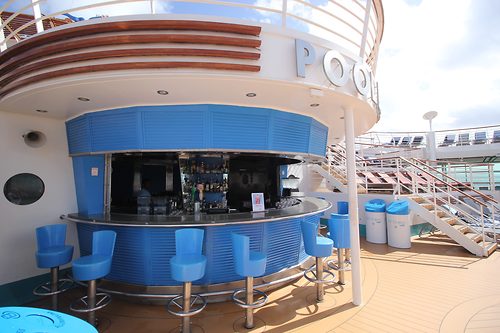 Right at 10AM when the waterslides opened and I was in line to go down.  I'm a big fan of the new waterslides on the ship, because I think it's just another way to have fun on sea days.  The yellow slide was very fast, with a lot of turns and the blue one was a little slower, but I did them both a few times each.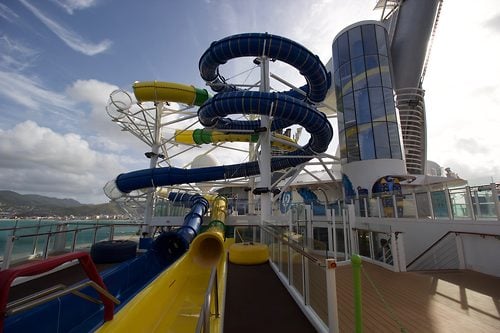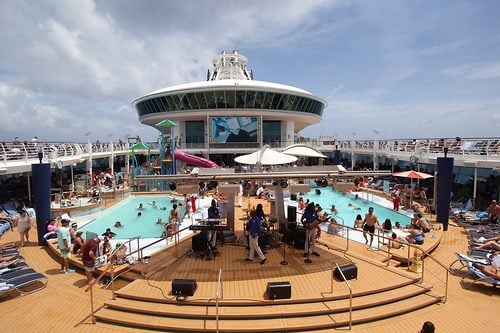 The main event today was the pub-crawl at noon.  To be honest, I thought 20 people or so would show up and we had over 60. 
We had told the bartenders in advance we were coming and they had floating bar tenders to come with us for each stop.  In all, we stopped 6 bars and ended up at the sky bar.  This crawl was so much fun, they even made a few special drinks for us.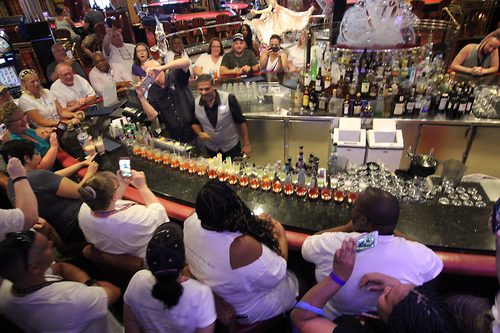 The ice show was today at 1pm and 3pm, which are weird times in the middle of the sea day, but I went to the 3pm show.  I've become a big fan of the ice shows of the years and wanted to make sure I made it to the show.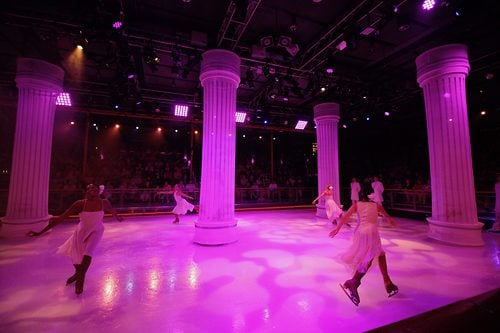 The skating was perhaps the best I've seen, but the story line was all over the place.  I'm happy I went to see the show, but it wasn't my favorite ice show.  
The top tier Crown and Anchor Society event was a half hour after the ice show, so a quick turnaround into the next event.  They played live music for a half hour as people enjoyed some drinks and talked.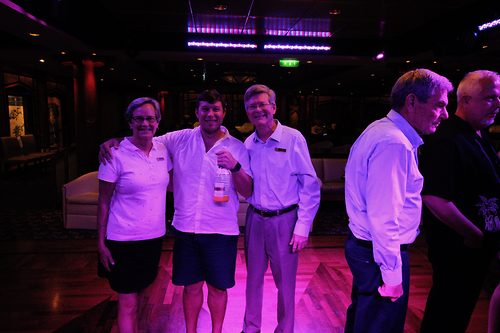 I had some friends on board that I cruised with a few years ago on the Empress of the Seas social media takeover cruise.  They were the top cruisers on this sailing with over 1,300 C&A points.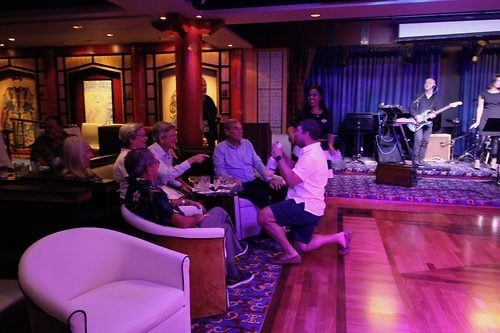 When they were presented with a special bottle of champagne.  They talked about how they love Royal Caribbean and said you get to meet great friends over the years.  Then they asked me to come up on stage and handed me their bottle!  I was so excited, and it was so kind of them to bring me up on stage. 
For dinner tonight we didn't have any real plans, so a small group of us (13) decided to order room service in Ken Jarvis' suite.  Since he's in a grand suite the room service is included, and he ordered everything on the menu.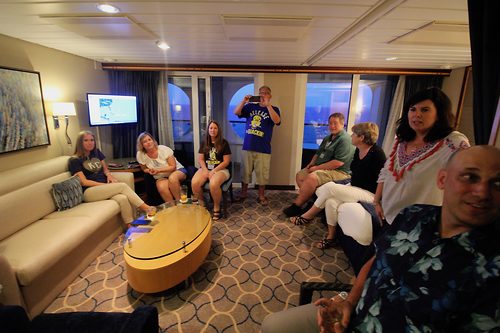 I didn't know how this would turnout, but we all had a blast.  Someone was playing music on a speaker, and I got to share my bottle of champagne with everyone.  The food was also good; I liked being able to try just about everything.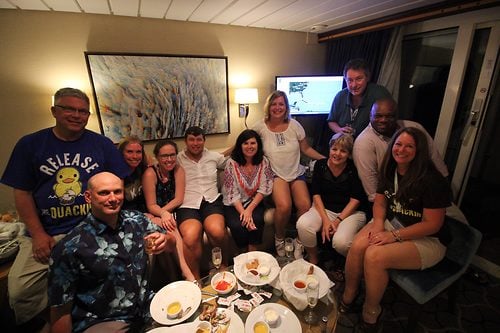 We ended the night down at the Schooner Bar listening to the live music.  The piano singer, Billy, is very entertaining; he really gets everyone involved with the songs.  If you are going on Harmony of the Seas soon, he's headed to that ship in a few weeks.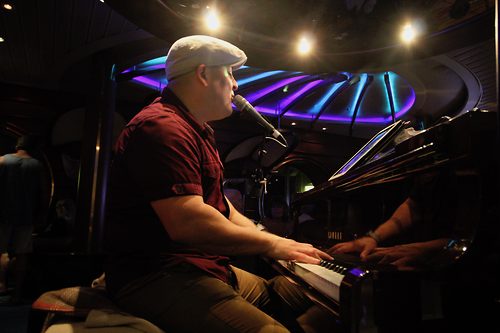 We went up to the Blue Moon Lounge for some late night dancing. This day felt like it just kept going.  I'm not sure I've ever had a sea day so action packed.  Stay tuned for tomorrow we have another sea day!