In:
My long-awaited cruise has finally arrived; words can't describe the day one excitement.  Of course, I woke up well before I wanted to, just lying in bed watching time tick-tock. 
Pre – Cruise
I mentioned I booked the Spring Hill Suites by Marriott.  I stayed at the location right beside the airport.  The hotel was fine for one night, but it was extremely dated, even a pink bathroom door.  Since I didn't arrive until 11pm, I just needed a place to sleep but I don't recommend this hotel for pre-cruise.  They have two very nice Hyatt's right behind it around the same price point. 
The morning of the cruise we went to one of my favorite spots for breakfast called Roberts.  I was surprised to see we could walk only being 0.4miles away.  It's nothing fancy, but great food and not very expensive. 
After breakfast we showered up and headed to Publix to get our wine to carry on board.  Royal Caribbean let's you bring two 750ml of wine per cabin on board. Since we don't have a drink package I knew I wanted to take advantage of carrying some on. 
From our hotel to Publix and the cruise terminal in our Uber XL was $30.  We didn't need an XL but I wanted more space and it worked out we got a very nice luxury SUV.  If we did a standard Uber X it would have been around $18.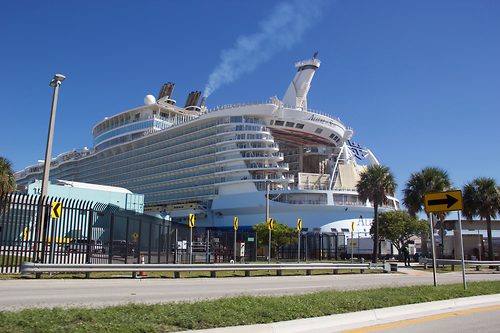 Boarding
We arrived to the ship around 11:15am, I know according to Matt we were two hours late!  Since Allure of the Seas was in port today, Adventure was down terminal 29.  It's rather old but really no issues to report.  When we pulled up they had porters in the parking lot ready to take our bags. 
Since we arrived a little later than normal they were already boarding.  We used our set sail pass to board the ship; our sea pass cards were in the cabin.  I wish I had used the app to check in, so I could have reported how that went vs set sail.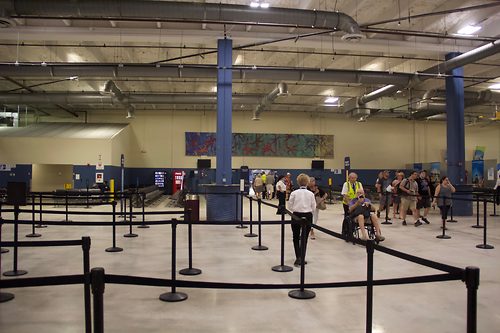 On board
Once on board we headed down the Champagne bar for our first drinks of the cruise.  I can report that they didn't have any Stella at this bar, but oh well.  We met some new friends right away and enjoyed a few drinks.  Once thing I've noticed is most of the crew just started their contract.  It was little confusing for a few minor things like using Crown and Anchor BOGO coupon with setsail pass.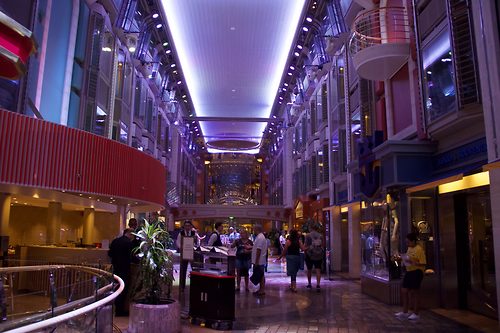 I wanted to make reservations for dinner and found the tables set up on the Promenade deck.  They were offering 40% off Chef's Table and who could say no to that?  We also schedule dinner tomorrow night at Giovanni's Table with our good friend Paul Crow. 
Cabin
A few minutes before 1PM our cabins were open.  I booked a deck 6 ocean balcony right by the aft stairs.  But I think I've learned a lesson the balcony cabin's on deck 6 on Adventure don't have the glass to see through.  Not a big deal, but if you are going to spend a lot of time on the balcony I recommend deck 7 or higher.  We are in cabin 6332.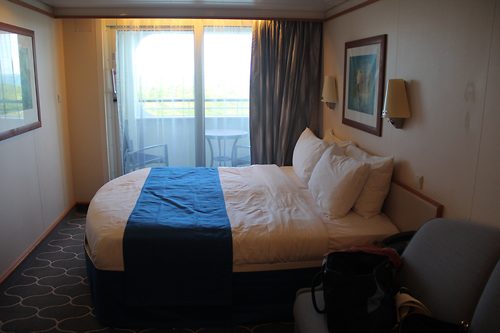 I found our bags right down the hall and we got unpacked right away.  That's a good tip; once you get in the cabin if you usually just walk down the hall you will see all the luggage.  I like to be unpacked right away to start my fun on board.
Afternoon on board
Since we were all unpacked we wanted to take advantage of the pools being so empty on day one.  The pools were very cold, I'm thinking since Adventure just came down from Canada.  We didn't stay more than an hour but it was relaxing and I was officially in cruise mode!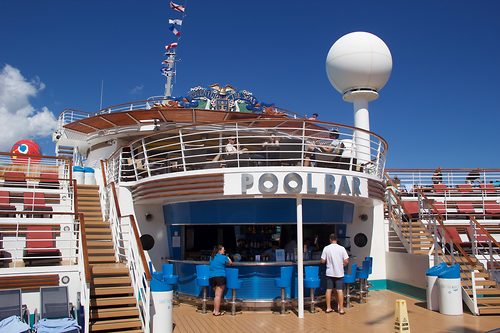 We had the muster drill at 4:30PM, I was lucky enough to get the dining room as my location.  They still have guest stand on the outside decks I just randomly got the dining room.  It was very fast and only read out in English; sometimes the dual languages can slow it down.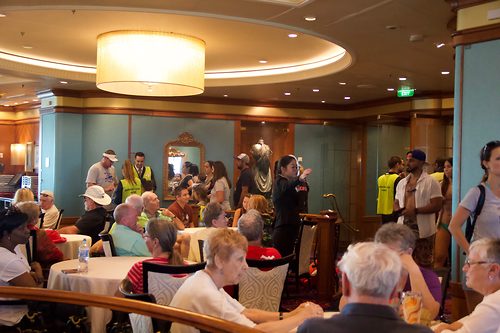 Chef's Table
Dinner tonight was at Chef's Table, this is $85 per person that includes wine pairing over a five-course meal.  I recommend you book this on board and not in the cruise planner for discounts.  They were offering 40% off for guest going night one, so I couldn't turn that down.  The table had 16 guest and one 1 couple booked online and paid $85pp. 
We had an invite in our cabin to meet down at the Champagne bar at 6:15PM.  We started the meal with a glass of champagne meeting our tablemates.  Around 6:45PM you head to the table, which on Adventure is in the dining room.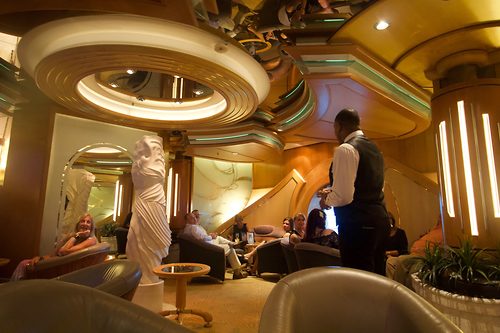 The meal itself started out kind of slow as far as conversation.  Funny how a few glasses of wine really gets the group going.  They talked about the wine tasting matching the food flavors.  Just going off the food itself the meal was top notch, far better than Chops Grill.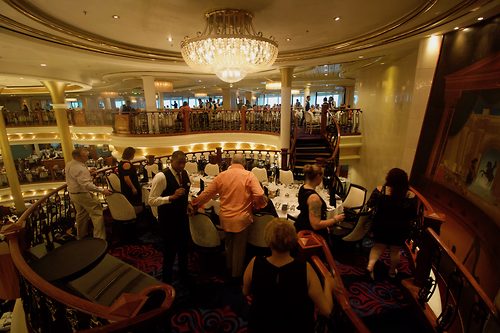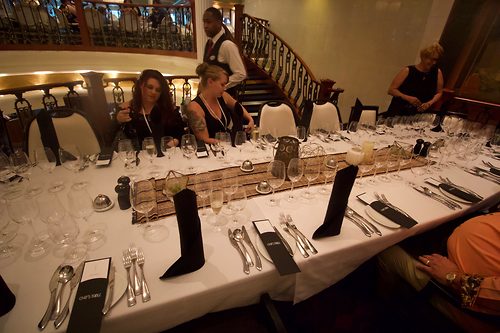 We had scallops, tomato soup, lobster, filet, and cake – all with a wine pairing.  Not that this matters too much, but they weren't refilling wine pours if you really liked one, it was just one glass of each.  The main course came out with Caymus wine, which is my favorite!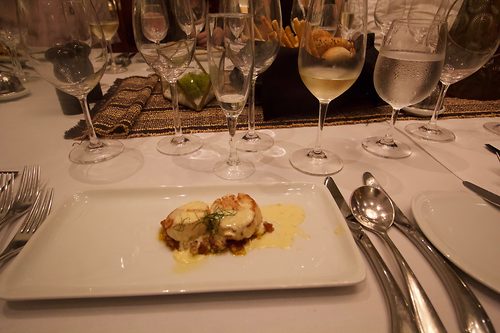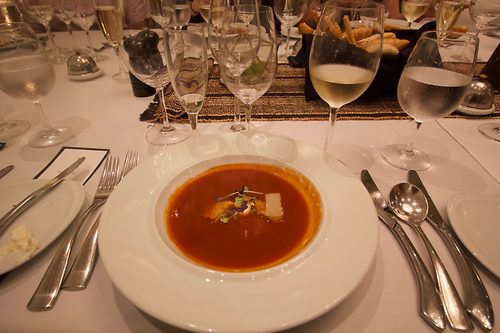 The meal last a little over 3 hours when you count the pre-champagne meet up.  They were offering guest to come back during the cruise for a different menu, so who knows we might return.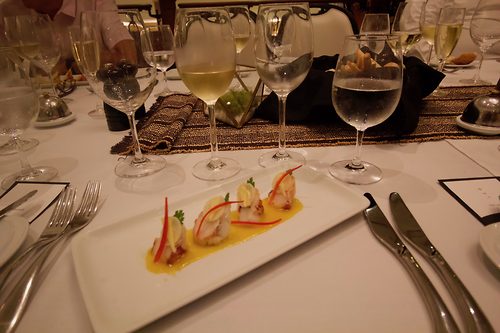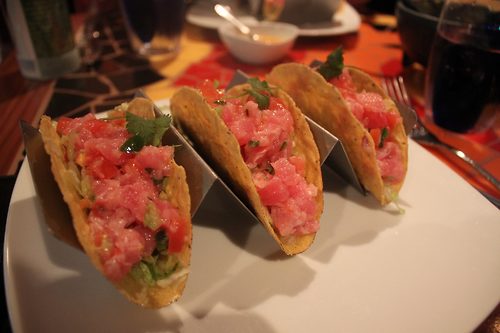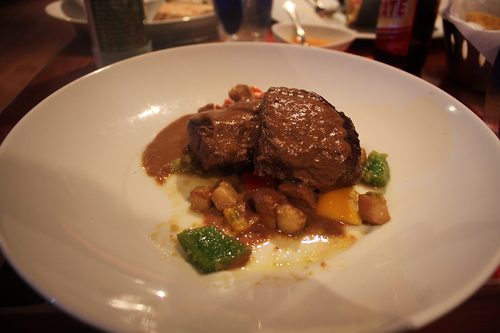 After dinner we made our donation to Royal Caribbean in the casino.  We manage to make it until 11pm but called it a night.  Day 1 is also so action packed so we ended up calling it a night.  It was a really fun day, tomorrow will be much slower pace with a day at sea! Feel free to comment below with any questions about Adventure.