In:
If there is one thing I missed just as much as being on a cruise ship, it was being at Royal Caribbean's private island of Perfect Day at CocoCay.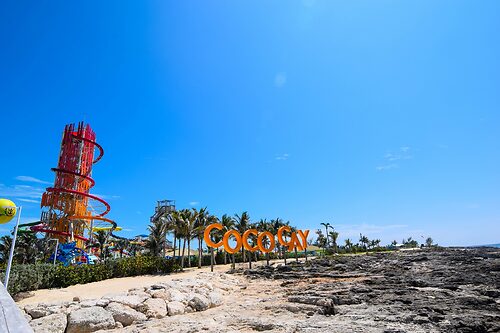 In the short time the massive refurbishment of CocoCay had been open to guests, it instantly became a top favorite spot to visit on any cruise, and I would day dream of being there as much as being on a ship.
On this sailing, we have two stops at the island, which is incredible considering there are rarely itineraries that visit the island twice in one sailing.
I was sure to get up early for a full day of fun on the island, and we had room service delivered to the room so my kids could eat and get ready at the same time.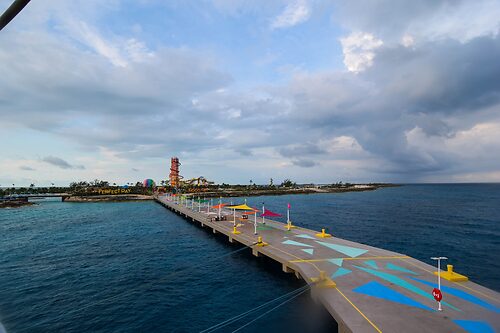 Before the ship was cleared for guests to disembark, a full parade celebrating the resumption of sailings to the island welcomed us back.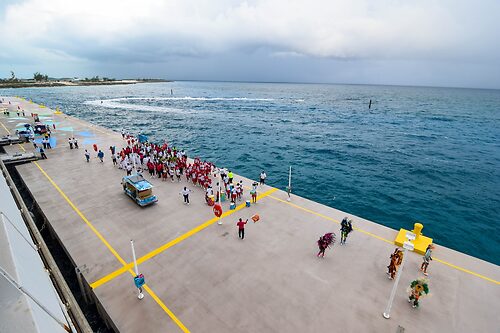 There were drums, festive dress, and lots of enthusiasm.  The crew from every department and rank are visibily excited to have cruises again.
Unfortunately the weather was a little rainy to start with, but I checked the Twitter account for Royal Caribbean's Chief Meteorolgist James Van Fleet, who said there would be a few passing showers in the morning but they would give way to clear skies.
"In JVF I Trust", and the morning showers did in fact go quickly and turn into a beautiful day.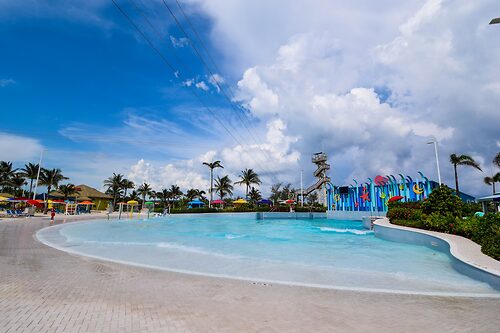 Today, I reserved a Thrill Waterpark cabana so the kids could get in plenty of rides.
I really like the value of a cabana in Thrill waterpark because it includes admission to the waterpark.  I think it is a great option for families to have a "home base" where kids can relax, snack, and then hit the water slides and pools on repeat.
You might be wondering what is different about Perfect Day at CocoCay today compared to 2020, and it is almost exactly as it used to be in 2020 when I last visited.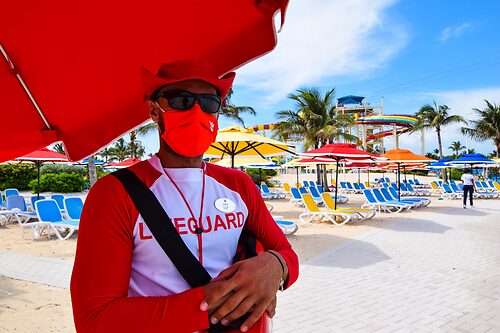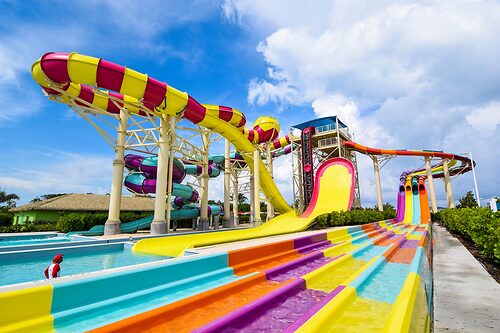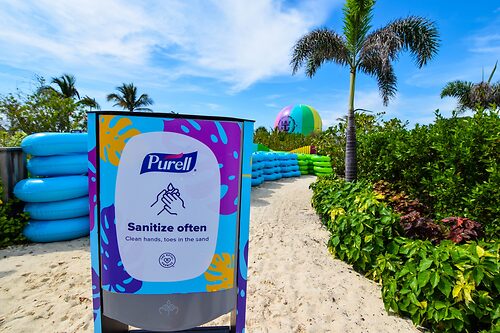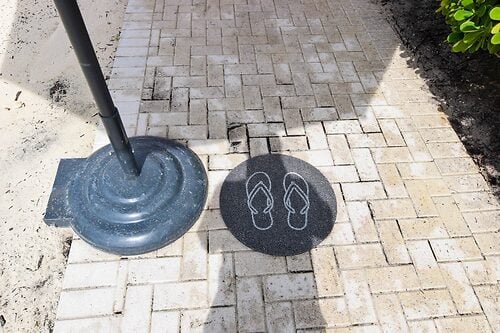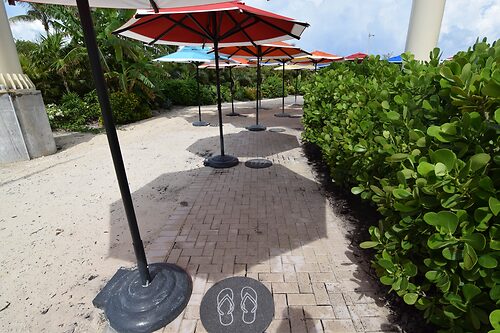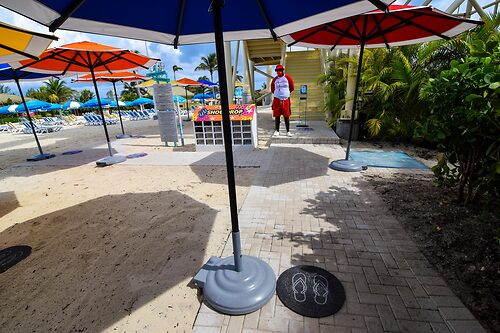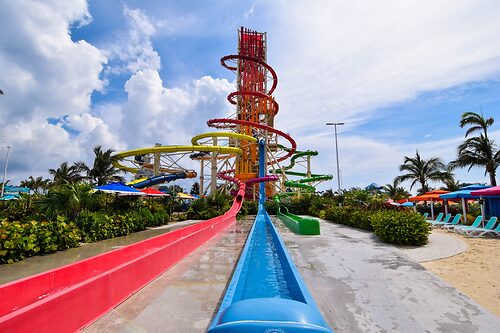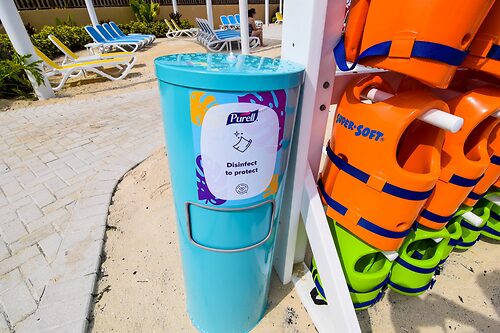 I walked around the island to get a sense of venues and space, and I can tell you I did not notice anything not operating.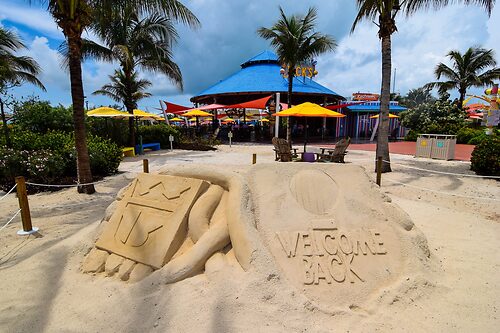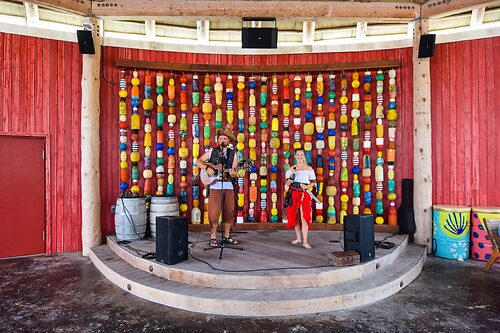 Royal Caribbean has added social distancing markers on the ground near slides and dining venues.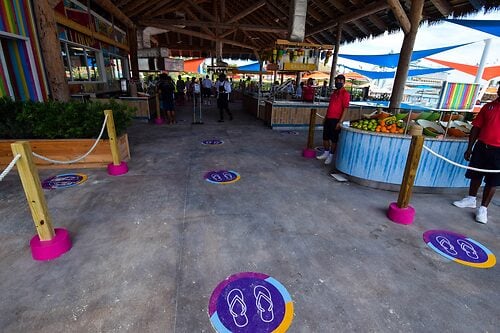 With just around 1,000 passengers onboard, these are not necessary, but Royal Caribbean is preparing for the full scale return of cruising some day soon.
There are also hand wipe stations before each slide so everyone can wash their hands before touching the handrails going up the slides.
Getting on a cruise ship yesterday was incredible, and being back at Perfect Day today was the icing on the "welcome back" cake.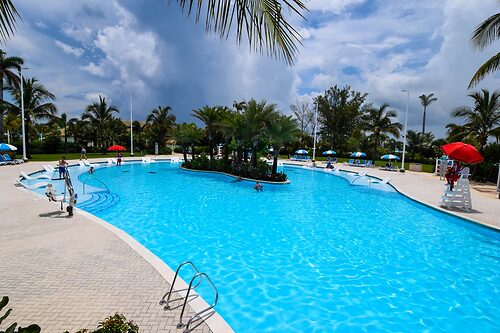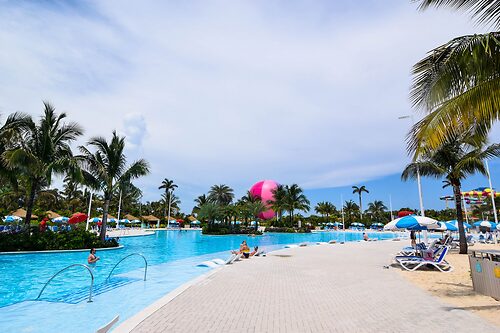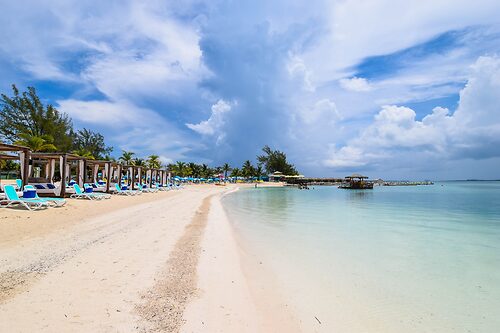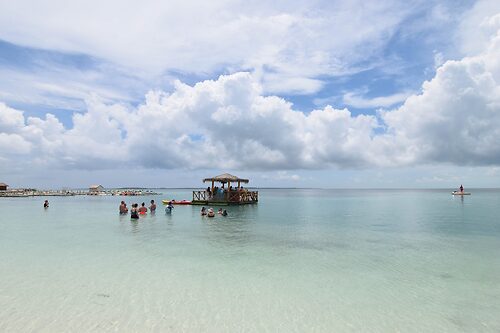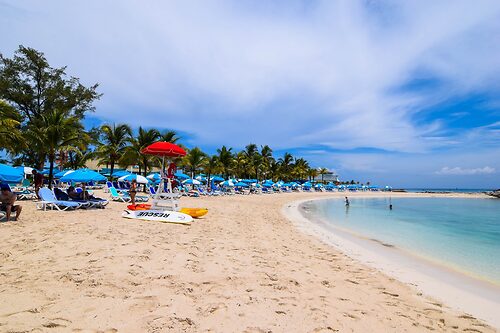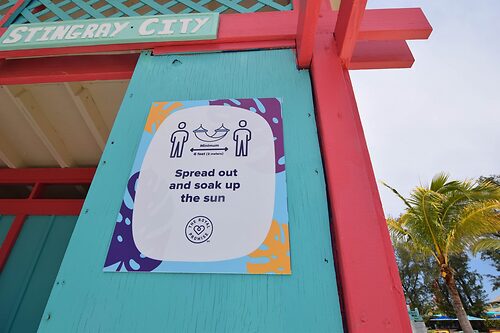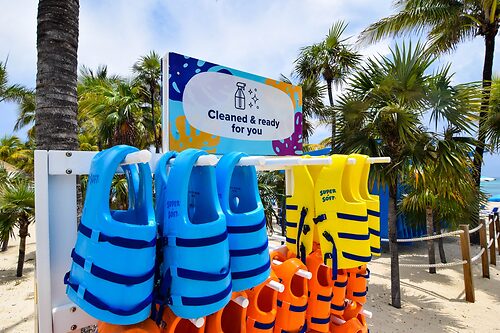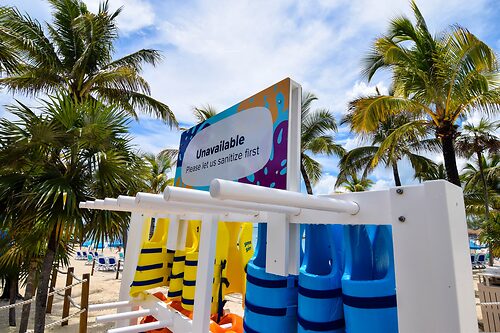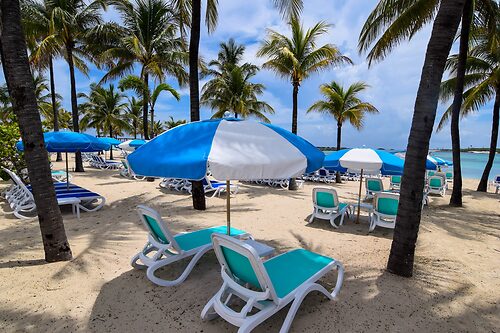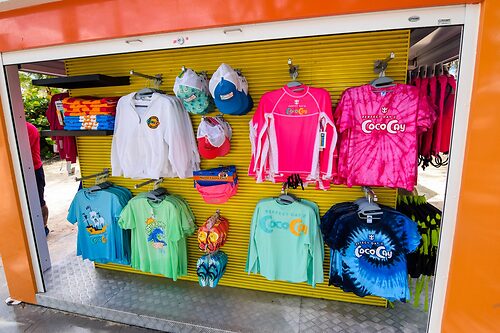 We had a great day enjoying the Thrill Waterpark, and with the reduced capacity on the ship there no lines to contend with, which made for perfect conditions.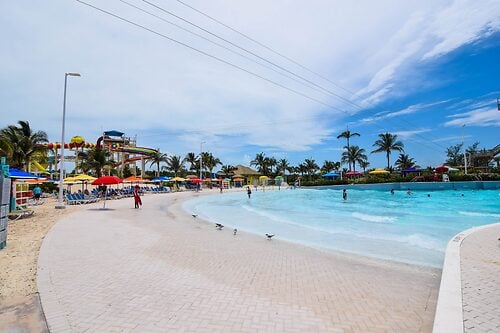 As the afternoon went on, we really enjoyed time at the Wave Pool.  While the slides get all the attention, the wave pool is vastly underrated.
There seem to be three cycles to the waves, and when the "super waves" kick in (my kids' name for them), it gets intense.  
Eventually, it was time to head back to the ship to get ready for dinner. The downside to having early seating dinner is you have to head back a little earlier to get ready, but since we are back tomorrow again, it is not a problem.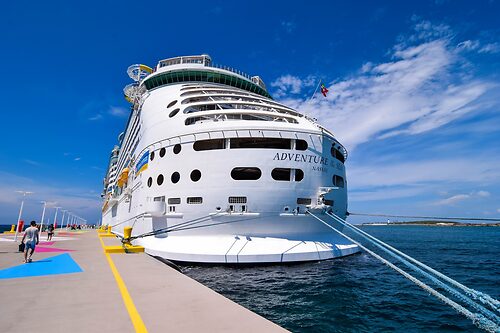 I wanted to check on the situation in the Suite and Diamond Lounge, since there were some changes announced pre-cruise for these locations.
Both venues had seating spaced out a bit more, but they felt more "normal" than not.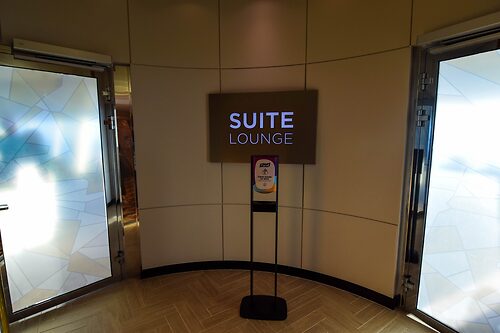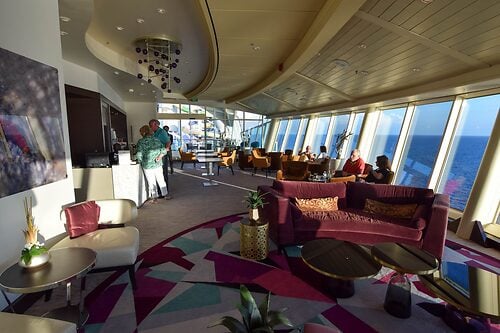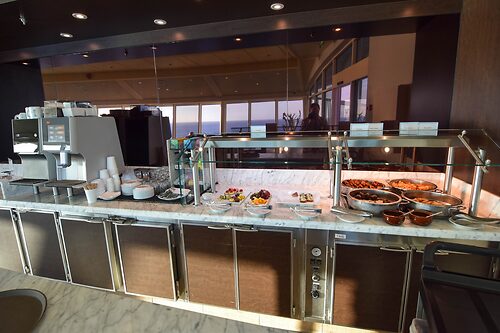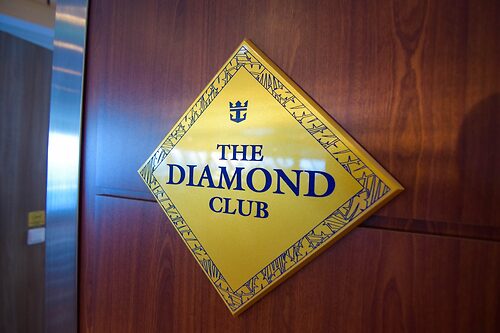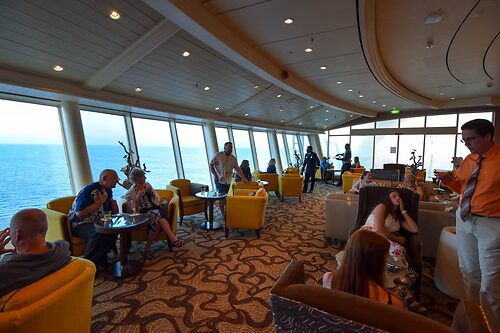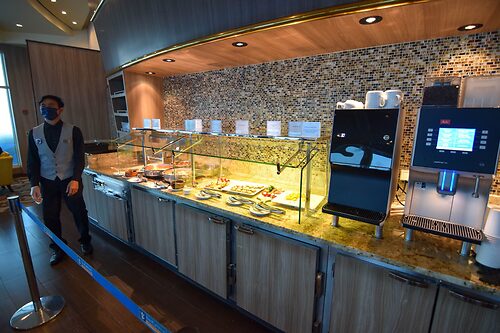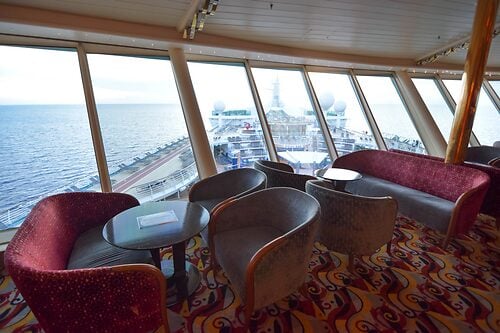 Tomorrow, we're back for more fun at Perfect Day at CocoCay!