In:
Pre Cruise
Since this cruise sailed out of San Juan, I decided to fly in the day before.  My flight from Tampa, Florida to San Juan was a little over three hours.  Once I landed I went out to the taxi line, which was very organized.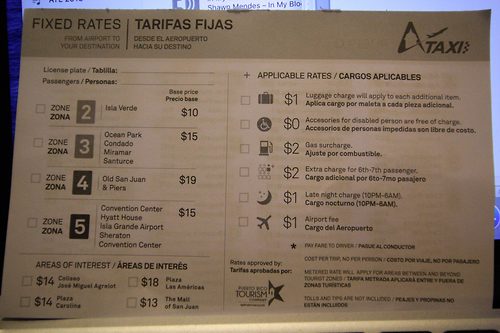 They have flat rates for where you want to go, plus an extra $1 per bag.  I also liked that they handed you a slip with the total for the ride prior to getting in the taxi to my hotel. 
The hotel I stayed in was called the Hyatt House, which they also have another hotel across the street called the Hyatt Place.  I booked a studio king and it reminded me of the grand suites on board the cruise ships.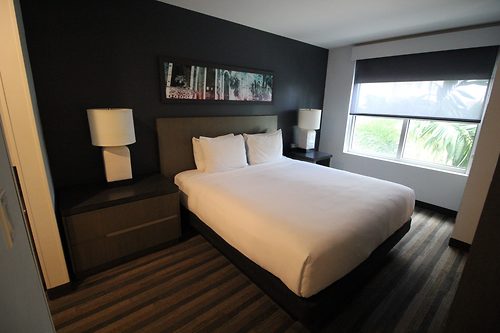 The room had a kitchen where you could cook a full meal.  I also liked the large walk in shower in the bathroom.  All around this hotel is a nice option for a pre-cruise stay in San Juan.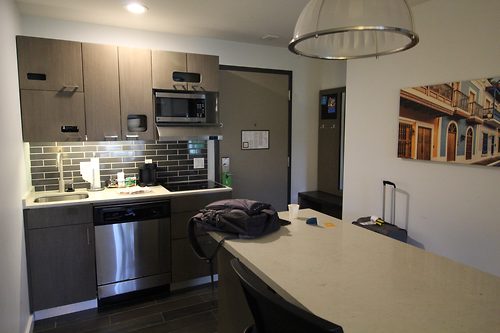 For my afternoon in San Juan I was using Uber to get around to old San Juan.  The average ride was between $4-$5 to and from my hotel.  I met a friend and was just explored the streets and dashed into a few local bars.  Of course we had to try a few local mojito's to see who made the best.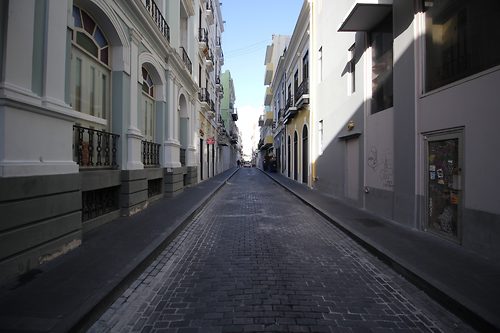 Boarding Day
No matter how many times I cruise, I can never sleep in past 6AM the day of the cruise.  I naturally woke up early and decided to get ready for the day and go explore old San Juan more.  Since Uber was so easy to get around (and so cheap) I went over around 7AM.  I just got lost in the streets like you would on a port day, but the streets were all empty.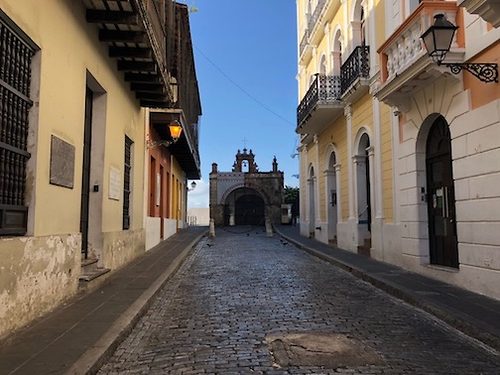 At 9AM the forts open and I went over with a small group of friends to explore.  The entry fee is $7 per person and that covers you in both forts for 24 hours.  We only spent 30-45 minutes here since cruise time was approaching.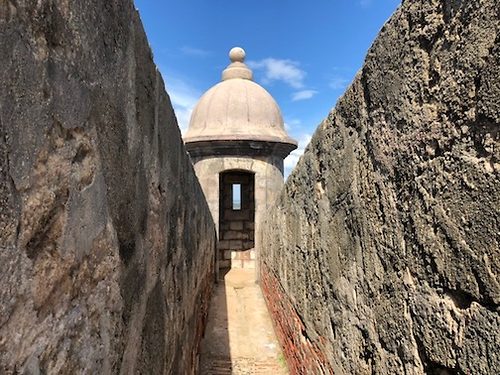 Around 10AM we took an Uber back to our hotels and packed up for our cruise.  I was really glad I woke up early and went out to see more of San Juan; it's such a beautiful island. 
Embarkation
I took an Uber once again from my hotel to the cruise terminal Pan American ($3).  Once we arrived everything from the outside seem like a standard boarding process.  We entered and I saw them doing a lot of work, like painting and installing new check-in counters.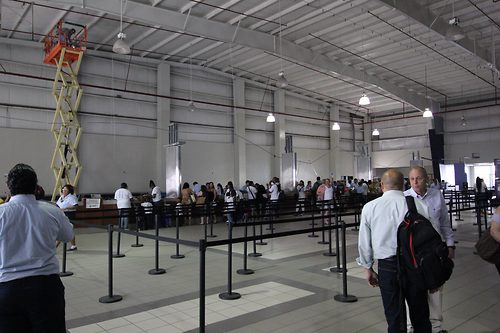 I received my card and now we had nothing to do but wait.  However, in this terminal they only had around 100 chairs.  The boarding was delayed until noon, so we just stood around waiting.  As more passengers arrived we began to get a little crowed.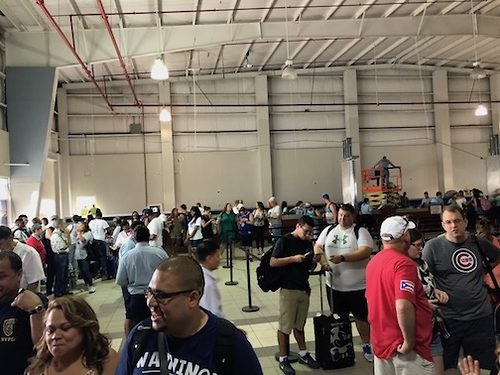 Right at noon we boarded and we were officially on vacation.  We boarded on deck 1, crossed the crew I-95 and jumped on an elevator up to the pool deck. 
My first impressions of Adventure of the Seas, is she looks outstanding.  I actually think she looks a lot more updated than the Navigator (other than the old champagne bar still here).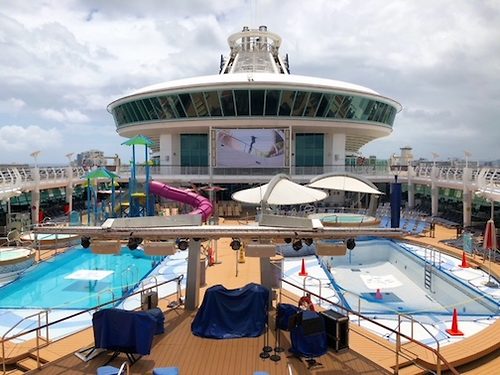 Cabin
For my cabin I'm trying a promenade room on deck 7, room #7295.  This is the first time I've stayed in a cabin of this type, so I was a little excited to try something new.  I like all the new décor in the cabin; the brand new carpet looks great.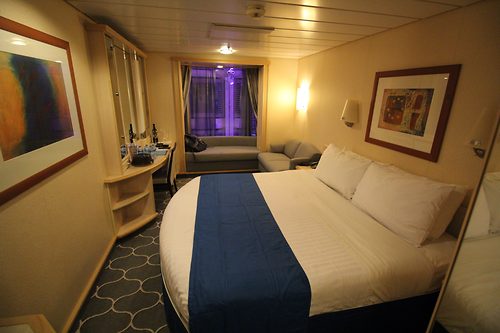 As far as the cabin itself, it is plenty big enough for one or two people.  The only downside to this cabin is seeing people right across the promenade.  I learned that the hard way coming out of the shower, oh well…
Evening on board
Tonight we had reservations at Chops Grill at 7PM for a party of 12.  We had planned to keep dinner moving fast for our 8:30PM sailaway.  But with a table our size, that just didn't happen.  The service was a little slow, but we were a very large group.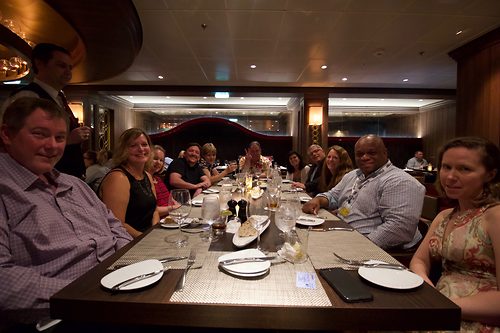 They kept the wine flowing so it turned into a great evening with friends.  For the sides they just brought everything out for us to share family style.  The price was $35 per person plus 18%, unless you bought it online in a cruise planner sale/bogo.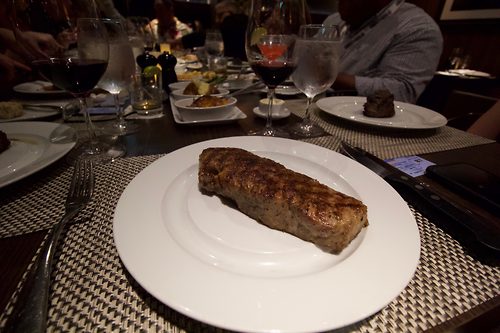 We decided to take our dessert to go and take it up to my friend's cabin staying in a Grande suite.  I had also received some bottles of champagne and wine in the cabin, so we just turned it into a little mini-cabin party.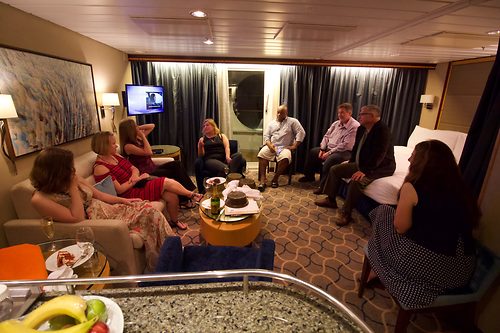 This cruise we had a facebook group that was the most active online pre-cruise group I've ever seen.  We had scheduled a few events during the cruise and tonight was our pub meet-up.  I couldn't believe how many people showed up, we almost over took the pub.  I met a lot of great people I've been talking with over the past few months.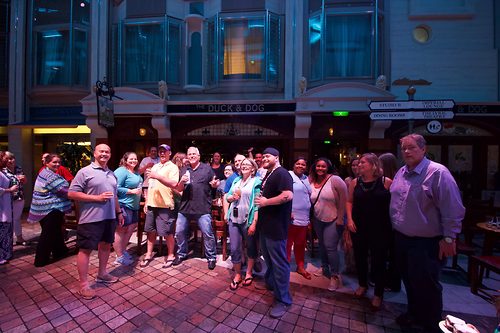 My final stop tonight was the schooner bar to see Billy Pardo play the piano.  He was the same person we had on the Harmony group cruise in September, so it was fun to reconnect with him. The night time entertainment on this ship is outstanding, both the pub and schooner bar singers are great!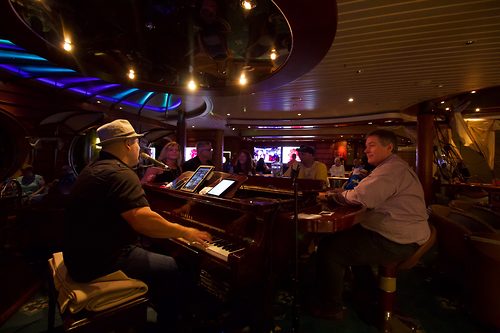 I almost made it to midnight and decided to call it a night.  I knew tomorrow we have a full day in St. Maarten, so I wanted to get a few hours of sleep.