In:
Today was our second port of call in Costa Maya, Mexico.  We didn't arrived until 11AM, so we had a nice relaxing morning on board.  We ended up just eating breakfast in the Diamond Lounge.  They had small items to snack on, which is fine for me but no bacon in the lounge.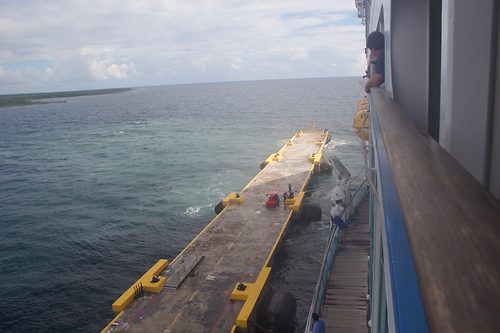 Adventure ended up docking at 10:30AM, so we were off the ship a little sooner than planned.  The departure process this morning was very easy, they had the line moving it was almost like the crew had done this before!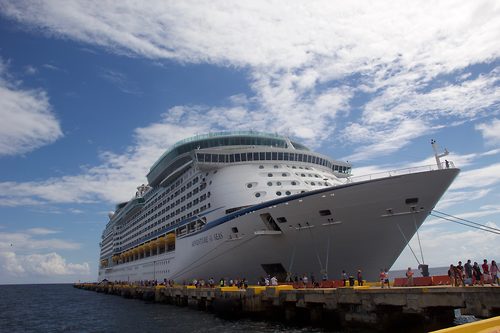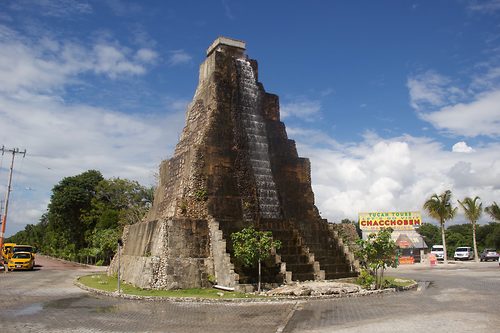 Prior to the cruise I booked an all-inclusive beach resort called Maya Chan.  The cost for this beach day was $59 per person. 
When you make the reservation you pay in full on line, which I liked having it "paid" for, meaning less cash needed.  The cover charge included open bar, open taco bar, transportation to and from, and beach chairs.  You just can't beat that price; the only money I spent today was to tip when you leave.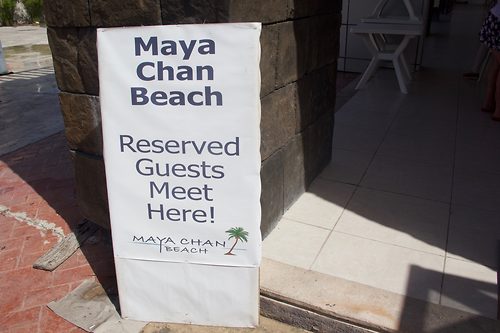 Getting to Maya Chan was an experience needless to say; they have a sign outside the gates down to the right to check-in.  They waited until we had 25-30 guests and called 3 taxi's to take us. 
The ride to the beach is around a half hour and let me tell you that was quite an experience.  You travel on a dirt road for about half the time full of potholes, we were all laughing in the taxi, where are we going?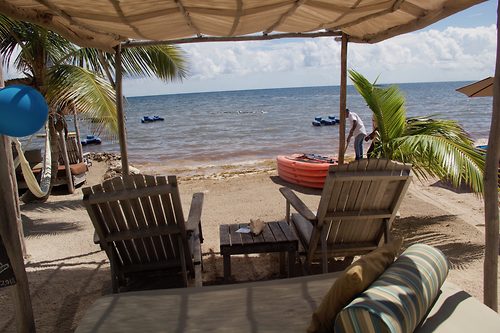 Once you arrive they give you quick tour of the grounds and explain how the day is going to work.  I must say, everything was truly included even all the water toys!  Since we arrived around to the beach around noon we waited to have lunch later in the afternoon.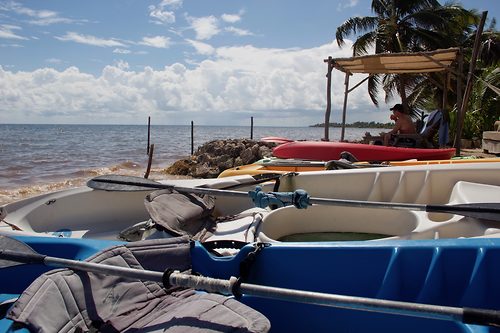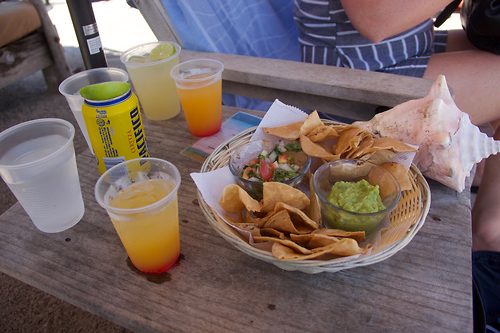 I really liked the selection of beers they offered, and when I tell you they keep them coming they would swim out to you in the ocean to make sure you have a drink.  I liked how the beach was owned by a small family from Southern California, in fact I talked to the owner for a half hour at the bar.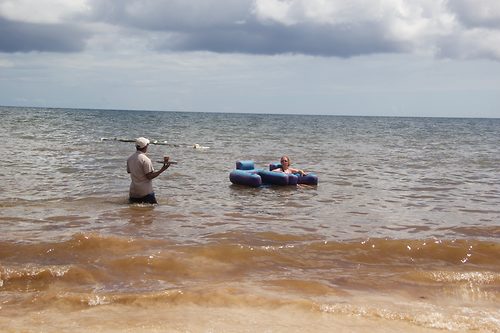 For lunch they have a taco bar, I waited until around 2PM to eat.  They had four different meats and endless toppings.  I thought the food was fantastic; the fish taco was my favorite.  It's an open taco bar, so you can have as many as you want – aka Matt would be in trouble.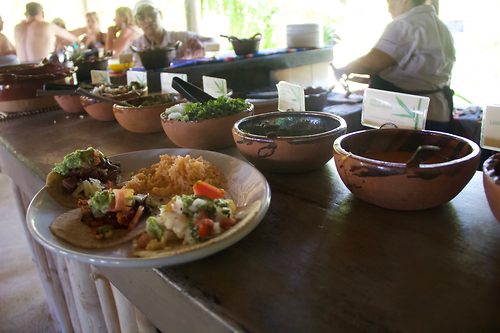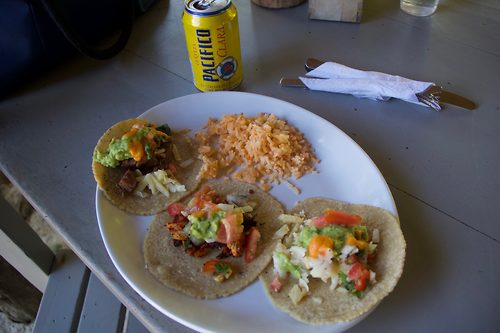 If I had to give any negative feedback on Maya Chan it would be the seaweed.  They had a crew of 5-6 guys cleaning the beach the entire day, but it just kept coming.  The smell was a little strong at first when we arrived.  I would also recommend water shoes if you plan on getting in the water.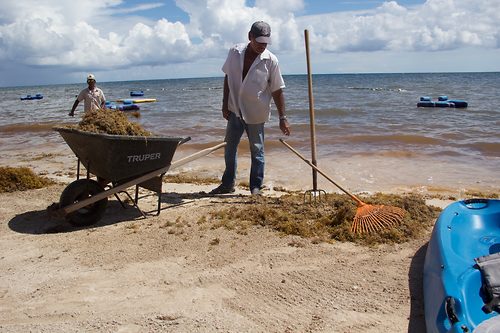 Since we had Chef's Table at 6PM we needed to leave Maya Chan at a decent hour to get cleaned up.  They have someone coming around asking what time you want to leave, so they can schedule a taxi for you. Remember they pay for taxis too, so it was a seamless process.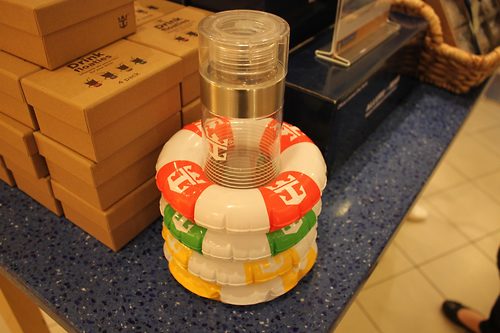 Evening on board
My only activity to report tonight was Chef's Table.  We had so much fun the first night almost the same group booked again for tonight.  We did receive the 40% off discount tonight; otherwise I wouldn't have gone again.  I also think $50 per person for a 6-course meal and wine when we don't have a drink package is a great deal.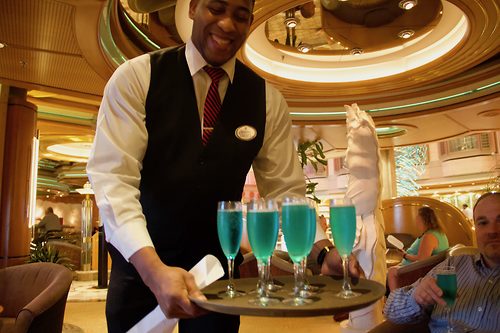 The chef knew we were coming so he changed up the menu, so we could all have a different experience.  Once again we met in the Champagne Lounge at 6PM and our waiter greeted us with some champagne, but this time it was blue!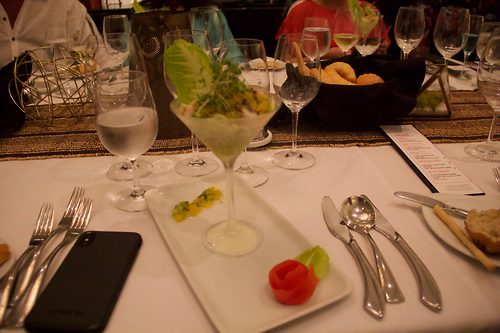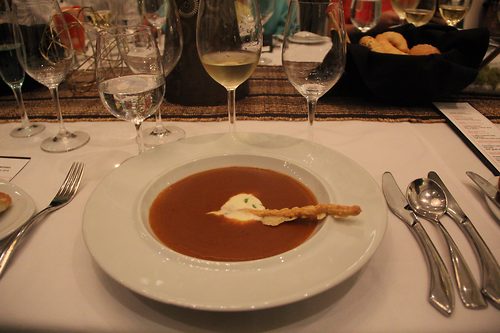 The food tonight was all about the chef trying knew things and some of them were really good.  We had a seafood soup that I loved, also lobster in a martini glass.  For the main course I had duck, they were also offering scallops.  Tonight they were pouring us more wine as we finished, now that's more my style!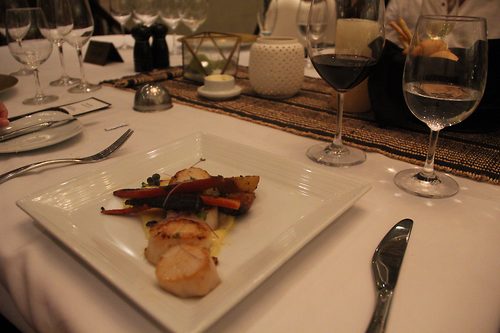 Again the dinner was around 3 hours and full of laughing and making new friends.  I'm really happy we decided to go back, now that Hillary has experienced Chef's Table I might be in trouble every cruise now.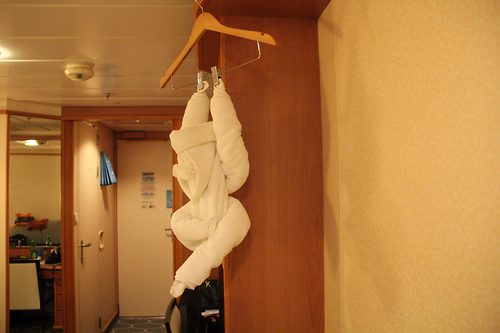 After dinner we were out of energy, between drinking all day on the beach and for hours at dinner my body had enough.  I think we were out by 10PM, but we were okay with that it was a really fun day.  We did miss the ice show tonight because of dinner, so I hope they have it again.  Today I didn't purchase any drinks on board, so official bar tab for the day was $0.00, running total $110.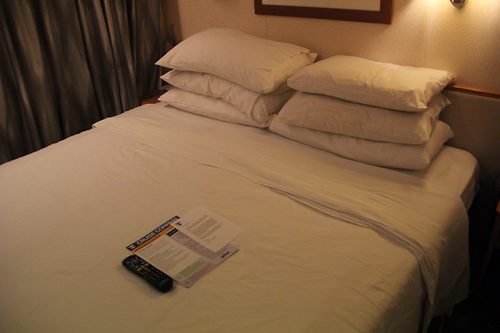 Tomorrow we are in Cozumel, Mexico; if you read my live blogs in the past you can probably guess where I'm headed.