Live Blogging from Rhapsody of the Seas - Preamble
In:
Welcome to my live blogging adventure on Royal Caribbean's Rhapsody of the Seas. This is an opportunity to take you on a virtual cruise with us, as we strive to share the cruising experience.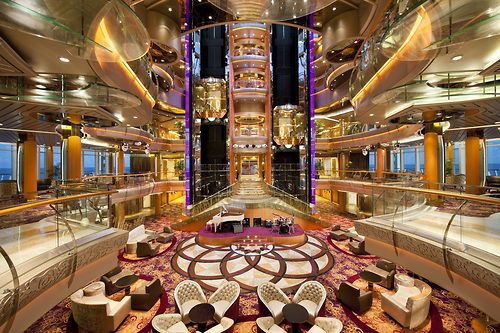 Photo by Royal Caribbean
This time around, I am sailing on Rhapsody of the Seas for a 7-night Western Caribbean cruise.  We will visit some new ports, try a completely new class of ships, and stay in a type of room that we only dreamed of booking earlier.
Why we chose this cruise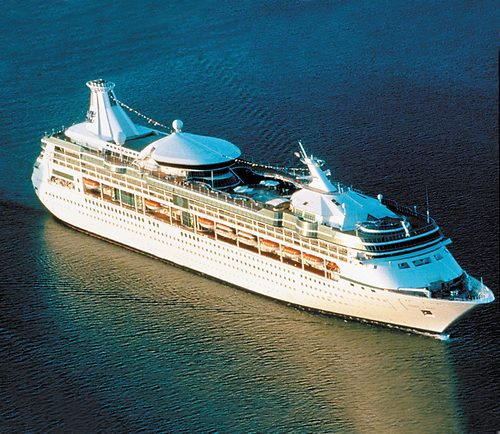 Photo by Royal Caribbean
With so many Royal Caribbean cruises to consider, the choice of the right one can sometimes feel daunting.  Sometimes, however, it seems to fall into your lap.  
We booked Rhapsody of the Seas because I was "kicked off" another sailing.
A while back I booked a cruise on Jewel of the Seas for this time of year, thinking it would be a sailing I would like to take again.  In the months that followed booking it, I saw new opportunities and cruise choices appear and my interest in sticking with what I booked waned.  My wife and I decided we would cancel that Jewel of the Seas cruise in lieu of something else.  While we came to that conclusion, I was slow on the trigger to actually cancel the booking (canceling any cruise pains me).  
I was so slow in taking my time to cancel that a group chartered the Jewel of the Seas sailing we had booked (but were planning on canceling) and as a result, Royal Caribbean canceled our reservation and gave us bonus onboard credit for "the inconvenience"! I always knew my mother was wrong about not being lazy!
We knew we wanted to sail this particular week because it is my daughter's spring break, and after considering a few other sailings picked Rhapsody of the Seas.  We did it for two primary reasons:
It was the least expensive option for a 7-night cruise out of Florida
It offered us an opportunity to book an Owner's Suite (and it was still the cheapest option).
Our plans onboard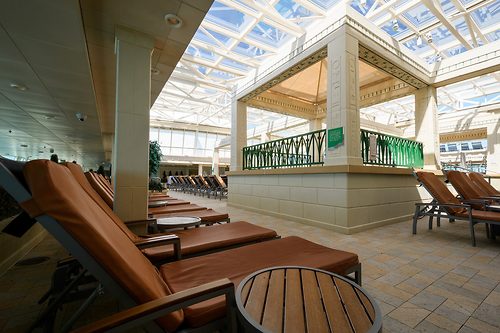 This will not only be our first time on Rhapsody of the Seas, but our first time on a Vision Class ship.  I have always wanted to go on a Vision class ship, if for no other reason than to be able to speak about it better on the blog.  
Sailing out of Tampa means we do not have to travel a great distance (or at great cost) to get onboard, and the itinerary Rhapsody offers sounds really intriguing (more on that later).
We booked an Owner's Suite for a steal of a price.  One big advantage of the smaller, older ships is you can find some really good deals on them.  And as Master Yoda said, "size matters not."
We have stayed in suites on a few ships now, and we are by no means "suite snobs", but when the price is right, the perks are quite lovely.  With the kids, having priority embarkation and added service from the Concierge really helps.  Simply put, it is nice to have.
While Rhapsody may not have as much to see and do onboard as the larger ships, my kids are at the age where they simply want any and all opportunities to swim, eat ice cream, and then swim some more.  I think we will find plenty to fill our time.
Our plans on shore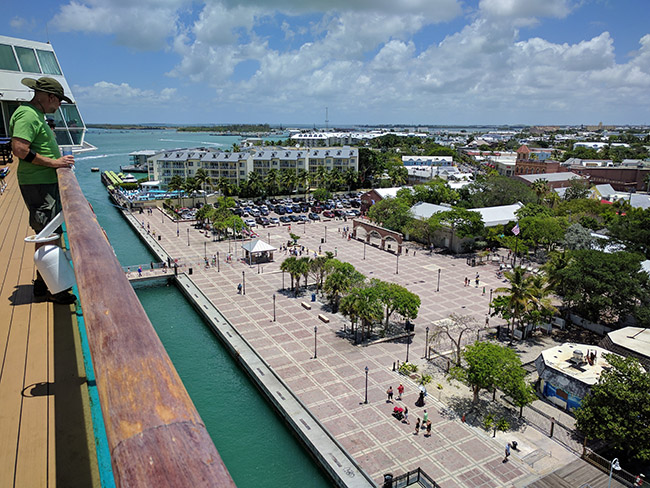 Photo by Michael Poole
The itinerary for this cruise is particularly intriguing, because it brings us to a lot of different places.  
We have four port stops on this sailing:
Key West, Florida
Cozumel, Mexico
Belize City, Belize
Costa Maya, Mexico
My wife, nor my kids, have ever been to Key West.  Living in Central Florida, driving to Key West is just far enough away to fit into the "we will eventually go there, but not anytime soon" category.  A cruise ship stop there is perfect for our needs.  My kids (ages 7 and 3) are not quite mature enough to appreciate the history of Key West, but I think they will find a fun adventure in exploring the area.
For Belize, I decided to take a page out of Carrie Underwood's playbook, and instead of letting Jesus take the wheel, I let Royal Caribbean do so.  We contacted Royal Caribbean's private shore excursion option Private Journeys to have them help us plan a day.  I essentially said I have no idea what to do here, give me an idea.
Private Journeys came back with a personalized 5 and half hour private tour, which begins at the Belize Zoo, with up-close encounters with wild baby animals.  We then head to the at Kukumba Beach for Beach, a man-made watering hole where adults will find waterfront relaxation while sunning on beach chairs while the little ones go swimming, playfully bouncing on a floating trampoline or everyone can bravely descend a 90-foot waterslide.
It has been 8 years since my last visit to Costa Maya and we are going back to Maya Chan resort for a day of indulging at one of the best all-inclusive day passes I have ever been to.  This means more time at the beach, and unlimited Shirley Temple's for my older daughter.
We have no plans for Cozumel yet, but we are pros when it comes to Cozumel.  We may do another beach day with the kids, or leave them in Adventure Ocean and enjoy a day in town with my wife.
Our Itinerary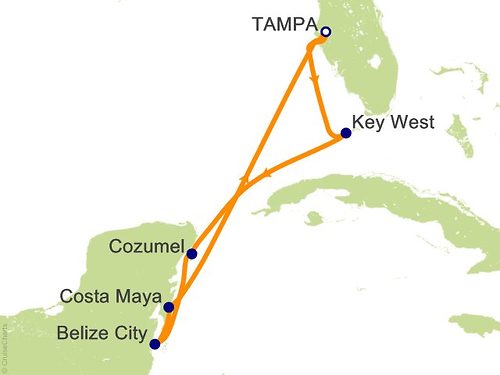 Three things I am excited to try
3. Vision Class ship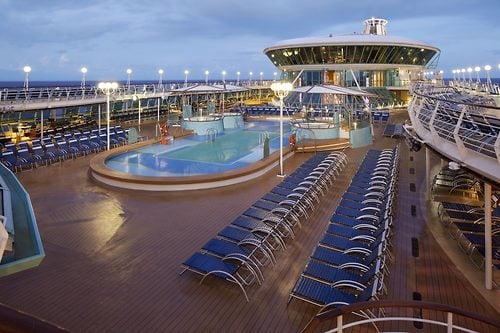 While I tend to gravitate towards the larger ships in Royal Caribbean's fleet, I cannot deny the appeal of going on a smaller ship that offers a more intimate experience. 
When it comes to cruising with my kids, I find that the more I can slow the pace down and let the vacation come to them, the better everyone fares.  Sure, I want to run around and "do it all" in the first two hours onboard, but cruising with kids has shown me that things work better when we let them dictate the pace.
I think going on Rhapsody of the Seas will offer all of us an opportunity to do more relaxing, or at least me watching them splash their heart's content out at the pool from dawn to dusk.
Of course, each class of Royal Caribbean ship has its own nuances and I am excited to try a Vision class ship first-hand.
2. Belize shore excursion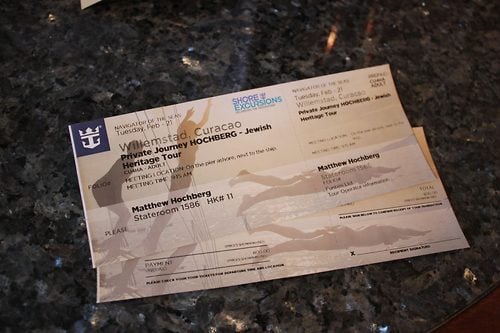 This is our second go around with Private Journeys, and I am excited to see how this one stacks up to our first experience.
We tried Private Journeys last year in Curacao and our guide was wonderful.  The primary reason I really like this option is because traveling with children is not simple. They tire out, get hungry, act out, and otherwise are a challenge in a group tour setting.  When we tried Private Journeys last time, it was so nice to have a tour guide who allowed us to skip a scheduled stop, stay longer at another and even work in a snack break at....McDonalds.  
1. Owners Suite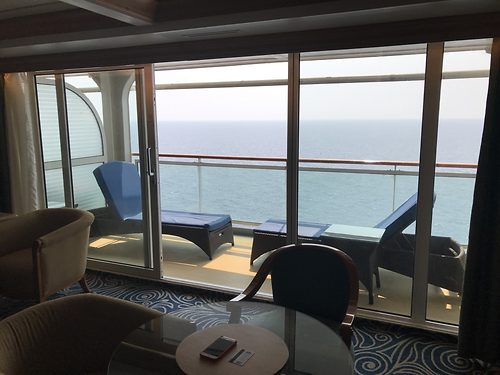 I firmly believe staying in a suite is a great way to splurge, but not the end-all be-all way to cruise.  When the cards work out in my favor to be able to afford one, I am all for it.
While being in an Owner's Suite means sleeping in the same room as my kids, I think the extra space offered in the room will make up for it.  Plus, my kids are a little bit older and theoretically slightly better at sleeping through distractions (I can already hear the cackling from other parents who are reading this).
What's next
Our Rhapsody of the Seas cruise begins on Sunday, March 18th, and I will be sharing the details on the blog, as well as across my social media channels.  Be sure to follow me on Facebook, Instagram and Periscope for live updates throughout the day.
I invite you to share in this experience with me, by posting in the comments for any blog post questions and comments you may have.  I try to make these live blogs as interactive as I can, so I want everyone to feel welcome to share their thoughts.
Thanks for reading all of this and welcome aboard our next fun live blog experience!