In:
Some days are absolutely perfect, and today was one of those days!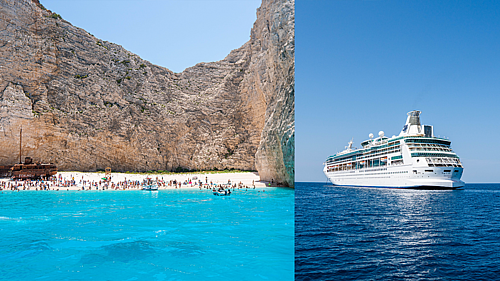 Rhapsody of the Seas anchored off the coast of Zakynthos, Greece today. Located in the Ionian Sea, Zakynthos is most known for its landscapes, beaches, and nightlife. Perhaps the most famous spot on the island is Navagio Beach, otherwise known as Shipwreck Beach, which has frequently been named one of the most beautiful beaches in the world.
Zakynthos is a tender port, so you must collect tender tickets prior to leaving the ship. We collected our ticket around 8AM (the ticket spot opened at 7) and we received a ticket for Group 7.
The tender process seemed to be taking pretty long for just Group 1. After 20 minutes of waiting, Group 2 hadn't even been announced yet! We decided to walk to the tender area to gauge how long our wait might be to get off the ship.
We waited with a large group of other passengers, but the group numbers being called in this area were further ahead than what had been announced on the loudspeaker. After around 30 minutes of waiting, we were able to snag 3 spots on a tender boat.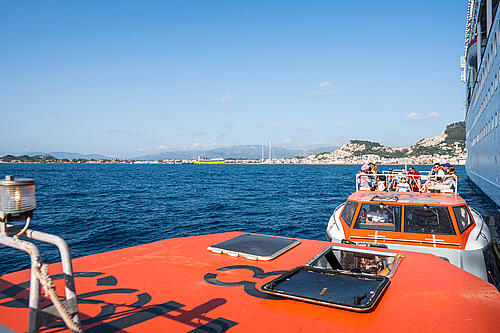 Next time, I'll definitely be sure to get my tender tickets early to avoid any extra wait times!
Arrival in Zakynthos
The tender ride to Zakynthos from the ship was so beautiful it was almost a shore excursion in itself! Just like every other day in Greece so far, the scenery was filled with mountain peaks, charming harbor towns, and some of the most blue water I've ever seen.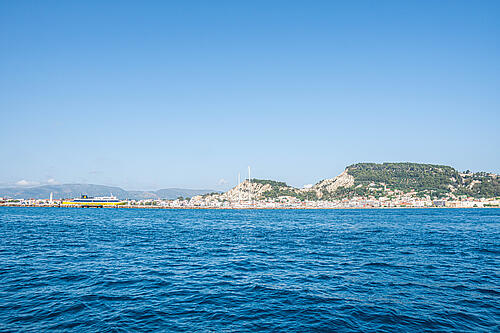 After two days of walking all around Mykonos and Crete, we were in the mood for a relaxing day at the beach.
Our goal once we arrived in town was to find some kind of boat tour or beach shuttle that we could book for the day. Luckily, there were a few tour operators on the main street in front of the port offering boat tours to the main sights of Zakynthos.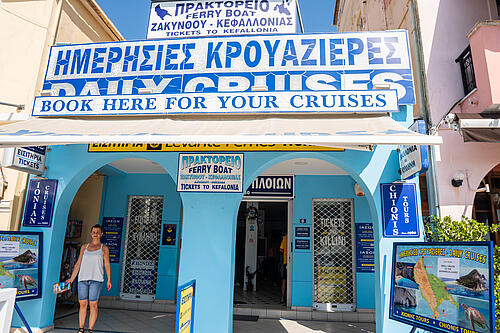 We decided to book a 5-hour tour that would bring us to the other side of Zakynthos for a boat ride to Shipwreck Beach. The tour was €45 per person, which felt reasonable considering Royal Caribbean was offering the same type of excursion for over $70.
We had an hour to kill before the tour began, so we walked to a nearby bakery to pick up snacks and lunch for the day, as the tour did not include food. Greece is sure to impress when it comes to pastries and breads!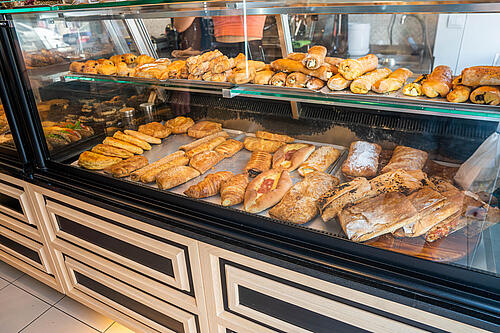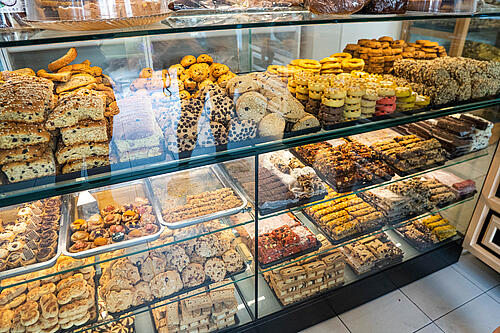 Boat tour in Zakynthos
Our tour group of around 40 people met at the travel agency's office, where we boarded a bus that would bring us to our boat. The bus was an hour long (which I did not realize when I booked the tour), but offered a nice way to see the countryside of Zakynthos.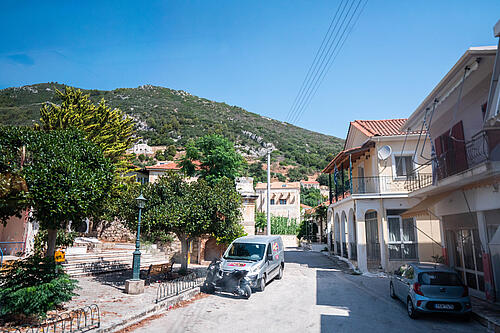 As we approached the western side of the island, we were rewarded with spectacular views of dramatic cliffs alongside the sea. The bus then descended down a steep, narrow road to a small beach, where we boarded a small boat that would take us to Shipwreck Beach.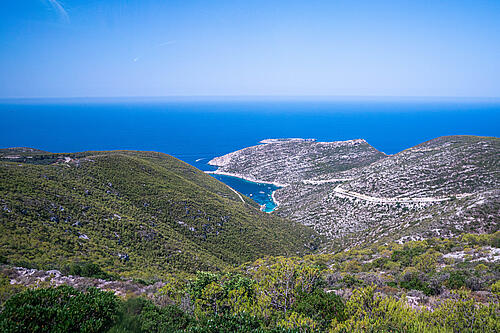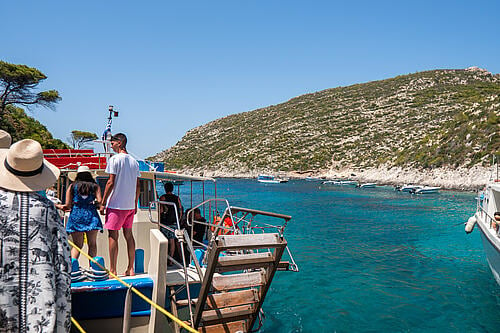 Any expectations I had for the tour were quickly exceeded when we began sailing toward the beach. I've never seen a landscape quite like the coastline of Zakynthos, where tiny beaches with crystal blue water could be spotted below huge white, rocky cliffs.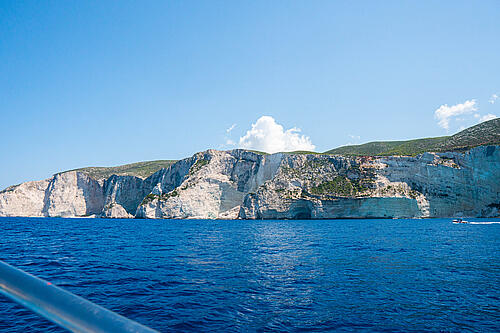 Navagio (Shipwreck) Beach
It took around 20 minutes to reach Shipwreck Beach. Funny enough, Shipwreck Beach was not the highlight of our tour. While beautiful, it was extremely crowded! I would still recommend visiting, but be prepared for crowds. Additionally, most tours only visit the beach from the sea, so you aren't able to view the famous view of the beach from above if that is important to you.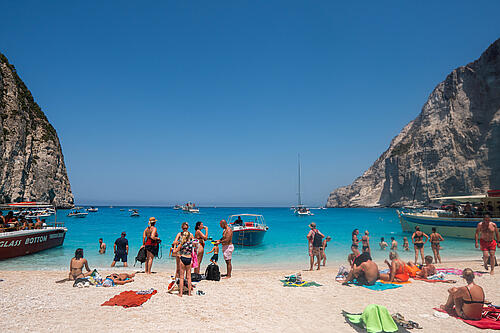 The water was beautiful regardless of the crowds, though, and it was a nice spot to cool down in the Mediterranean sun. We stayed on the island for an hour before continuing the tour.
Once back onboard the boat, we headed to a series of caves located in the island's steep white cliffs. We also stopped for a 15-minute swimming break in the middle of a cove.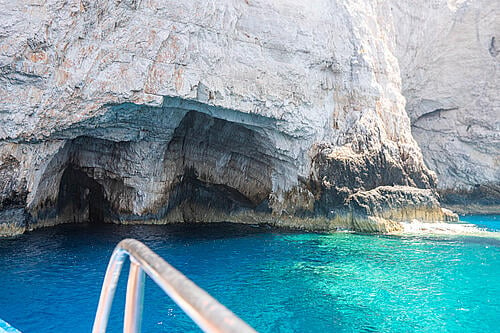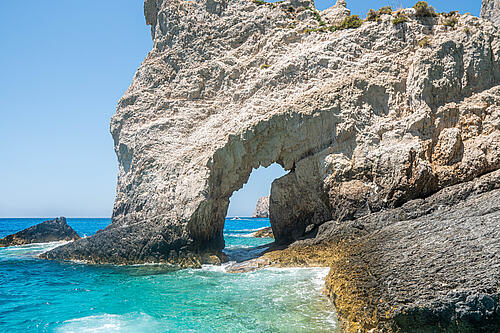 My favorite part of the day was the boat ride itself, where we could enjoy the breathtaking landscapes of Zakynthos with a nice ocean breeze. I can't get over how beautiful this country is!
Of all the ports I've visited in Greece this week, I think Zakynthos is best suited for a beach day. Mykonos and Chania seemed fit for simply wandering around town, but the highlights of Zakynthos seem to be in the island's natural wonders. You're also able to rent a private boat for the day, which may be a better option for large groups or those who want to explore on their own itinerary.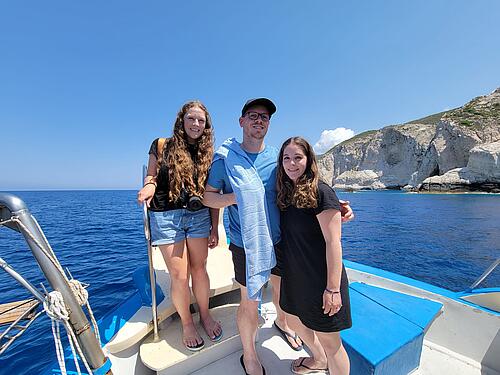 Back onboard
Another hour-long bus ride was in order to get back to Zakynthos town after we disembarked the boat on our tour. The tour bus conveniently dropped us off on the pier, so we boarded a tender boat to bring us back to Rhapsody of the Seas.
We got back onboard around 4:45, so quickly got ready for dinner in the Main Dining Room.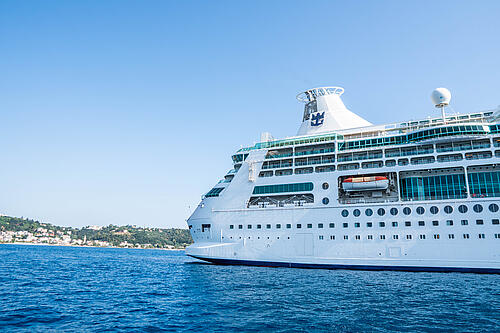 One of the main reasons I'm onboard is to film a full video tour of Rhapsody of the Seas for the Royal Caribbean Blog YouTube Channel. After dinner, I spent an hour or two walking around the ship filming the ship tour, where I made a few observations about Vision Class ships:
I quite like the Centrum compared to the Royal Promenade because there are so many views of the ocean everywhere.
I'm not a huge shopper, so I like how all shopping areas are congregated in one space on the ship (Centrum Shops).
Rhapsody of the Seas has tons of plaques on the walls from ports she has visited over the past 25 years. It's fascinating to see just how many places this ship has been, and it gives a personal touch to the ship that I haven't experienced on a cruise before.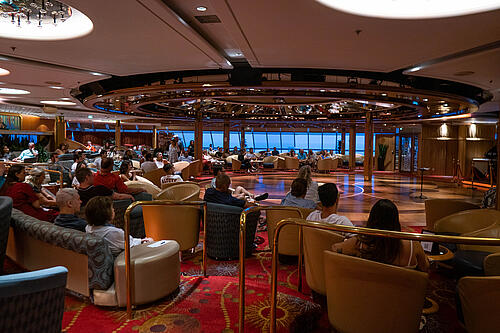 After filming, I met back up with my siblings for a cocktail in Schooner Bar (my recommendation: the El Floridito). We also briefly went into the Shall We Dance Lounge for an "Adult Game Show", but we weren't loving it so we spent the rest of the evening lounging on the pool deck instead.
After three extremely busy days in Mykonos, Crete, and Zakynthos, we are ready for our first sea day tomorrow as we make our way toward Kotor, Montenegro!