In:
Our Rhapsody of the Seas cruise has begun and we could not be more excited. In fact, I am pretty certain my children are more excited for this cruise vacation than I am (which means I have raised them well).
We live in the Orlando, Florida area and since our cruise departs from Tampa, Florida, we are able to easily drive over the morning of the cruise. We got our things together and were on the road a little before 9am.
The drive from Orlando to Tampa is roughly an hour, and uneventful.
Rhapsody of the Seas is docked in Terminal 6, so I dropped the kids and wife (and luggage) off at the terminal right at 10am. Parking is at a surface lot adjacent to the terminal, which is very convenient.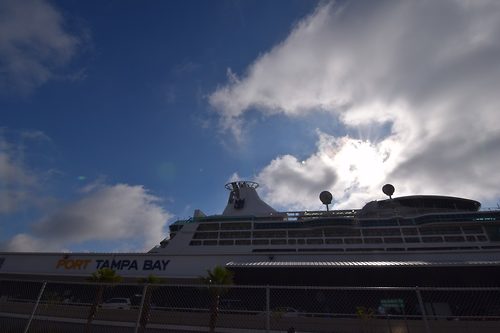 We are in a suite, so there is a dedicated security line. It was so early that the line barely saved us anytime, but I just love having a special line. Check-in was a breeze and by 10:30am, we were onboard Rhapsody.
This is my first time on a Vision class ship, but it reminds me a lot of the Radiance Class. There are a lot of similarities.
The Windjammer was not quite open yet, so we enjoyed some time at the pool deck and the sunny weather.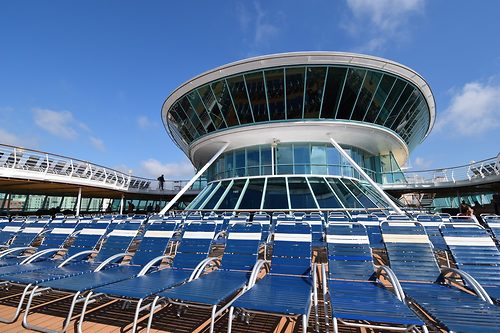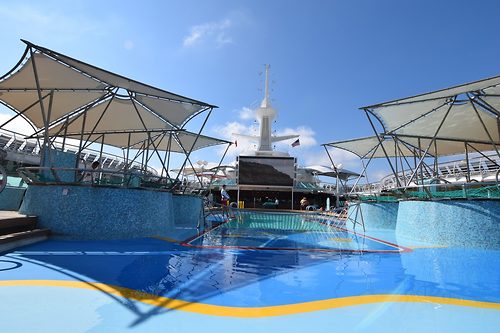 Lunch at the Windjammer opened around 11am (it said it was to open at 11:30, but it opened a bit earlier). I enjoyed the selection of food available, and we all found plenty to pick from.
After eating, we got changed and headed to the pool. We practically had the pool to ourselves for quite a while, as most people do not have their swimsuits with them.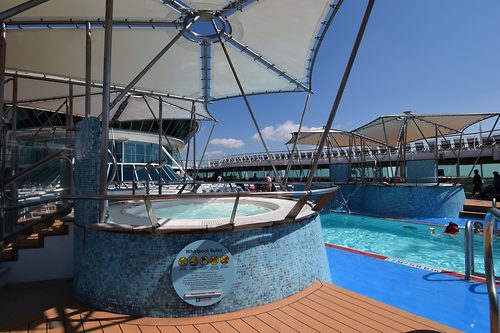 At 1pm our stateroom was open, and we got our first look at our Owner's Suite.
We are staying in stateroom 8002, which is known as the Beethoven Suite.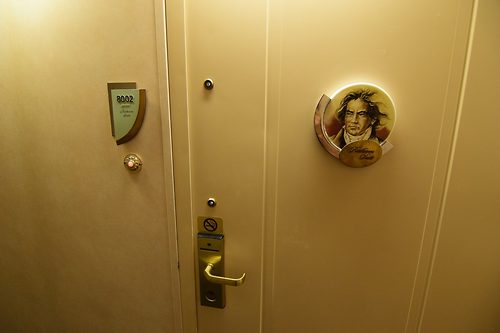 There is lots of space, and I like that the master bed has curtains surrounding it, which will provide some privacy when the kids go to sleep.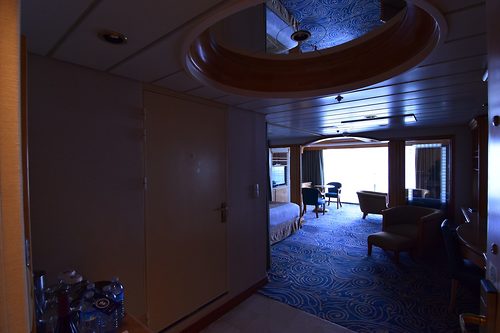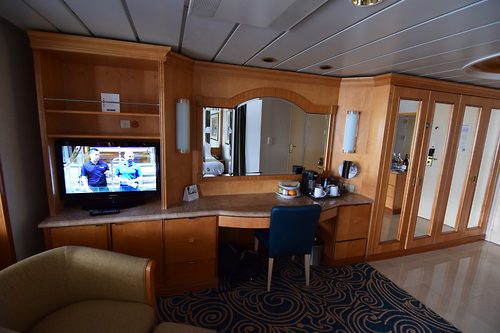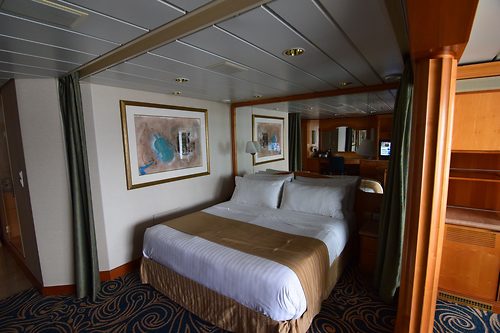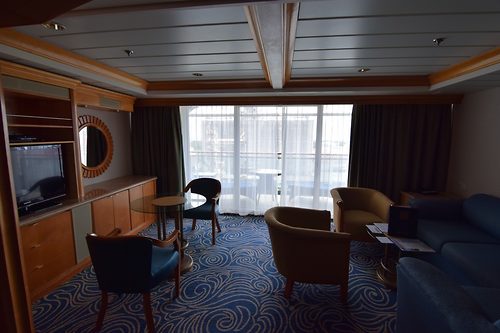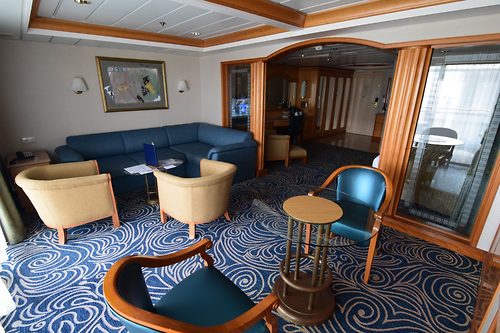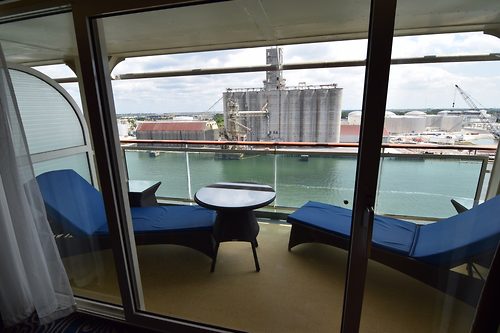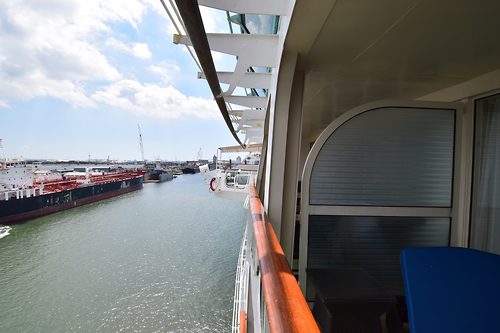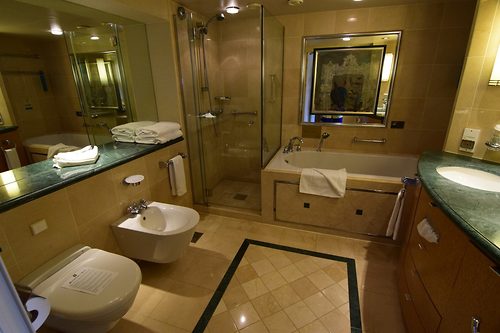 We took the kids up to deck 10 to register for Adventure Ocean. Bing that Rhapsody of the Seas is a smaller ship, the Adventure Ocean space is on the small side.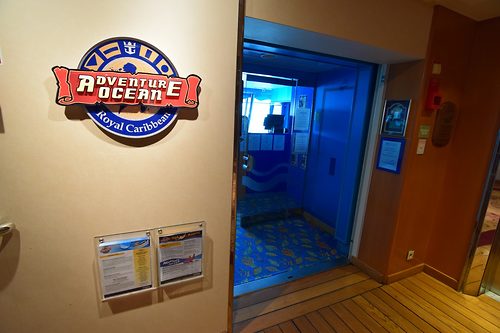 It's essentially one large room, separated into three sections. The counselors described the set up as the Aquanauts having a glass door separator, but Explorers and Voyagers are basically together since the space is so small.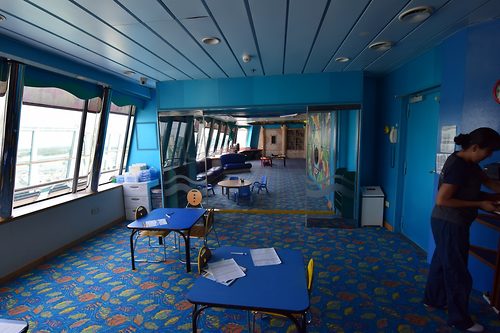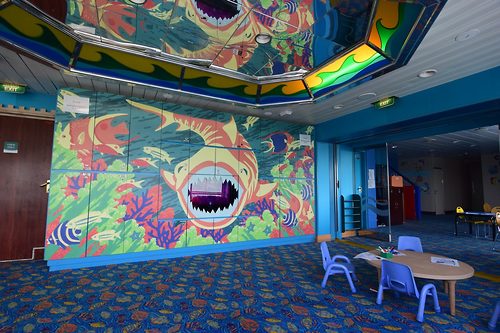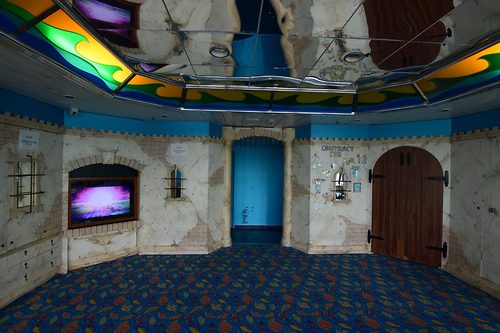 I also took photos of the nursery onboard, in case you were wondering what it looks like.  The nursery was surprisingly larger than I was expecting.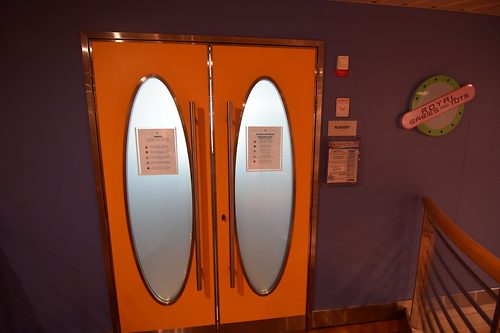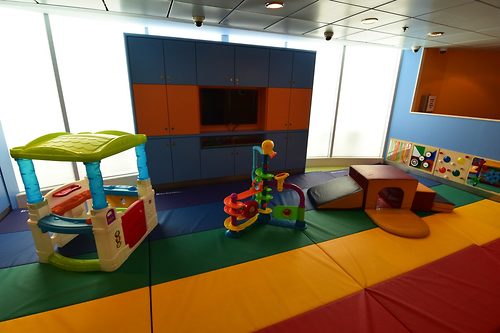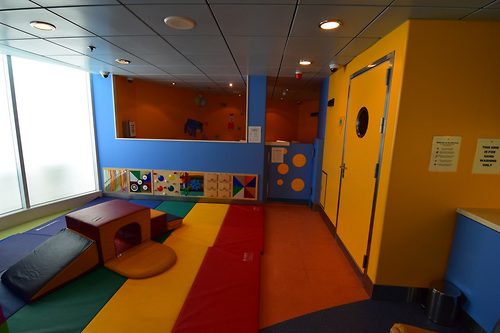 And here is a look at the teens club/area.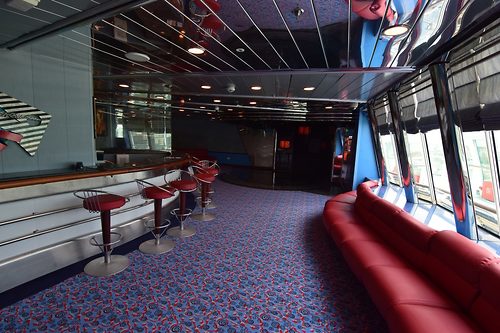 Back to the room for some rest and putting clothes away as we got ready for Muster Drill.
Following muster drill, we went up to the pool deck for sail away on a picture-perfect party.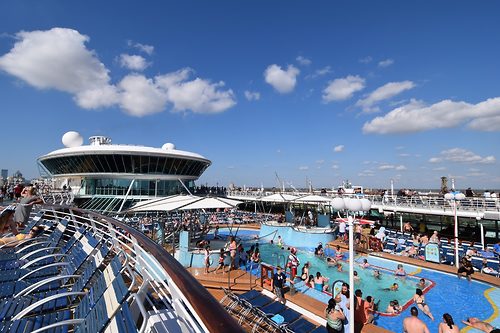 We headed back to the room to shower and get ready for our evening.  After everyone was dressed, we took the kids up to the Windjammer for dinner.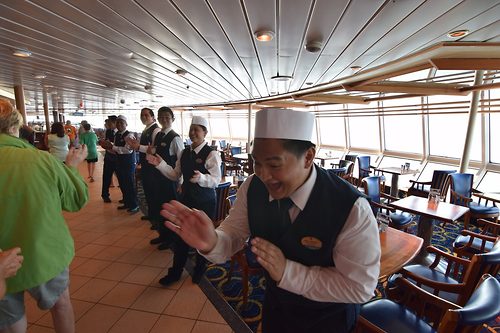 The Captain made an announcement that we were approaching the Sunshine Skyway Bridge, which marks the entrance (or in this case exist) to Tampa Bay.  Sailing under a bridge is always such a fun experience, and the Captain indicated we cleared the bridge by 9 feet!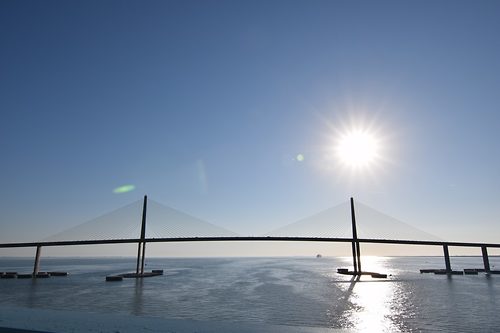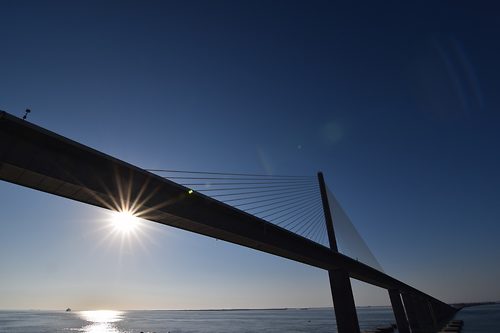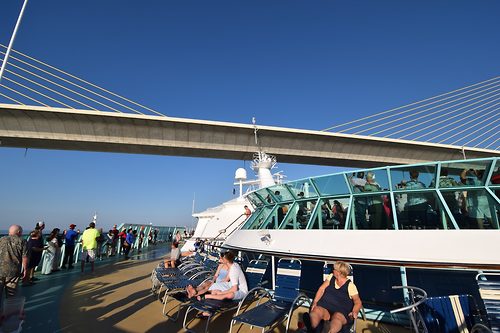 On the first day, Adventure Ocean does not open until 8pm, so we had the kids with us for a bit leading into the evening.  We went to the Concierge Lounge, which is located on Deck 11 on the side of the Viking Crown Lounge. The Concierge attendant was extremely kind and welcoming to our kids.
We did a bit of exploring, checking out primarily deck 6 and the Schooner Bar.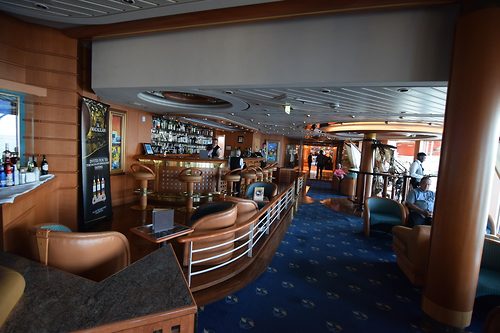 Sunset was slated for 7:45pm, so I raced up to the pool deck to catch a perfect sunset at sea.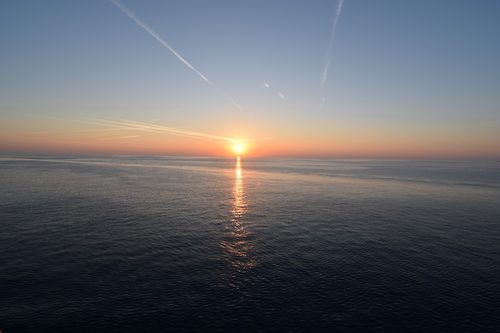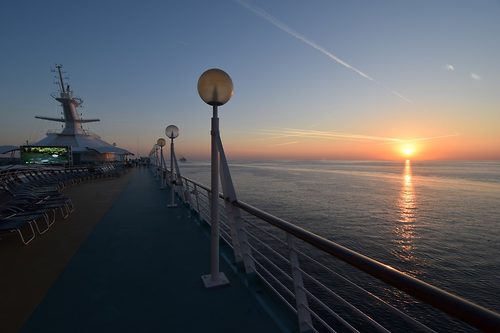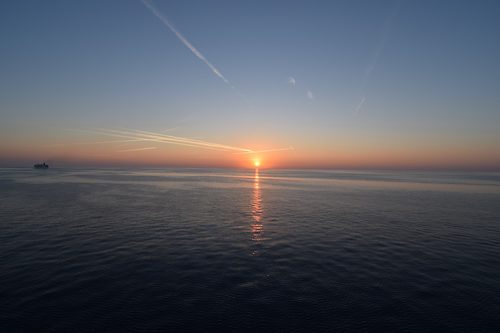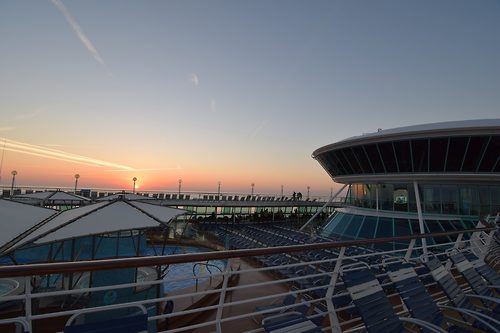 We dropped the children off at Adventure Ocean at 8pm and then went down to deck 4 to the Edelweiss dining room for our own dinner.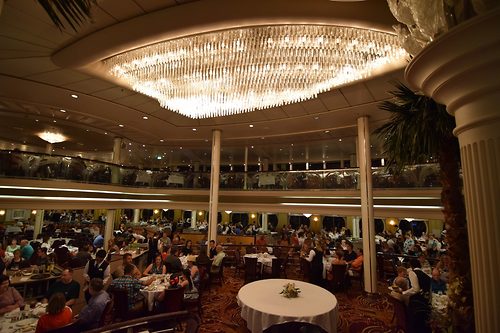 Rhapsody of the Seas has the "new" main dining room menu, which meant I automatically ordered the spaghetti bolognese (see my Anthem of the Seas live blog for backstory on my infatuation with that dish).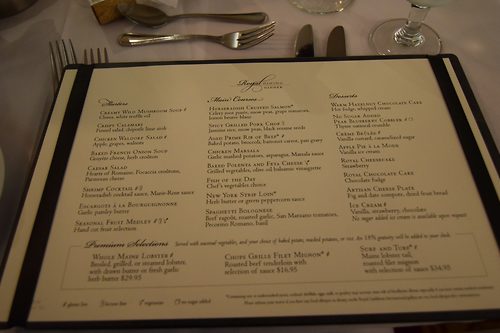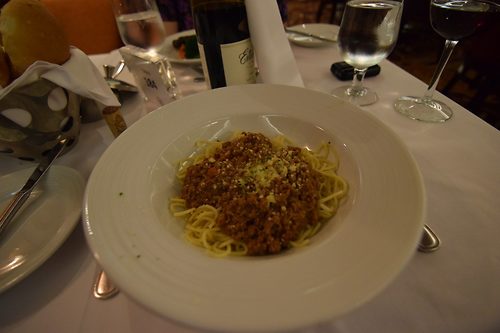 There was just one show this evening, a comedian, but it was at an earlier time so we decided to take it easy and grab the kids for a relatively early night.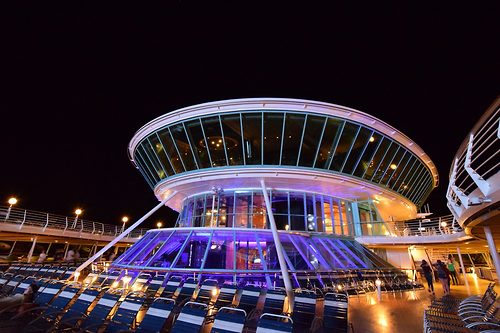 Tomorrow is our first port stop in Key West, Florida. We should be there at 11am.
Stray Observations
Someone always asks, so the pool water is salt water and I am pretty sure the hot tubs are not salt water.
No drink package for me on this cruise.  Hoping for the drink card to show up, especially since I completely forgot to bring my own wine onboard.

Being the mature kids that my children are, their favorite thing about our suite is the bidet.
I think this is our first cruise with the bread basket served always on our table in the main dining room for dinner.

According to paperwork in our suite, it looks like we will switch time zones at 2am in the cruise(I think on day 3) and then switch back on the last day. That way, we will be on the same time as local time for the ports we visit.
The Voom internet has performed well enough to facilitate this blog post. I did a speed test in the main dining room (what else would I be doing while waiting for my appetizer) and got 2.74 Mbps down, 2.06 Mps up and a ping of 712ms.  Performance can vary greatly, depending where I am, but I was able to stream classic music without any interruption while writing this blog post.
This is our third time sailing out of Tampa, and this might be the best weather we have ever had, both in terms of atmospheric and oceanic conditions.