In:
Our second port stop brings us to Cozumel, Mexico.  Despite having been in Cozumel dozens of times over the years, we are actually trying out a new place this visit.
We set the alarm and got the kids up bright and early.  My wife got the kids ready, while I grabbed some food from the Windjammer to bring down to the room so the kids could eat and get ready at the same time.
We got off Rhapsody of the Seas by about 8:15am or so, and grabbed a taxi at the port.  No lines and no fuss.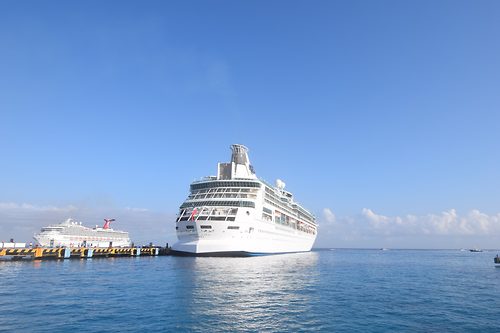 If you read yesterday's post, you would know we booked Iberostar Cozumel for the day.  We bought a day pass online and printed out the pass in the Concierge Lounge.  $72 per adult, and $30 per kid.
The ride to Iberostar is about 10-15 minutes via taxi, and it a kilometer or two past Nachi Cocom and Mr Sanchos.
Iberostar is a five star resort, and walking into the lobby area you would definitely know it. The grandeur of the entire resort is on display.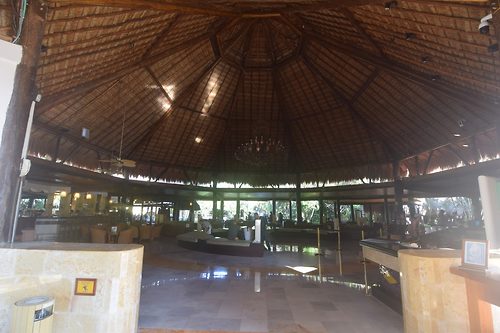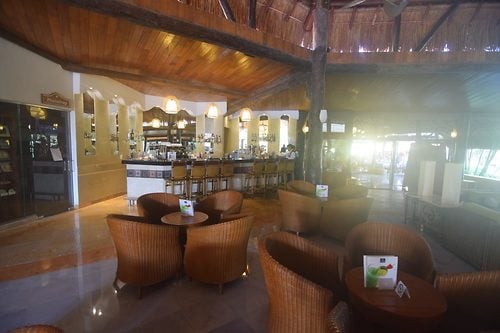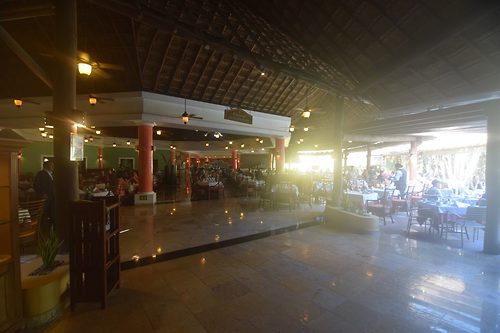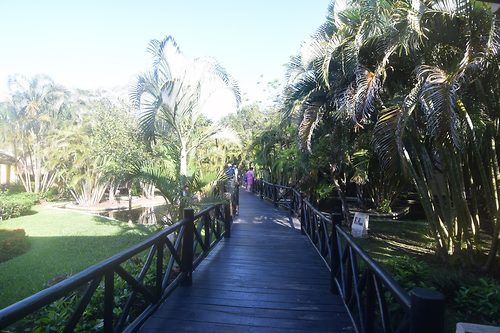 At check-in, you receive vouchers for towels and the staff hold your passport as collateral (evidently missing towels are worth the same as passports).  Admission gets you access to unlimited food, drink and activities.  Basically, whatever the resort guests can do, you can do. Motorized watercraft and the spa cost extra.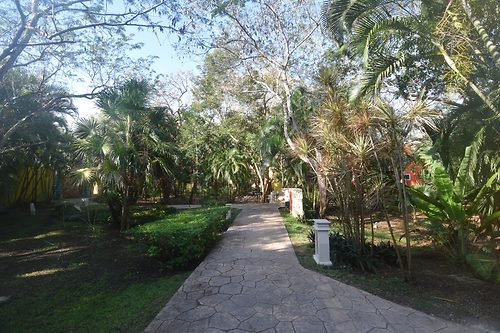 Iberostar has a beach, giant pool area, yoga park, fitness center, kids club and pretty much anything else you would expect to find at a major resort.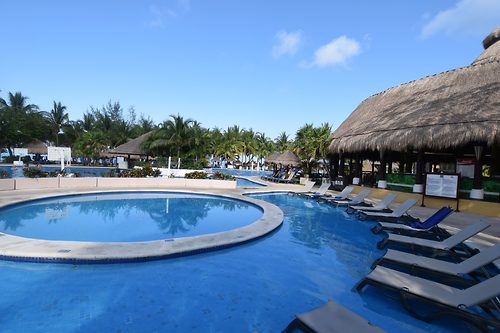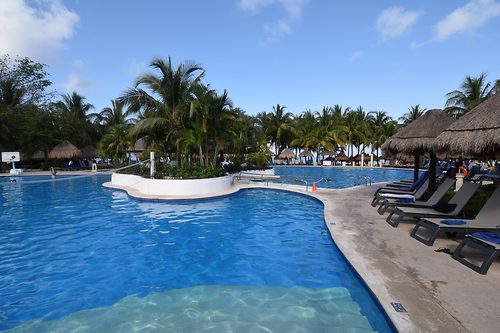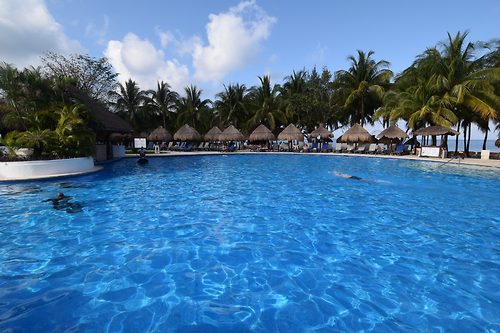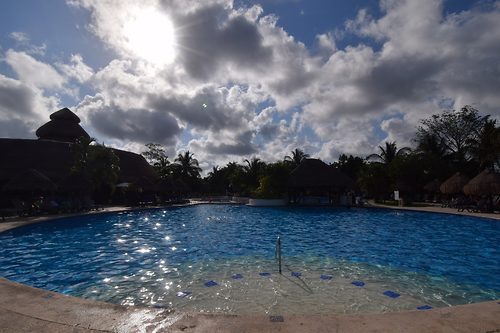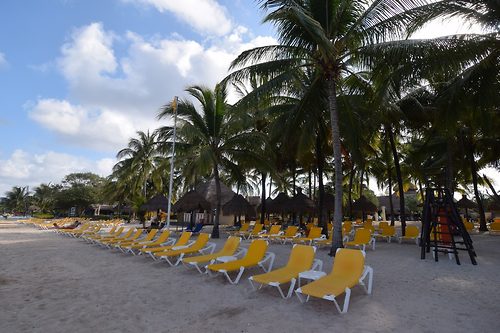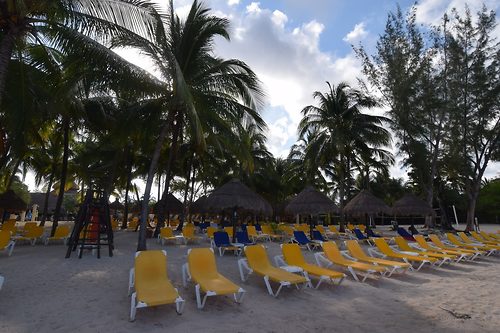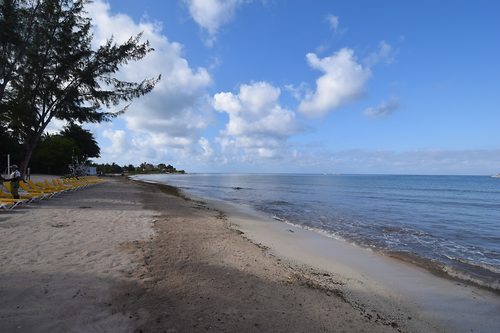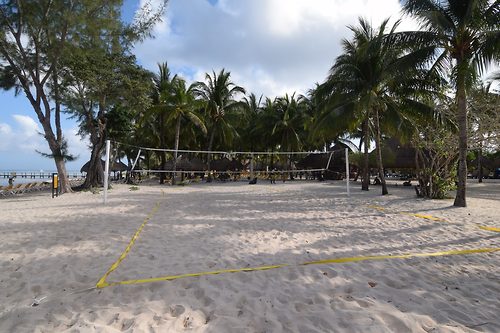 There are a few different bars and restaurants around the resort, primarily in a buffet style.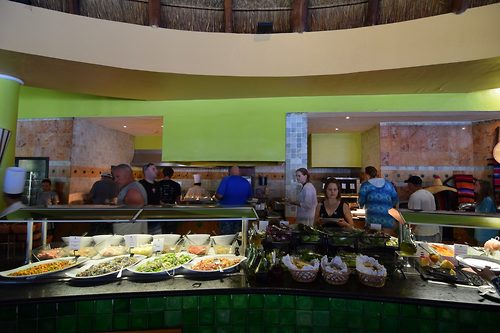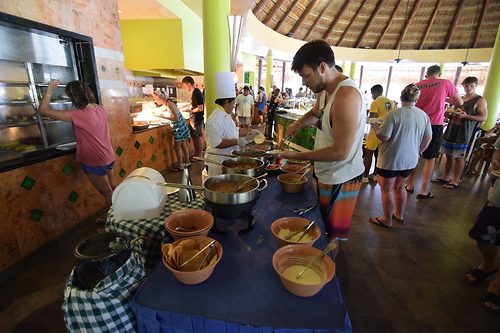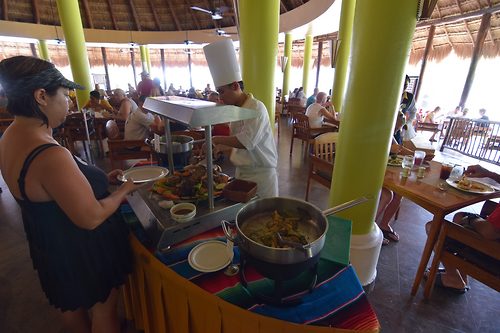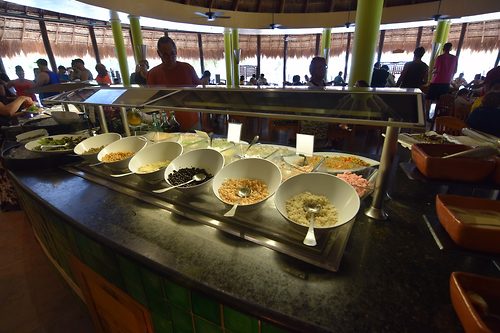 We settled on the pool, since our kids love to be able to swim and swimming in the pool is easier for them.
I will write up a full review after the cruise of Iberostar, but we liked our time and I think we made a good decision going there.  The two negatives of Iberostar were the pool chairs went very quickly (it makes the "chair hog" situation on Royal Caribbean seem trivial) and the food available was anything but authentic Mexican food.  Burgers, hot dogs, salads are plentiful.  There was a taco station and some decent grilled choices, but no guacamole, quesadillas or the kind of Mexican food we particularly enjoy.  
The best thing about Iberostar is the pool area, which is massive and offers swim up bars, waitress service, and different pool depths (great for younger kids).  There is also lots to do besides swimming.  Archery, exercise classes, playground, tennis are just a few of the activities you can work in.
Plus, the resort features lots of wildlife literally roaming the grounds. Flamingos, turtles, cats and iguanas are easily spottable as you walk the grounds.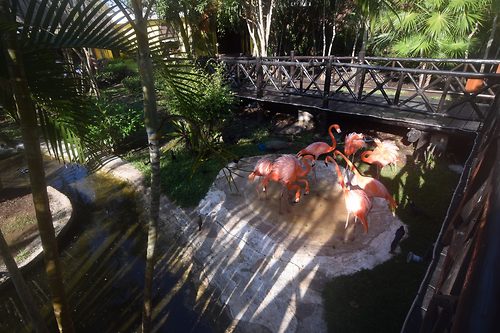 Like I said, we had a really good time and enjoyed what was offered.  
Eventually, we had to head back to the ship.  We took a cab back and I dropped the kids off before making a detour to a local grocery store to pick up Mexican chips to bring home.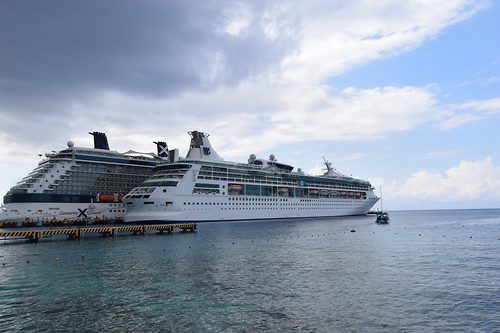 Back onboard, the kids claimed they were not tired and then promptly took some deep naps.
Sail away was promptly at 5pm, and it was back to our usual "routine" onboard.  Showers, getting dressed, Windjammer and then off to Adventure Ocean.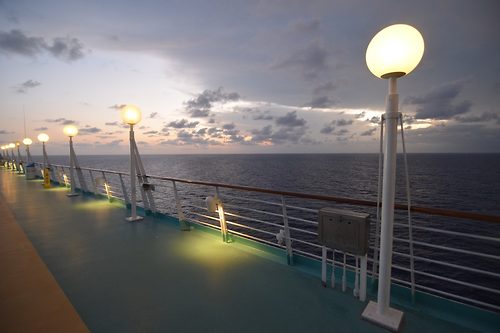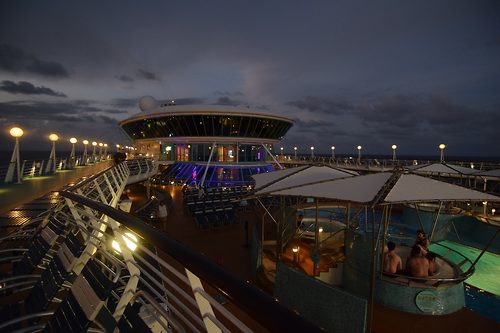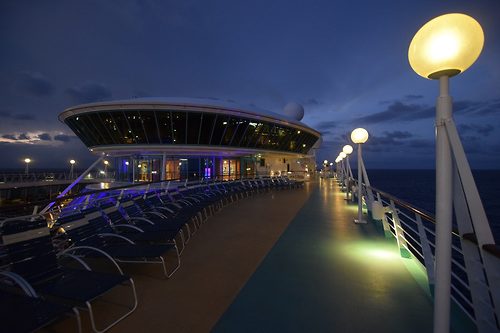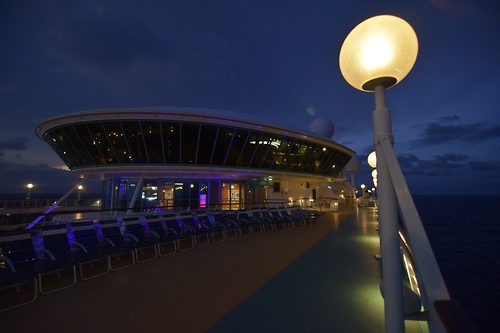 We headed up to the Concierge Lounge for some pre-dinner drinks, and then off to the main dining room for dinner.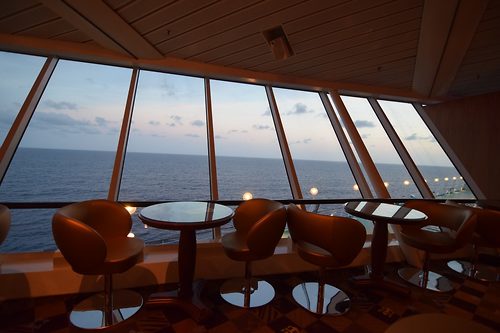 I opted for the lasagna and spaghetti, making my own Italian night theme.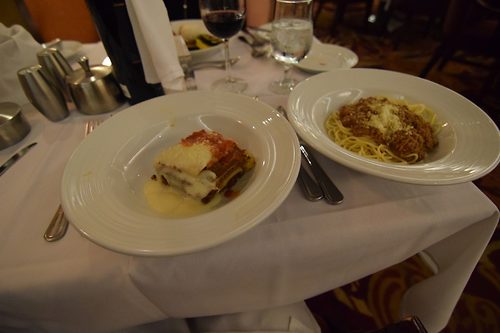 The dessert tonight, warm dark chocolate cookie topped with ice cream requires special attention. My wife and resident "dessert whisperer" Jacob noted this dessert was really, really good so I had to try it out. You know, for reasarch.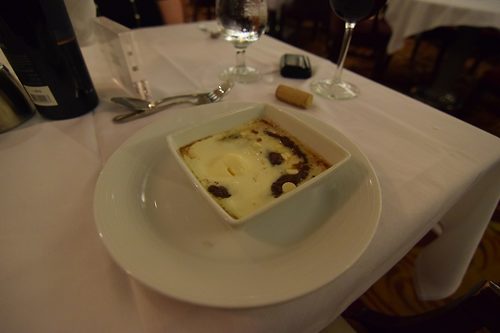 It really is amazing! I think the fact the cookie is not fully formed, so combined with the ice cream you get a marriage of "considering ordering extra desserts" proportions.
There was a show in the theater dedicated to country music, Pure Country. There were songs from nearly all decades of country music, although my wife took particular enjoyment out of the fact someone at Royal Caribbean included most of her favorite country music songs from high school.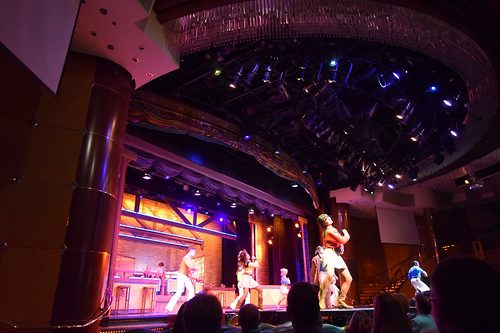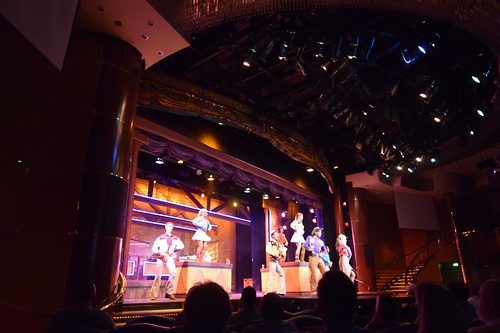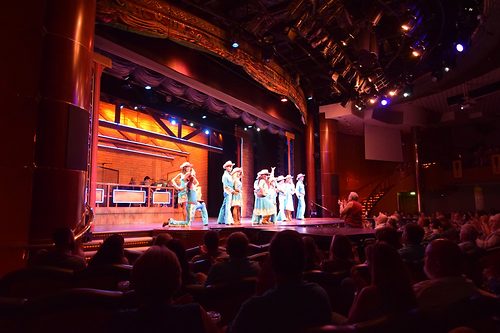 We called it a night and headed back to the room for the evening.
Tomorrow we will be in Belize!
Stray Observations
I heard from a bartender the drink card  (10 drinks for $75-85) may make an appearance tomorrow morning.
When in a taxi in Cozumel (or really anywhere), you can ask the driver to turn on the air conditioning. Most times it's off to save the driver money, but you can ask to have it on.
Vision of the Seas was also in port with us, but she was docked downtown.  I do not recall the last time a Royal Caribbean ship docked downtown in all the times we have been there.
A nice feature of Rhapsody of the Seas is there are coffee dispensers on the pool deck on both sides of the deck.  Very convenient in the morning.
It was standing room only for the country show this evening.  Granted there was only one showing, but I was still surprised to see the entire theater as full as it was.
We got our free spins in the casino (from being a Crown and Anchor member).  We got 3 coins per person, but I don't recall there being more than one per person. Or I just have not been paying close attention to the many times I have won a key chain. I'm sure someone will set me straight in the comments.