Rhapsody of the Seas Live Blog Day 6 - Costa Maya
In:
Our last port stop brings us to Costa Maya, Mexico.
I have been to Costa Maya once, but it was back in 2010 so clearly a lot has changed since then.  We also had odd hours in port, being there from 7am to 4pm.  Not a ton of time, but it does require us to get up early to make the most of it.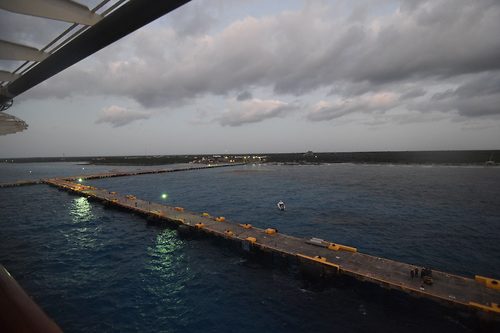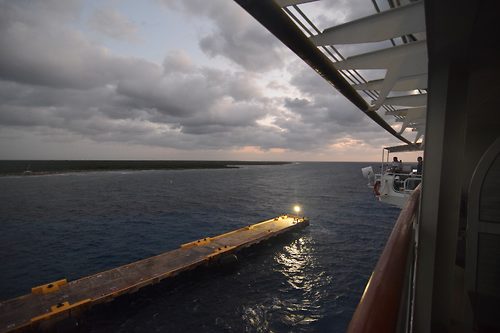 We got ourselves ready and on the dock by about 7:30am and walked through the maze that is the Costa Maya port.  The pier is quite long, and then once in the terminal area, it is a labyrinth of shops, bars and restaurants.  Finding the exit is no simple task.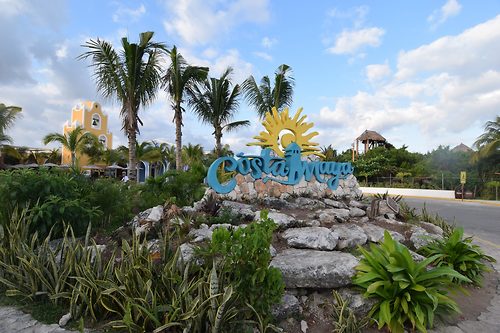 We had pre-booked our day at arguably the best all-inclusive day pass in the Caribbean that I have been to, Maya Chan.  We had to walk out of the port area and a few hundred yards up the street to meet the Maya Chan represenative.
Maya Chan arranges the transportation, so they immediately hailed a cab for us.  Prior to getting in, they informed us the beach (and frankly the whole area) is dealing with an influx of sea grass that has covered the beach.  They have staff actively working to clear it, but it is there and graciously offered to let us cancel for a full refund.  We considered it, but thought it would still be a good use of our time to go there, so went ahead.
The car ride is about 30 minutes and we arrived at Maya Chan.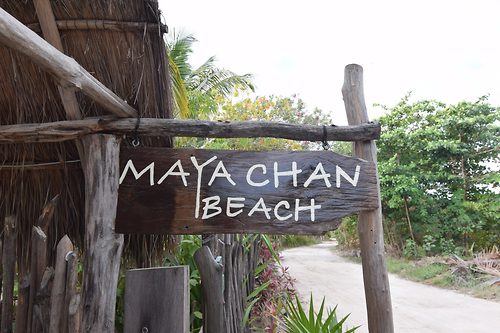 Upon arrival, the staff greets you and escorts you to your private area.  You will find a palapa, with chairs, hammocks, tables and more.  A welcome drink is provided and once you get situated, you can use any of the facilities available.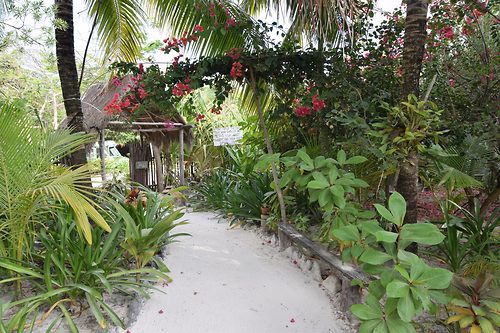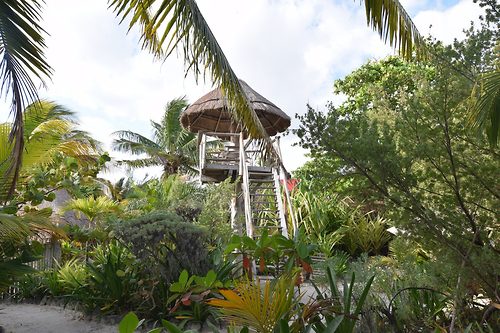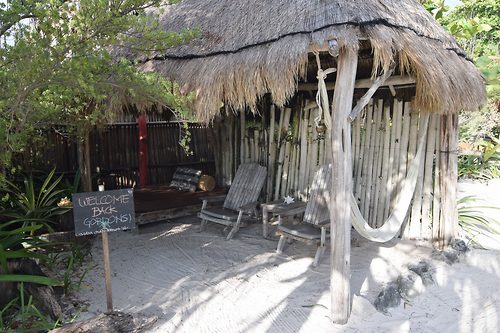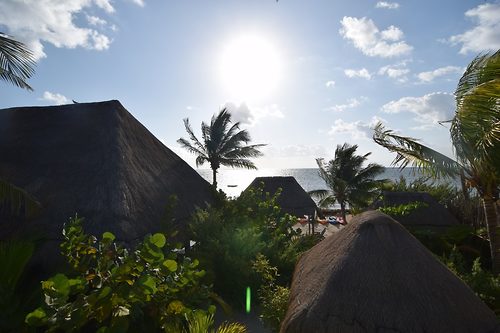 A day at Maya Chan is about enjoying the area, such as the bar, beach, kayaks, games, and more.  A full bar is available and the staff regularly walk around asking how they can help.  I loved how the staff was  always around to help.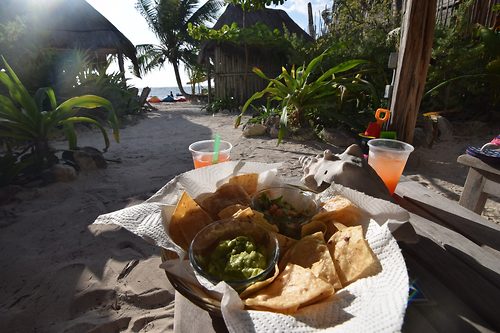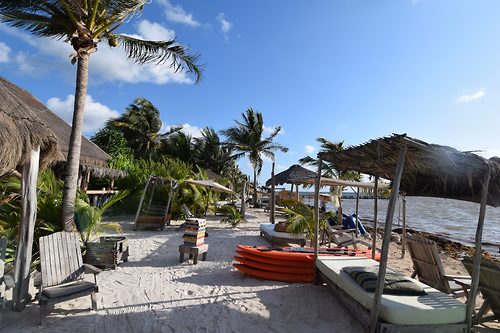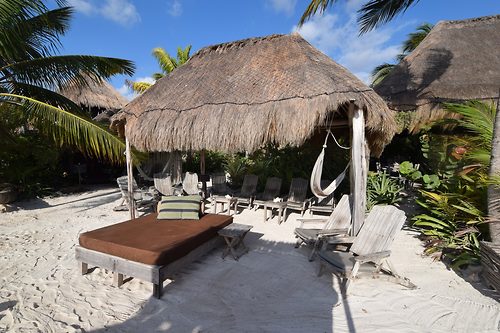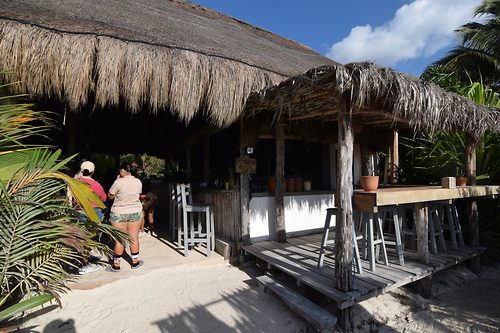 A full buffet lunch of make your own tacos was available as well.  Everything was made from scratch and it was excellent.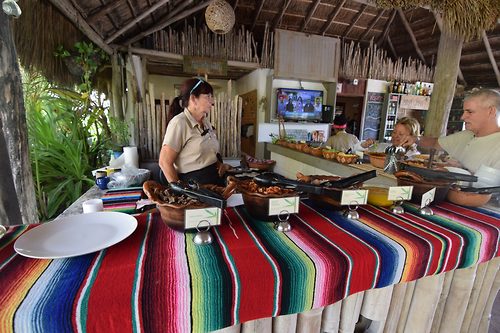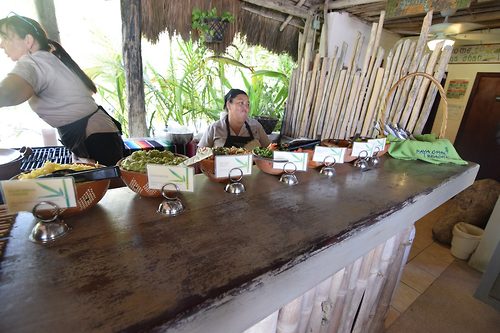 Despite the beach conditions (the staff set up a floating bar in the ocean with floating chairs for fun), we had a great time relaxing on the beach.  My daughters were content sipping on Shirley Temples and playing in the sand.  Plus, Maya Chan has a few dogs and a cat roaming around that they enjoyed playing with.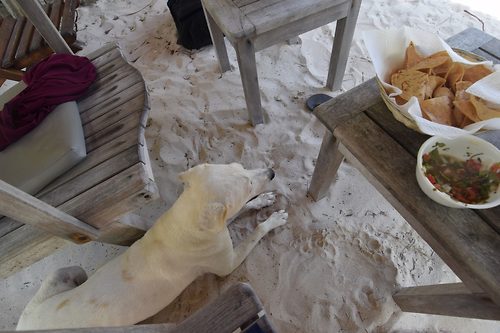 Eventually, we had to head back to the port.  I took my oldest daughter for a detour when we got back to the Costa Maya port area for a short swim in the pool they have in the terminal area.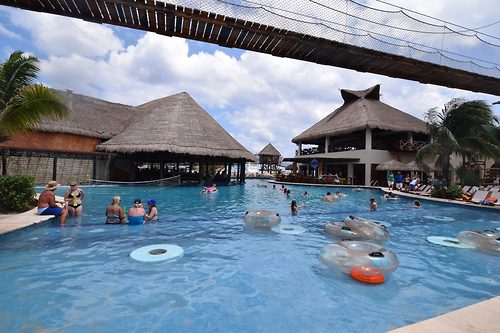 Back onboard, it was time to get showered and changed.  It is actually our second formal night tonight.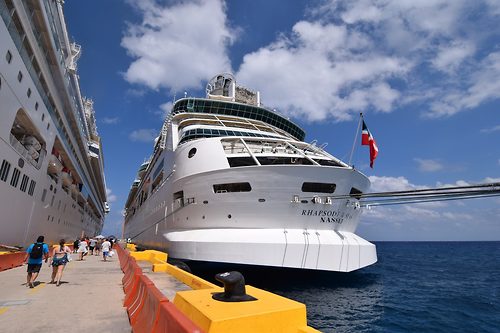 Since it worked so well yesterday, we ordered dinner from room service for the kids rather than taking them up to the Windjammer. Just like yesterday, they enjoyed their meals and ability to mess around a bit more than if they were in the Windjammer.
We had hoped to get another photo session in, but the photographers were on break by the time we got to them.  Instead, we enjoyed part of a movie by the pool while we waited for Adventure Ocean to open.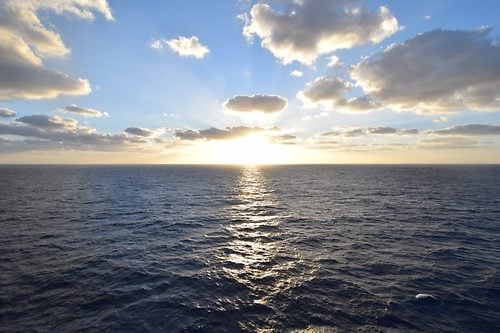 Once Adventure Ocean was open, we headed down to the theater for a ballroom dance show.  My wife thinks she has seen this show on another ship, but did enjoy the performances.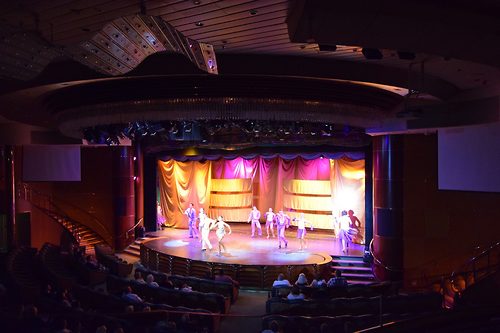 Dinner this evening was in Chops Grille on deck six.  It was a great meal all around.  While my 9oz filet mignon was wonderful, the tuna tartare was still my favorite.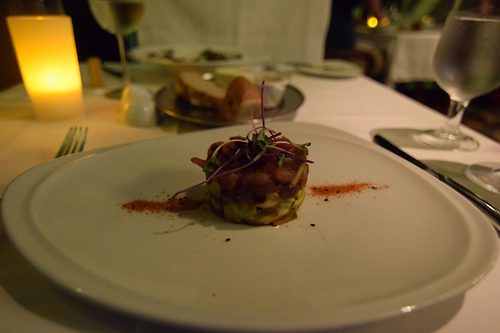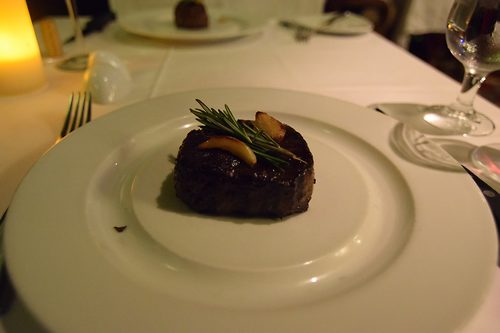 After dinner, I convinced my wife to go to the casino for a bit.  Unfortunately, that's where my luck ran out.  We were in and out of there quite quickly.
We rounded out our evening with drinks and music in the Schooner Bar.
We would have stayed out later, but I got a page from Adventure Ocean and it turns out our youngest daughter had fallen asleep, so we had to come pick her up.
Tomorrow is our final day onboard, and it is a sea day.
Stray Observations