Rhapsody of the Seas Live Blog Day 2 - Key West
In:
I usually begin my live blogs with some excitement about the day ahead, but today's live blog post is the exception.
Last night I was writing up yesterday's live blog post from the pool deck, when my wife texted me that my oldest daughter had thrown up.  I headed back to our stateroom and we called housekeeping first to get the bed and surrounding area cleaned up.
In a matter of minutes, a team of housekeeping staff descended upon our room to begin the clean up process.  Frankly, I was impressed and amazed at the speed at which the team arrived, and the hard work they did to clean it all up.
As you might imagine, Royal Caribbean takes guests getting sick very seriously for their safety, and the safety of everyone onboard.  As the team cleaned, the nurse on duty from the medical facility onboard (yes, there is a medical facility on all Royal Caribbean ships, complete with doctor) called to check on my daughter.
I spoke with the nurse about what happened while the cleaning team did their thing.  We agreed to see how she does, and to head down if anything worsens.  
Luckily, things got better from here.  As I mentioned, the room was cleaned up immaculately and despite being frazzled by the experience, my daughter eventually fell asleep.
Right at 8am the nurse called us back to see how she was doing.  It was his recommendation to come see the doctor onboard and get a full examination, just to be safe.  Since we are in Key West today and there is a sea day tomorrow, it made sense to take a precautionary step.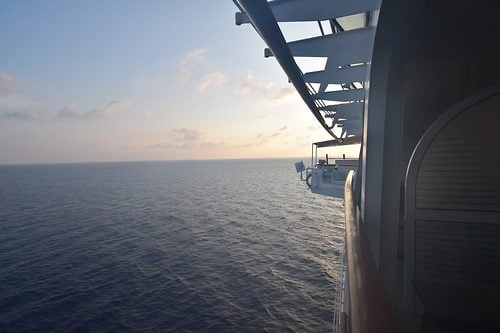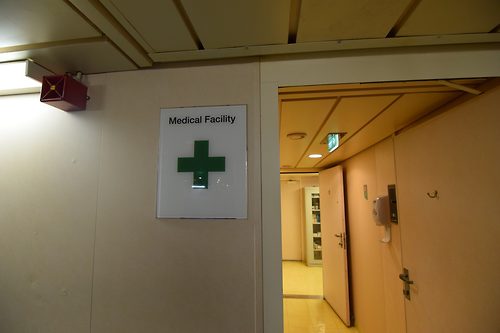 The doctor's visit on deck 1 went well, and unless something else transpires, it looks like she may have eaten something that did not agree with her.  He prescribed some anti-nausea medicine and we were on our way.  
The doctor's visit on Rhapsody was really no different than any visit to a clinic you might find on land.  They don't accept any insurance, but do provide an itemized bill so that you can submit it back to your health provider for reimbursement.  Luckily, I purchased travel insurance for this year, so I will begin with them when I get home.
Now that we were all on track and cleared to go, we had a quick breakfast in the Windjammer.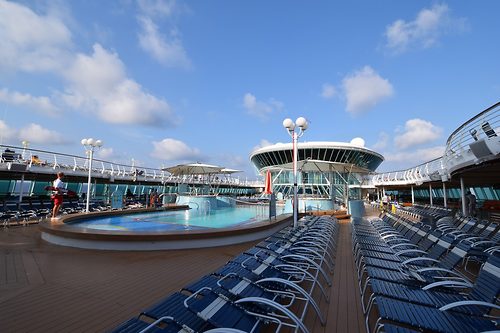 I grabbed coffee from the espresso machine in the Concierge Lounge.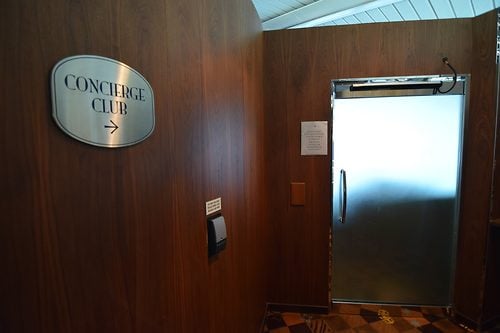 We docked in Key West right on schedule, and the ship was cleared by 11:05am.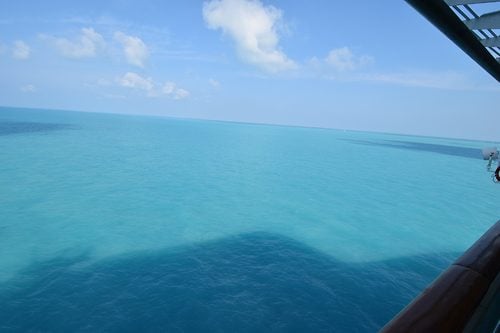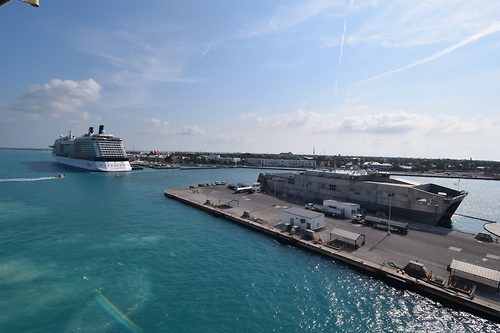 We booked a hop-on hop-off trolley tour through Royal Caribbean last night (the Concierge attendant was able to do it, allowing us to skip the Shore Excursions line) and we met at the main theater.
After the usual shore excursion gathering and whatnot, we were on our way and on the trolley.
Rhapsody of the Seas docked at the U.S. Naval Base in Key West, which means we are not allowed to take photos while on the base grounds.  The trolley actually picked us up right from the ship, and we began our tour.
The trolley traverses pretty much all of Key West that you might care to see, including the "old" part and the "new" part.  It is a narrated tour, with stops near popular spots to get off and see more.  You could certainly never leave the trolley and see the whole island (roughly 90 minutes).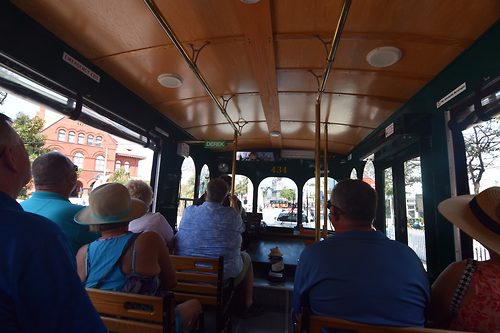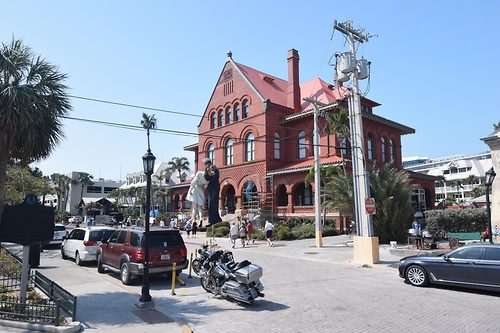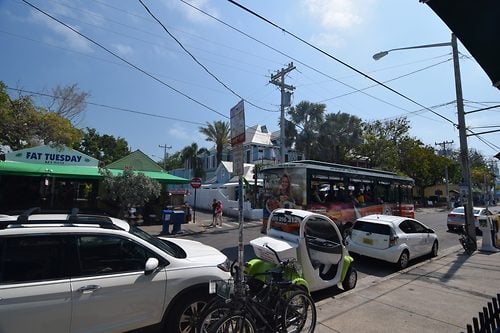 We got off fairly early to grab lunch.  We walked to Duval Street and ate lunch at Caroline's.  Food was fine, but something happened to our order and it took forever.  The staff were gracious, and made it up to us by giving the kids free dessert.
Back on the tour, we walked down Duval Street and then grabbed the trolley to see more of Key West.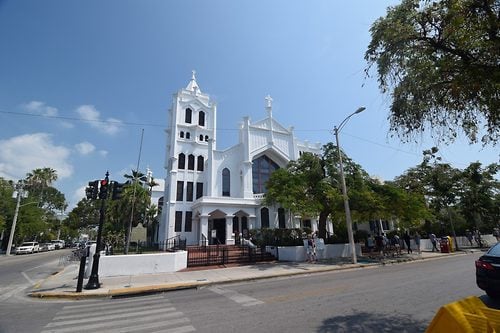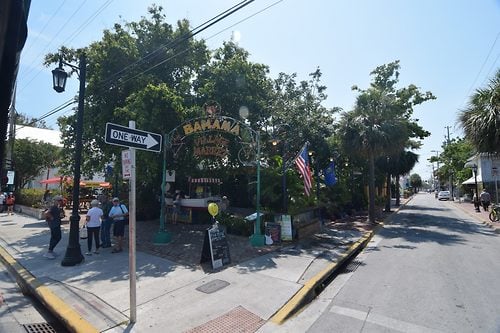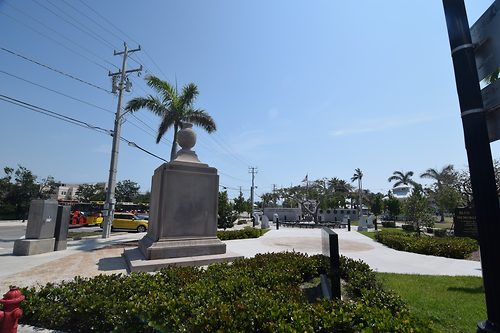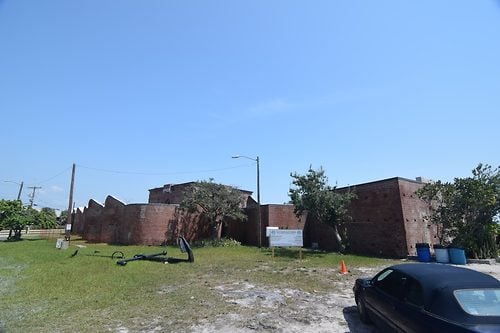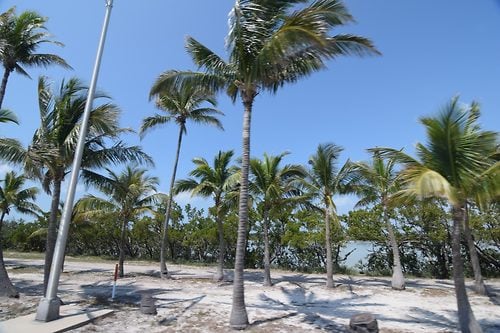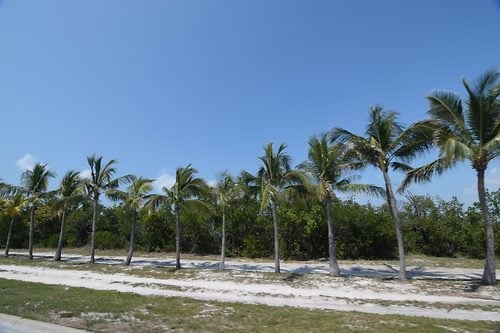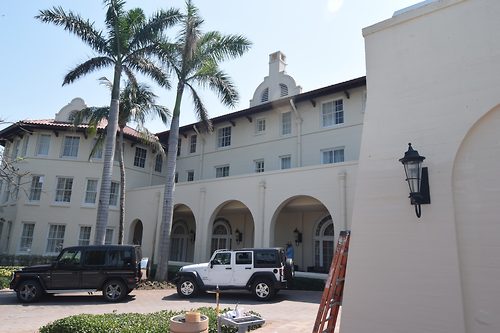 It was warm, but not too hot. In the grand scheme of Key West weather, this was pretty good, but it was still hot enough to be sweating easily.  The heat and walking took a toll on the kids, so we did not see much on foot.  I am a little disappointed we did not get to do more, but I was trying not to push my oldest daughter too hard and with kids in general, sometimes you just have to "keep it in second gear."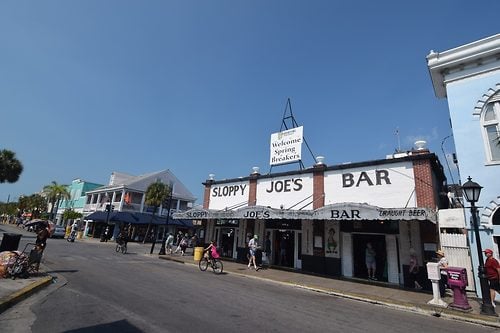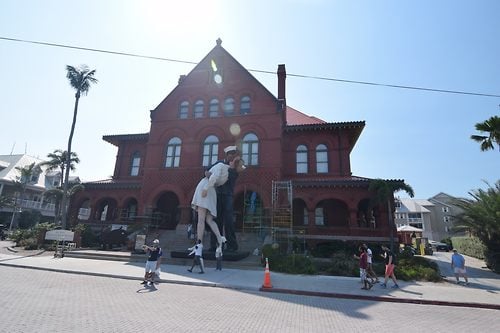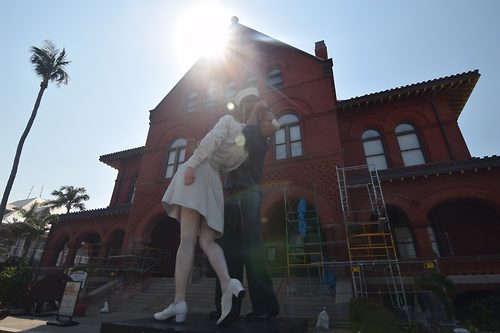 We got back to Rhapsody of the Seas at about 4pm.  The kids were exhausted, so they took a nap.
Sail away was right at 6pm, and I decided to take it in from the comfort of our balcony. Turned out to be a great spot!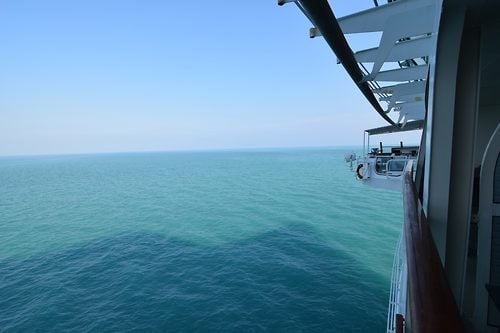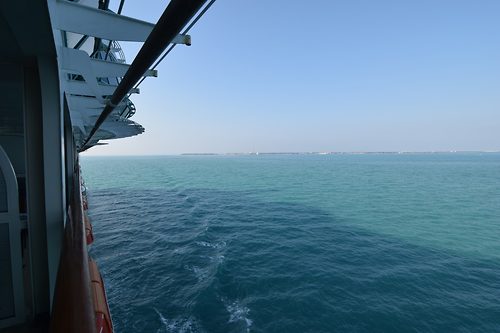 The children had to be coaxed out of their coma-like naps and we got them ready for an evening in Adventure Ocean. We opted to order room service for the kids to simplify things, and also because all they ever want is some combination of pizza, burgers or hot dogs.
We dropped the kids off and headed up the Concierge Lounge for some pre-dinner drinks, and to enjoy another perfect sunset at sea.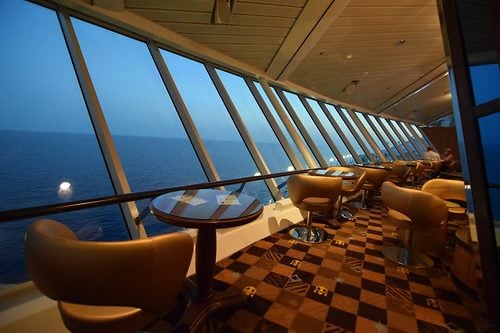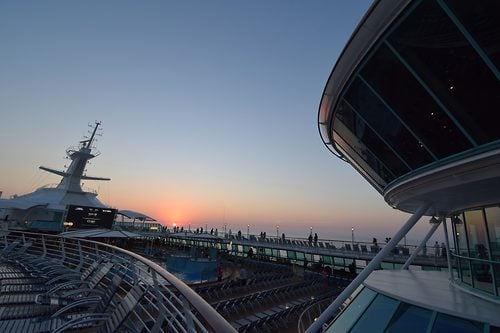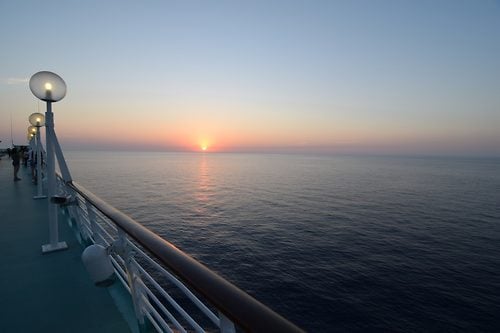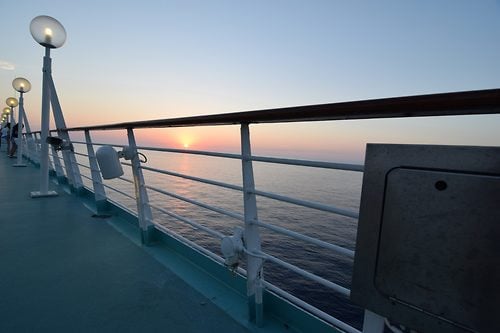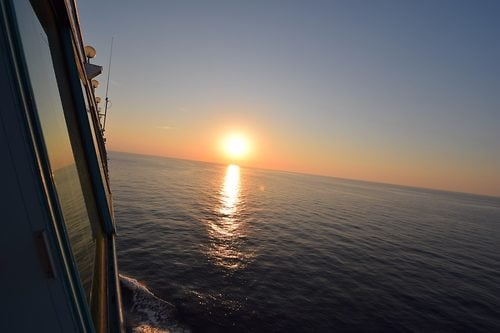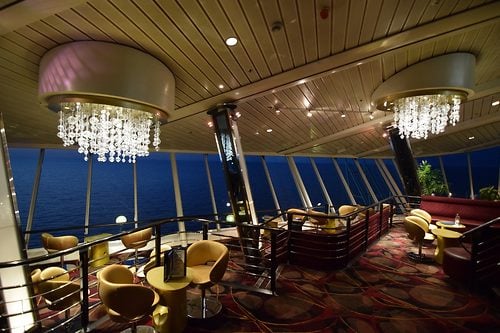 Dinner was in the main dining room again this evening.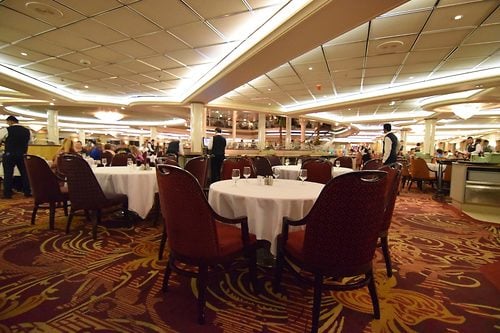 I had requested Indian food last night from the head waiter, and since our head waiter was from India, he took an interest in my request. He brought out biryani (a rice dish) for me to enjoy in two different styles.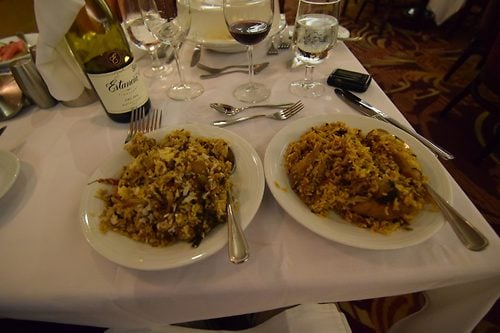 We took a walk after dinner to burn off some of the biryani calories along the outside deck on deck 5.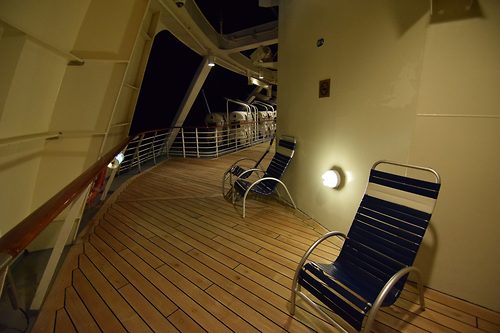 The kids were wiped out from their day, (and from a lack of sleep) so we opted to make it another early night.
Tomorrow is a day at sea!
Stray Observations
Since we had not visited any foreign ports yet, there was no immigration process we had to do in Key West.
My "million dollar idea" is to create a place in popular tourist towns called "Nap Shack" and offer heavily air conditioned, dark rooms for rent, where one can nap for an hourly rate.
We set our clocks back one hour tonight. Hello Central Time Zone!

There was far more entertainment this evening, but we are enjoying taking things easy. I do have a bit of FOMO (fear of missing out), but I just keep reminding myself that I am on a cruise and it's fun no matter what! Also, sleeping 8 hours is a great feeling.