Rhapsody of the Seas Live Blog Day 3 - Sea Day
In:
Our first sea day on Rhapsody of the Seas is here, and we started off by sleeping in.  The ship's time went back one hour to keep us on local time, so we got an extra hour of sleep in the process.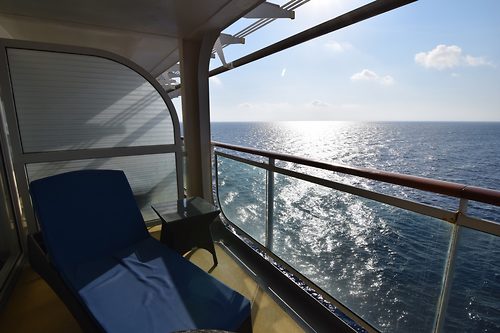 We had breakfast in the Windjammer and then partook in the time-honored tradition of dropping the kids off at Adventure Ocean for the morning session.  I have to tell you, it felt great!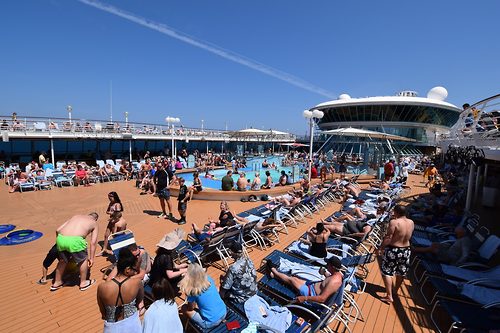 My wife and I headed down to the Schooner Bar for morning trivia. We joined a team, but did rather poorly (who knew elephants were pregnant for 22 months!). Still, it is always fun to play trivia.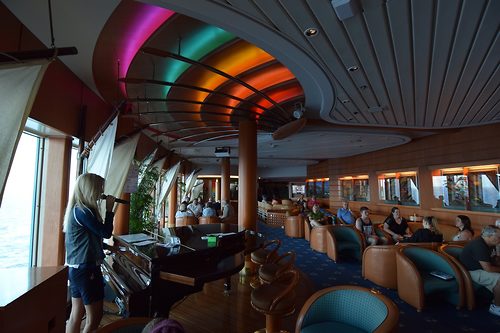 Since we were already on deck 6, I made a pit stop in the nearby Diamond Lounge for a latte.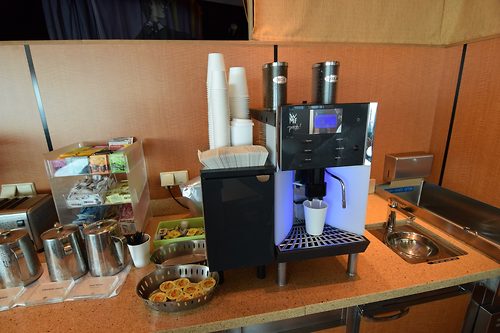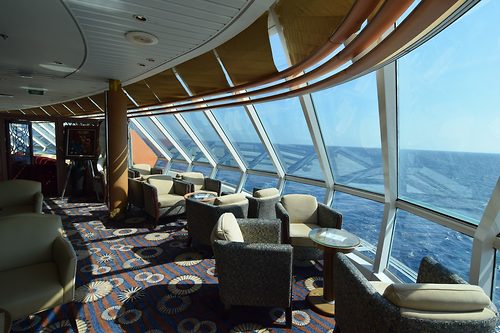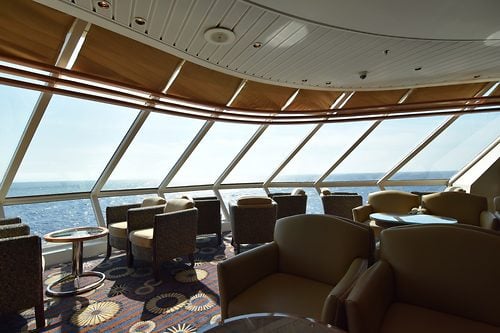 We also took this opportunity to finally figure out what we are doing in Cozumel tomorrow. There were a lot of options, but we booked Iberostar Cozumel all-inclusive day pass.  We are hoping for a not super crowded day, with plenty of time at the pool and flowing drinks and food.
We rounded out our morning enjoying some quiet time relaxing at the Solarium.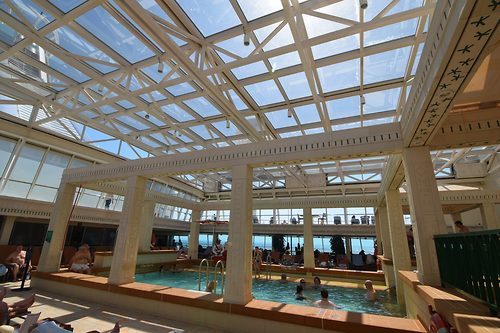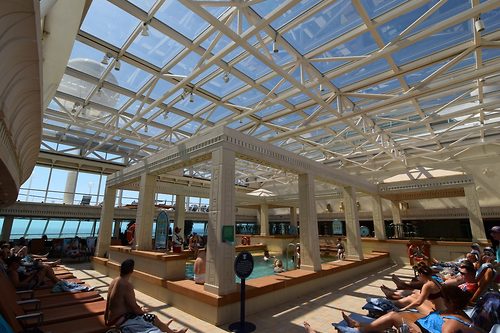 We picked the kids up from Adventure Ocean and went back to the room for a bit.  My wife and the kids went to a drawing activity listed in the Cruise Compass, while I attended the reception for suites guests in Giovanni's Table.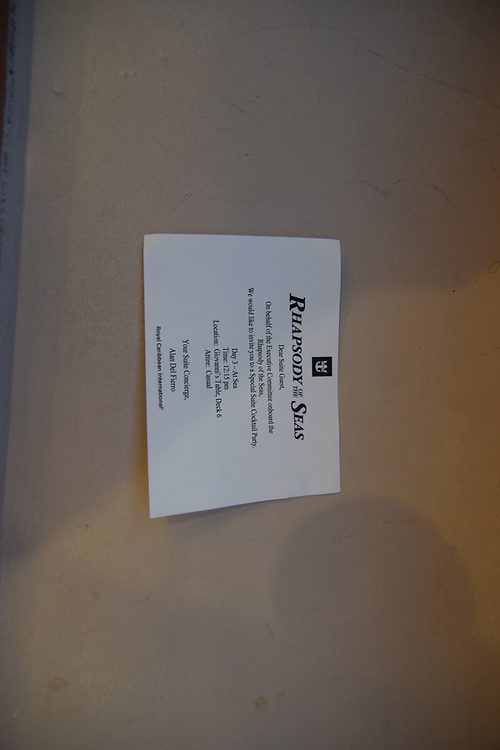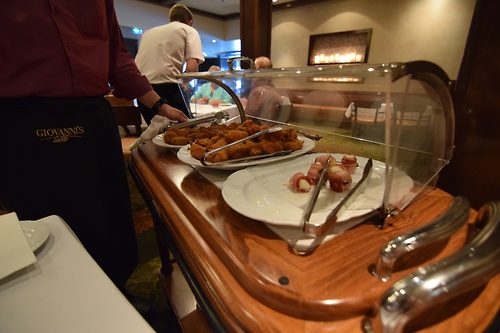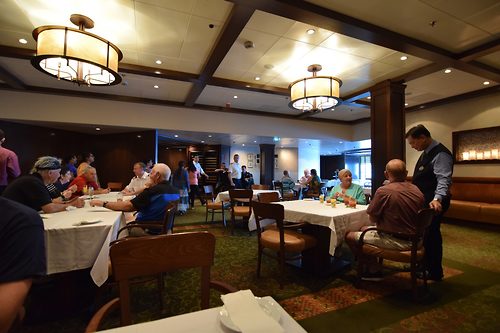 There were complimentary cocktails, along with some finger foods.  There was even sushi!
I shared a table with RoyalCaribbeanBlog readers Kathy, Jeff, Zach and Jacob.
We missed lunch at the Main Dining Room, so we went to the Windjammer.  I was pleasantly surprised to find a Make Your Own Gyro station.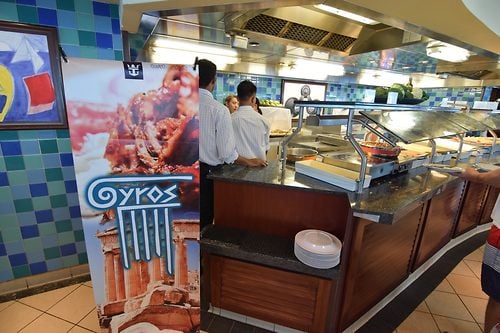 I also overheard a Chops Grille waiter walking around mentioning a discount.  I asked him about it, and scored 30% discount and a free bottle of champagne if we booked!  Looking forward to Chops Grille on the second formal night. Never be timid about talking to crew members.  A simple "no thank you" is all that is needed if what they are offering is not of interest.
For the afternoon, we let our youngest nap while the older one went back to Adventure Ocean.
The kids requested to be picked up early to partake in a special family edition of trivia in the Schooner Bar, which was Disney trivia. It was a heated competition and packed!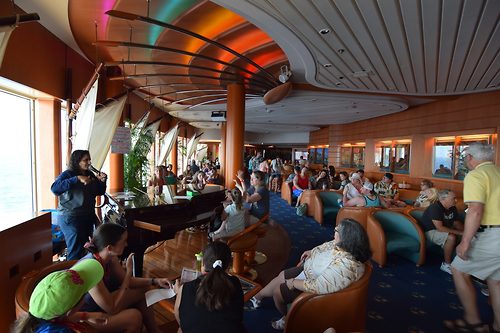 It was formal night, so we headed back to the room for showers and changing into our formal clothes. I took the kids around the Centrum to take photos with the professional photographers.
After getting our photos in, we took the kids up to the Windjammer for dinner.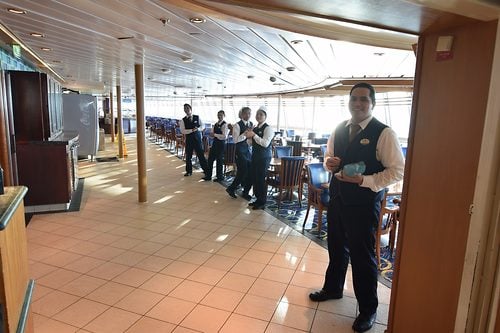 Once again, there was a beautiful sunset to enjoy. Weather has been holding up nicely each evening.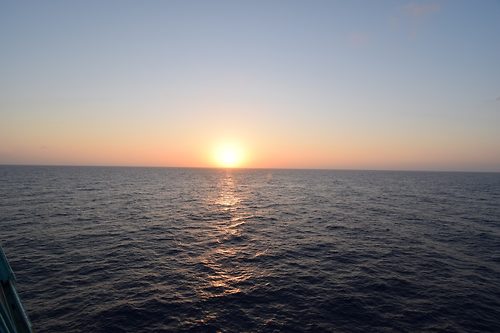 After dropping the kids off at Adventure Ocean, it was time for our usual evening "routine": drinks at the Concierge Lounge and dinner in the main dining room.
This evening they had a show in the theater, The Piano Man. It is a tribute to singers such as Billy Joel, Elton John, Stevie Wonder, etc.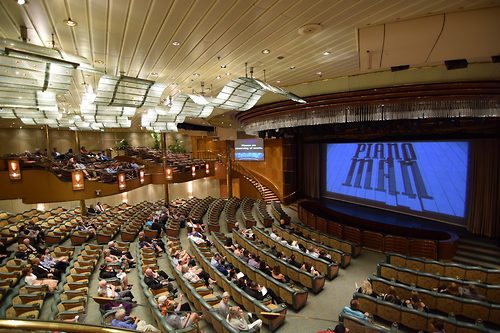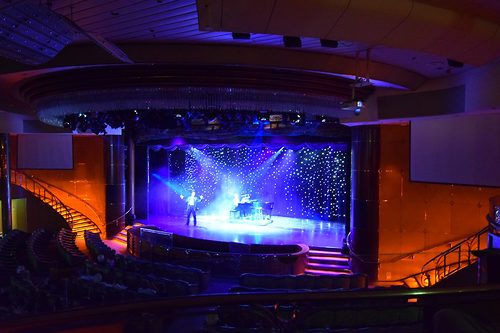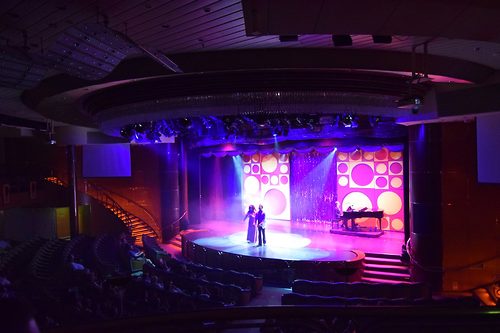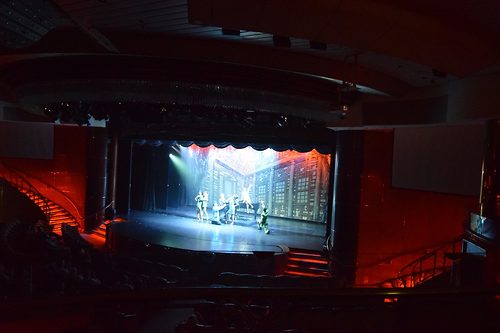 For those keeping score at home, we managed to make it past 10pm before picking up the kids!
Tomorrow is a port stop in Cozumel!
Stray Observations
The curtains that surround the master bed do an excellent job at blocking out the sun.  It get as dark as an interior stateroom with the curtains deployed.
On Rhapsody, parents get pagers for kids in Aquanauts (ages 3-5).  We have rarely, if ever, gotten pagers/phones for Aquanauts. 

Drink specials galore!

Speaking of drink packages, I asked a bartender in the Schooner Bar about the drink card but she was not aware of any plans yet for it to appear.
Coffee of the Day is evidently a thing on Rhapsody.