In:
Island hopping in Greece has always been a dream of mine, and today that dream became reality! Our second day of my 7-night Greek & Adriatic cruise on Rhapsody of the Seas brought us to our first port of call: Mykonos, Greece.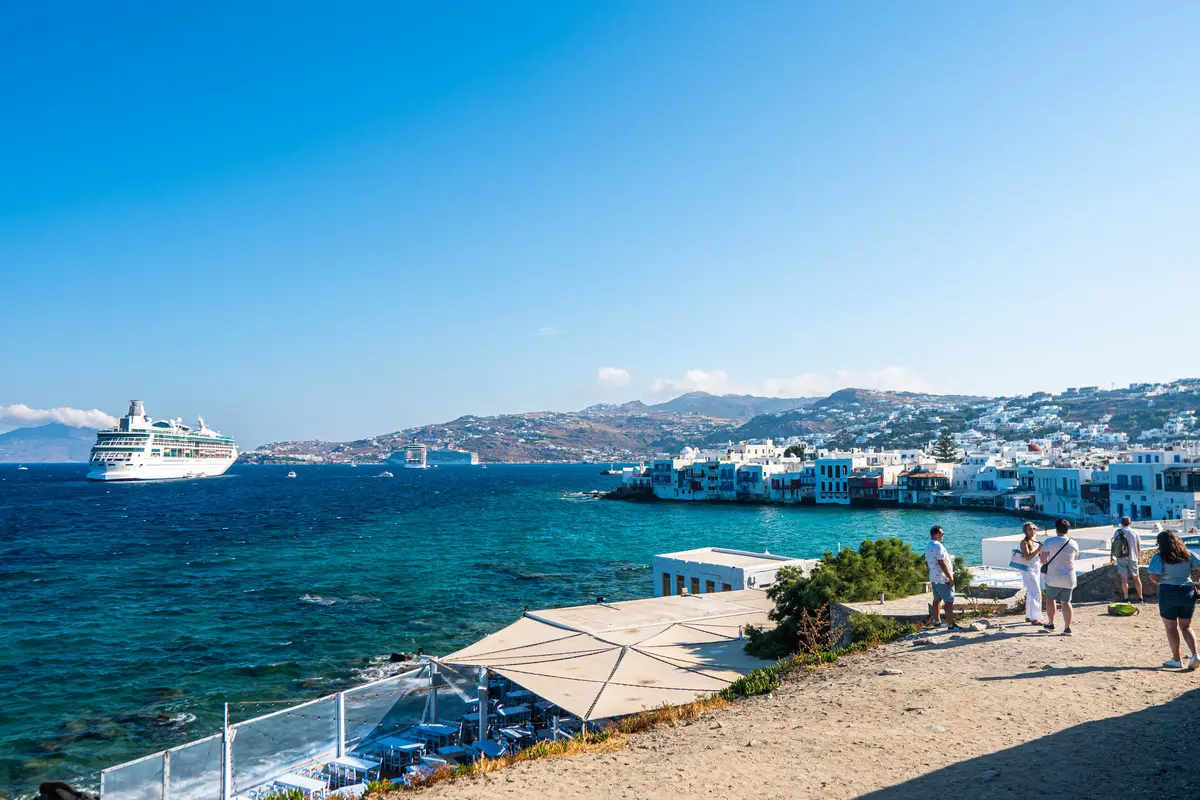 Mykonos is an island in the Aegean Sea, nearly halfway between Athens, Greece and Izmir, Turkey. Known for its party atmosphere, picture-perfect towns, fresh Greek food, and turquoise beaches, Mykonos is a bucket-list destination for those hoping to discover what makes Greece so special.
I usually don't have expectations for the ports I visit, but I was pretty worried Mykonos would feel extremely overhyped and overcrowded. After all, it's one of the most popular islands to visit in Greece! The moment I arrived in Mykonos, though, I realized that it is absolutely worth the hype and I loved every second of my time on the island.
Arrival in Mykonos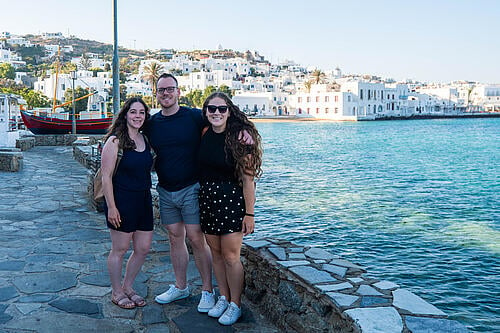 We sailed into Mykonos around 6:30AM. While Mykonos is the name of the island, cruises visit "Mykonos Town", otherwise known as the town of Chora.
Mykonos is a tender port, so small boats take guests from ship to pier. Tender tickets were being distributed starting at 7AM. We received a note in our stateroom mentioning that peak time for tendering was estimated to start at 8AM. The idea of waiting in line to leave did not sound appealing, so we had a quick breakfast at the Windjammer and were off the ship by 7:35.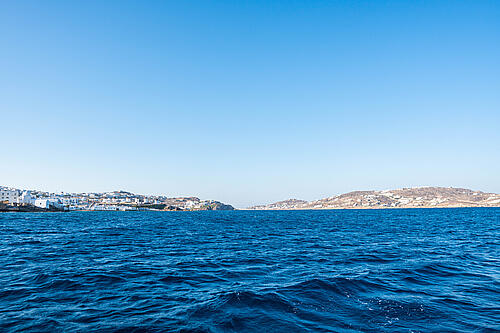 The ride to Mykonos lasted only a few minutes and was full of beautiful views of the island's iconic white buildings atop the mountainside. Because it was so early, Mykonos was relatively empty when we arrived.
Mykonos is a maze of bright white buildings with blue and red windows and doors, making it one of the most picturesque places I've ever seen. You can't help but wander around town taking photos and admiring the architecture.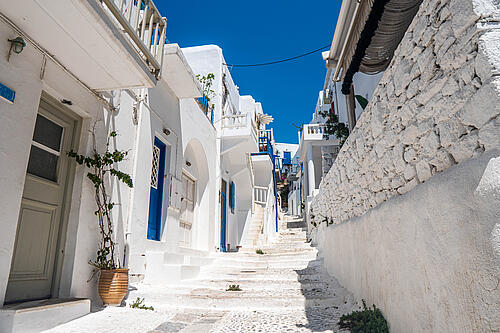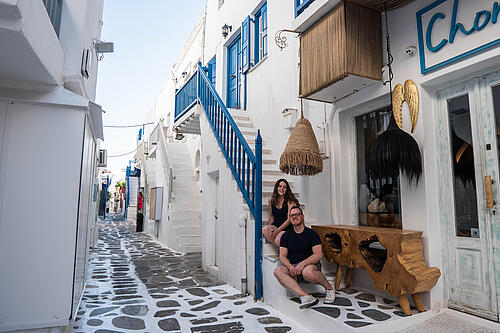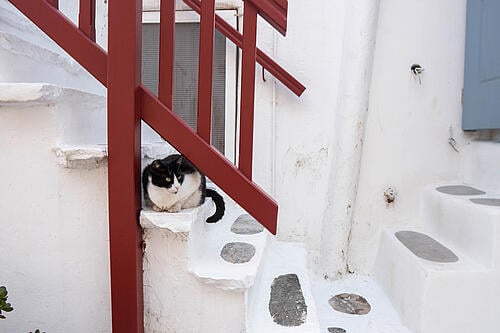 Navigating the narrow streets and getting lost reminded me of Venice, Italy (although it's lacking the canals and bridges, of course). You're also bound to run into plenty of cats calling Mykonos home!
Windmills and views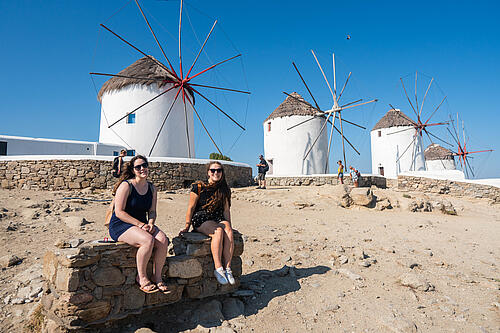 Mykonos is known as "The Island of the Winds" because of the strong winds that tend to blow on the island. I can attest to this, as it was definitely quite windy today in port!
We stumbled upon the most famous set of windmills on the island, which have an unbeatable view of the port and town. These windmills were built in the 16th century to grind grain into flour, and are now one of the most iconic symbols of the island.
The view from the windmills is stunning, offering a panoramic view of the ocean, mountains, town, and cruise ships. Needing a break after walking around in the sun all morning, we relaxed on a rock overlooking the harbor to take in the views. We also had a brief photoshoot, as is mandatory with such incredible scenery.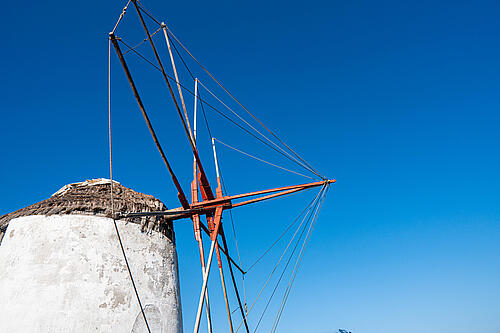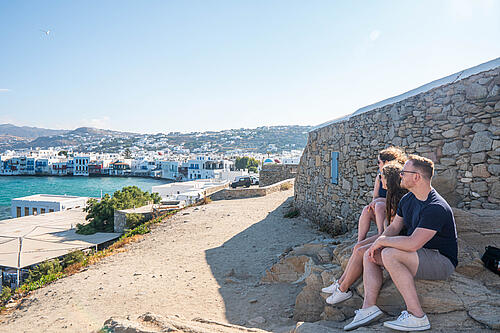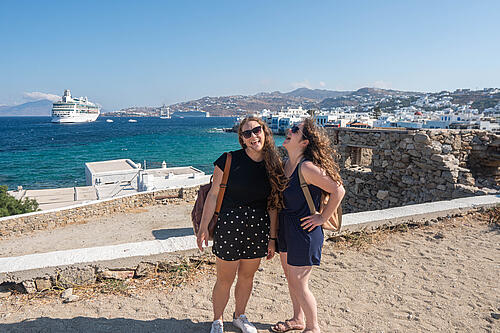 Note: Go early to see the windmills before hoards of other tourists arrive. When we visited around 9AM we were among the only people there, but when we walked past the windmills just an hour or two later it was packed!
Time to eat!
When it came time for lunch, we weren't expecting to find any type of "hole in the wall" spot near the Mykonos cruise port. The main area near the port is full of restaurants catered toward tourists, but we were hoping for something more off the beaten path.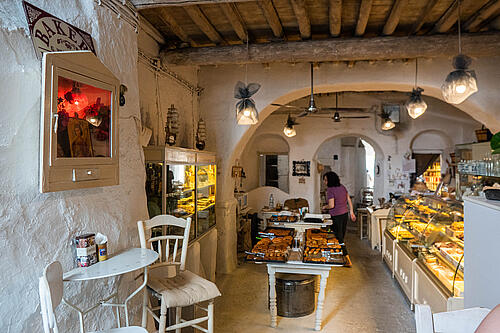 We somehow stumbled upon Gioras Pastry Cafe, an unassuming bakery tucked into a side street in Mykonos that was formed in 1420. Yes, 1420! It is the oldest bakery on the island, and it was maybe the only place I encountered all day that seemed to exist without extensive marketing to tourists. I guess you don't need much marketing when you've been in operation for 602 years!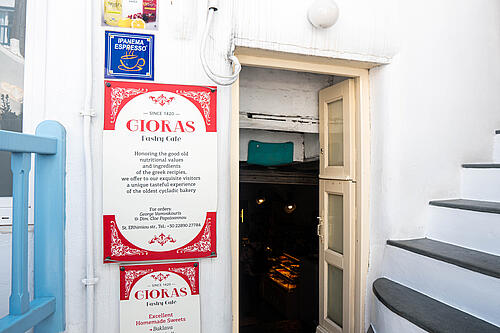 Located partly underground, the bakery has a selection of freshly baked pastries situated on baking trays placed atop a large table. In the bakery's cases are smaller sweets, from pistachio phyllo desserts to chocolate almond and sesame honey cookies.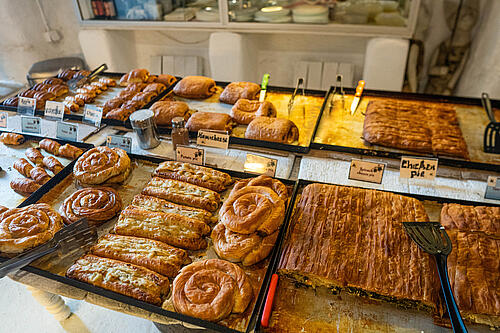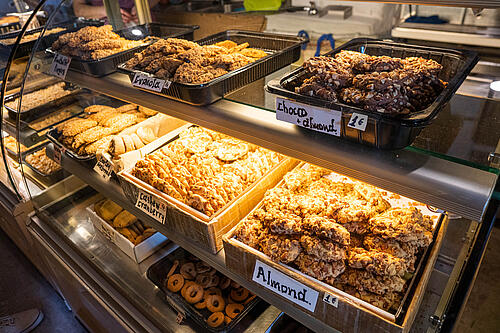 We ordered spanakopita, a traditional spinach and feta pie, along with iced cappuccinos and a selection of baklava and cookies. It was absolutely delicious (especially the spanakopita), so much so that we went back for seconds!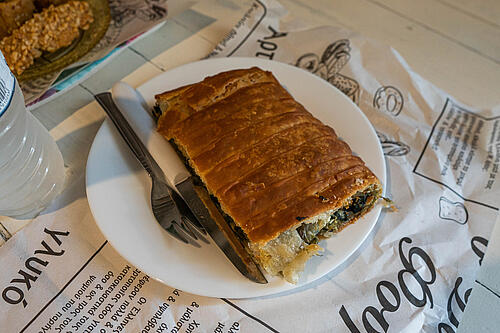 The bakery workers spoke little English and were very friendly and welcoming, without any of the pressure you'll often find in touristy restaurants and businesses. My sister Lauren even called the bakery "the highlight of her day" despite being surrounded by gorgeous mountains and oceans all day! It really was that good.
Beach and gelato adventures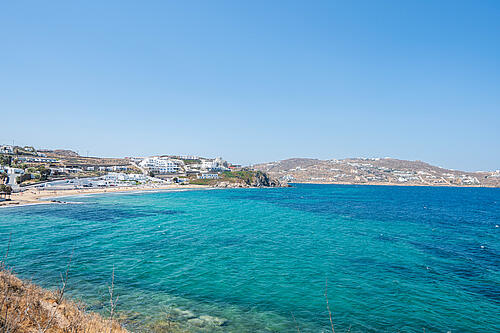 Full and caffeinated, we continued walking around the charming streets of Mykonos with one goal in mind: the beach. There are a few beaches within walking distance of Mykonos Town, so taking a taxi or excursion to the beach is not entirely necessary.
We walked along a coastal road to Paralia Megali Ammos, a beach located only 15 minutes walking distance from the town center. With a nice strip of sand and refreshing clear water, it was the best mid-day break we could have asked for. There were also smaller beaches scattered along the coast, although this seemed to be the most spacious of them all.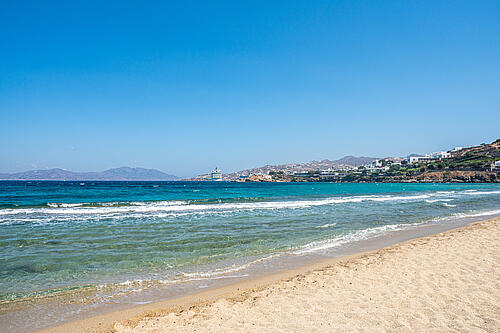 When we left the beach and arrived back in the main part of town, we found the streets to be much more crowded than we had experienced earlier in the day. The crowds were not unmanageable or overwhelming, though, even with three ships in port.
We walked along the street surrounding the Mykonos port, which was filled with cafes, restaurants, and souvenir shops. There's also a small beach there, but it was really crowded, so I would recommend traveling a bit further from the cruise ships if you're interested in a beach day.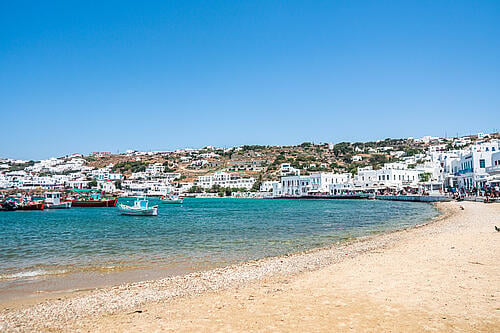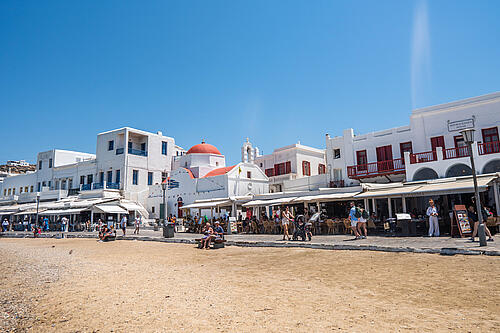 Gelato was calling our name, so we sat at DaVinci Gelato for a delicious cup of pistachio and vaniglia nera (Madagascar vanilla) gelato. It definitely hit the spot and was the perfect treat to enjoy before getting back onboard Rhapsody of the Seas.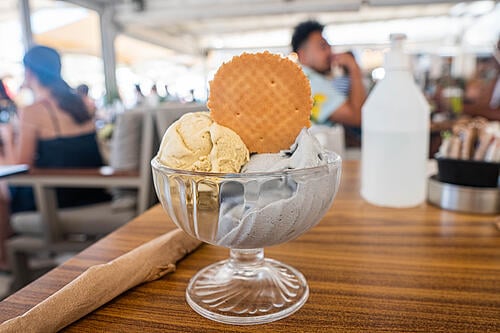 An evening onboard
We got back onboard around 3:30PM. Crowds (and the temperature) on the island were increasing rapidly as the afternoon went on, and we felt satisfied with our busy 8 hours in port. Our first stop once back onboard was the Solarium for a much-needed cool-off session after walking around port all day.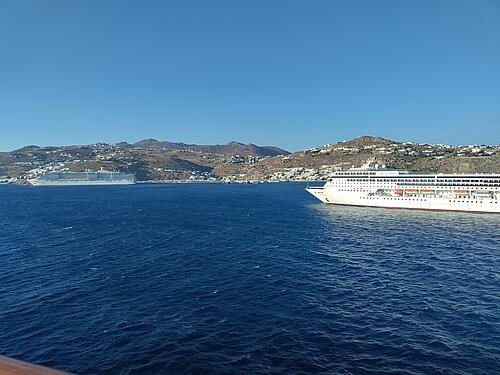 We had another nice dinner in the Main Dining Room tonight before relaxing outside to watch the ship set sail from Mykonos. While I am only two days into this cruise, I cannot believe how amazing the itinerary, weather, cuisine, and culture is on this sailing. I'm happy the ports are all close to the main attraction, too, so I don't have to worry about spending hours in transit from the port to reach cities or landmarks.
We haven't done much of anything onboard after dinner during this cruise so far. After long, busy port days, all we've wanted to do in the evenings is relax on the pool deck and watch the world go by. That's exactly what we did this evening!
Tomorrow we are in our second port of call: Chania, Crete. Known as "The Little Venice", I cannot wait to see what another day in Greece has in store.