In:
Today is the third day of my 7-night Greek & Adriatic cruise on Rhapsody of the Seas, and it brings us to our second port of call: Chania, Crete.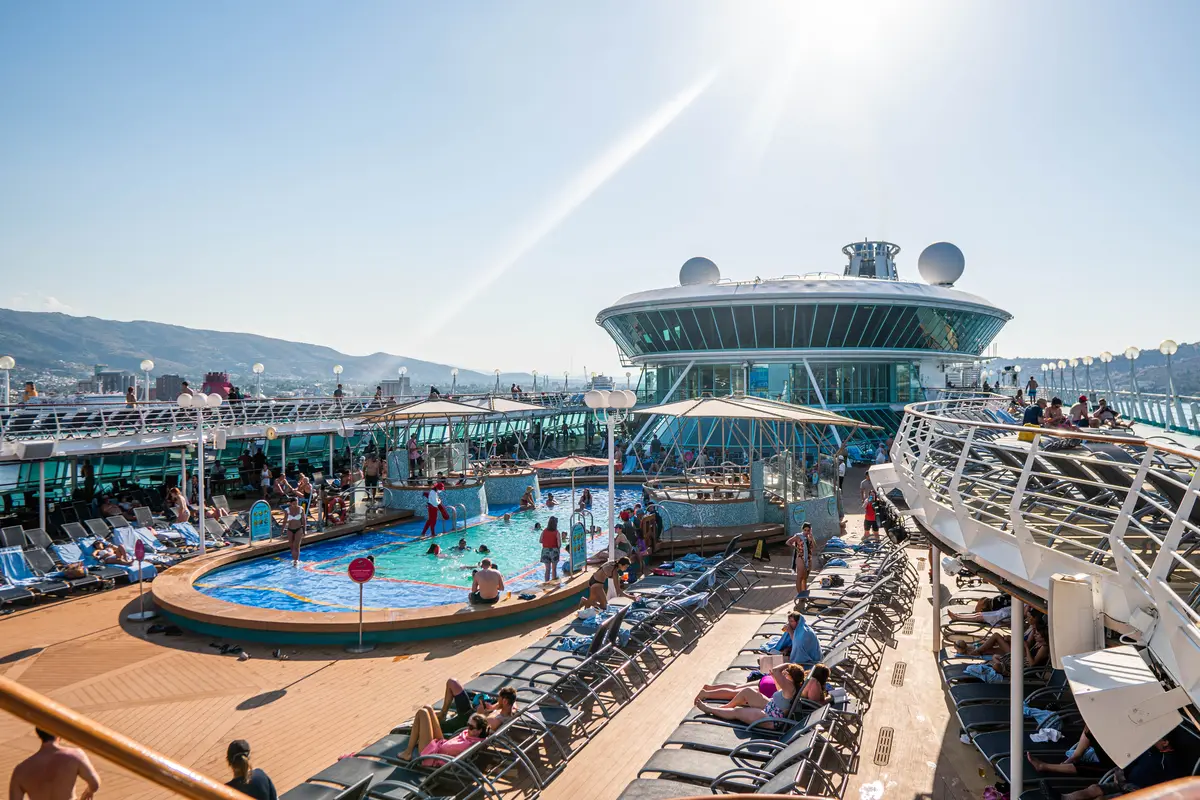 What is Crete?
Crete is the largest island in Greece and the fifth largest in the Mediterranean, with a population of around 636,000. The island is mostly mountainous, with jagged peaks rising dramatically out of the sea. Dotted along the landscape are valleys, gorges, lakes, rivers, beaches, and caves.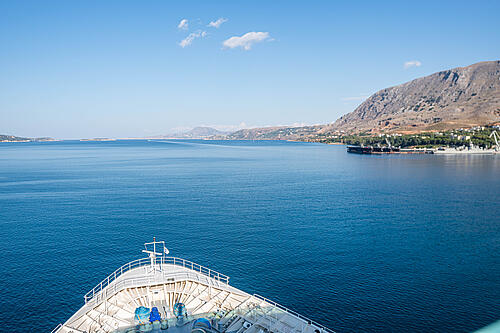 Crete has been influenced by a variety of cultures throughout history, from the Venetians to Ottomans, Arabs, and Byzantines.
The island is also said to be home to the first major European civilization, the Minoans, who called the island home around 5,000 years ago.
First impressions of Chania, Crete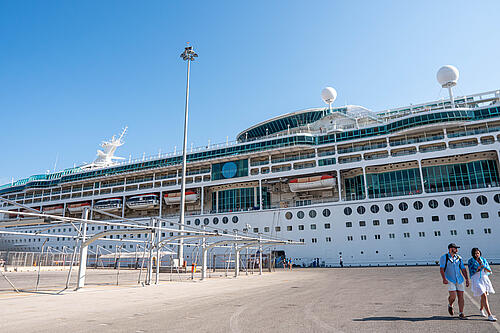 Cruise ships dock near the town of Chania in Crete, located on the northwest coast of the island. A complimentary shuttle is available to bring passengers from port to Chania's town center.
We did not have any set plans for the day, but were hoping to just wander around Chania to taste local food and relax amongst the town's history and culture.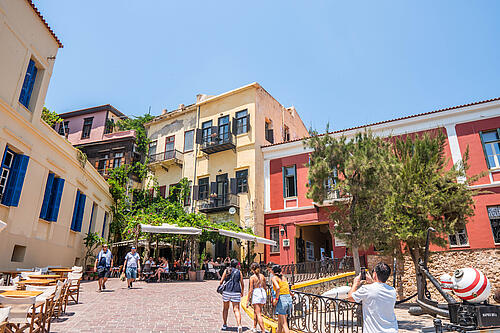 I had heard amazing things about Chania's historic Old Venetian Harbor, built by Venetians in the 14th century as a leading trade center in the Mediterranean sea, so we headed there as soon as we got off the shuttle bus.
The walk to the harbor was as picturesque as it gets, with narrow cobblestone streets filled with cafes, restaurants, flowers, and cats.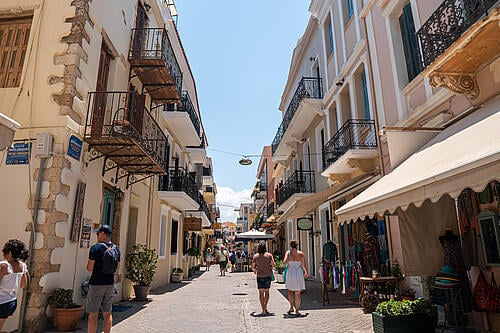 It's easy to see why this area of Chania is named the "Old Venetian Harbor". Charming buildings painted with a colorful palette of oranges, blues, reds, yellows, and pinks dotted the town.
While I was reminded of Venice while walking through Mykonos yesterday, I actually felt like I was in Venice today in Crete!
We walked along the harbor, which led us to the port's lighthouse and wonderful views of Crete's scenery and towns.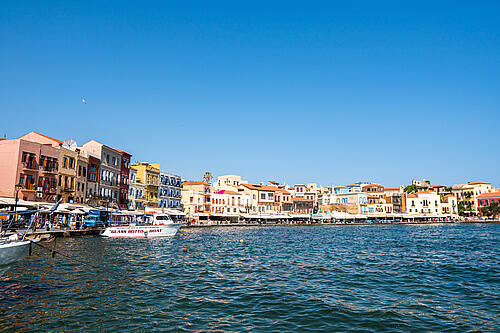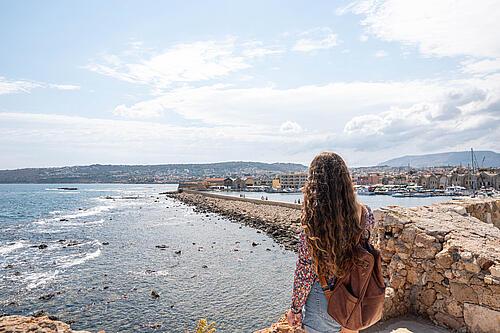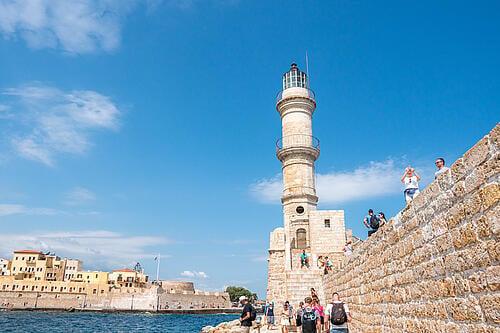 Afternoon in the sun
The temperature today felt very warm. While the temperature yesterday in Mykonos was similar, the island's strong winds created a nice breeze, allowing us to keep relatively cool. Today, however, the sun was extremely strong.
Due to the heat, we stopped for fresh-squeezed juices at a cafe before a delicious Italian meal at Laganon Fresh Pasta. With freshly made pasta noodles and a savory arrabbiata sauce, it was a fantastic, cheap lunch choice (6 euros per dish) in Chania!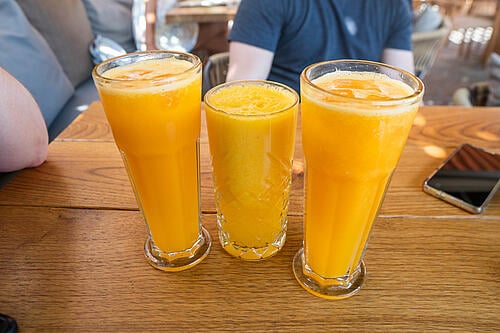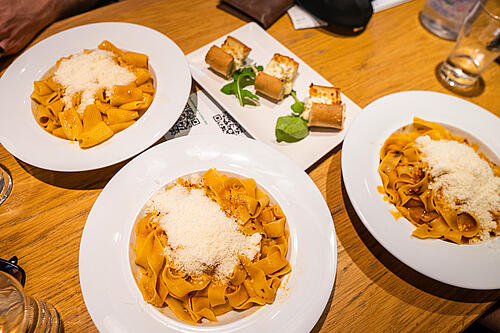 After lunch, we continued walking along the harbor, which led us to even more cute alleys and streets to explore. Just like yesterday in Mykonos, Chania was much more crowded in the afternoon compared to the morning, but the crowds were not overwhelming.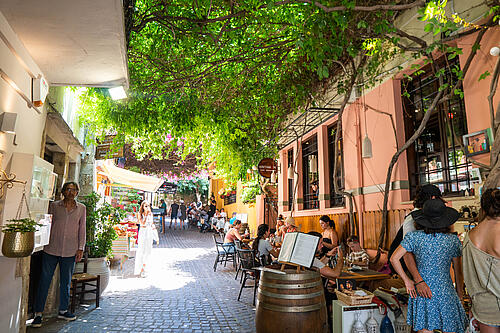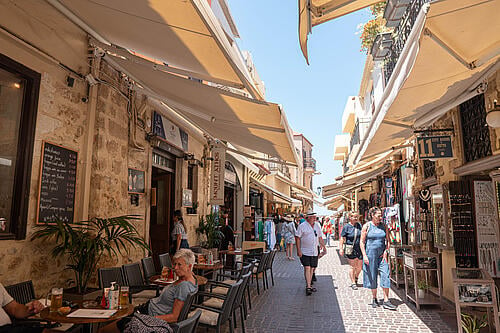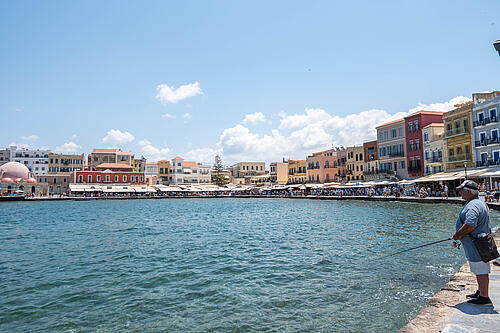 Crete is a huge island compared to the other Greek islands on this itinerary. It's impossible to see the whole island in one day.
I would definitely love to come back for a longer period of time to hike, bike, and climb the island's steep mountain peaks, but for a short port day it was nice to simply wander around the Venetian Harbor.
Other than walking, shopping, and sitting at local cafes and restaurants, there were not a ton of activities to do in the town of Chania itself. Popular attractions like beaches, caves, and mountains were further away and probably best done with an excursion through Royal Caribbean or an independent provider.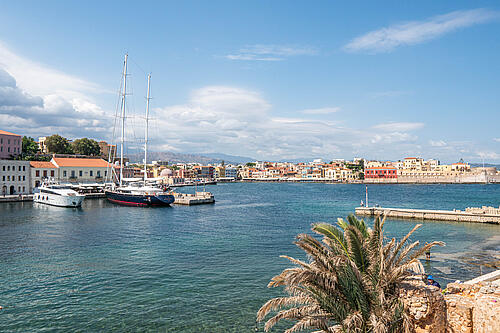 There were several boat tours available to book directly at the harbor, though, with pricing at 15 euros for an hour tour to a nearby island. This is something to consider if you're hoping for a more adventure-filled day in Chania!
I am perfectly content to relax at a cafe while people watching and enjoying the ocean breeze, so I found the town to be exactly what I wanted. We enjoyed cocktails in a small bar overlooking the harbor to get out of the sun for the remainder of the afternoon.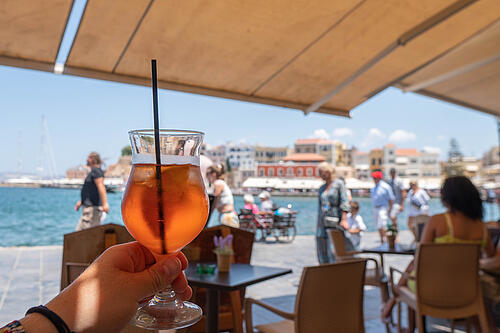 Our last stop in Chania was to a local bakery to purchase a few snacks to bring back to the ship with us. We were able to board the shuttle bus right away and head back to Rhapsody of the Seas around 4PM.
Back onboard
Today's strong heat made us pretty tired, so a nap was in order when we returned to our stateroom. Napping in an interior stateroom in pitch-black darkness is the best!
We decided to dine at the Windjammer for dinner tonight as opposed to the Main Dining Room. Having so many port days in a row, along with all the travel we did to get to Greece in the first place, has made us a little exhausted (in the best way possible). The idea of a long sit-down meal did not seem appealing tonight, and I find dinner at the Windjammer to be just as good as the dining room!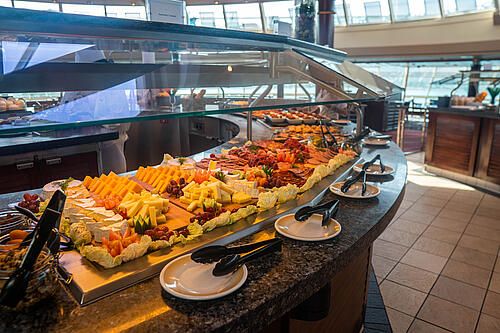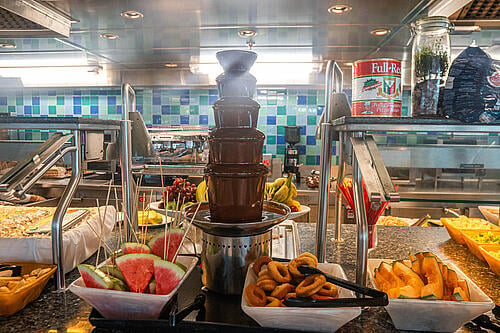 Rhapsody of the Seas set sail from Crete as we ate, and I was absolutely amazed by the island's scenery as we began the journey into the open Mediterranean sea. We relaxed in the Solarium while enjoying our last views of Crete.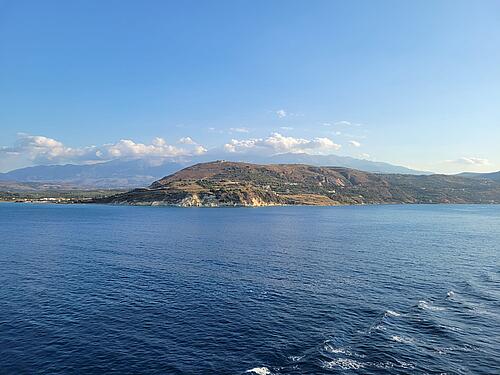 While we've been pretty tired at night due to full days exploring port, we finally made it out of our stateroom tonight to explore activities and entertainment available on Rhapsody of the Seas.
First up was a trip to Schooner Bar for cocktails and piano entertainment followed by a brief visit to Casino Royale. I also briefly stopped by the theater to watch a bit of "Ballroom Fever", a signature production show on Rhapsody of the Seas combining various types of ballroom dancing with vocals.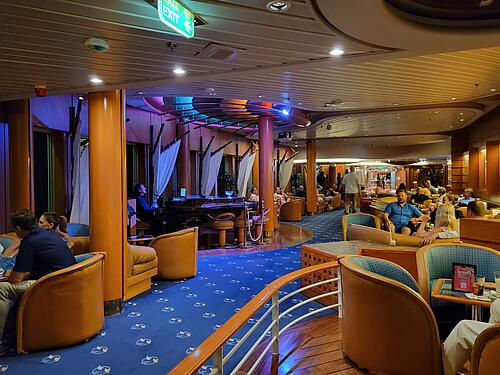 It was finally time to head to bed and get ready for another port of call tomorrow: Zakynthos, Greece. With only one more port day in Greece, I'm already sad to say goodbye to what has quickly become one of my favorite countries in the world!