Rhapsody of the Seas Live Blog Day 7- Sea Day
In:
Our last day is a sea day, and I always try to remind myself that it is still better to be on a cruise on your last day, than not on a cruise at all.
After three port days in a row, the family all slept in this morning.  We also had our clocks go ahead an hour to catch us up with local time in Tampa, so in short, we had a slow start to our morning.
Not many breakfast options past 9am, so we rolled into the Windjammer for breakfast and coffee.
After that, we took the kids up to Adventure Ocean while my wife and I enjoyed some relaxing time on the pool deck.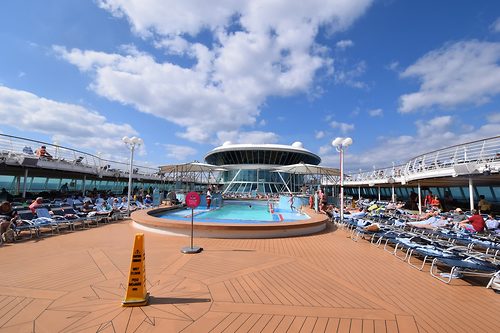 I started off with a Bloody Mary at the pool bar.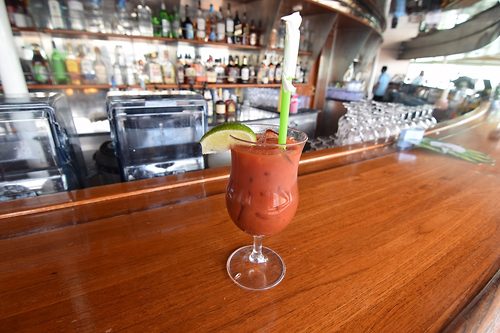 We then made our way to the Solarium for warmer temperatures.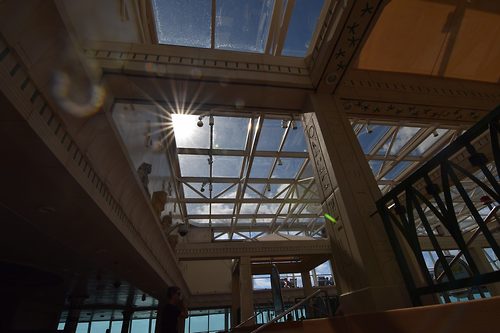 I was talking to Royal Caribbean Blog reader Jacob about a deal he spotted for Izumi in the Cruise Compass, where you could pay $25 and get a $50 credit to use at Izumi.  I immediately ran up to Izumi and they honored the deal, so lunch would be at Izumi!
Izumi is on deck 11, a half deck above the Viking Crown Lounge.  It is a very odd spot, but also a beautiful area.  The vantage point Izumi offers in this location means some really nice views of the ocean and decks below.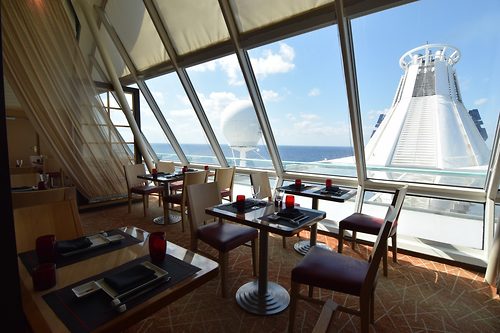 They have a special kids menu, and the kids ate free.
I went for a suhi-rific lunch selection, while my wife opted for chicken karage and dumplings.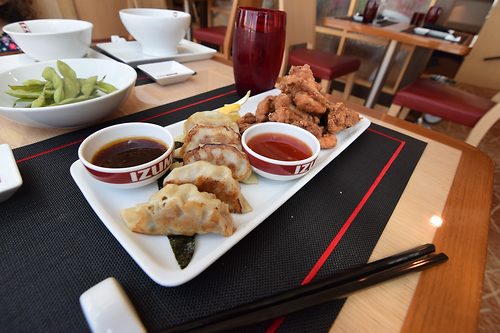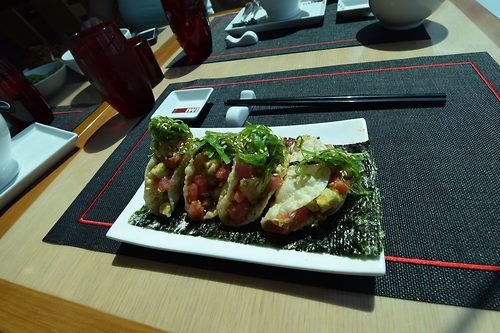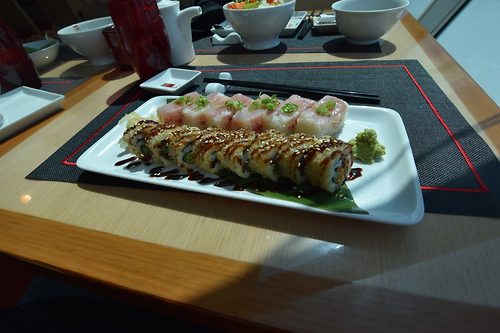 After lunch, my wife and oldest daughter went to see The Greatest Showman in the theater, while I took my youngest daughter to have her own lunch (room service pizza).
The movie and pizza both wrapped up right at 2pm, which meant an afternoon session for the kids in Adventure Ocean.  It also meant we (read: my wife) could start packing.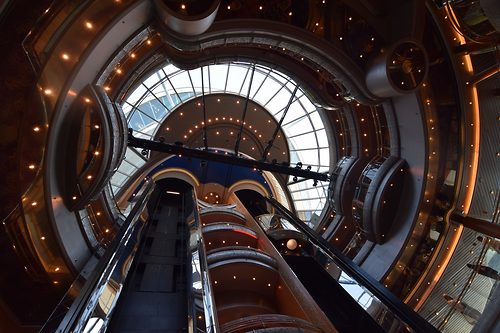 I noticed this mail box near Guest Services.  I do not recall ever seeing a mail box before on Royal Caribbean, but I might be forgetting one or two.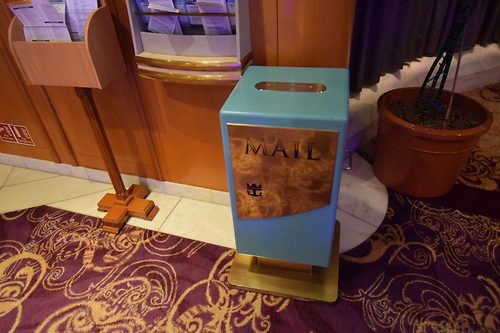 As afternoon turned to evening, we picked the kids up from Adventure Ocean and I took an opportunity to get one last nap in on our balcony.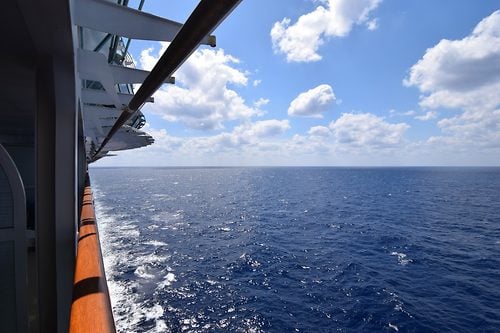 We also got one last great sunset, that I took in from the comfort of the Concierge Lounge.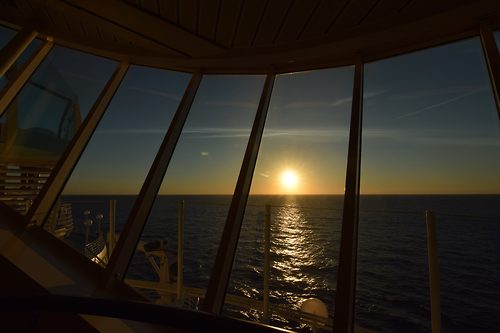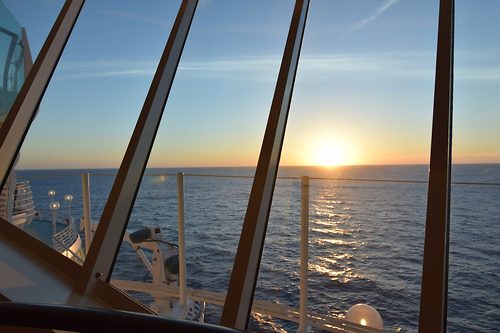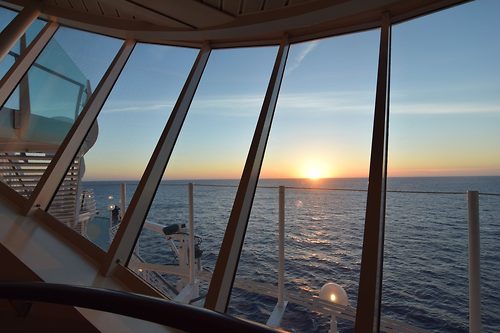 Dinner was back in the main dining room.  I was really impressed by the fact I had a plate of savory bites on the table.  I had asked my assistant waiter if they had savory bites on day 1 or 2, but to my delight, they had made some for us on the last night.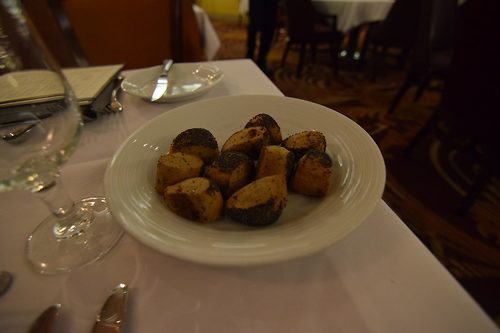 After dinner, we enjoyed some music with friends in the Schooner Bar. I also managed to use up all of my drinks on my drink card.
Overall, this was a great cruise experience for all of us.  It was relaxing, we spent a lot of time together as a family, and I think each of us really enjoyed our time onboard.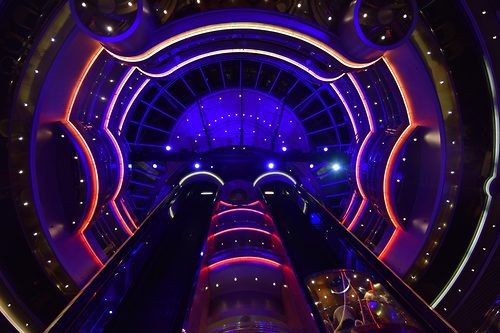 As this was my first Vision class ship, I liked being on this class of ship.  Like the Radiance class, it is easy to get around. We rarely waited for an elevator, easily got between the forward or aft areas by foot, and even on port days never had issues with embarkation or disembarkation.  For tendering, it is simply the best.
Our room worked out really well for us.  While we have stayed in suites before, this may have been the best overall suite experience we had. 
The crew on Rhapsody were excellent from start to finish.  We had a great collection of wait staff, stateroom attendants, Adventure Ocean counselors and everyone inbetween.  The suite concierge alone was incredible with his friendliness, charm, and attention to detail.
Alas, this cruise and live blog must come to an end now. Thanks for following and sharing comments with me along the way.  I really have enjoyed reading them, and responding.  I cannot wait to share my next adventure on Explorer of the Seas to Alaska this summer!