Top 5 ways to splurge on a Royal Caribbean cruise
In:
A Royal Caribbean cruise offers a lot for guests to experience and if you have some extra cash to spend, there are some great ways to indulge while onboard.
Quite a lot of entertainment comes as part of a Royal Caribbean cruise, but if you want to reward yourself a little bit, check out this list of our favorite ways to enjoy some "me time".
5. Starbucks
Sure there is plenty of really good complimentary coffee, but one easy way for everyone to splurge is to get your favorite latte, cappuccino or iced whatever at Starbucks.
Royal Caribbean's partnership with Starbucks has long been a great benefit for guests who are fans of Starbuck's beverages.  For a lot of guests, Starbucks coffee is a great premium coffee drink and the fact our favorite cruise line offers our favorite coffee is just perfect.
The great thing about splurging for a Starbucks drink is that it is only a few dollars, so it is a very affordable splurge.
Be sure to check your Crown and Anchor Society discounts that are loaded onto your SeaPass account, because there is usually a buy one, get one free deal on premium coffee included.
4. CocoCay Beach Loungers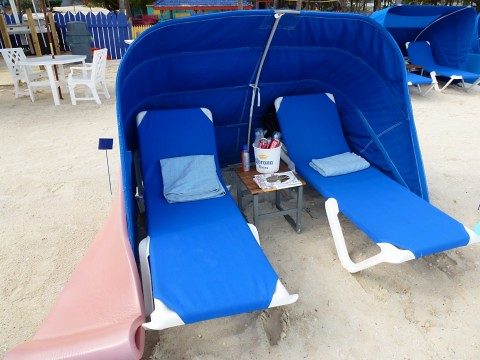 If you are looking for perhaps the best bang for the buck in this list, it has to be the beach loungers at CocoCay.
Formerly known as cabanettes, the beach loungers are clam shell beach umbrellas that offer privacy and protection from the sun, along with some great benefits.
Beach loungers come with two lounge chairs, your own attendant, a bowl of fresh fruit, two bottles of water, floats and towels provided for you.
In CocoCay, the beach loungers have an advantage over the cabanas because they are closer to the ocean for quicker "commutes".
At $50 for a beach lounger, it is a great way to spend some of that onboard credit.
3. Cabanas on Labadee or CocoCay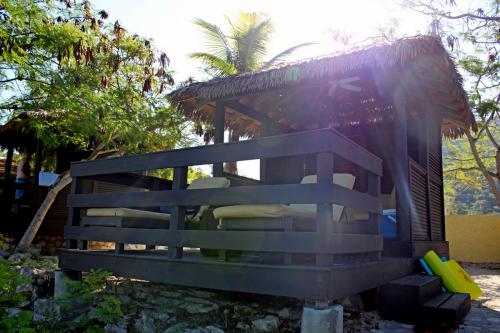 I suppose if we are talking about splurging, we have to go big and the cabanas Royal Caribbean added to its private destinations of Labadee and CocoCay are the ultimate way to enjoy these islands.
The cabanas are private huts that offer the most comfortable accommodations one can find on these beaches and they offer a lot too.
Staying in a cabana gets you
Private ocean view cabana rental for the full day
Furnished with 2 luxurious resort-style lounge chairs & a sofa
Four bottles of water (in a cooler)
Floating beach mats and snorkeling gear.
Towels for your use during the day
For anyone looking to have a private beach experience, the cabanas are really where it's at. 
Cabana prices have been on the rise in Labadee recently, but there is no question that if you want to splurge on either island, a cabana is the way to go.
2. Treatments at the spa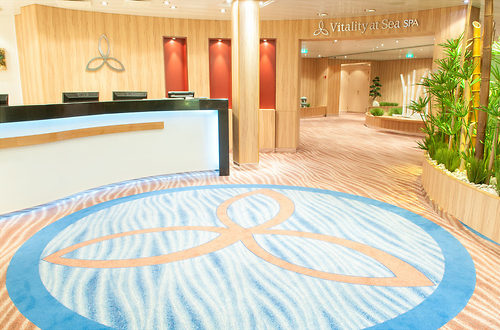 Taking a Royal Caribbean cruise is about relaxing and forgetting about all your troubles and a spa treatment is one of the best ways to accomplish both goals.
The Vitality Spa offers a wide array of treatments, including massages, acupuncture, facials, skin treatments and a lot more.  It is quite difficult to leave the spa and not feeling rejuvenated and a lot less sore than when you walked in.
If you ask me, massages are the way to go with a stop at the Vitality Spa and Royal Caribbean has a lot of choices for you. Deep tissue, hot stones, bamboo and more are all available to book.
If you want to pamper yourself on a cruise, the spa is the way to go.  
1. Booking a suite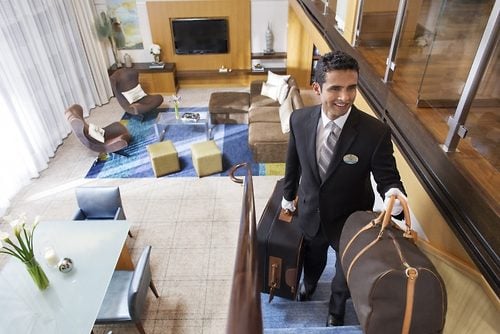 Perhaps nothing else is as synonymous with splurging as a suite stateroom on Royal Caribbean.
Suites are designed to be luxurious, expansive and make you say, "wow" when you walk in.  It's that one thing we all dream about and at least peek at when booking a cruise, even if we know it's not in the cards.
Suites offer more space, amenities and benefits than any other stateroom category and they also have the extra large price tag to go with it.
I cannot think of a better way to celebrate a special occasion or create a memorable cruise experience than staying in a suite.  It is that impressive.
Royal Caribbean has taken the art of creating suites to new levels with the Oasis and Quantum-class ships with the stateroom designs and the new Royal Suite Class program that is coming out.
What is your favorite way to splurge on a Royal Caribbean cruise? Share them all with us in the comments!