In:
The Bahamas and Caribbean are two of the most popular year-round cruising destinations.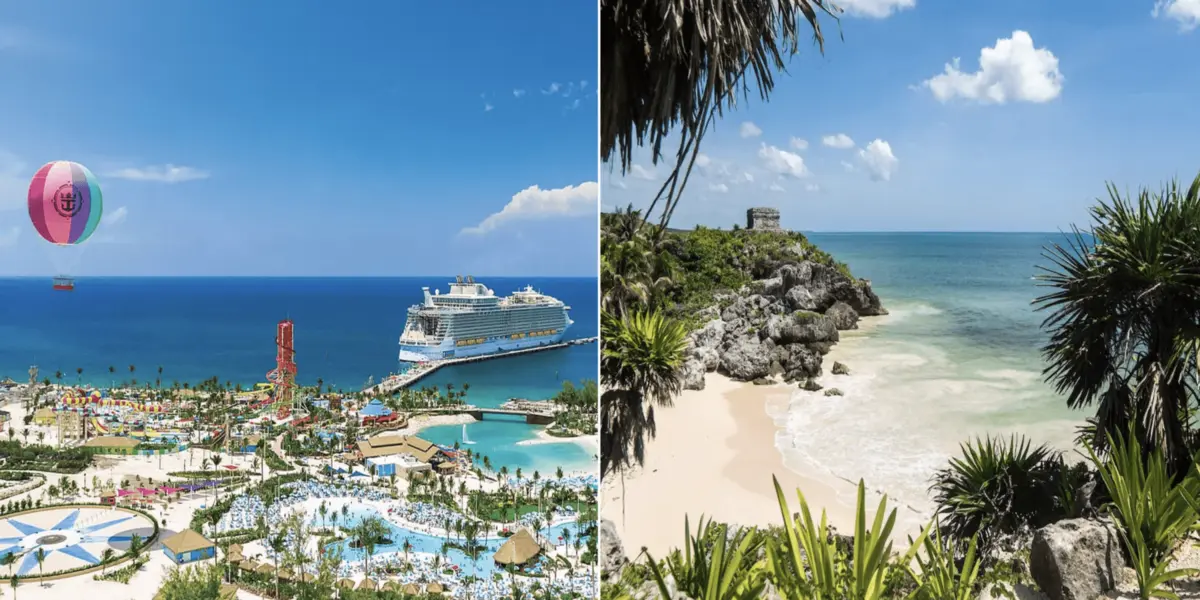 It can be hard to decide between the two, as both promise pristine beaches with turquoise waters and white sand. 
Depending on the itinerary you choose, you might be able to visit both. Some 7-night Caribbean cruises also call at Perfect Day at CocoCay, Royal Caribbean's private island in The Bahamas. 
Here's what you should know about Caribbean vs. Bahamas cruises to help you determine which you will like better. 
Caribbean cruises tend to visit more ports of call
Compared to The Bahamas, the Caribbean has more ports to visit and is divided into three different regions: Eastern, Western, and Southern. You can take three Caribbean cruises and visit new and exciting destinations each time! 
It's not uncommon for ships to sometimes include a stop in The Bahamas on these longer itineraries.
Icon of the Seas, for instance, is scheduled to visit Perfect Day at CocoCay on every Eastern and Western Caribbean cruise between January 2024 and April 2026. 
Possible ports of call in the Eastern Caribbean include San Juan, Puerto Rico; La Romana, Dominican Republic; Philipsburg, St. Maarten; Basseterre, St. Kitts & Nevis; and Charlotte Amalie, St. Thomas.
Western Caribbean cruises sail to Mexico, Jamaica, Belize, Grand Cayman, and Honduras. 
Related: Best shore excursion in every Caribbean cruise port
The Southern Caribbean is the furthest from the United States, so if you sail from Florida, you should expect the itinerary to be at least eight nights. San Juan is a popular embarkation port for more port-intensive Southern Caribbean cruises as well. 
Destinations here include the ABC Islands (Aruba, Bonaire, and Curaçao), as well as St. John's, Antigua; St. Vincent and the Grenadines; Castries, St. Lucia; St. Croix, U.S. Virgin Islands; and Bridgetown, Barbados.  
The majority of Caribbean cruises tend to be around a week since the islands are located further than The Bahamas. Did you know that Nassau is less than 190 miles away from Miami?
That being said, it's possible to find sailings that are longer and shorter! If you find one that's less than a week, it will usually only visit one or two ports of call, whereas those that are around a week visit anywhere from three to four. 
The Bahamas are great for a quick getaway
Since The Bahamas are located just off the coast of Florida, you will find numerous 3- and 4-night itineraries, making this region a great escape for a quick getaway.  
Historically, Royal Caribbean has deployed older ships for these short sailings. This is changing with Utopia of the Seas, as this brand-new ship is advertised as "The World's Biggest Weekend" and won't start her inaugural season with longer cruises to the Caribbean. 
Related: Best things to do in Nassau on a cruise
While The Bahamas are an archipelago comprised of over 700 islands, most sailings visit the same few. Whether it is a 3- or 4-night cruise from Port Canaveral, Fort Lauderdale, or Miami, your itinerary will likely visit Nassau and Perfect Day at CocoCay. 
Longer sailings to The Bahamas depart from more northern ports like Baltimore and Cape Bayonne in New Jersey. Even so, the only major difference is the addition of a stop in Port Canaveral, rather than another island in The Bahamas, as well as more sea days. 
Occasionally, you may find a cruise that stops in Bimini or Grand Bahama Island. These sailings, however, tend to be on older ships, such as those within Royal Caribbean's Vision Class. 
The overall cost of a cruise to The Bahamas is less
When comparing prices, the advertised rate for a shorter cruise to The Bahamas will be less than a 7-night cruise to the Eastern Caribbean. 
Additionally, you won't have to pay as much in add-ons, either. Typically, Royal Caribbean Wi-Fi packages are around $20 on the Cruise Planner. On a 4-night cruise, that would add up to be around $80, whereas you could spend as much as $140 on a 7-night sailing. 
When browsing available sailings in July 2024, a 4-night cruise to The Bahamas onboard Freedom of the Seas starts at $521 per person for an interior cabin.
Freedom is also scheduled to go on a 6-night Western Caribbean cruise the same month, but pricing starts at $858 per person. This is roughly a $340 difference for two extra nights onboard!
Related: Bahamas cruise guide
You'll also pay less in gratuities. As of November 11, 2023, the automatic service gratuity for those in standard staterooms (i.e., interior, ocean view, balcony, and Junior Suites) is $18.00 per person, per day. Guests in suites are subject to higher rates, or $20.50 per person, per day. 
For a 4-night cruise in a balcony, you'll pay $72 per person, whereas those on a 7-night cruise will pay $54 more per person, or $126 each. 
The Caribbean has a greater variety of shore excursions
The Bahamas is primarily known for its beautiful beaches, and while that doesn't mean you cannot find exciting excursions, the Caribbean has a greater variety of options that aren't beach-based. 
While visiting Jamaica, for instance, you can either go zip-lining or visit the famous Dunn's River Falls. On the same cruise, you can visit ancient Mayan ruins in Mexico or attend a salsa making class. If you want to relax, both ports have beaches nearby as well. 
Even ports in the Eastern and Southern Caribbean have some pretty unique options. While visiting Curaçao, for instance, I opted to take a tour of the island and got to visit the Hato Caves, The Curaçao Museum, and the liqueur distillery at Landhuis Chobolobo. 
In St. Maarten, you can visit Pelican Peak and ride a 1,500-foot zip line or take an ATV/jeep tour of the island. 
Since the Caribbean is made up of different countries, you will have the option to experience different local cultures, too. 
Related: I've been on 12 Caribbean cruises, and I see passengers making the same 14 mistakes. Here's how to avoid them
All cruises to The Bahamas depart from the East Coast, whereas some Western Caribbean sailings depart from Texas and Louisiana
There's no denying that airfare can be expensive. A family of four can easily spend over $1,000 in pre-cruise transportation when flying from their home state. 
When planning a Caribbean cruise, many people automatically think that they have to sail from Florida. Royal Caribbean, however, also offers voyages from Galveston, Texas and New Orleans, Louisiana. 
If you live in Dallas, you're only 4.5 hours from the port in Galveston, meaning you won't have to worry about booking pre- or post-cruise flights. 
Those coming from the West Coast might find also more affordable flight options since Houston is not as far as Florida. Either way, a shorter flight is always a win! 
Your best bet for warm weather during the winter is the Caribbean
During the winter months, The Bahamas are subject to the occasional cold front. In January, the average high is around 79 degrees, while the average low drops to 64.
I visited Perfect Day at CocoCay twice in January 2023, and while the second visit was a tad warmer, I was rather chilly both times considering I was in The Bahamas! In fact, it was too cold to get into the ocean during the first visit. 
Some of the best months to visit The Bahamas are November, late April, or early May. Not only do all of these months fall outside of the Atlantic hurricane season, but they're also less likely to experience a cold front. 
Plus, since these months fall outside of the peak season, you will find lower cruise fares!
Since the Caribbean is further south, it stays warm all year. During the months of December, January, and February, they will be less hot and humid than during the summer, when islands can see daily highs exceeding 90 degrees!