In:
The last day on Oasis of the Seas is here, and that means our cruise vacation is coming to an end. Since today is another sea day, and the details of my afternoon nap are not that enticing, I wanted to share a look back at the changes to Oasis of the Seas and talk about what I liked, did not like, and everything in between.
Seeing as this is a review post, I feel I need to disclose yet again that I received a complimentary 2-night sailing on Oasis of the Seas last week, but paid for me and my family to cruise on Oasis of the Seas for a 7-night sailing this past week.
Favorites
Portside BBQ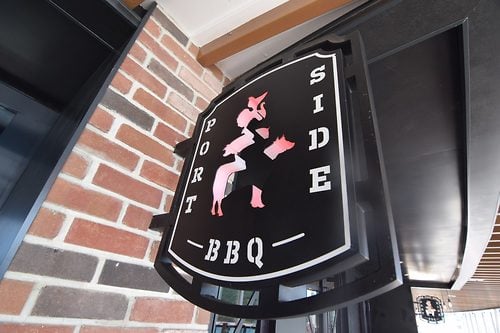 Prior to this cruise, I never considered myself much of a barbecue fan, but our entire family could not get enough of the food served at Royal Caribbean's first foray into barbecue.
The food at Portside BBQ is excellent and for the price, represents an excellent value. The smoked turkey or beef brisket sandwiches will be the first food I crave within a few hours of being off the ship.
Little touches like the addition of a singer, creative decor, and the best darn dessert on Royal Caribbean in years (brookies) all make this a new favorite spot to dine.
Aqua 80s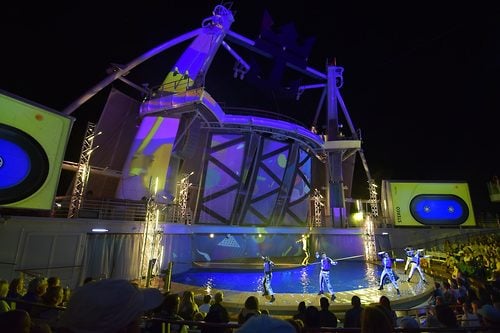 Aquatheater shows have always been a great form of entertainment, but I feel the Aqua 80s show is a homerun.  Like a professional athlete that has a career year statistically, Aqua 80s hits all the high notes and really resonated with me. 
I think the fact the show features music of my youth, and more importantly, music I know all the words to, really made a difference. Of course, the performances by the cast members are top notch. 
It has become clear with every new Aquatheater show that Royal Caribbean produces, the experience becomes better and better, and I think Aqua 80s is the result of an entertainment team that is firing on all cylinders.
Spotlight Karaoke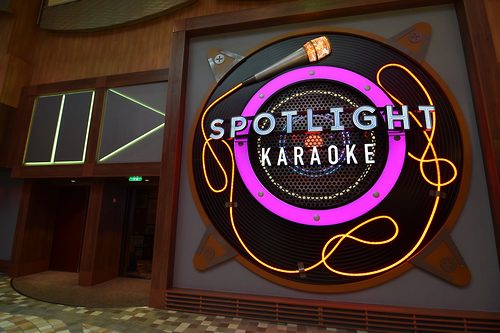 If you are curious if Spotlight Karaoke works, or if a dedicated karaoke venue was needed, you simply need to walk by the Royal Promenade to know the answer.
The changeover of On Air Club to Spotlight Karaoke capitalized on a cruise activity that is very popular, and throughout the day, there are crowds enjoying the performances here. Kudos to whomever thought to include other musical themed events here, such as music trivia or Name That Tune.
Water slides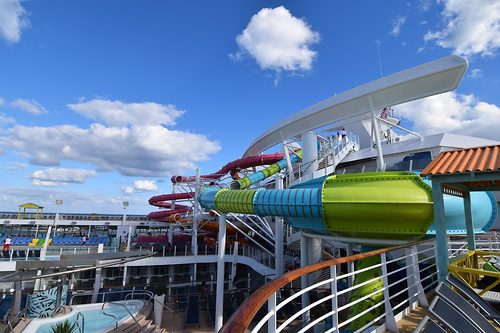 For years Royal Caribbean did not have water slides on its ships, but the addition of slides in recent years make you wonder how we ever managed without them.
Sure, these are the same slides we have seen on other ships, but the slides felt a bit faster and provided a smoother ride.
I am also including the Splashaway Bay slides in this category, because someone made the excellent decision to ditch height requirements for the small slides, and only have one height requirement for the new big slide. Simpler approach and makes more sense than before.
Escape room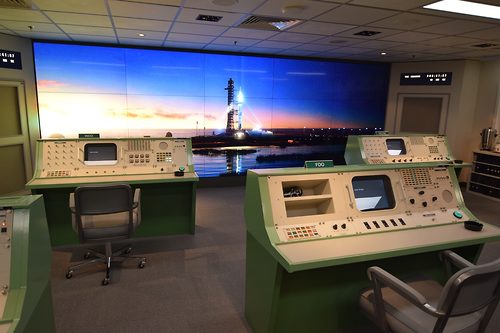 Royal Caribbean's approach to its escape rooms is to put an incredible amount of detail into them, and Apollo 18 escape room is a prime example of this.
Royal Caribbean consulted with an actual NASA mission controller from the Apollo era to create this space, and the result is a must-do onboard experience. Every escape room has been a lot of fun, and I think if you are looking for something a bit different on a cruise to try, this is a good idea.
Adventure Ocean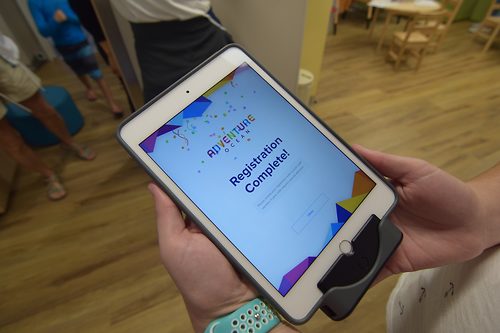 I was a bit leery of the new change to Adventure Ocean that breaks away from the standard mold my family has enjoyed for years, but as they say, the proof is in the pudding. My kids loved going again and again every evening of the cruise.
While I have concerns that the new 6-12 year old group is a bit too large and tends to develop some serious check-in and check-out lines, the idea to merge the 6-8 and 9-12 groups together makes so much sense. On top of that, the new electronic registration and check-in/out is such a giant step forward for simplifying things.
I think the activities offered in Adventure Ocean jive a whole lot better with what dozens of kids may or may not want to do. It seems to do a great job at balancing the needs of the group with ensuring everyone has something to do. In the end, it is clear Royal Caribbean came up with something that keeps kids wanting to come back again and again, and as a parent, that is always welcome.
RFID door locks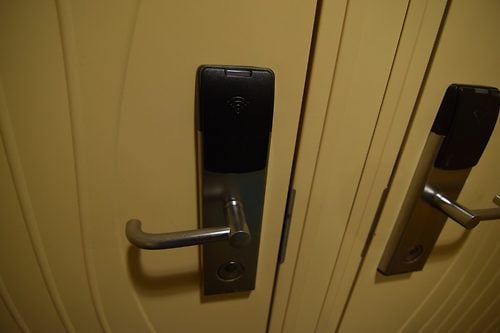 I am a tech junkie, but I think the move from doors with magnetic stripe keys to RFID is a win for every guest. No more demagnetized cards and the option to use WOWbands or the Royal Caribbean app to open the door is lovely.
Skips
One Sky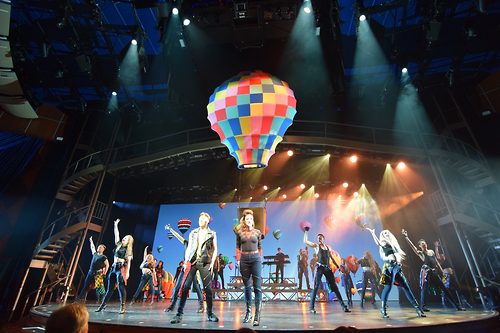 The new stage show that replaced Come Fly With Me offers a musical revue of different songs, dances and performances that all center around different views of the dream to reach to the sky. While I thought the stage pieces were technically impressive, and the performers putting a ton of energy into their art, I would love to see a more coherent story that links each segment together.
When Columbus, The Musical came to Harmony of the Seas, it seemed like Royal Caribbean was finally moving towards creating its own production shows with original characters, story and songs, it seems with the original production shows on Symphony and now Oasis are back to putting together original choreography to different songs. 
Perhaps cruise ship entertainment is a different animal compared to its land-based counterpart, but I thought One Sky felt a bit too disconnected for my taste to keep me invested in the overall show.
Lime & Coconut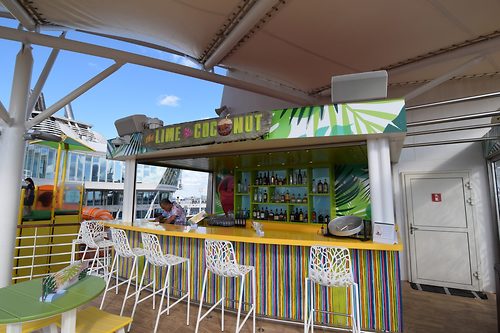 When Royal Caribbean re-designed the pool deck on Navigator of the Seas, they replaced part of the pool deck to create a new multi-deck experience that sought to redefine the day and night pool party vibe and I thought it was a homerun.  The Lime and Coconut on Oasis of the Seas is essentially just a new paint job for the old pool bars.
I like the addition of the vibrant colors and new seating, but at night 3 out of 4 of the bars shut down and the one Lime and Coconut Bar that does remain open, is in the smoking area. More importantly, it lacks that roof top bar scene that was such an integral part on Navigator of the Seas.
During the day time, the Lime and Coconut motif works just fine and I doubt anyone will mind. I think it just failed to surpass the new standard set by Navigator.
Bionic Bar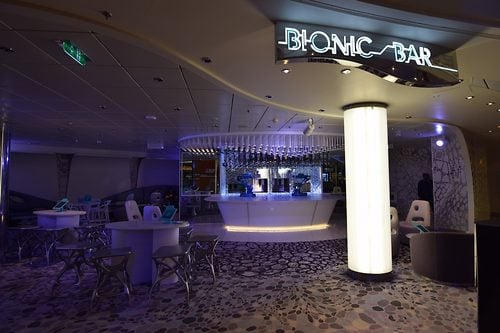 There must be a reason Royal Caribbean keeps adding Bionic Bars to its ships, and I have to think it is because it makes money for them, so more power to the cruise line for that. 
Personally, I did not step foot inside and the primary reason is while the robots are undeniably cool to watch, they make terrible drinks.
Shout outs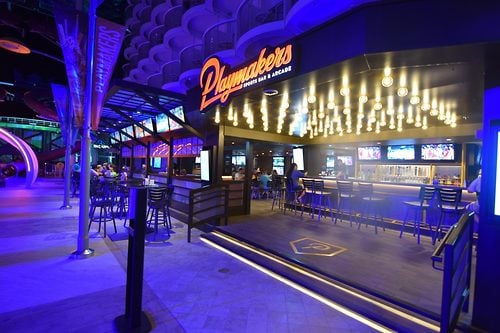 If you are familiar with the full list of changes Royal Caribbean made to Oasis of the Seas, you know there are other big changes made to the ship.  I wanted to quickly mention these venues and changes and what I thought.
El Loco Fresh: Fantastic addition that was very popular with guests every day.
Playmakers Sports Bar & Arcarde: I will dearly miss Sabor, but I can appreciate the popularity of Playmakers and the role it serves in providing the perfect venue for any sporting event.  I chose not to dine at Playmakers due to the Thanksgiving-week football games drawing giant crowds, but I will always applaud any venue that serves up craft beer!
Ultimate Abyss: Worth going down once or twice on every ship that has it. It is fun and not nearly as scary as it looks.
Music Hall: I love the change to add Music Hall and think it will do quite well. Every guest I spoke with loved the performances here too. I freely admit I have become an old man and find it too loud for my taste, but this is the place to rock out onboard.
Thanks to everyone for following along on this live blog. I really loved sharing the cruise with you, and I hope I answered all the questions people had about the changes to Oasis of the Seas. 
Main Dining Room: They restored the look to one unified theme, instead of a different theme depending on each deck. Huzzah!
Our next live blog will kick off in a few weeks, when we board Freedom of the Seas for New Years Eve!