In:
It's time to hop aboard Royal Caribbean's Oasis of the Seas for a quick 3-night cruise!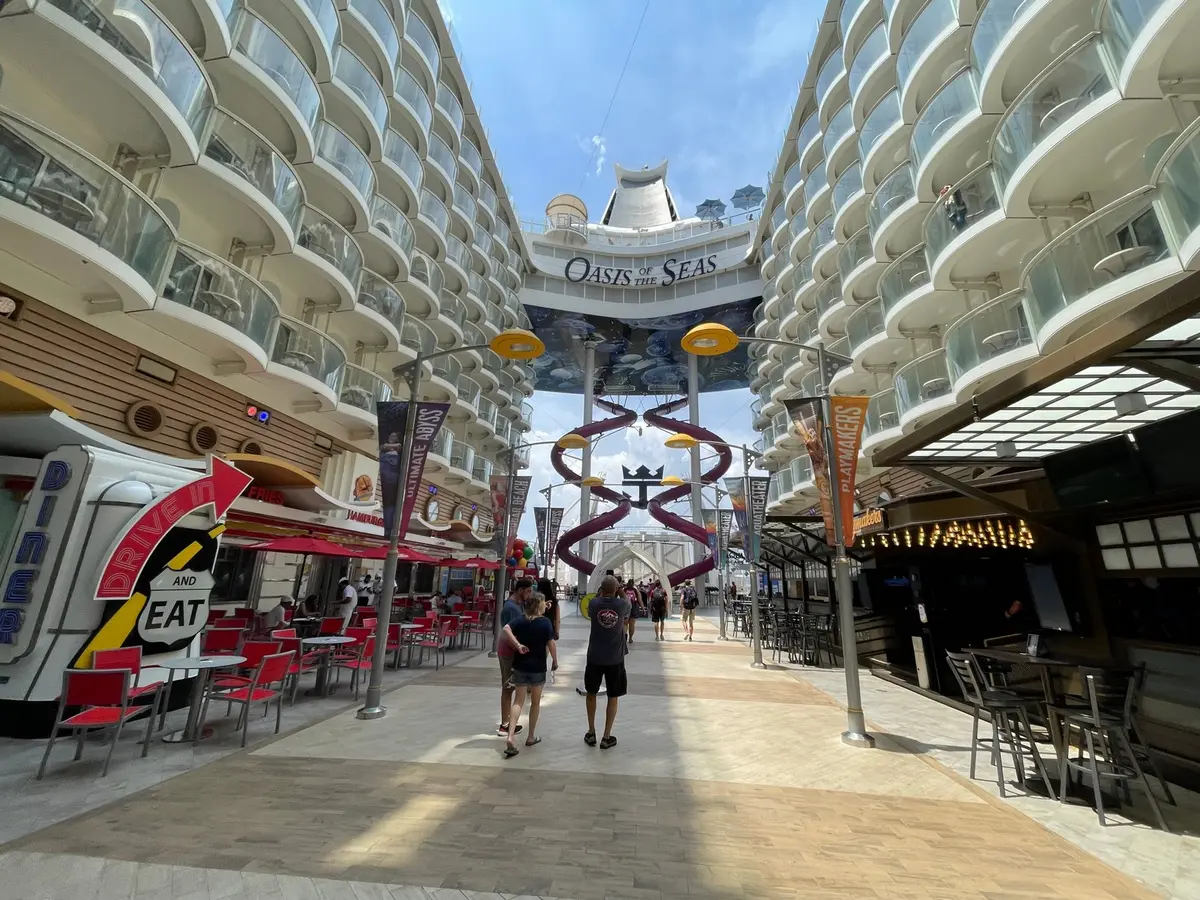 I haven't been on Oasis of the Seas since late 2019, and when I saw a short cruise offering listed, I decided to book it and enjoy a weekend escape.
For this cruise, it will be just me and my wife sailing.  My parents flew in to stay with the kids, which means 3-nights of cruising fun for me, and 3-nights of my kids seeing how much they can get out of grandma spoiling them.
Oasis of the Seas sails from PortMiami, so I drove down the day before and stayed at the Hyatt Centric Las Olas hotel in Fort Lauderdale.  I stayed in Fort Lauderdale instead of Miami to help break up the drive from Orlando.
The morning of the cruise, we drove to Miami. With traffic, Google estimated it would take about 55 minutes.
For this cruise we booked a Category L1 Crown Loft Suite. I had originally booked a balcony, but then spotted a reasonable price to move up to a suite and thought why not try it.
Our check-in time was noon, but the concierge email a few weeks before the cruise indicated we could arrive an hour early than whatever time we had for check-in.
Sailing from Terminal A in PortMiami, we parked at the garage and were able to go right in to check-in.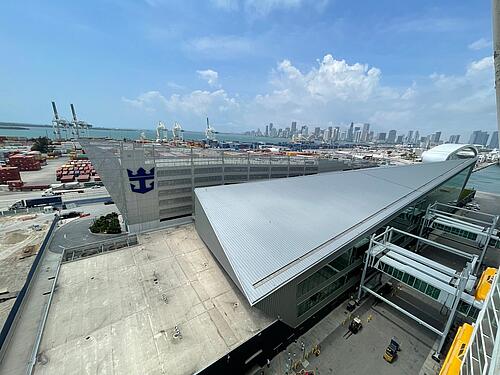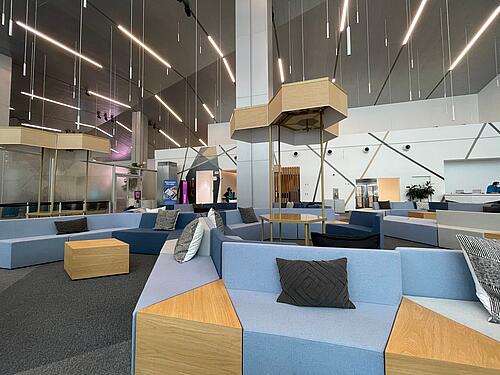 Once onboard the ship, our first stop of the day was the Windjammer for lunch.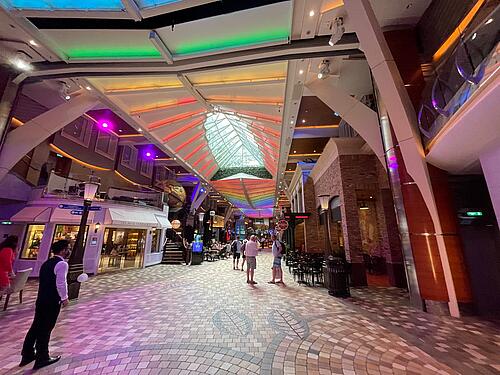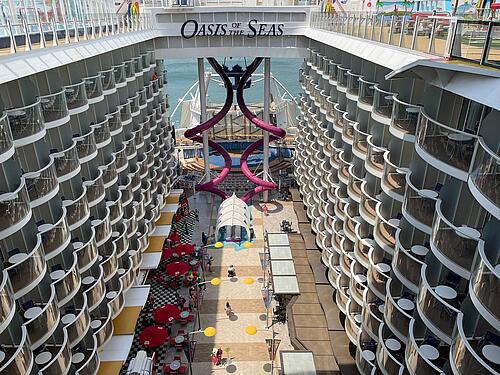 This was our first time in the Windjammer since Royal Caribbean reverted back to allowing passengers to serve themselves, instead of the crew.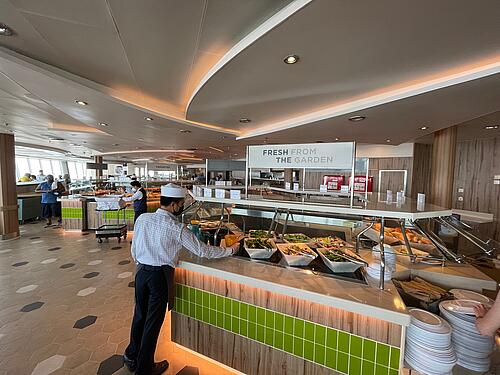 While I preferred crew members serving guests, serving ourselves is how the Windjammer was every time before the pandemic and I never thought twice about it then.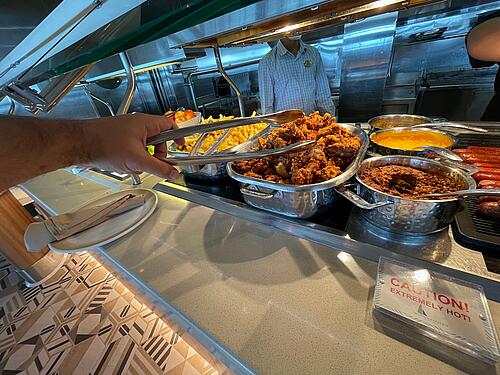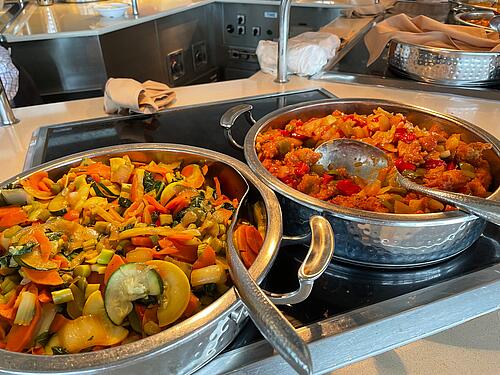 Our next stop was the Suite Lounge to meet the concierge.
Nadia welcomed us in and helped book all of our shows. While this is just a 3-night cruise, they are performing Cats, Aqua80s, and Frozen in Time.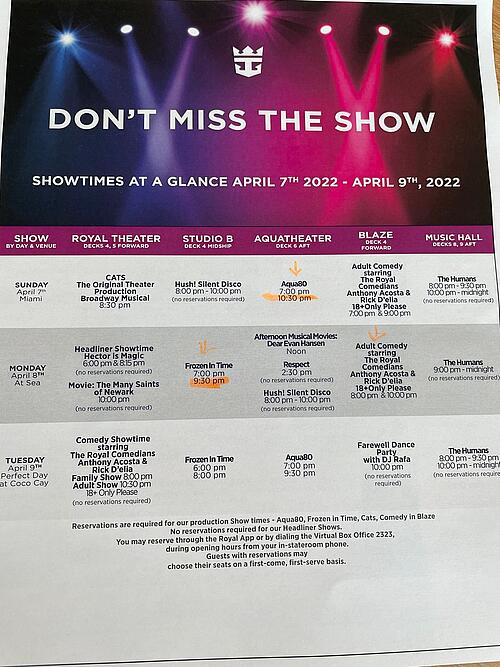 We booked reservations for Aqua80s and Frozen in Time, which the concierge took care of for us.
Nadia had booked specialty dining reservations before the cruise a few weeks ago when she sent a welcome email. The only restaurant she couldn't book was Izumi Hibachi, so we made a stop there to get a reservation for lunch on day two.
We spent the early afternoon relaxing on the pool deck. It was a warm day, but there was just enough of a breeze to keep it comfortable.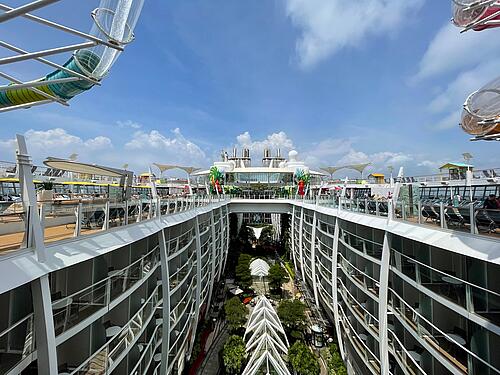 The cabins were ready at 1:30pm, so we went to drop our stuff off and check out the suite.
This is my second time staying in a Crown Loft Suite, although it was on Harmony of the Seas.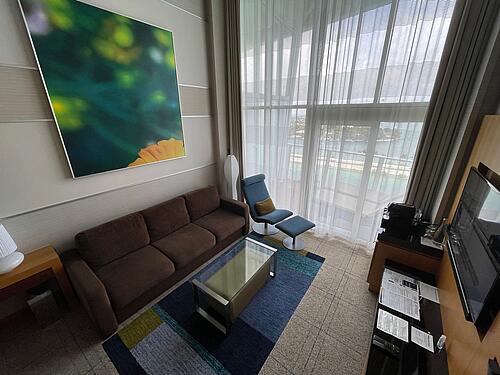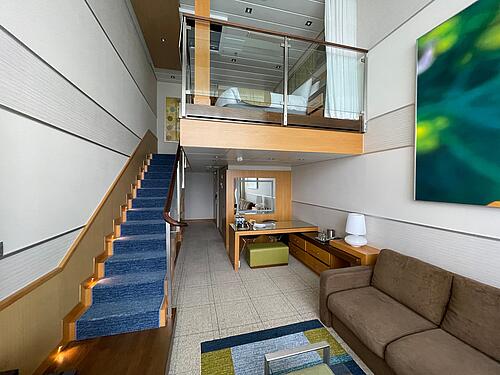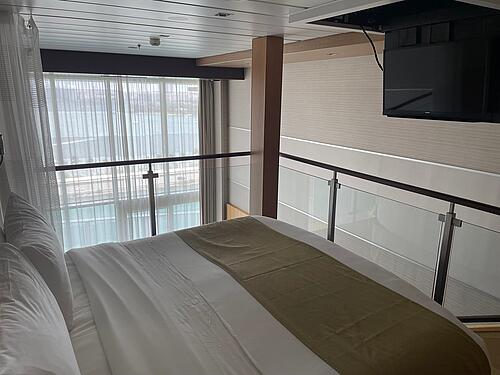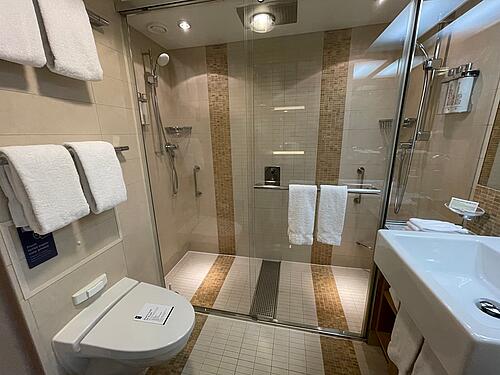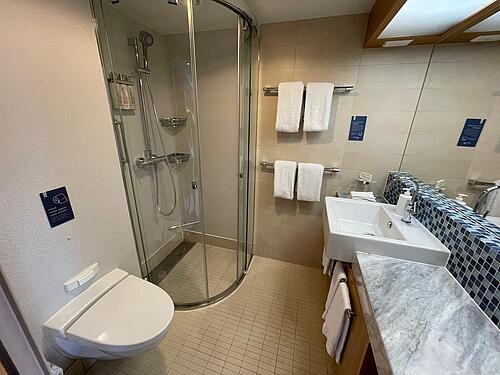 In terms of layout, the room looked the same on Oasis.  The split level design is a neat change from traditional cruise ship cabins, and the views you have from either level of the ocean from the giant glass windows is fantastic.
There are two bathrooms (one on each level) and a giant balcony.
Our next stop was to take a ride on the Rising Tide bar, which is an Oasis Class signature venue where the bar slowly moves between the Royal Promenade on deck 5 and Central Park on deck 8.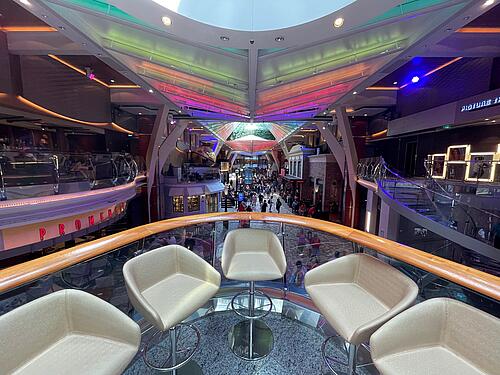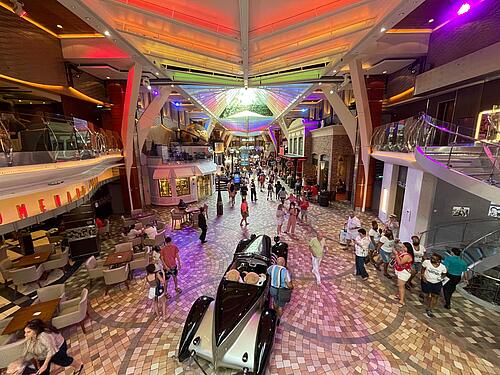 This was not only my first drink of the cruise, but my first time trying the new biodegradable straws.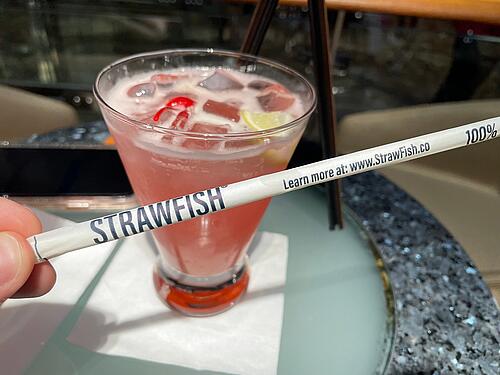 Compared to the paper straws that this replaced, it felt much better and did not degrade at all in my drink.
Friends of mine made it onboard and we went to check out Portside BBQ.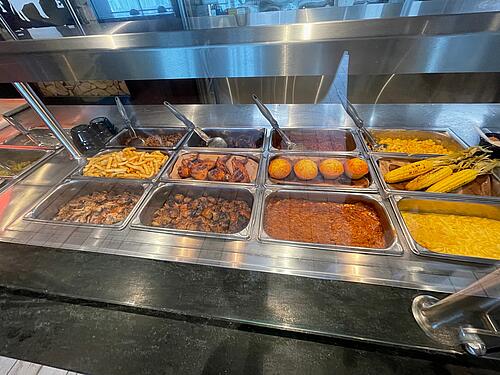 One of the best changes to Oasis from her Royal Amplification in 2019 was the addition of a new restaurant concept in Portside BBQ.
While I had eaten lunch already, I just couldn't resist having a plate of smoked turkey and cornbread.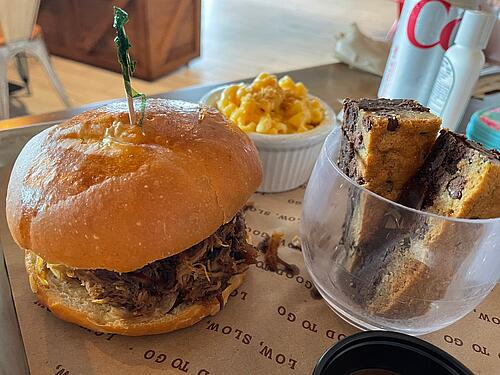 I would also be remiss if I didn't talk about how great the brookie dessert is, which is half cookie and half brownie.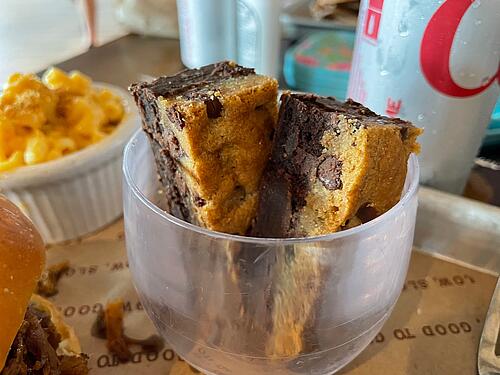 Next up was welcome aboard trivia in the Schooner Bar.  Trivia is always such a fun activity, and I learned how many presidents Bosnia & Herzegovina has had (3).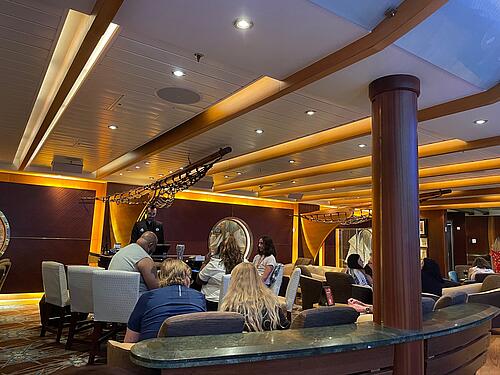 We sailed away from Miami around 5pm.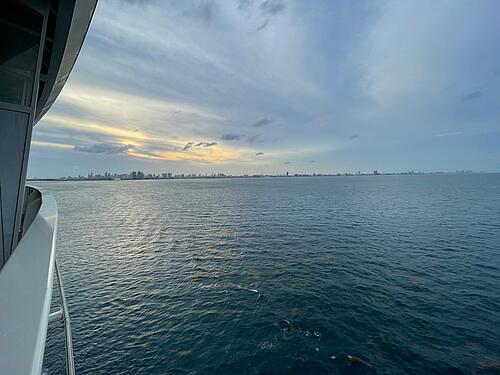 Dinner this evening was at Chops Grille.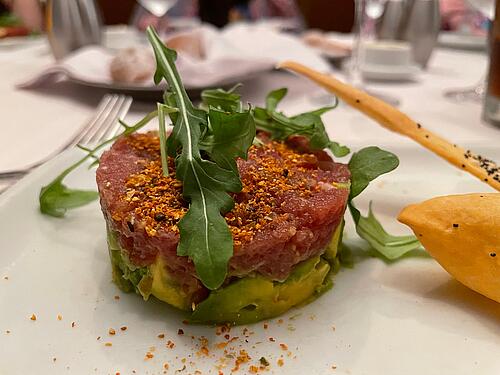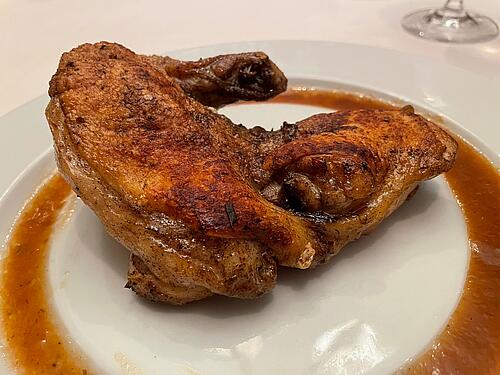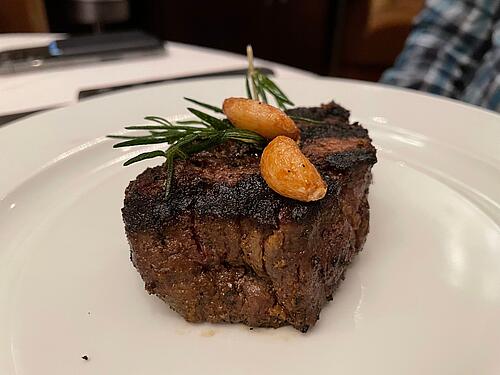 Our evening entertainment was Aqua80s in the AquaTheater, which is a show set to the music of the 1980s.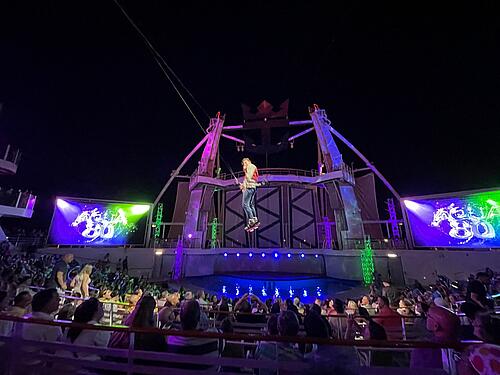 I love this show the most of any AquaTheater show simply because I know all the songs and I think the energy level here matches the music perfectly.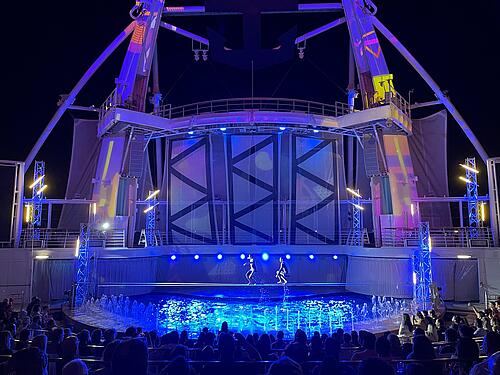 Tomorrow is a sea day.
Stray Observations
I purchased Royal Caribbean's chat feature to try it out again.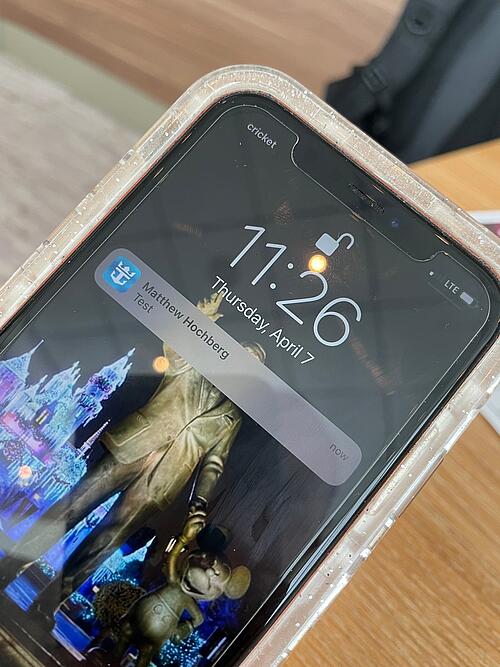 I activated it first on my phone and was able to send messages to my wife and she receive them without paying for the feature on her phone yet. This would be a good scenario for kids to buy it for them so they could send one-way messages potentially.
I also tested out the chat notifications and got push notifications when the phone was not actively being used, and even to my wife's Apple Watch.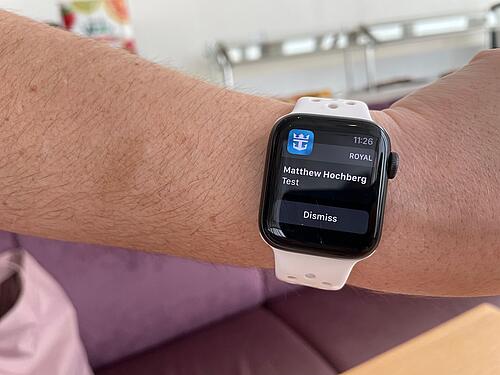 There were a lot of reminders for passengers to do the muster drill via the public address system. Certainly more than I recall hearing on one sailing, and most were in Spanish.