In:
We started off our second day on Oasis of the Seas by following a time-honored sea day on a cruise tradition by sleeping in! We thought the kids would wake up early enough, but we ended up waking them up.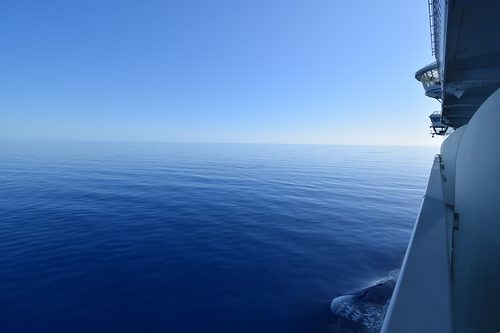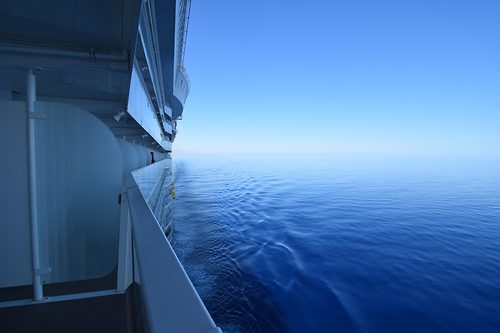 After rolling out of bed, we enjoyed breakfast brunch at Park Cafe. Had we gotten up earlier, I would have gone to Solarium Bistro, but we had slept half the morning anyway, so we needed something quick.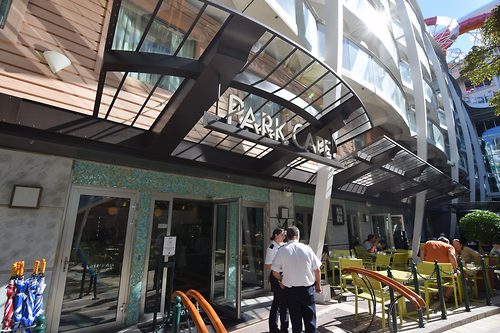 We immediately headed over to Studio B for the Crown & Anchor Society Top Tier welcome back party. This is an event for guests who are at least Platinum in Crown and Anchor Society.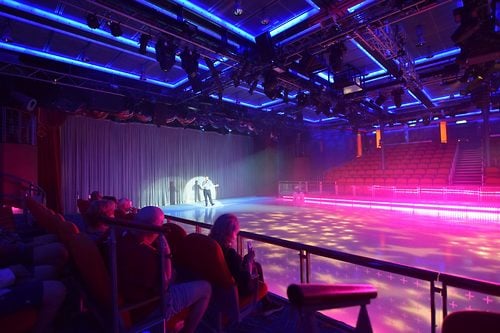 They served complimentary cocktails, and featured the ice cast doing a few stunts for us all. I try to make a point of going to these Crown and Anchor events because it means a lot to me as a customer that the company wants to show they appreciate our business.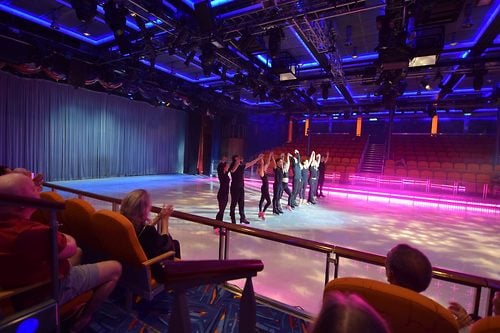 For lunch, we headed to the main dining room for a sea day lunch. They had the choice of an a la carte lunch, or buffet. Truth is, you can do both.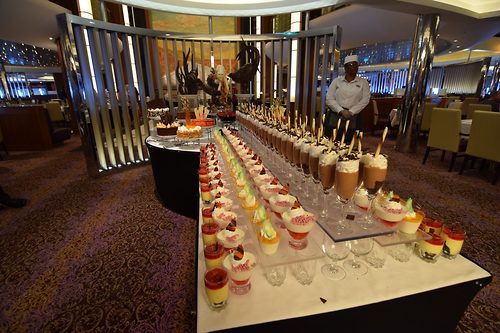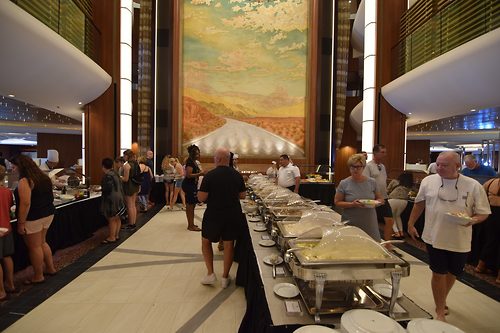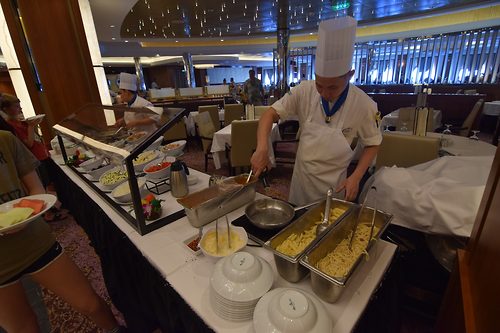 There was a pasta station, as well as hot buffet items including lobster tails.  Yes, unlimited lobster tails for no additional cost.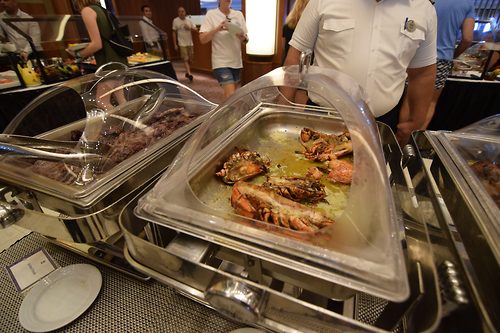 After lunch, the kids went up to Adventure Ocean for an afternoon session. I had grandiose plans for a great day without the kids, but ended up taking a nap. Sleeping in and taking a nap a few hours later...cruise mode is fully engaged!
As evening arrived, we got dressed up for formal night and headed to the main dining room for early dinner seating.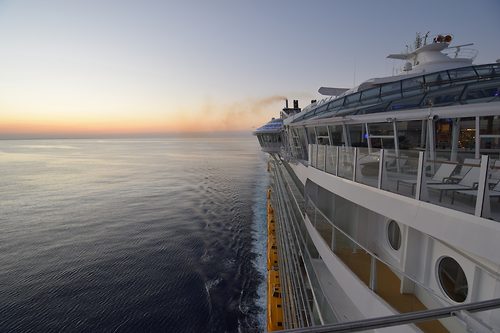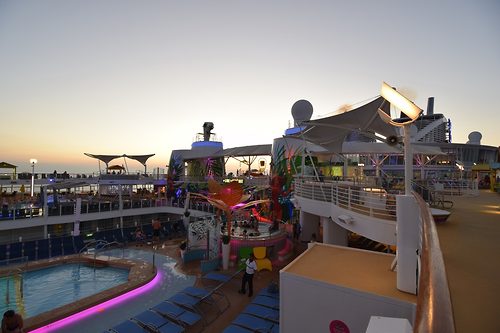 Our assigned table is in one of the annexes, which is off the side. Essentially, you turn almost as soon as you enter the dining room and there is additional seating in this area. We have a great table right by the window.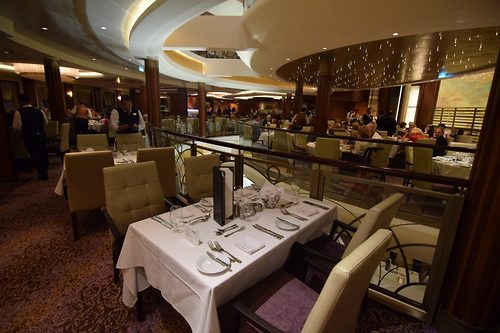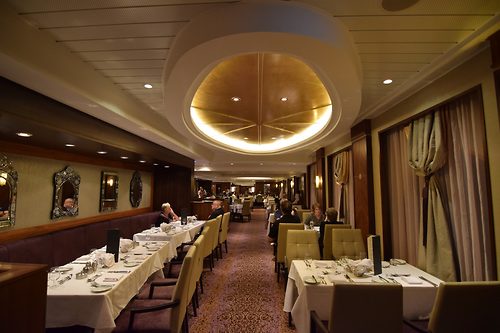 Dinner began at 5:30pm and at 6:40pm a representative of Adventure Ocean came down to pick up our kids from the entrance to the dining room. Quick and convenient, and it left my wife and I to enjoy our desserts with just the two of us.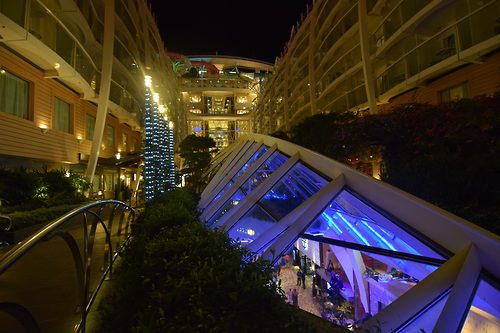 After dinner, we went to the casino to spend our "mystery free play", where they give you a few (non-refundable) dollars to play in the slots. I had $2 waiting for me, while my wife had $5. Regardless, we both lost it all quite quickly.
We waited in the standby line at Blaze to attend the first adult comedy show of the evening. I was concerned we would not get in, given the length of the line, but had no issues. The comic that hosts the comedy shows, Simeon, is extremely entertaining and we go to the comedy shows just to see his act. The other comics are an added bonus.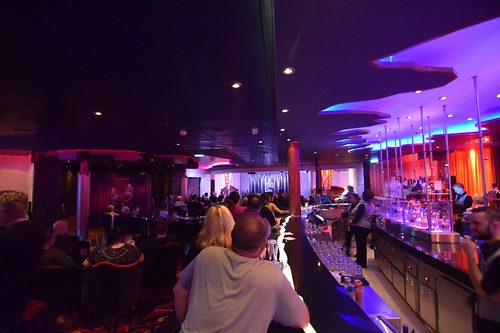 After the comedy show, it was time to see one of the new production shows onboard, One Sky.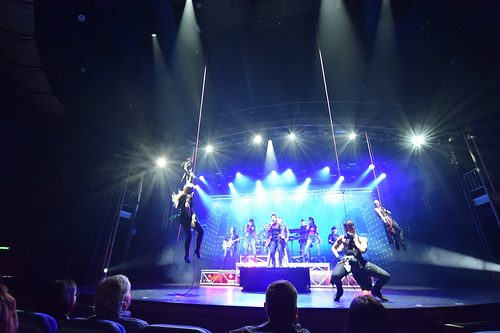 One Sky is an original Royal Caribbean production that features a variety of songs performed alongside plenty of dancing, set changes, and colorful costumes.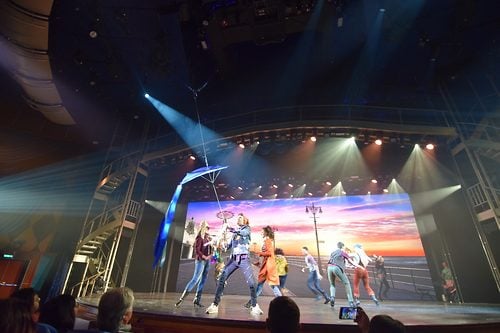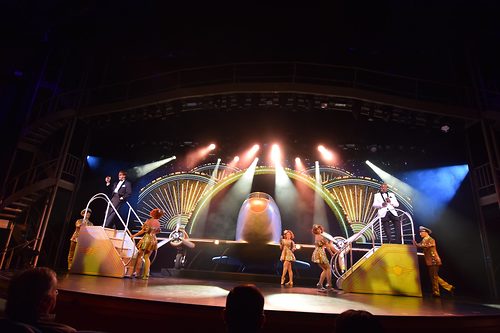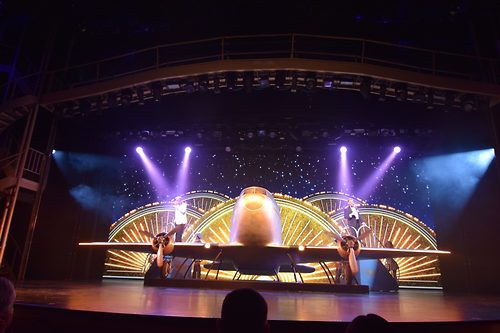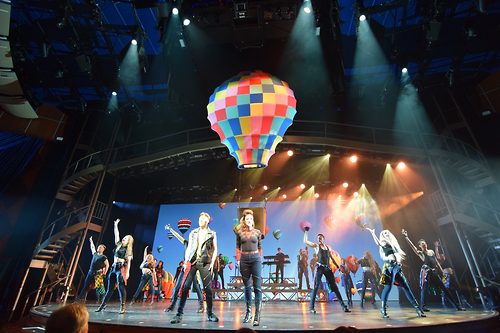 I did not recognize all the songs in the show, but the cast did a great job managing to sing, dance, and fly around the stage.
Following the show, it was time to grab the kids and head to bed.
Tomorrow, we will visit our first port of Labadee.
Stray Observations
One of the stores in the Royal Promenade offers a variety of "cruise family" clothing, including matching outfits.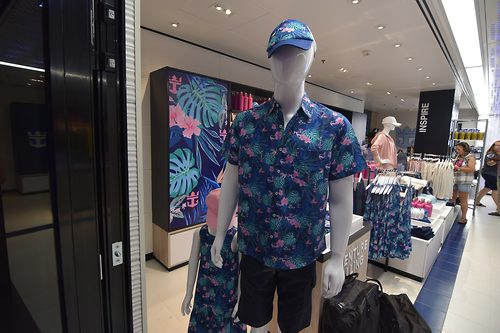 Tiffany & Co. on Oasis of the Seas had a complimentary brunch set up in the store.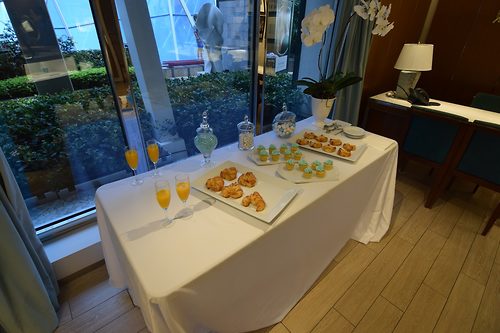 In case you are wondering, the Spotlight Karoake venue is extremely popular each evening with guests.