In:
I often say that sea day live blogs tend to be a little light on details because of all the relaxing that goes on, and today is no different.
I actually woke up earlier than I expected.  I thought I might sleep in, given that it is a sea day, but I decided I could sleep when I get home and I wanted to have a great day.
I grabbed my laptop and spent some time up on the pool deck working on blog posts. It seems the ship remains pretty quiet until about 9:30am or so.
Eventually, I wanted to grab a bite to eat and headed down to Park Cafe for a bagel and schmear.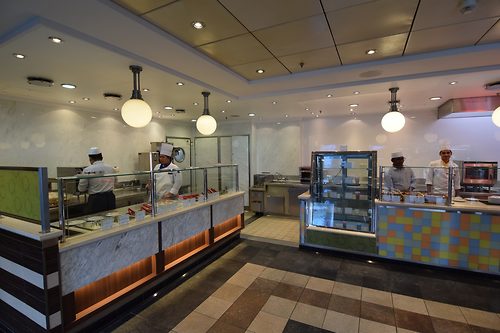 We ran into some friends and chatted a bit before taking my oldest daughter on a ride down the Ultimate Abyss.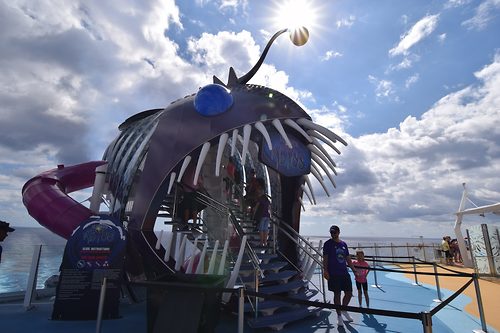 For lunch, we headed back to Portside BBQ.  I cannot say enough nice words about the quality of the food in Portside BBQ. Once again, I went with the smoked turkey sammie and it did not disappoint.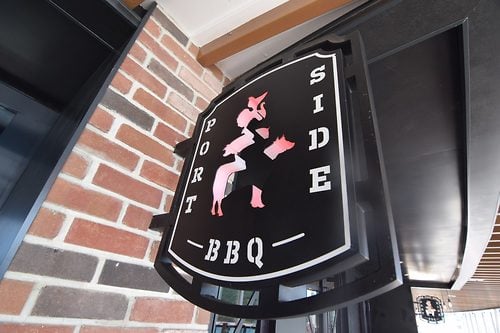 Going into lunch, I swore to myself I would not take a nap.  Well, after the sandwich, cornbread and dessert, I could not resist the calls to nap and enjoyed another great cruise ship nap!
When I awoke, I took my oldest daughter down to Blaze on deck 4 for bingo. It has been a number of years since I played bingo on a Royal Caribbean ship, but I think she really enjoyed the challenge of keeping track of a half dozen bingo cards during each game.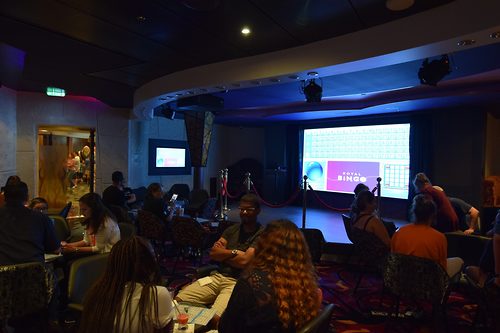 For those wondering, bingo costs $39 for 6 cards or $49 for 9 cards, plus $3 if you need a marker.
Dinner was back in the main dining room, and I finally got to try the 50th Anniversary cake!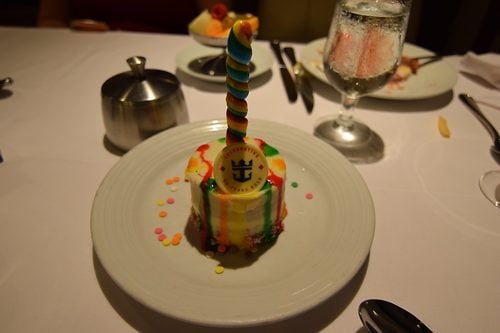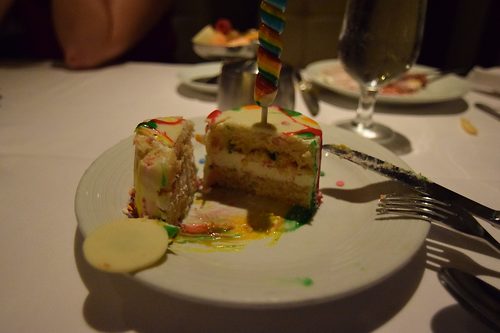 For my evening entertainment, we enjoyed Frank Sinatra and Michael Buble hits in the Schooner Bar with Billy Pando.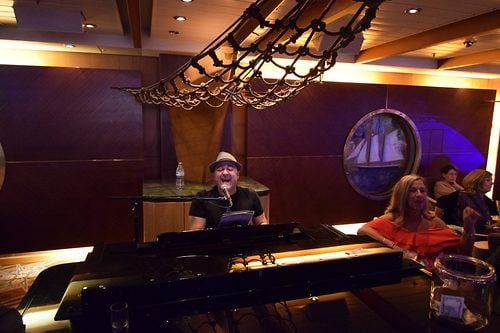 Tomorrow is our last day on Oasis, and it is another sea day.
Stray Observations
In all my cruises, I have always gotten one final bill and it was delivered on the last night of the cruise. This morning, we all awoke to a "mid cruise bill" that was delivered to our room. Certainly odd in that there is a mid-sailing bill delivered to the rooms, and it was not delivered in the middle of the cruise.
A bit more movement in the ocean today.  Nothing crazy, but more noticable sensation from time to time.
I could be wrong, but I do not recall seeing any movies shown anywhere on the ship this sailing. Oasis does not have a poolside screen, but other Oasis Class ships usually show movies in the AquaTheater during the day.