Oasis of the Seas Live Blog - Day 7 - Sea Day
In:
Today is our last day on board Oasis of The Seas and this week flown by!  This morning I told my girlfriend we would try some of the things she had wanted to do. But first we are starting the day with a lite breakfast at Johnny Rockets on the Boardwalk. 
For breakfast they don't have a cover charge so this is a little secret for a less crowded option, note this is only available on Oasis Class ships. 
The breakfast options are eggs, omelets, hash browns, toast, ect.  The food here is not outstanding, but was very fast for a sit-down breakfast, I think we were here for a total of 25 minutes.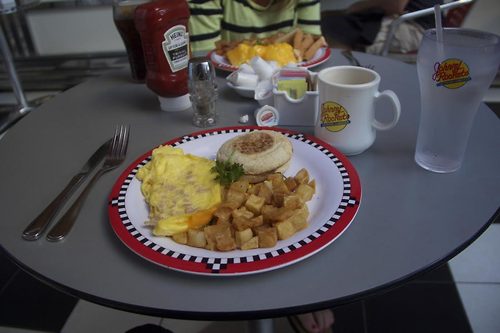 Zip Line
Right after breakfast we headed up to the top deck to try out the Zip Line.  This is located on the aft of the ship crossing the boardwalk deck.  I often wonder if people think this cost money, because there was never really a long line.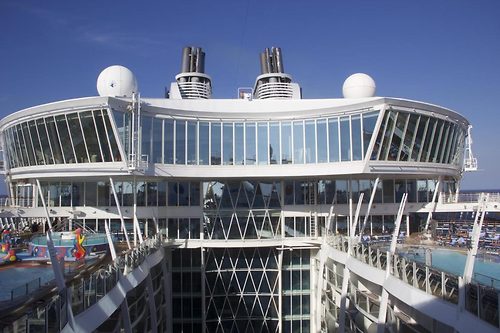 We showed up around 9:30AM and there were only 2-3 people in line.  First, they scan your sea pass card, and I forgot to sign our waivers online.  No worries, they just have you esign on their tablet.  Next, they help you gear up with the equipment and you are off! There are no real instructions other than "try to stop yourself" on the other side. 
My girlfriend had no luck with this and her line just hit the stopper at the end, I laughed!  My only advice for you, is don't look down. I wished we had gone at different times, so I could have had pictures of us, but we enjoyed the moment together and it was a lot of fun.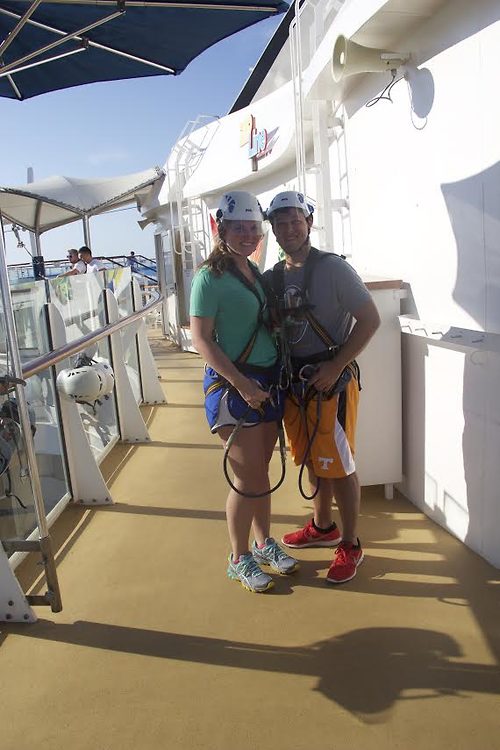 Rock Climbing Wall
Now that we had Zip Line out of the way we headed back down to the boardwalk deck to climb rock wall.  I must admit in all my cruises I've never tried the rock wall.  Of course I wait until now when I'm older with a few extra pounds to climb. 
Pretty much same check-in process as zip line, they scan card, had me esign.  They do require you to wear their shoes to climb the wall, so be sure to wear socks.  When it's your turn they just put you where the last person was, my luck I ended up on the expert course.  I only made it a quarter of the way up and dropped off, wow was that much harder than it looked.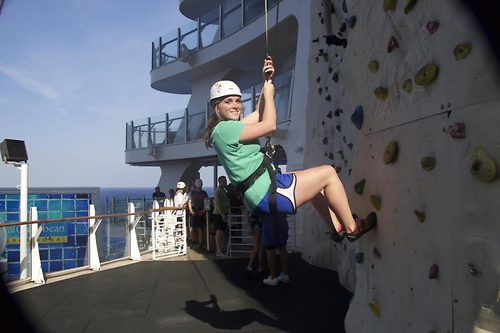 My girlfriend had better luck than me and made it to the first bell.  By the time we were leaving at 10:30 the line was 20+ deep, so get an early start if you are doing these actives on the last day. 
Pool Deck
Since I didn't get a chance to get to the pool deck early, I was unsuccessful finding a chair anywhere.  I didn't look on the top deck, because the wind was unbearable.  I
just place my belonging on the side and jumped in the pool.  I found a great bartender who was bringing me drinks while I was in the pool, now that's what I call service!  The weather was perfect and I stayed out here until it was time to get ready for dinner. 
Sabor Dinner
Okay if you are keep count, this was my third time eating here.  My love for their guacamole is real.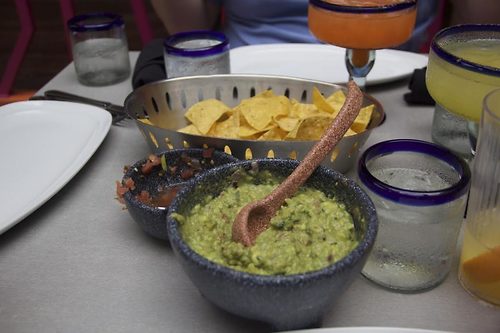 We wanted to end our cruise on a fun casual note, so we thought this was the perfect option.   Not much more to say, since I've talked about my dining experience here twice already now, but great food once again.  Only thing I could say, my brother asked for a regular tomato and they were out. Not a big deal, since it was the last night of the cruise.   Again we had margaritas, which are included in the drink package, other wise they are $12 + 18%.
Evening Activates
After dinner we explored the ship and just taking a few more moments in of the cruise.  We just kept hoping all around the ship bars, actually a few we had never stepped foot into all cruise. 
When we were at the Champagne bar the Cats Cast was there having cocktails.  We actually ran into them all week out and about, they get full privileges throughout the ship.  So if you are looking to work on board that's the way to go!  Around 11pm I called it a night and headed back to the room, I had a long drive the next morning and wanted to get some sleep. 
Disembarkation
My disembarkation number was 70, and they start with 1 on Oasis Class.  I forgot to tell my stateroom attendant I wanted the express option at 6:30AM, when you carry everything off.  Honestly, it doesn't matter, if you want to leave at that hour just get your bags and walk off. 
There was no lines to get off the ship, I walked down to deck 5 and walked off the ship, so they must have started a little early for those lining up.   My thoughts were, this was way to easy with zerolines.  Then it happen we get to customs and they only had three people working, perhaps they didn't get the memo we had 5,490 people on board. 
Since there were only 200 or so people in line, it didn't take that long and we were in our car by 7AM.  My brother had a later flight and went down around 9AM to leave and the line from customs was all the way backed up to the ship and circled around the promenade deck.  He told he it took him two hours to get through that process, so the key here is leave very early or the last minute. 
Overall I was very pleased with my time on Oasis of The Seas, the food was by far the best I've ever had on a cruise.  The service was also outstanding everywhere we went, except the Schooner bar, they were never happy so I just stopped going there.  If you have any questions please feel free to ask and thank you to all for following along.  Now the countdown begins for my next one, 10 weeks…