In:
My temporary exile from Oasis of the Seas is over, and I am back onboard for an all-new adventure!
We stayed the night between cruises at the Cambria Suites in Dania Beach, which is near the Fort Lauderdale airport. Reasonably priced, and provided a room with enough room for our family. We stayed in this exact hotel about 10 years ago when we first sailed on Oasis of the Seas. It felt a little old, but room was clean and just fine for one night.
The drive to PortMiami on Sunday was quite easy, and we ended up getting to Miami so early that we opted to grab breakfast in Miami Beach at Big Pink diner.
After breakfast, we headed to the port and got in right around 10am.  When parking at the terminal, be sure to stop to drop luggage off with porters inside the parking garage, and then park the car. It saves time and makes your life easier.
Check-in was super easy, especially since I had expedited arrival.
Boarding began right around 10:35am, and we got onboard quickly with Diamond Plus being the first group called.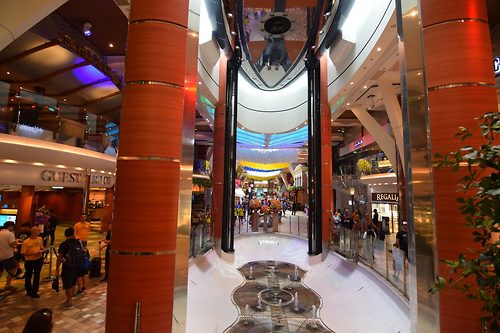 We went right to our rooms first, since the rooms were ready following 24 hours without any guests. It felt great going right to the room instead of dragging our carry-on stuff around.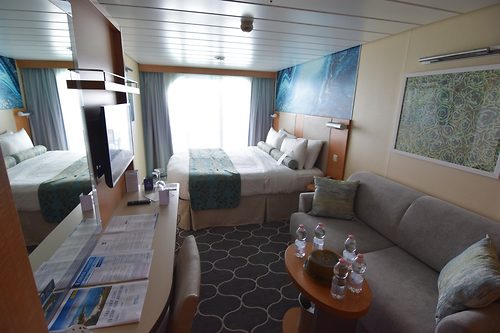 We have connecting oceanview balcony rooms on this cruise, and it appears some elements of the room were updated in the amplification.  New capreting, new couch and art around the room.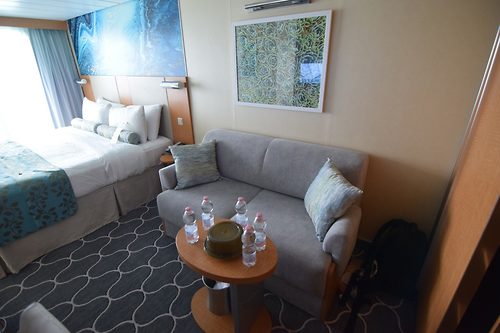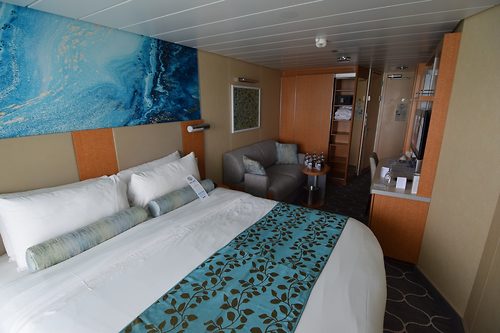 We got changed and went up to Splashaway Bay for the kids to enjoy.  This Splashaway Bay is significantly larger than other Splashaway Bays on other ships, and features quite a large water slide.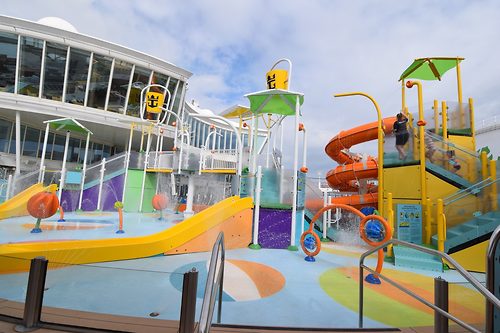 Speaking of water slides, the minimum height for this new slide is 42 inches, whereas the other smaller slides in Splashaway Bay have no minimum height.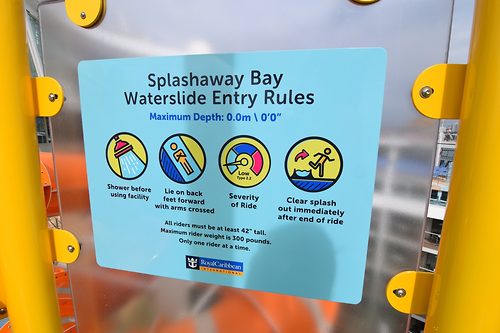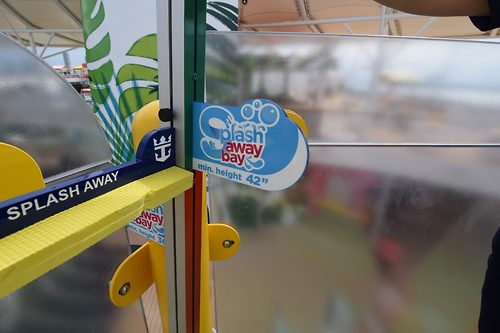 Next up, we headed to Adventure Ocean to register the kids. Registration is now done via a tablet. The staff scans your SeaPass card, you answer a few questions and you are all set. It is so much faster than the old method of filling out a form.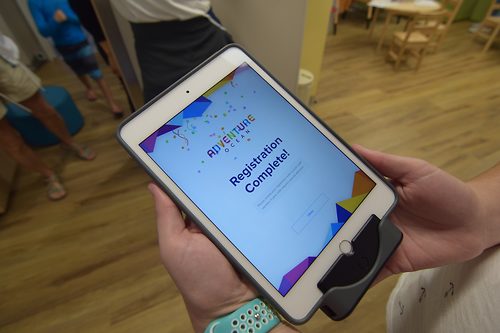 After seeing the updated look to Adventure Ocean, the kids were super excited to go there later in the evening.
We walked around and explored the ship in the afternoon. I also managed to doze off at one point back in the room, while the kids watched television.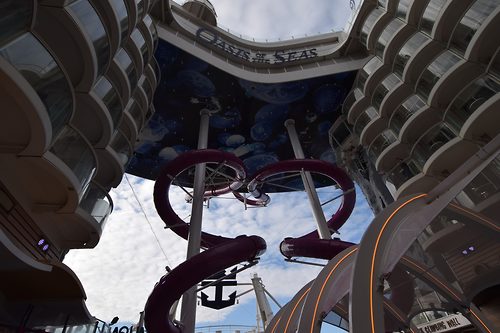 Following muster drill, we were treated to a special fireworks display in Miami harbor to commemorate the launch of Oasis of the Seas. I watched the display from my balcony and it was the perfect vantage point!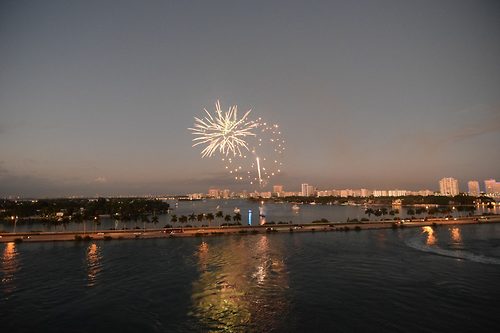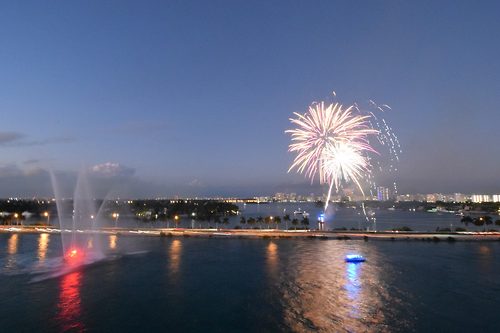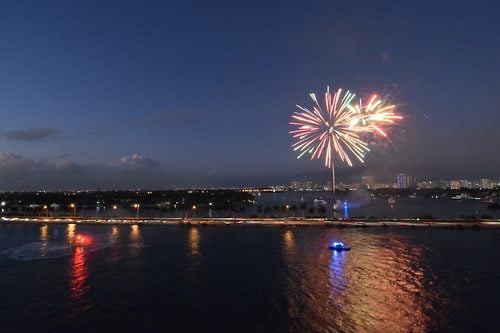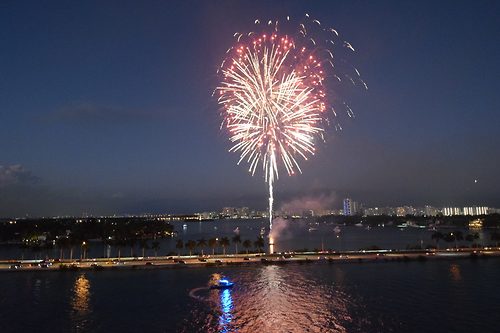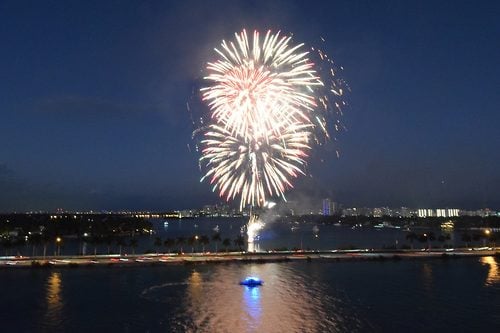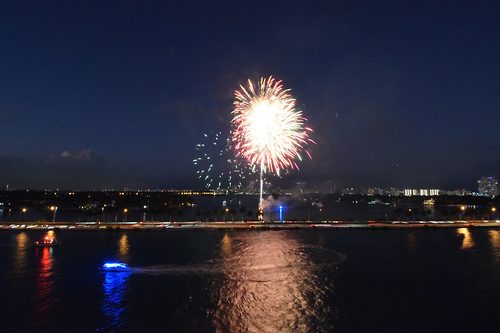 With the fireworks being in the early evening, it conflicted with our early seating in the main dining room. We opted to skip dinner in the main dining room and enjoy dinner in the Solarium Bistro.
After dropping the kids off at Adventure Ocean, we headed to the Diamond Lounge for evening beverages. I do not have a drink package on this sailing, so we are taking full advantage of our Diamond Crown and Anchor Society benefits.
For dinner, Solarium Bistro is served at a table, where you order your entrees from the waiter, but your appetizers and desserts are offered up buffet style.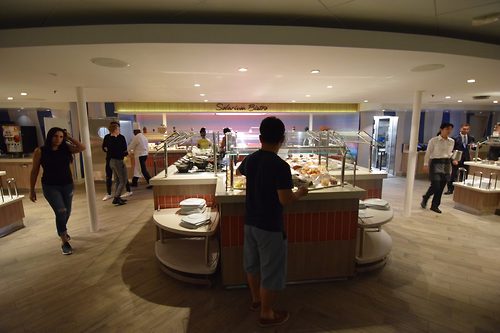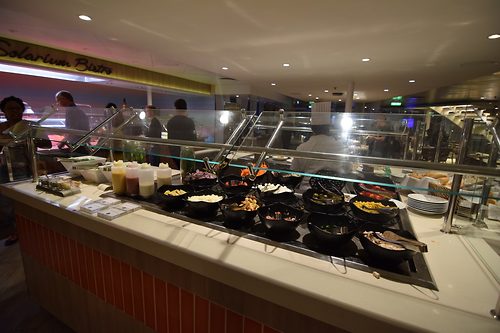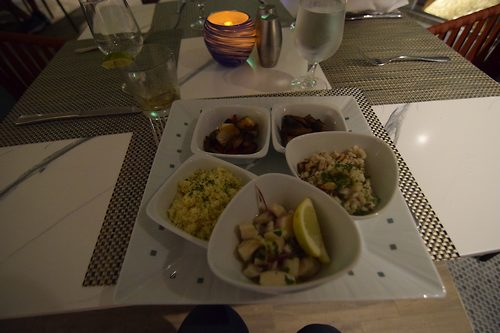 I ordered the chicken kabob and mahi mahi, while my wife opted for the steak.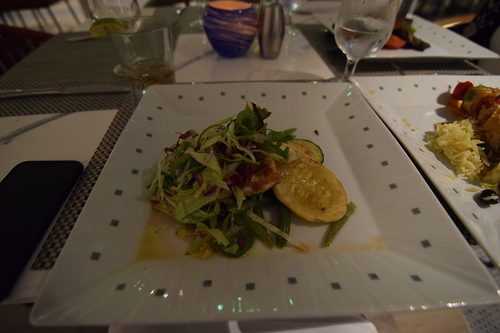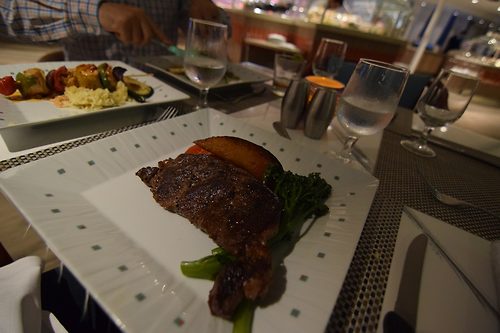 My fish was overcooked for my taste, but the kebab was excellent. My wife enjoyed her steak quite a bit.
After dinner, we took in some drinks and evening entertainment in the pub.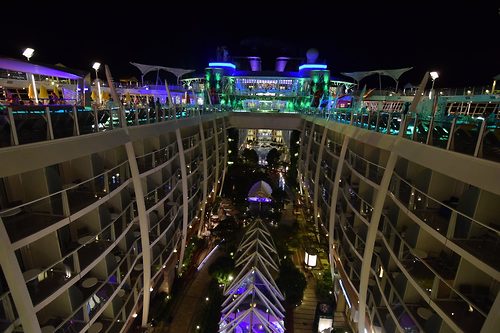 Tomorrow is a sea day.
Stray Observations
Upon walking onto the ship, they were giving away champagne and rum punch in celebration of the ship's launch.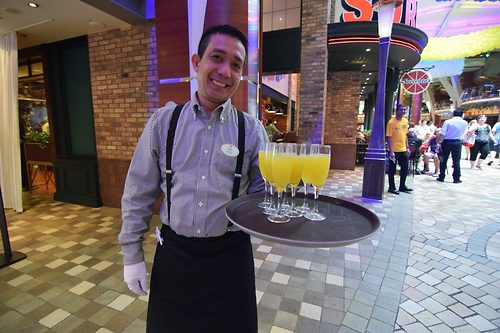 The ship's wifi has been much better today compared to last sailing. 
I could not help myself and bought a WOWband for me and my daughters.