Oasis of the Seas Live Blog Day 3 - Sea Day
In:
It's hard to believe it's already day 3, but here we are on our second sea day as we head to St. Maarten. My plans for today were, well no plans. This morning I woke up and decided to relax in the room, in all my cruises I don't ever recall a calm morning in the cabin. I think my cruising style is slowly changing, but that's okay with me.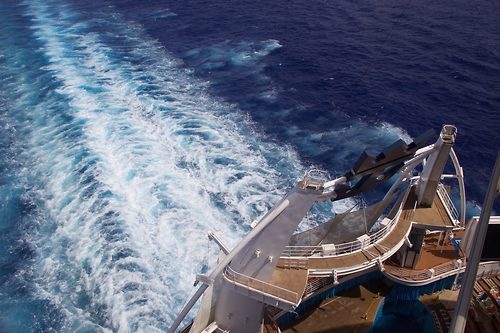 We had our room service sent to the room again and it was right on time. For those who enjoy coffee, I've been very happy with the room service coffee.
Since we were taking the morning easy, it hit me we hadn't even gone to the aft of the ship yet. So we walked all the way aft (I think it took us 10 minutes) this ship is so large. We watched some people on the flowriders for a while, it's just so entertaining. They have some covered seats where you can watch, while getting some shade.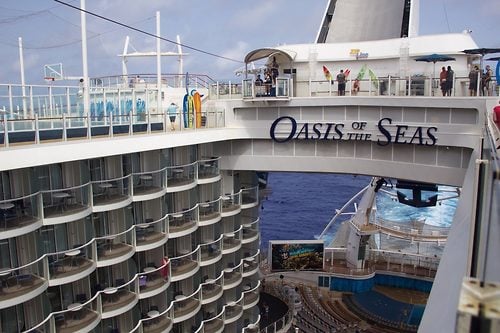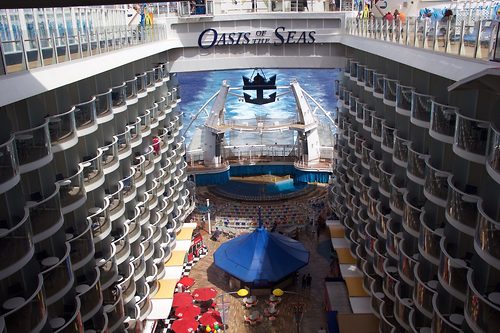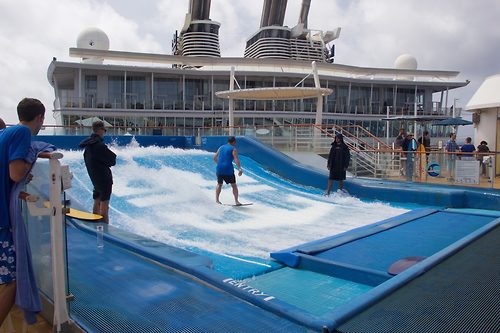 I saw many playing putting on the mini golf course; I've actually never played before. While I was in the aft area, I noticed the wipeout bar was almost empty, so great spot for good bar service.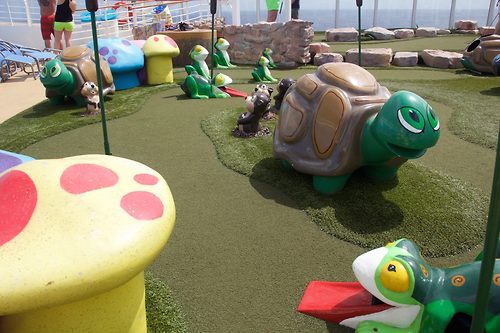 After we explored for awhile we headed to the hot tub that hangs over the side of the ship. Surprisingly it was empty and we jumped it.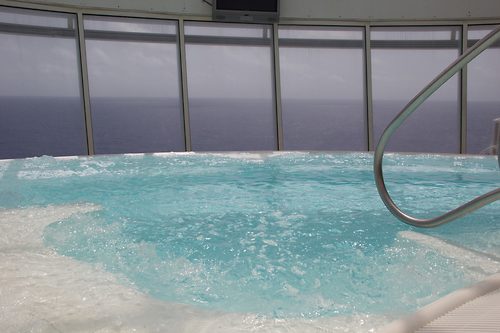 Really unique views from these side hot tubs and I couldn't have been more relaxed.
Lunch – Sabor
No surprise we headed back to Sabor for lunch. I decided I'd change it up today and order the shrimp tacos for lunch. These tacos were hands down the best tacos I've ever eaten at Sabor. They come put together with their toppings already on them and in a hard shell. For some reason they also brought out the chicken tacos, but I certainly didn't turn them away.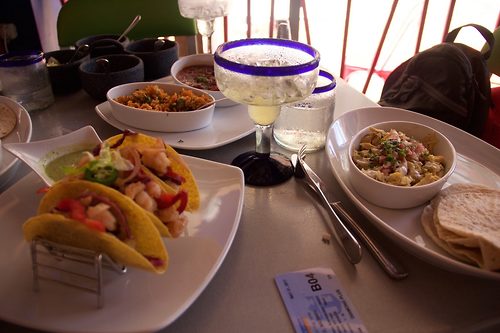 While we were dining they had an employee making taco shells, talk about fresh tacos!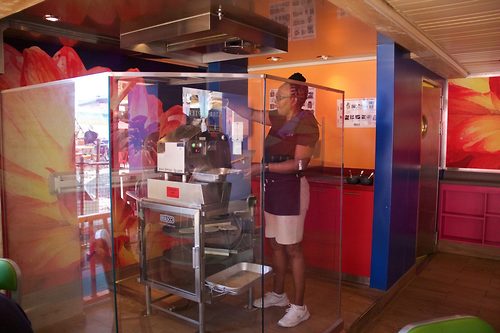 During our lunch I asked the head Sabor waiter about coming for just guacamole. He informed me that you can come to the bar, inside the restaurant and order some for $7 without paying their cover charge of $19 per person. If you want it to-go they can also arrange that, perfect for the balcony afternoon snack. Also on my sailing they introduced a new Sabor "Happy Hour" special, it was actually starting today. During 3pm-6pm on sea days you can get a side item and margarita for $12, the drink alone goes for $13 regularly.
Evening on board
We had the headliner scheduled for tonight but we decided not to go, since it was Elvis music. So we decided to hang out in Central Park before dinner. The weather on this cruise has been much cooler than I was expecting, making the afternoons and evenings nice and cool in the park.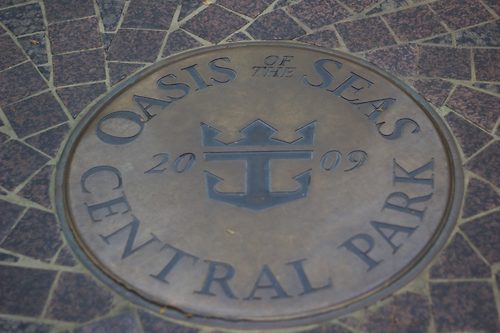 Our dinner plans tonight were Chops Grill at 6:30pm. It was the classic chops grill experience. I ordered the shrimp cocktail for a starter, then the mushroom soup, and the filet. The mushroom soup there is by far the best soup on the ship, oh I love it.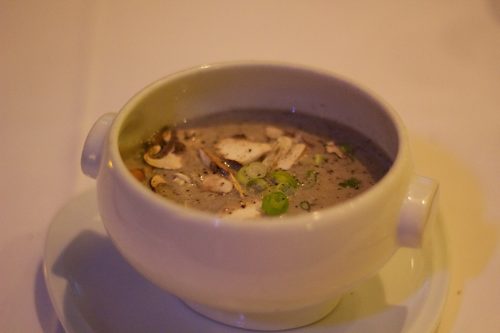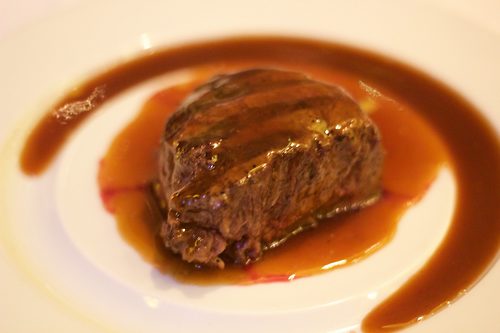 My girlfriend ordered the fish and thought it was really good also; she was getting tired of all the red meat. The experience tonight was wonderful and we really enjoyed our window seat looking into the park.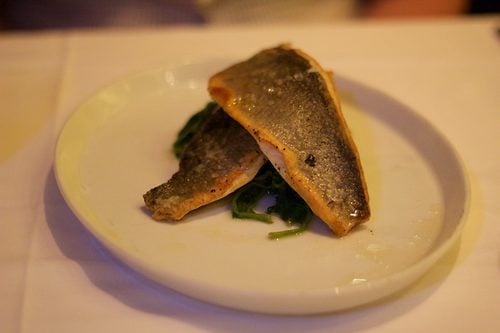 After dinner I wanted to go ride the Rising Tide bar. I was surprised to see how many people were on the bar tonight. The Rising Tide lasted around 10 minutes from Central Park to the Royal Promenade. You can get a drink and relax but I almost recommend riding it for two cycles since it happens so fast.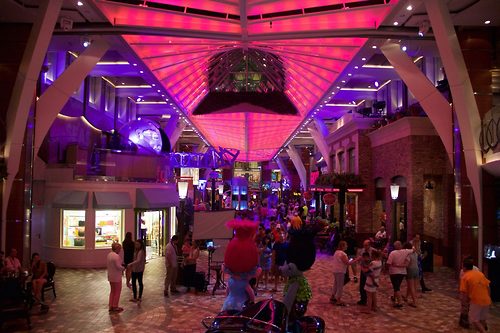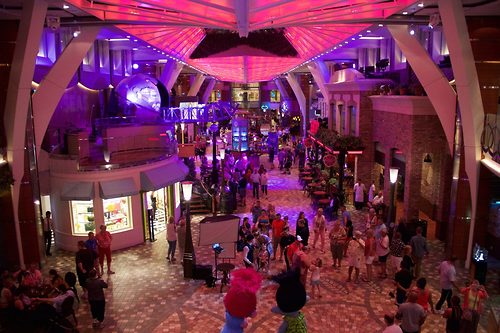 Dazzles tonight had the Cat's performers singing for one hour. They were so entertaining and really made my evening. They have so much talent singing; I think it's really nice they come to dazzles for one evening to sing. I remember the Broadway cast doing this on Allure last year also, so be sure to check it out.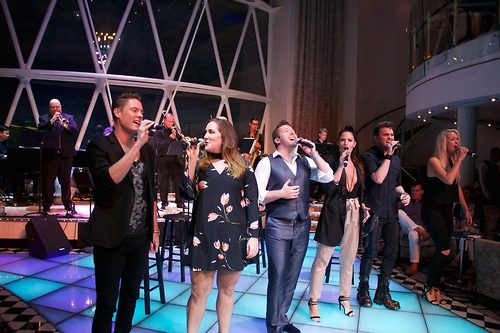 Well, that wraps up my second full sea day, tomorrow we are arriving to our first port of beautiful St. Maarten.